Bangs are having a serious moment in Hollywood. It seems like celebrities across the board cannot get enough of their fringe benefits, whether they're swept off to the side, feathered across the forehead, or just-rolled-out-of-bed mussy. If you're considering taking the big chop and just need a little push (or you just can't get enough of Alexa Chung's choppy bangs), click through to see some of the best celebrity bangs of the moment.
Anna Faris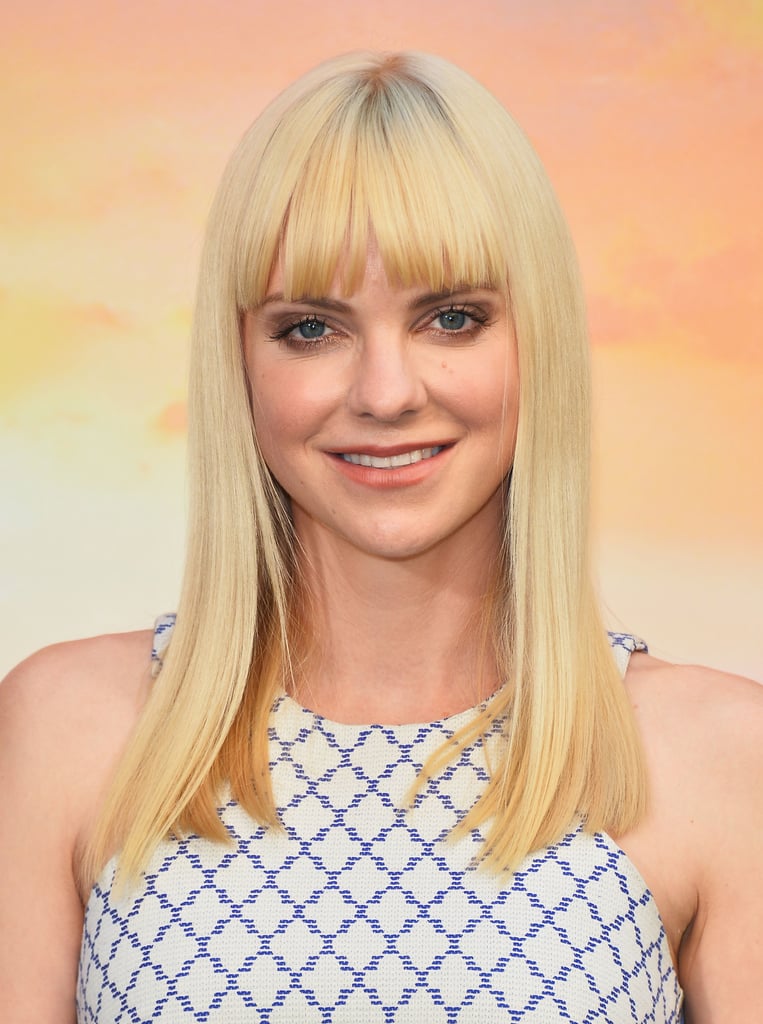 With an oval face shape like Anna Faris [1], you can pull off any style of bangs, including this straight, brow-grazing look.
Naomi Watts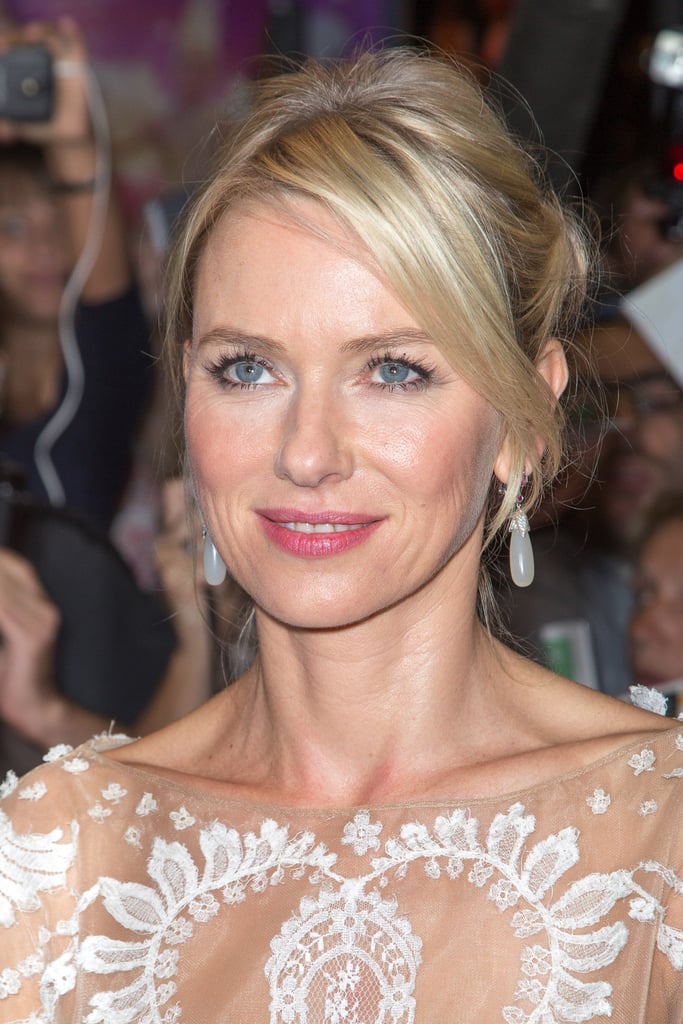 You can never go wrong with a smooth diagonal part that keeps extralong bangs out of the face, à la Naomi Watts [2].
Olivia Wilde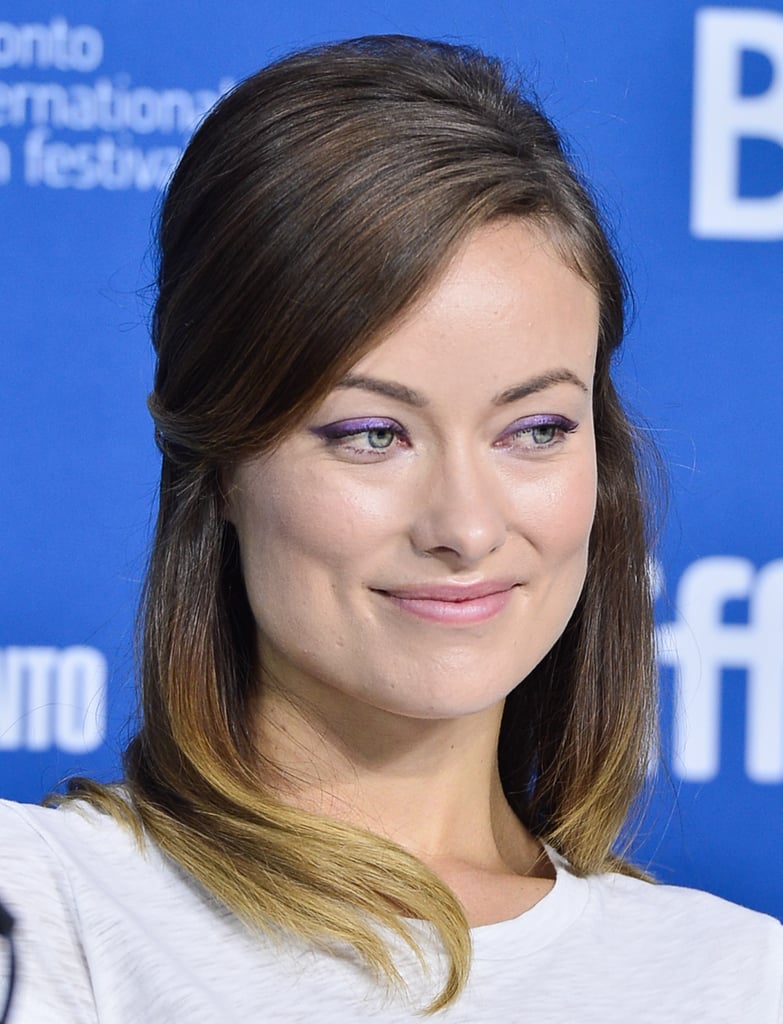 Even if you don't have bangs, per se, you can fake it like Olivia Wilde [3]. She pulled back her hair into a half-up hairstyle that created sleek faux-fringe style.
Suki Waterhouse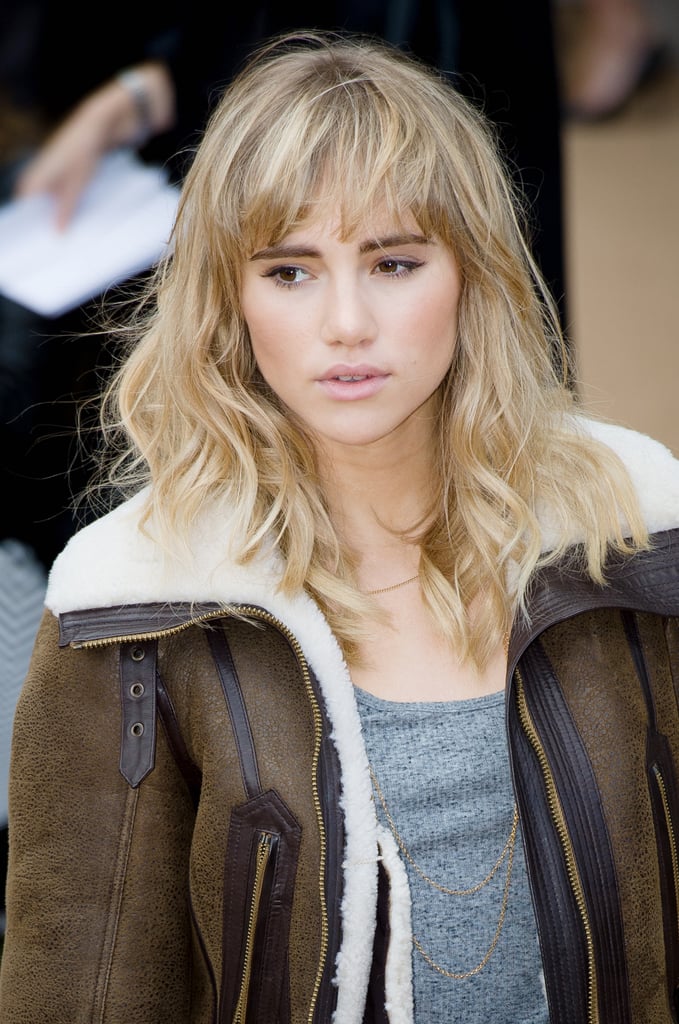 Suki Waterhouse recently showed off her bedhead bangs. Just pull out the mousse to get a similar "unstyled" feel.
Elsa Pataky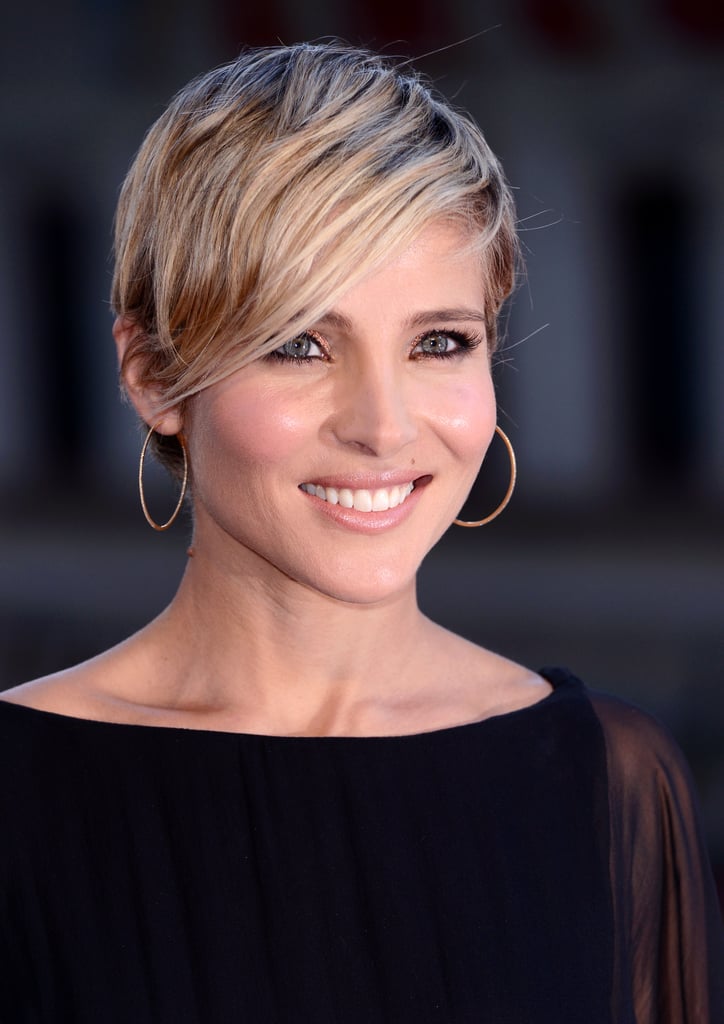 Growing out a pixie cut like Elsa Pataky? Sweep your hair into this asymmetrical look to mask shorter sides.
Amanda Peet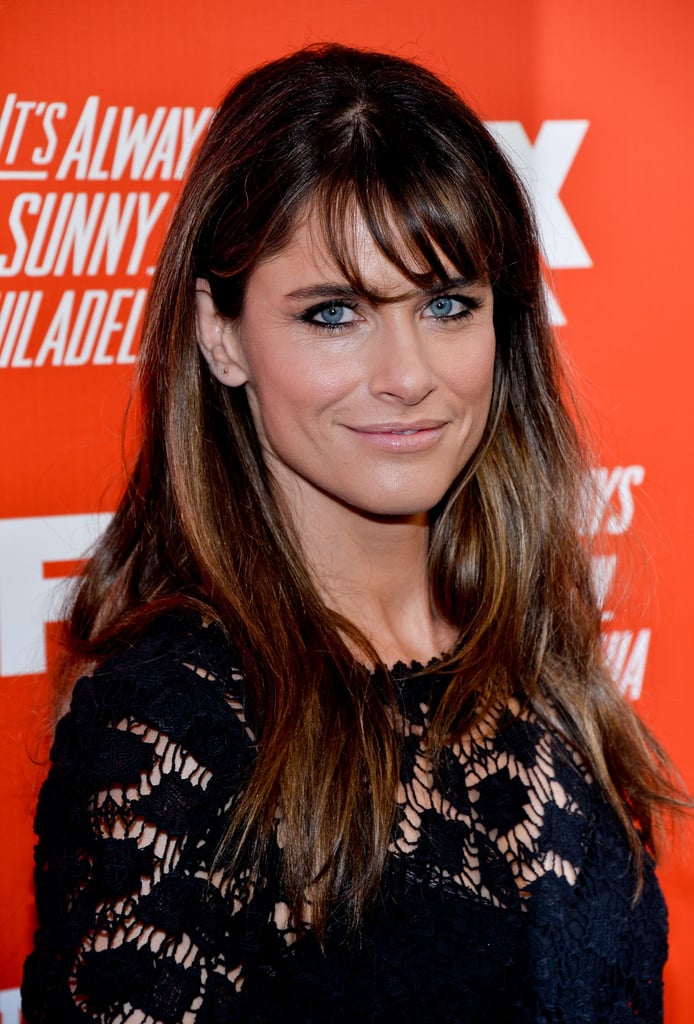 A smooth blowout isn't complete without slightly curled bangs à la Amanda Peet [4].
Kelly Osbourne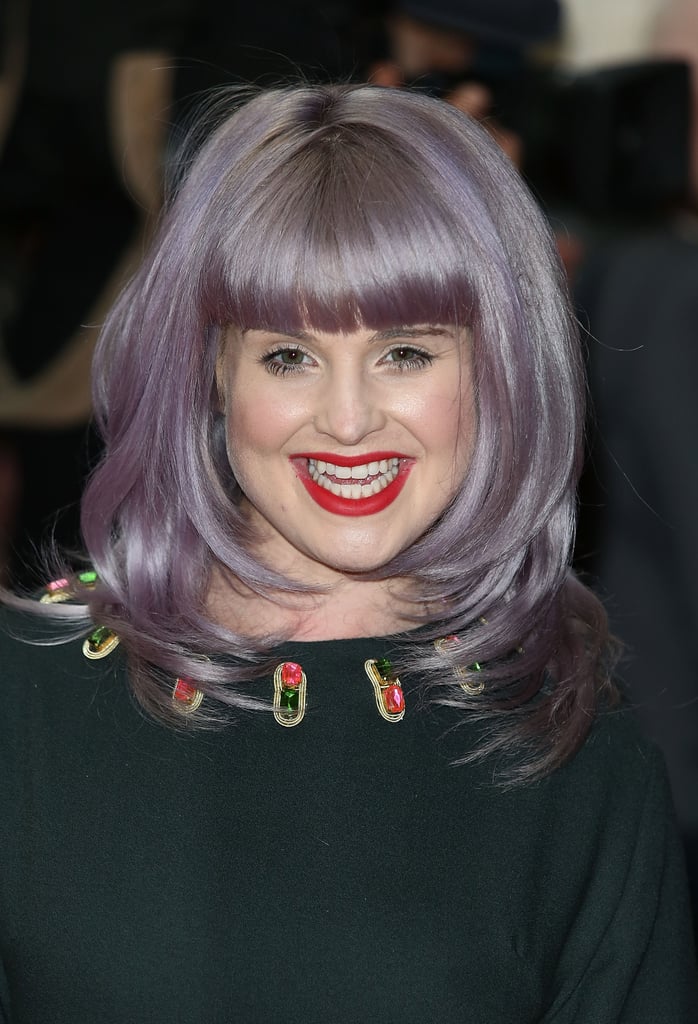 Kelly Osbourne took her lavender hairstyle to a new level by cutting in blunt bangs.
Christina Ricci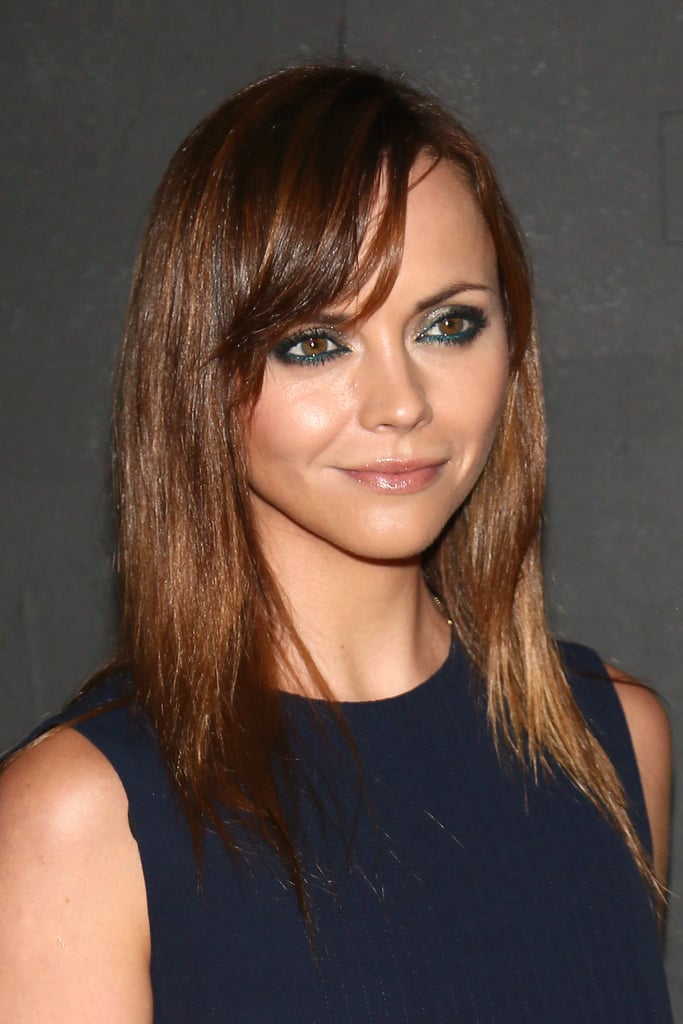 While Christina Ricci [5]'s hair is styled stick-straight, her sideswept bangs have a touch of Farrah Fawcett flair.
Hayden Panettiere
Hayden Panettiere [6] decided to change up her look by adding bangs with a ragged edge.
Mia Wasikowska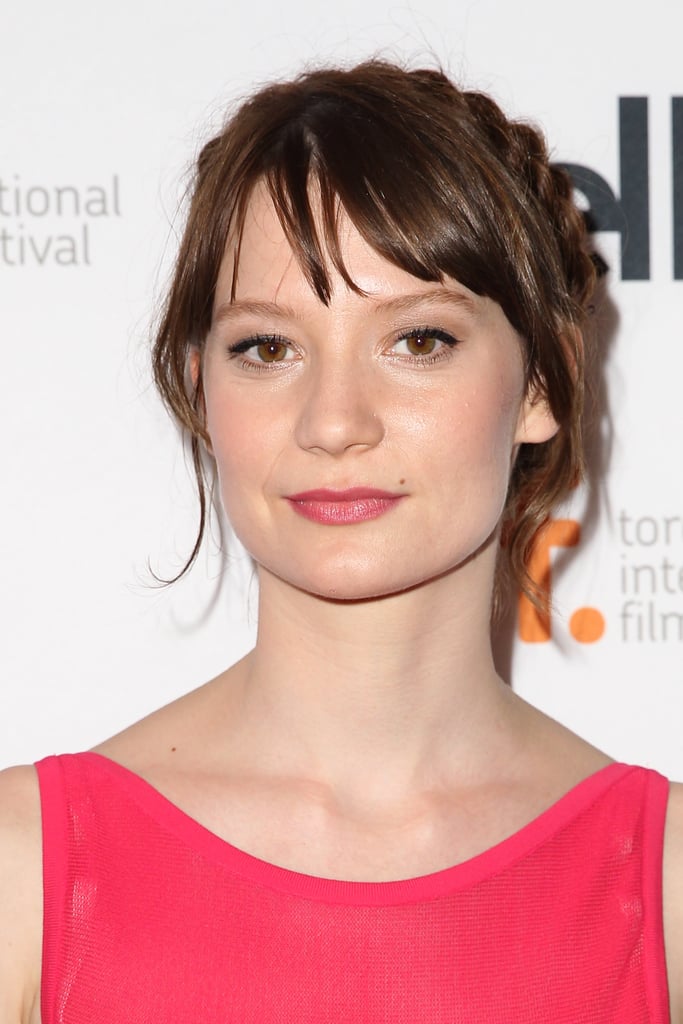 Not only is Mia Wasikowska [7] sporting updated brunette hair, but her bangs have also grown an inch or two. Here, she set off the look with a headband braid.
Emma Watson
Emma Watson [8]'s pinned-back bangs only added to the vintage style of her faux-bob updo [9].
Lucy Hale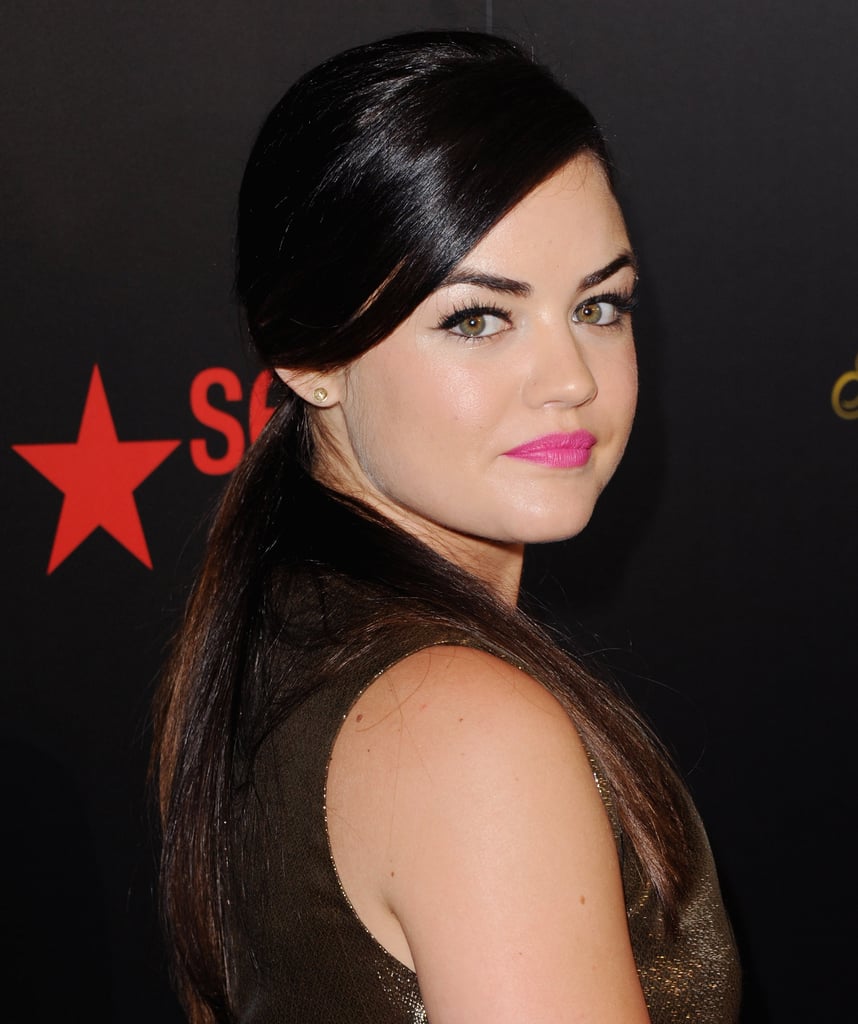 To get Lucy Hale's sleek ponytail and sideswept bang combination, separate your fringe, then secure hair with elastic, pinning back the bangs for a sweeping look.
Carrie Underwood
Carrie Underwood [10] played up her bohemian style to perform at the CMA Music Festival by tucking her bangs under an embellished headband.
Isla Fisher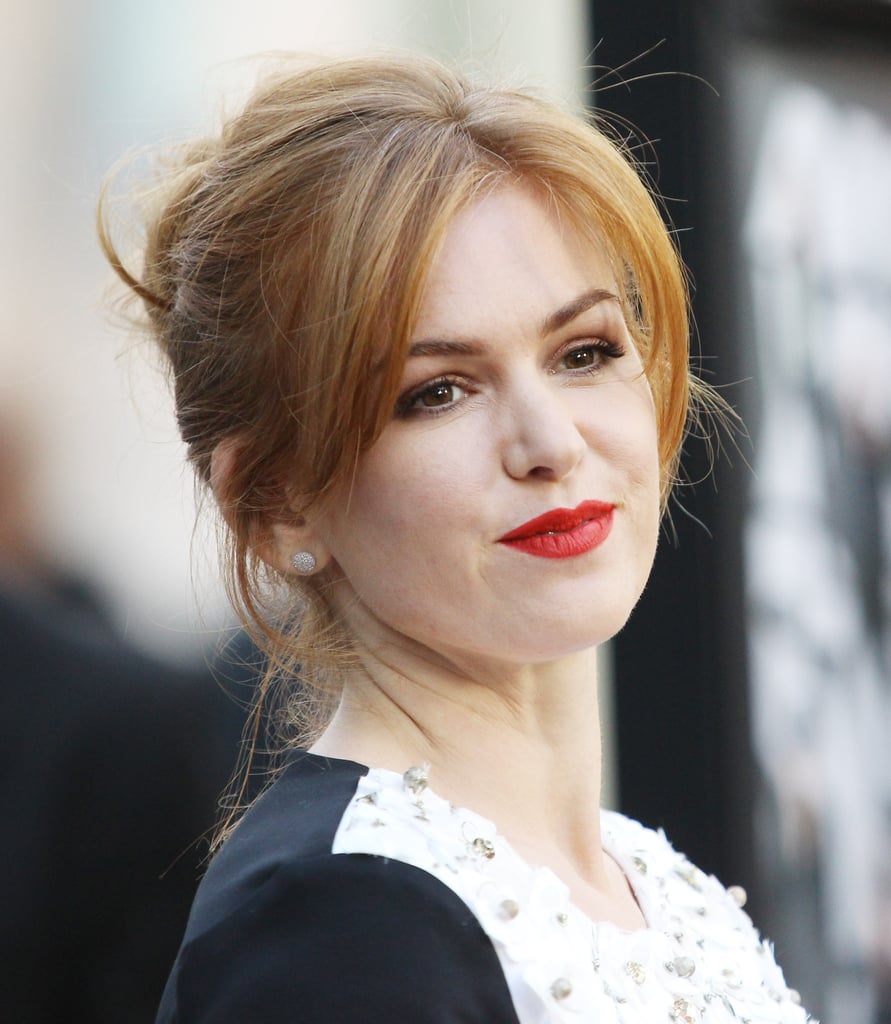 Isla Fisher [11] split her bangs down the middle, letting the extralong lengths frame her face.
Emmy Rossum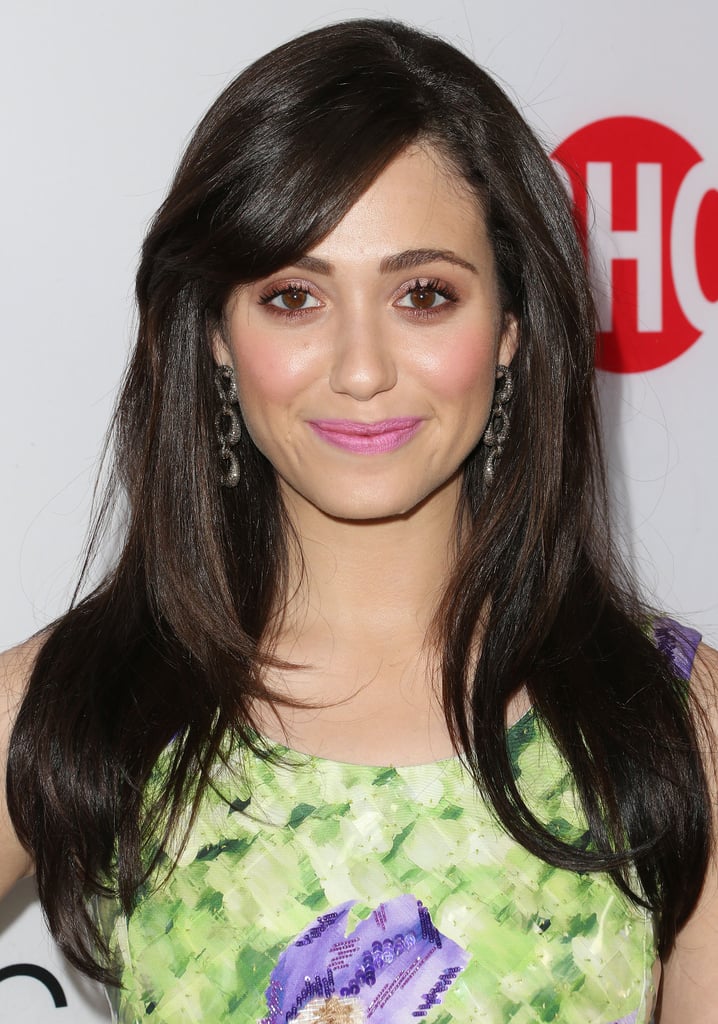 Meld longer bangs into the mix with a style like Emmy Rossum's, where her grown-out fringe was incorporated into her voluminous blowout.
Jessica Stam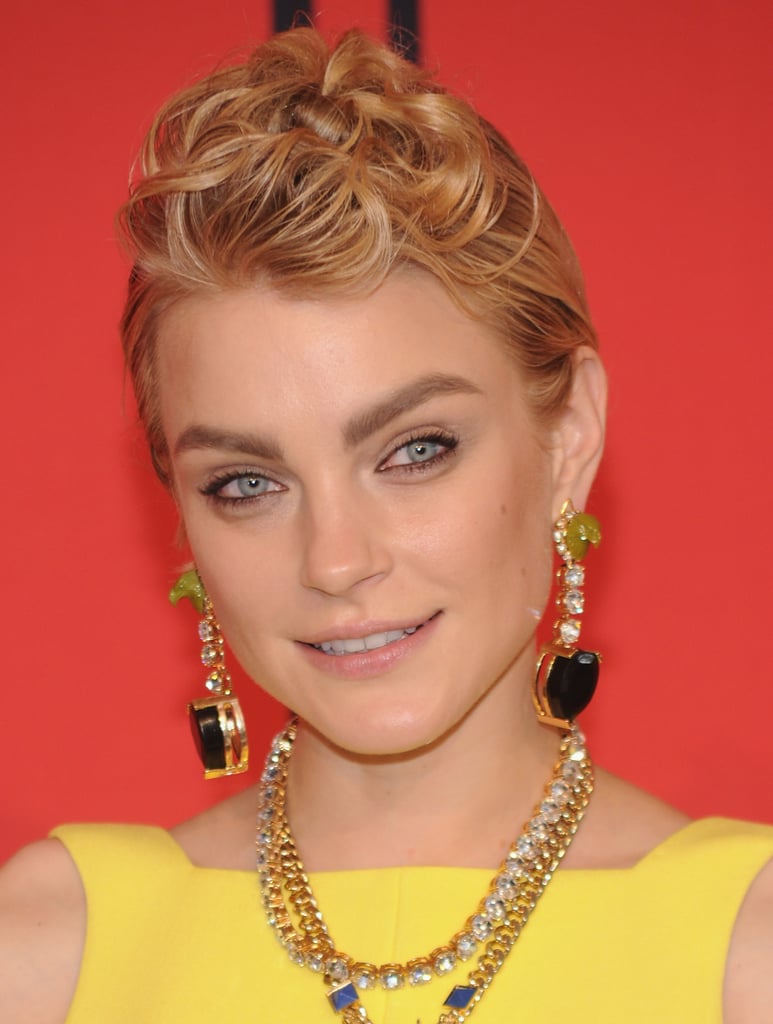 To add a little oomph to Jessica Stam's Met Gala look [12], her bangs were tightly curled backward for a punk-chic hairstyle.
Elisabeth Moss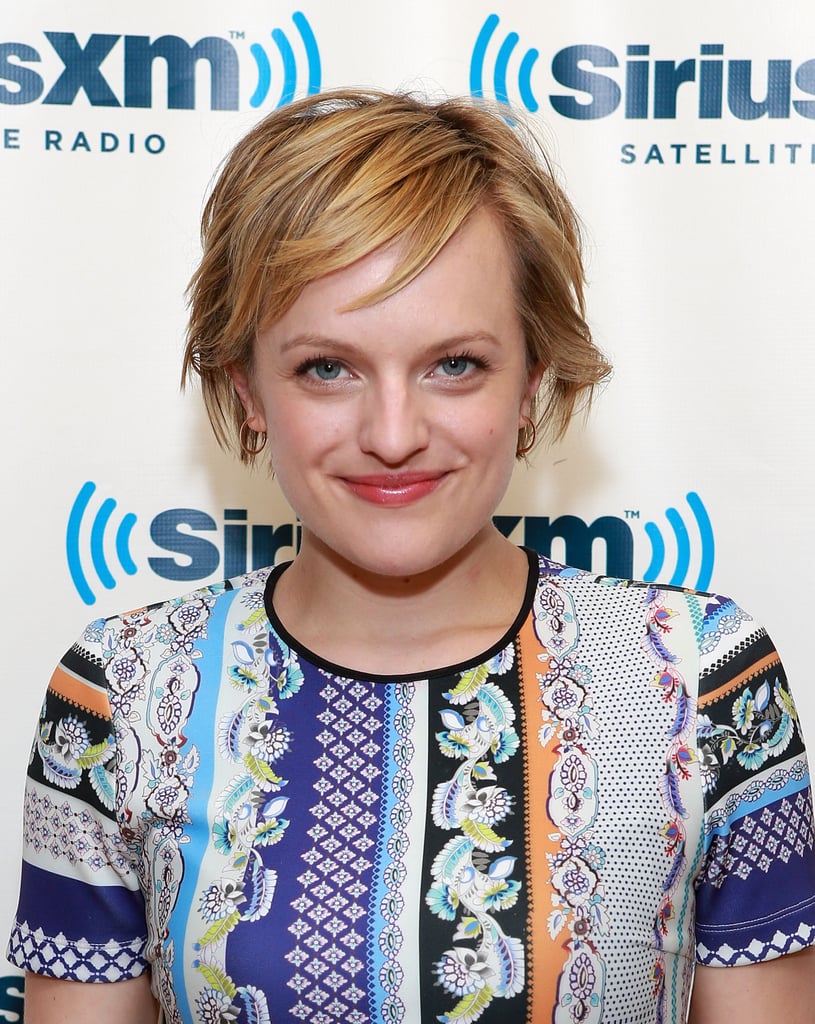 If you have shorter hair like Elisabeth Moss [13], opt for layered bangs that work so well in a piecey casual style.
Kristen Bell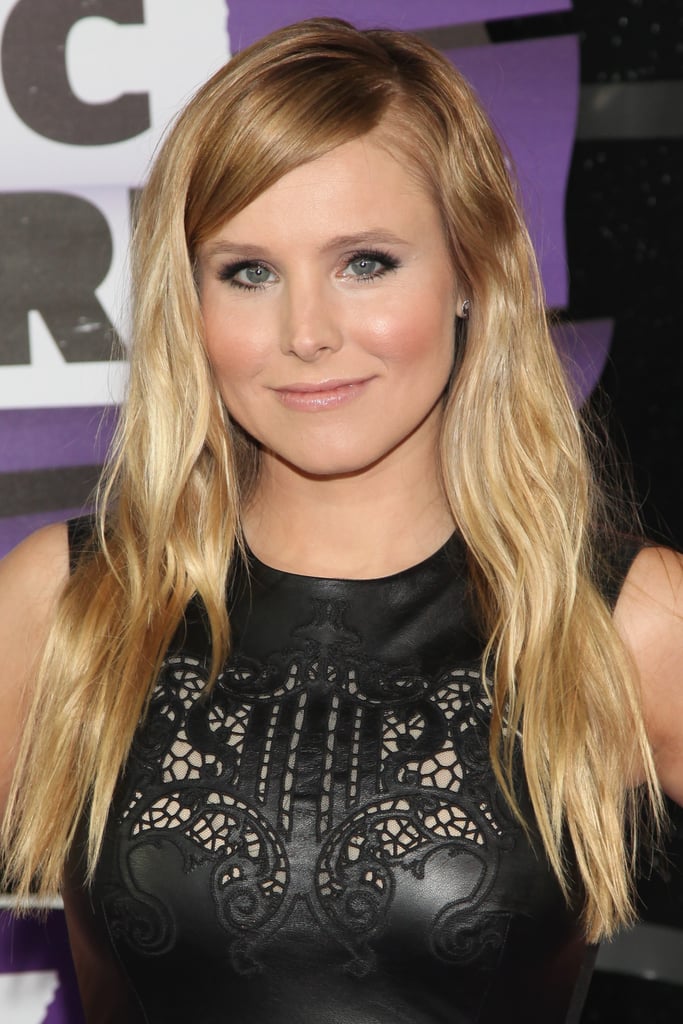 On the CMT Awards red carpet [14], Kristen Bell [15] wore untamed waves, but slicked back her bangs for a two-textured look.
Alice Eve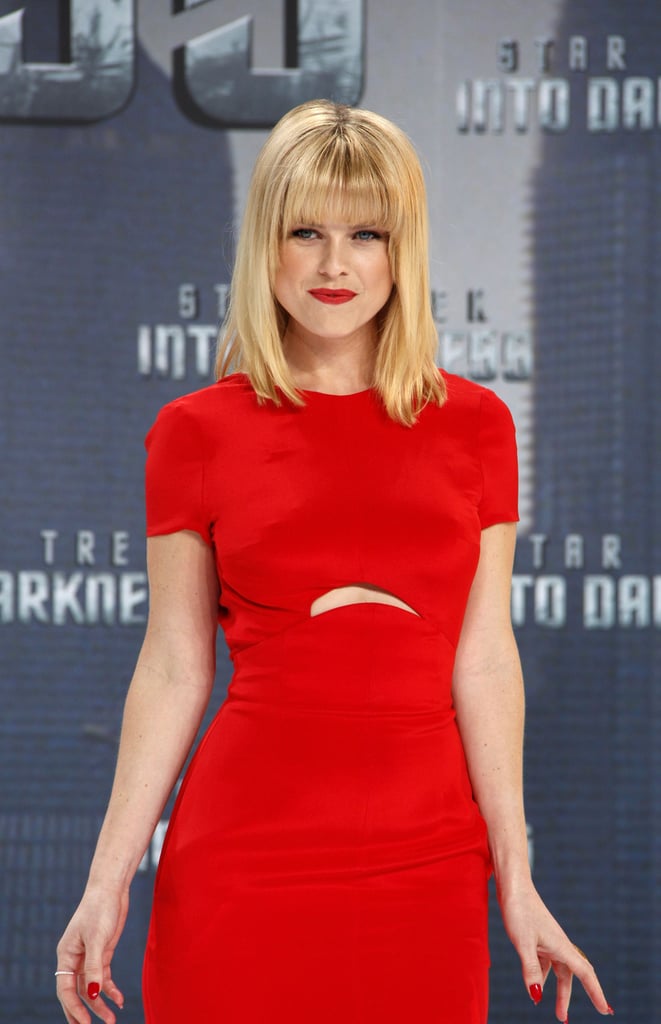 Don't be afraid to add some full fringe to your new trendy lob. Alice Eve recently proved this look is on point while out promoting [16] Star Trek Into Darkness.
Nicole Richie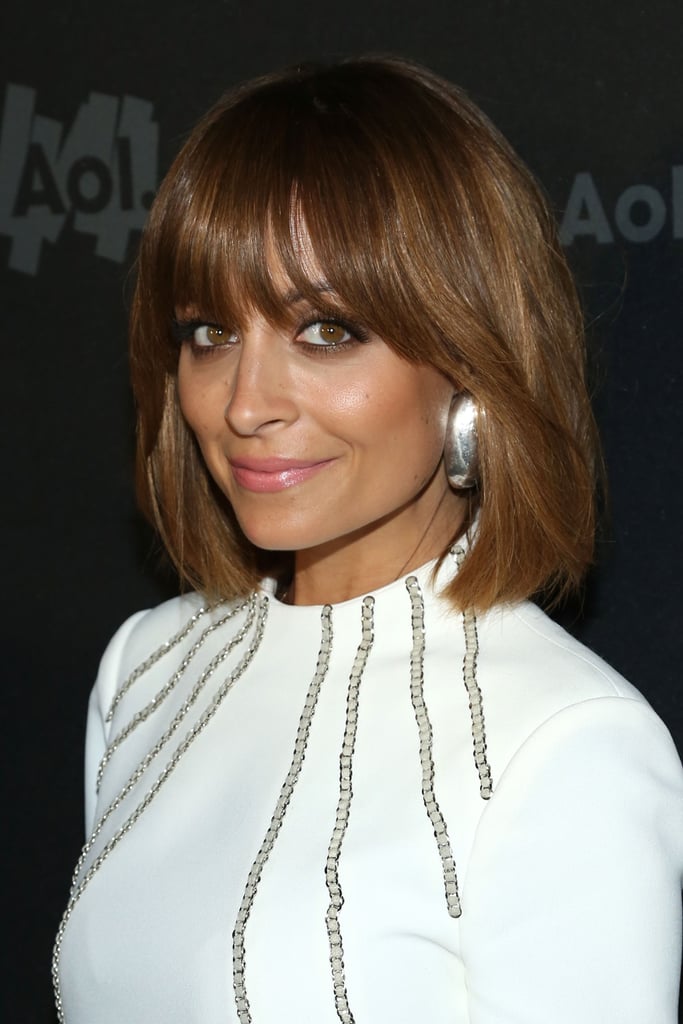 Nicole Richie [17]'s brow-grazing bangs [18] are an incredibly beautiful addition to her sweet and sexy lob.
Christina Hendricks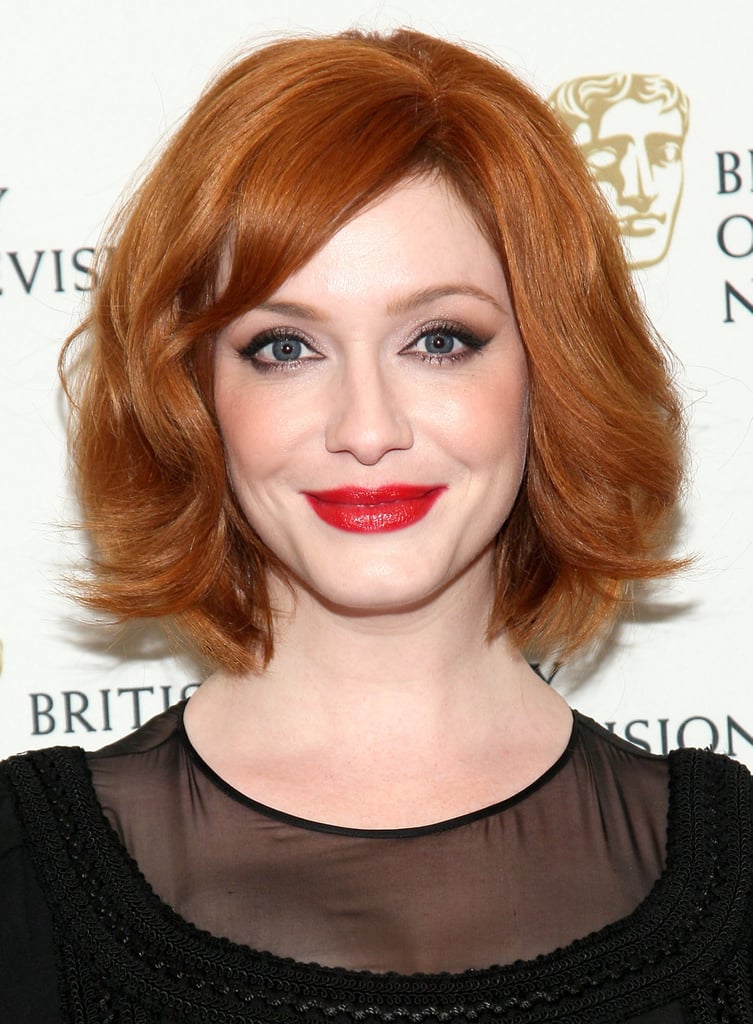 Christina Hendricks shows off a great way to grow out your bangs.
Sienna Miller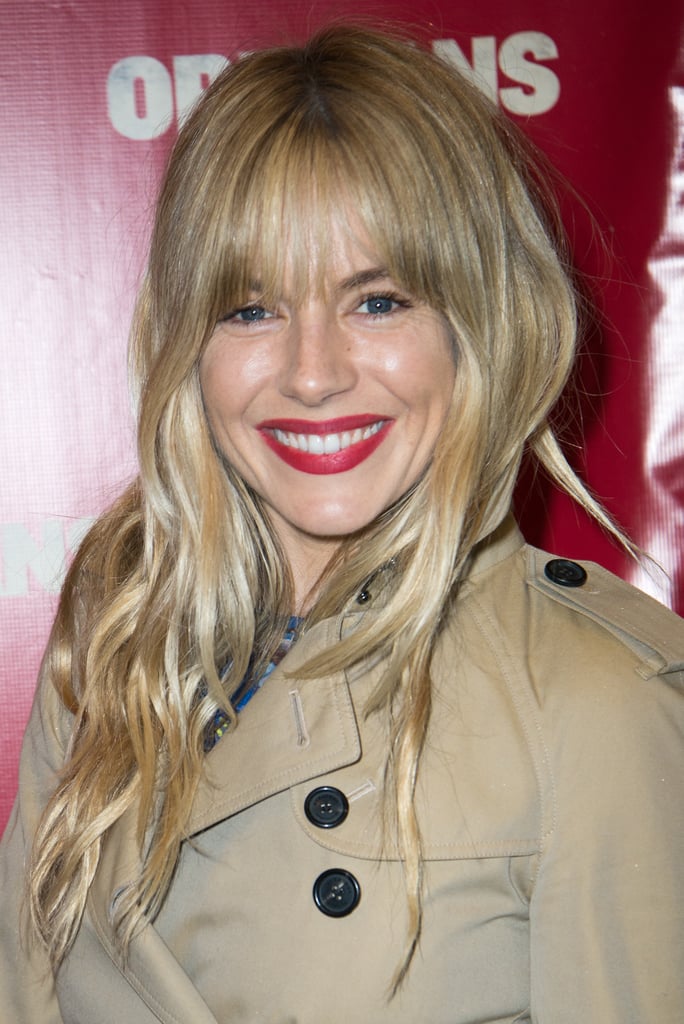 Sienna Miller [19]'s new bangs are a beautiful addition to her boho waves.
Rebel Wilson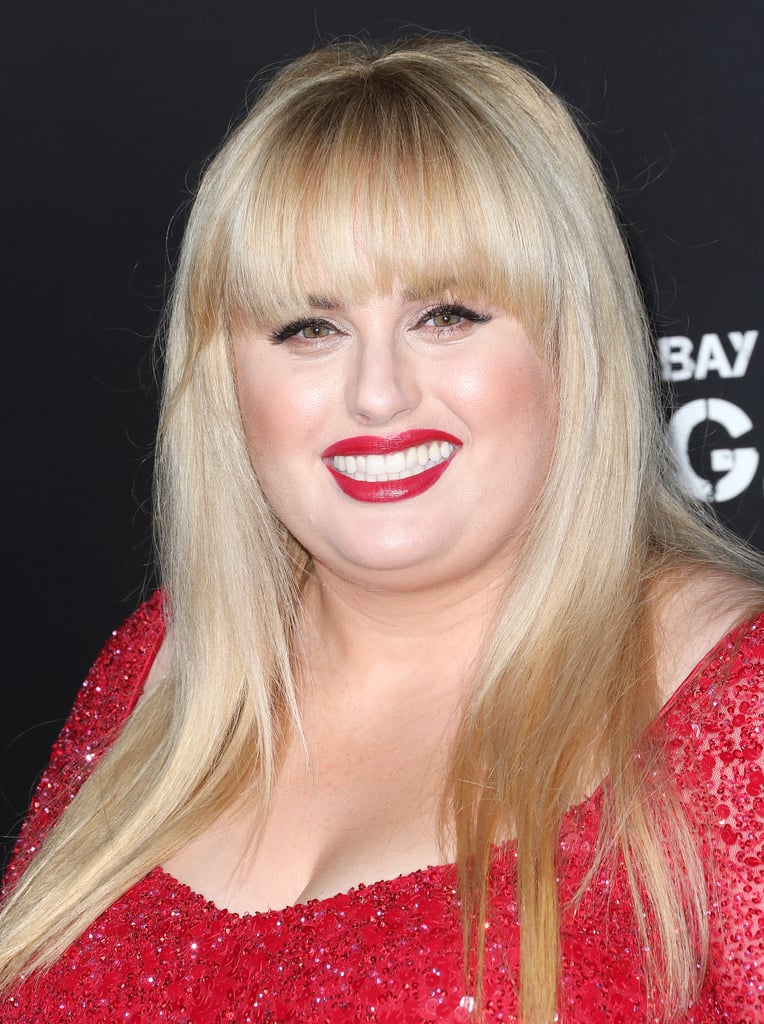 Funny girl Rebel Wilson paired her heavy bangs with red lipstick.
Alexis Bledel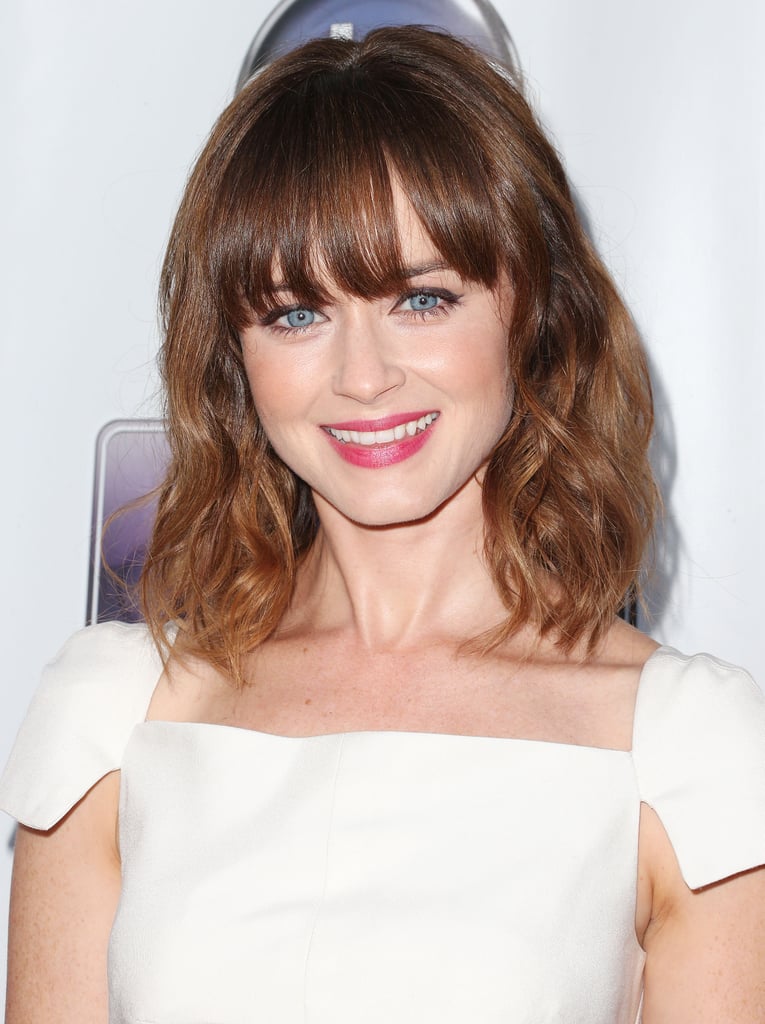 Don't be afraid of long middle bangs that separate. Alexis Bledel shows that this look is darling.
Jennifer Lawrence
Always one to embrace a bold move, Jennifer Lawrence [20] chopped her hair into a long bob paired with wispy side bangs an hour before a scheduled red carpet appearance.
Jennifer Aniston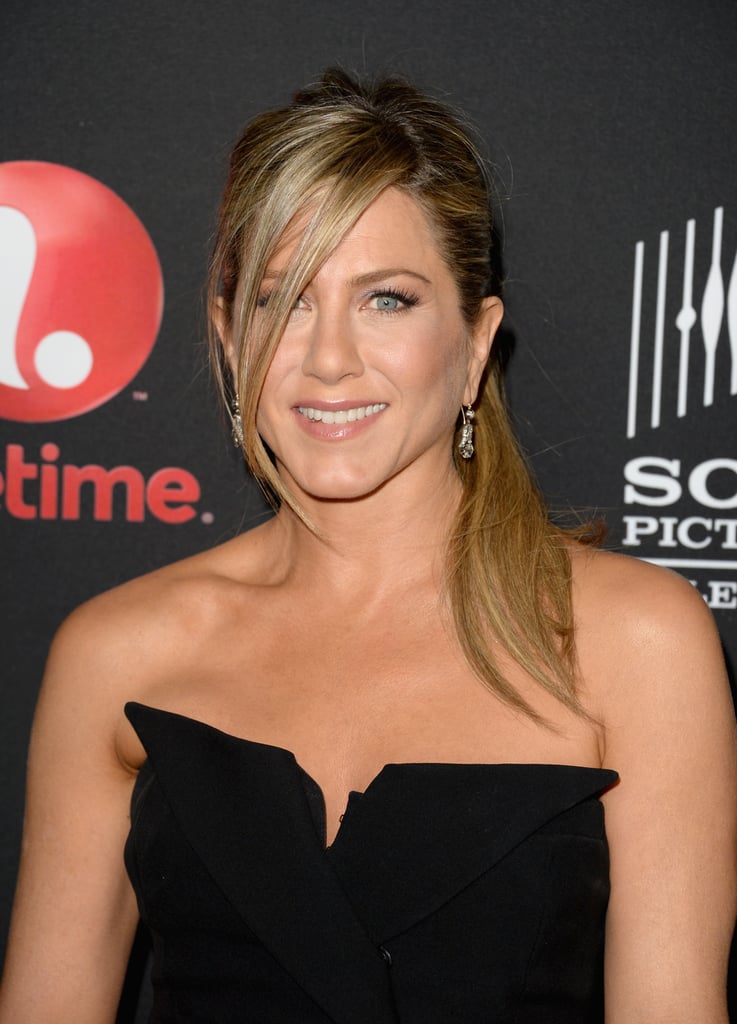 Jennifer Aniston [21]'s long, face-framing bangs are an elegant and sexy addition to any ponytail.
Sarah Hyland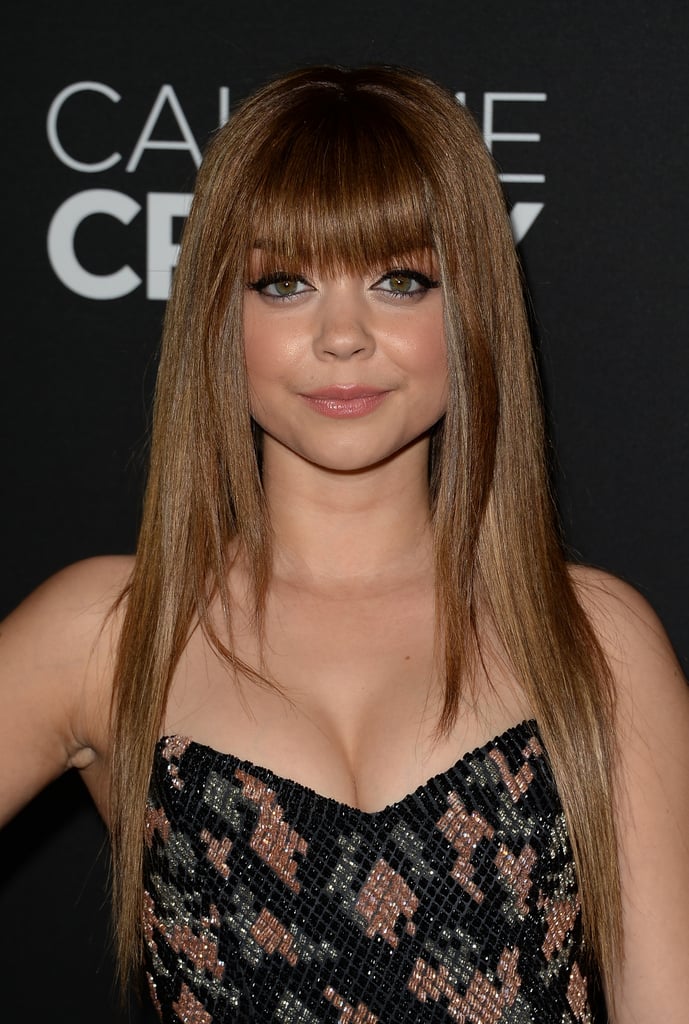 Sarah Hyland proves that even more circular face shapes can wear blunt bangs stylishly.
Katharine McPhee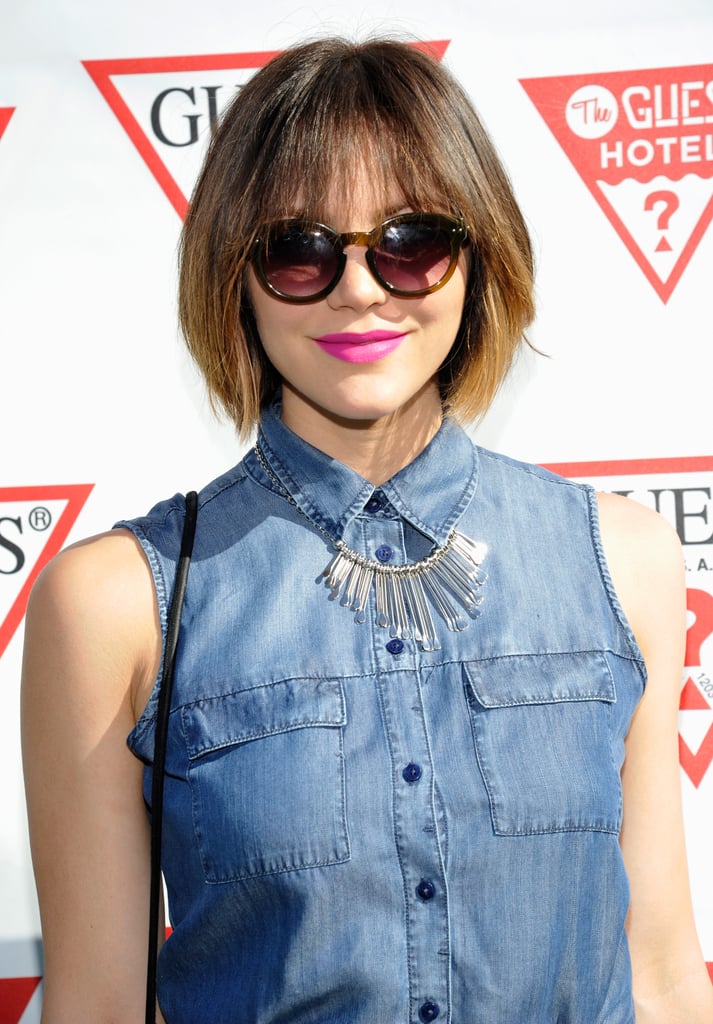 A trendy lob paired with some choppy fringe, like Katharine McPhee's, makes for an edgy, cool look.
Rashida Jones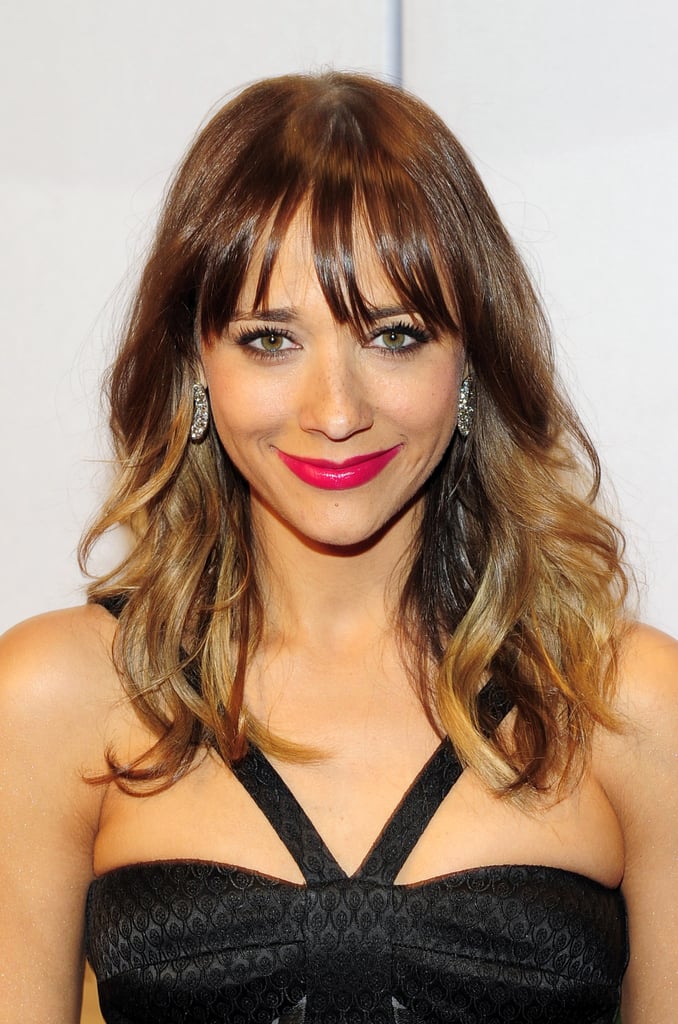 Peek-a-boo center bangs, like Rashida Jones's, are both flirty and fun.
Sophia Bush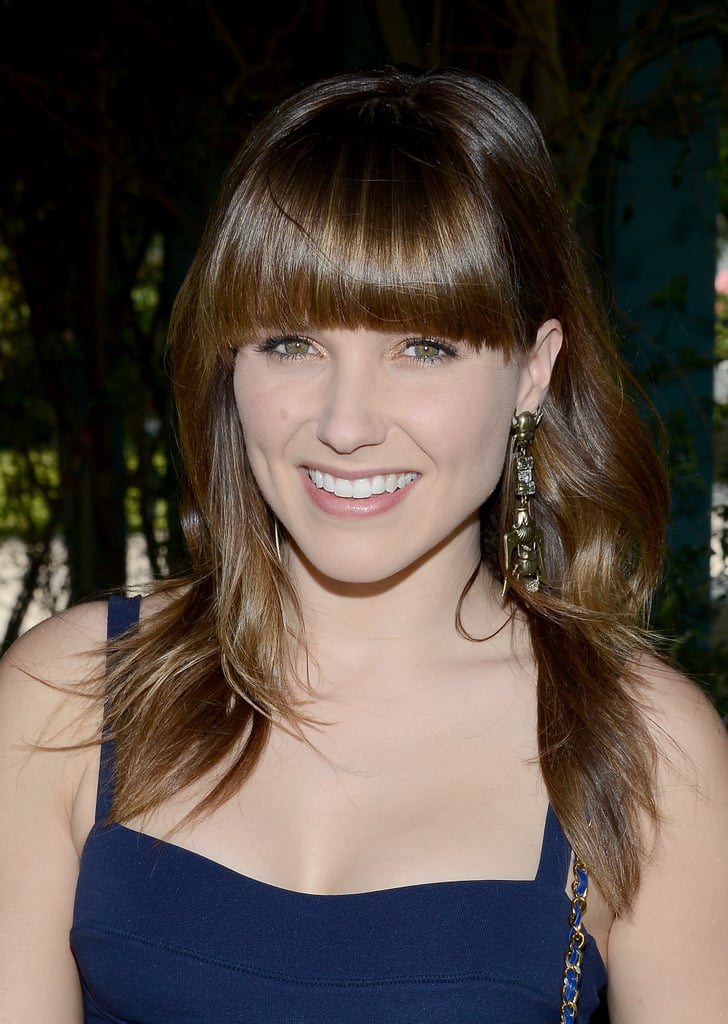 Smooth, silky bangs like Sophia Bush's are a more polished version of this style.
Paula Patton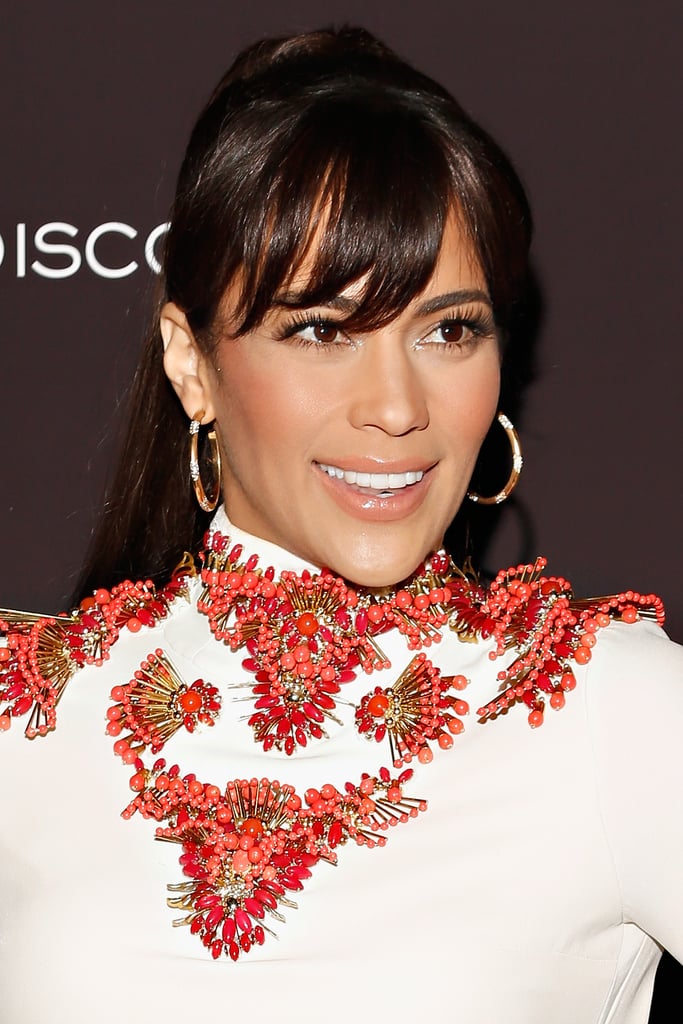 Paula Patton's peicey, heavy bangs are a great hybrid between center- and side-bangs.
Beth Behrs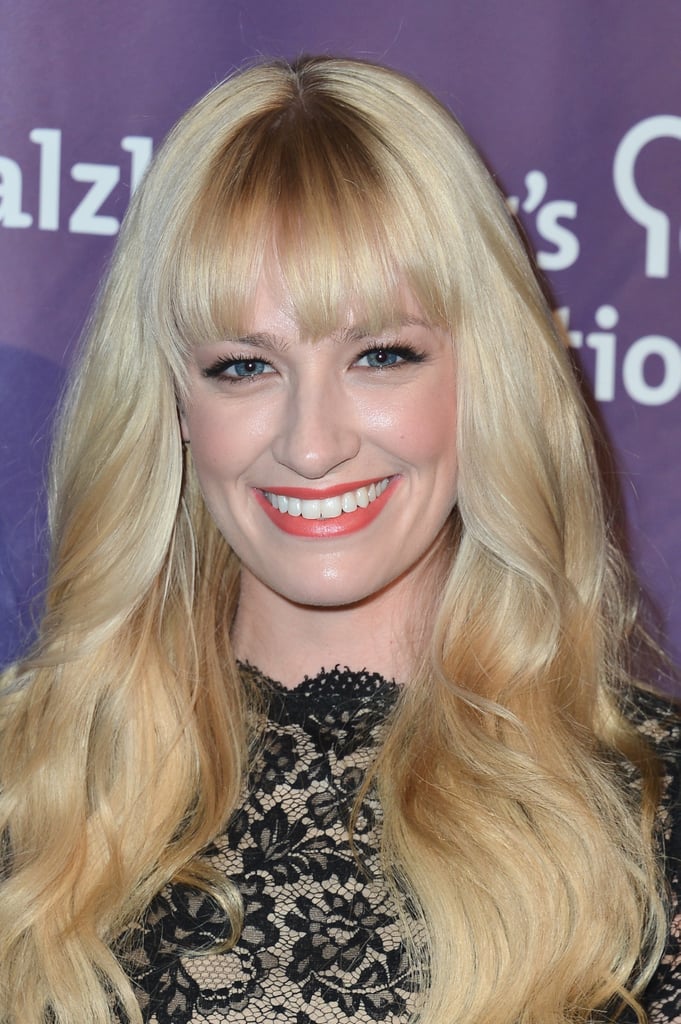 Blonde beauty Beth Behrs has a killer set of bangs, which she always styles beautifully. Here, she complements her fringe with soft, brushed-out waves.
Milla Jovovich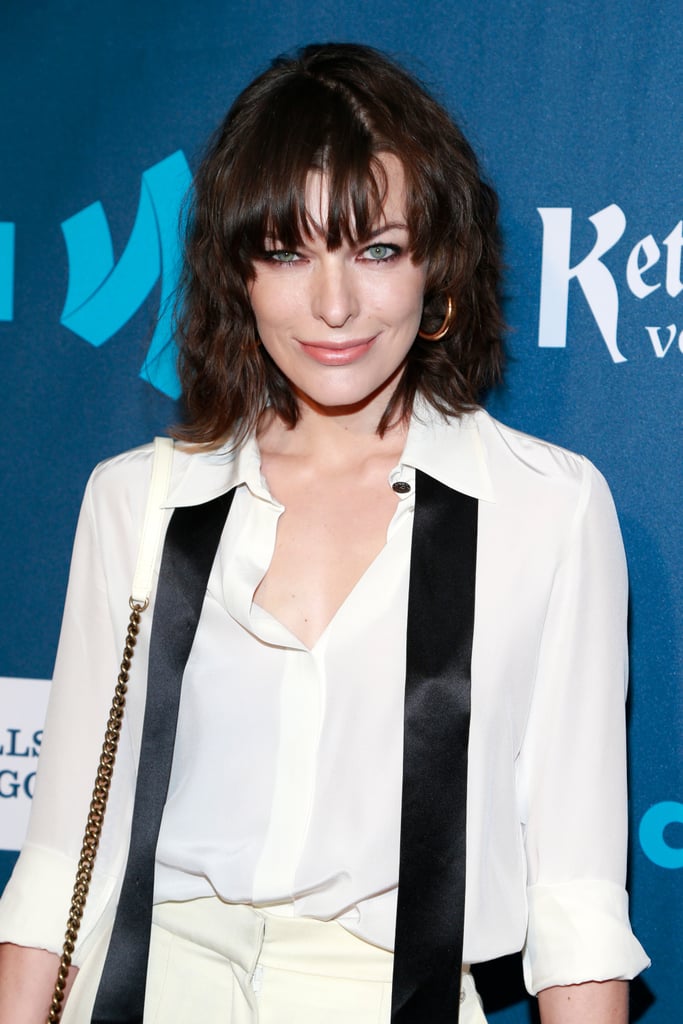 Actress Milla Jovovich shows how a simple set of fringe (and texture) can take your look from Parisian chic to rocker girl.
Ellen Page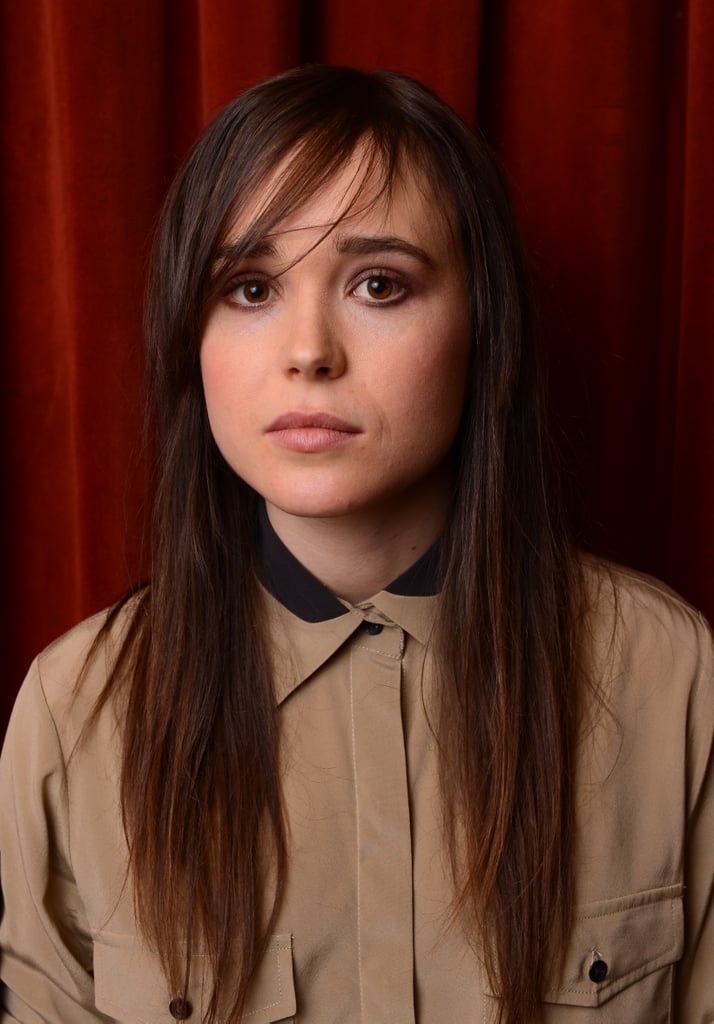 Growing out your bangs doesn't have to be an arduous process. Ellen Page [22] shows us a grown out, sweeping look that's extra piecey and casual.
Rachel Zoe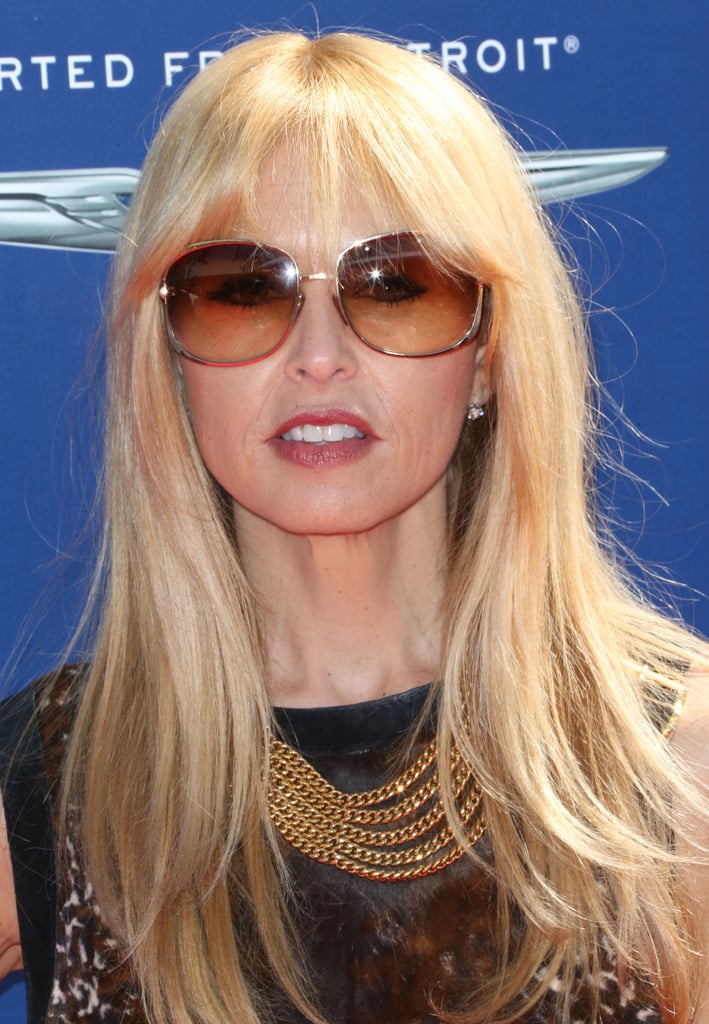 Long layers and blunt bangs have become Rachel Zoe [23]'s staple, and for good reason. Softer and wispier, Rachel's version is perfect for those who prefer a more subtle fringe.
Hannah Simone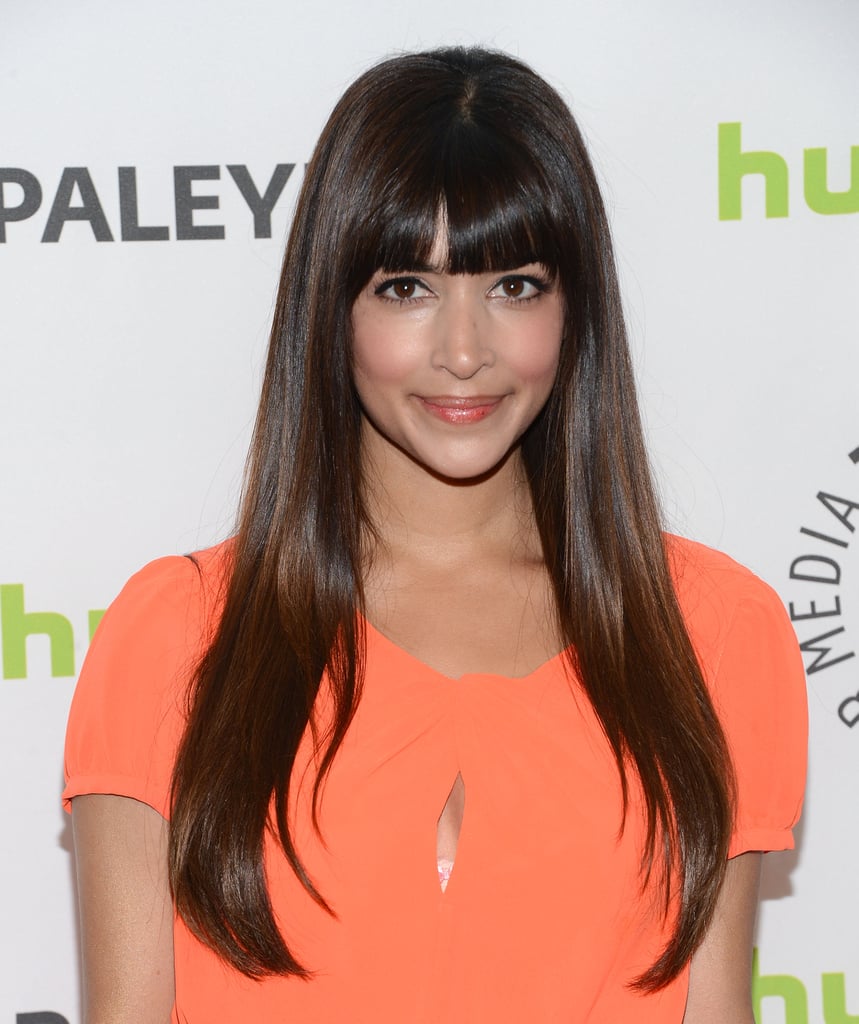 New Girl star Hannah Simone gives some panache to her blunt bangs with an off-center split.
Jessie J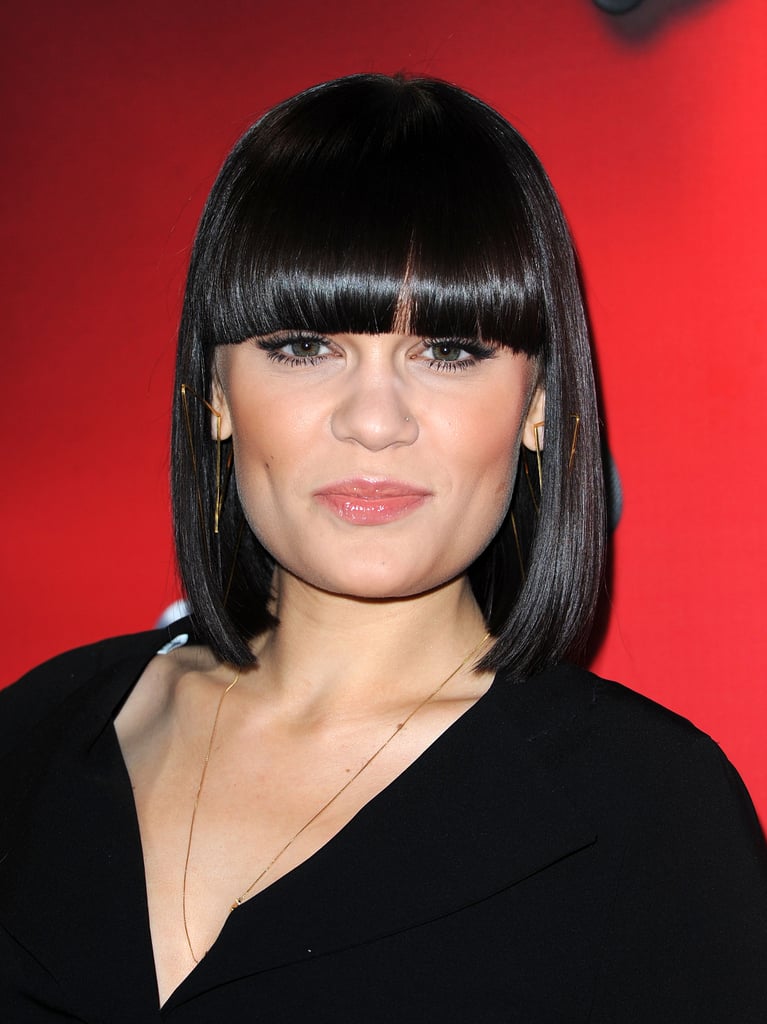 For those afraid of overly structured styles, singer Jessie J shows just how sleek and sexy they can be.
Nina Dobrev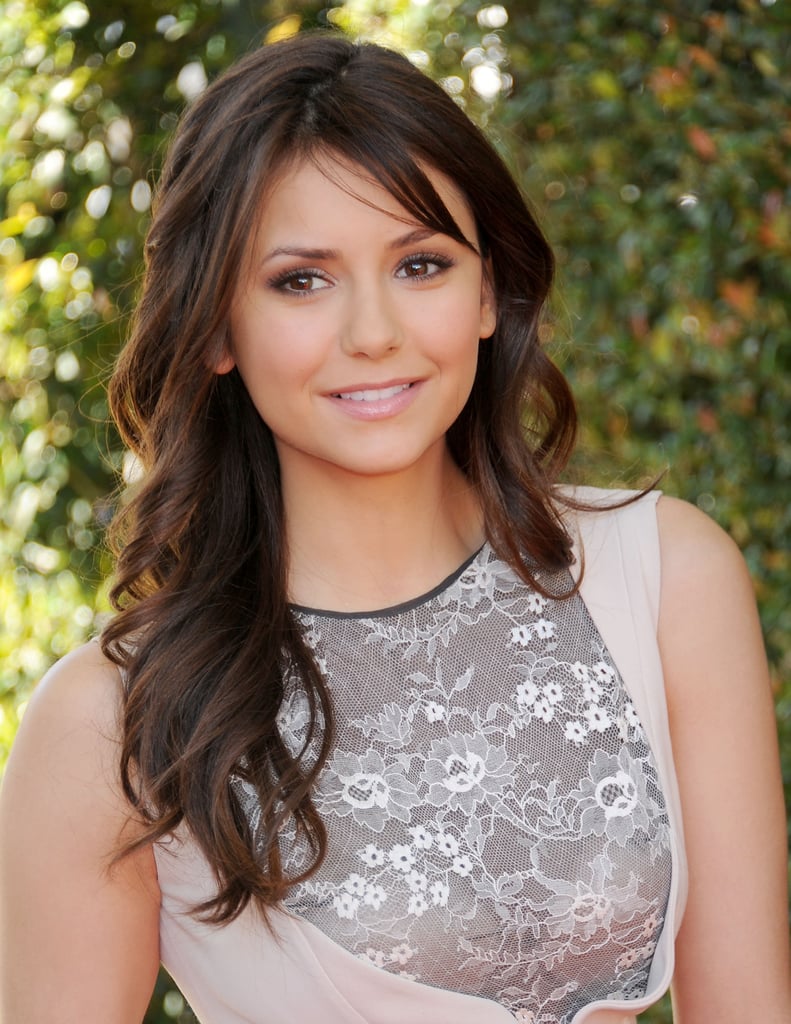 Nina Dobrev [24] snipped away some piecey bangs into her chestnut hair, adding an instant touch of softness to her face.
Tamara Mowry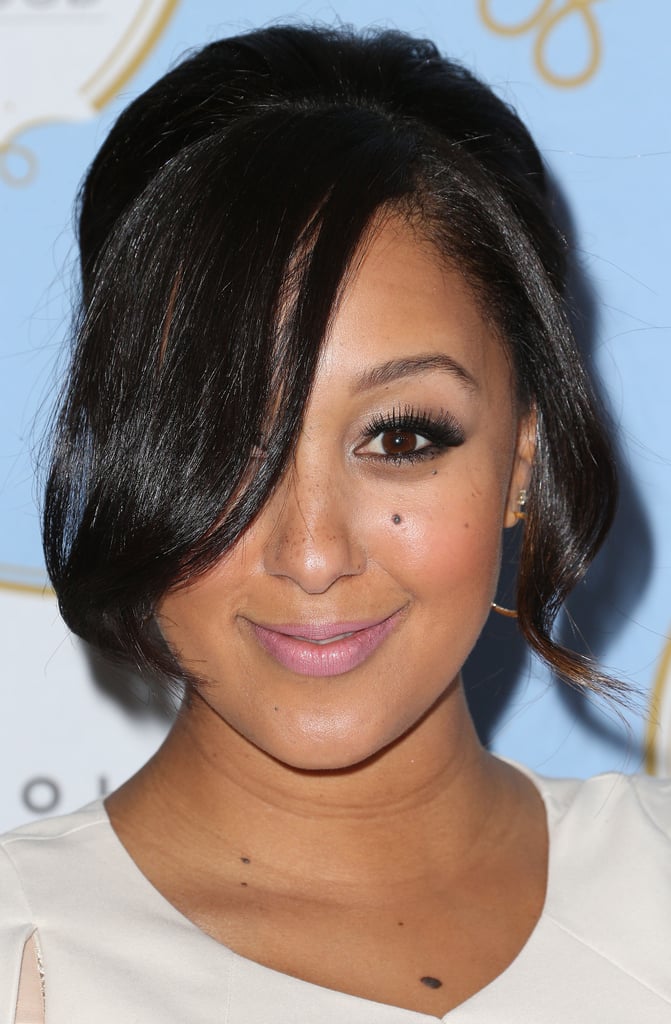 Long side bangs like Tamara Mowry's are great for growing out fringe into face-framing tendrils.
Bella Thorne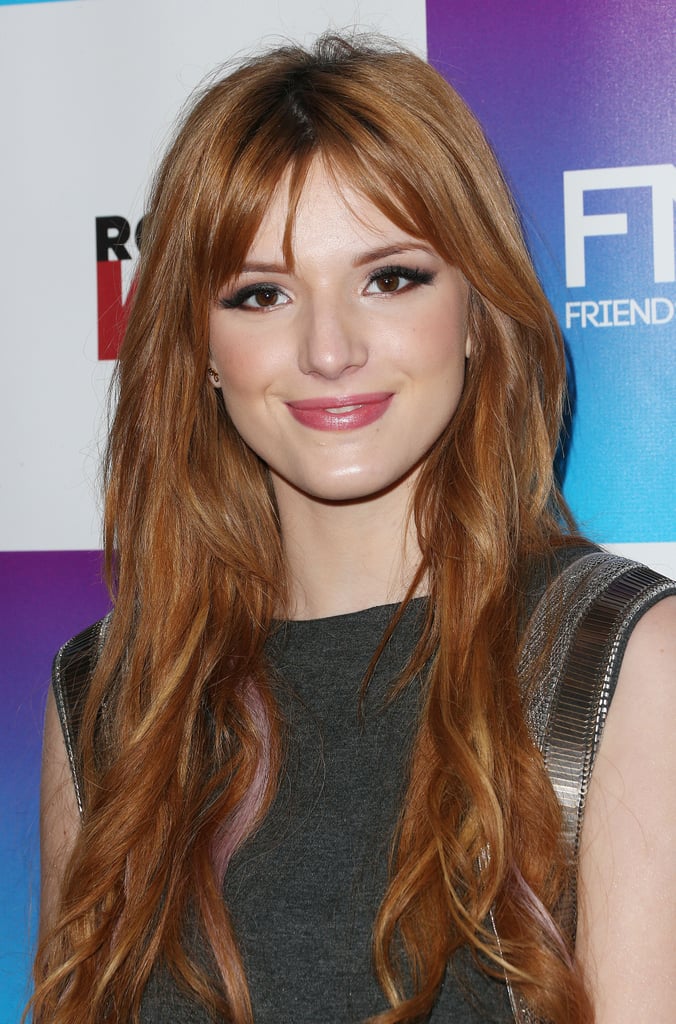 Grow out your fringe in style by adding a center part like Bella Thorne.
Florence Welch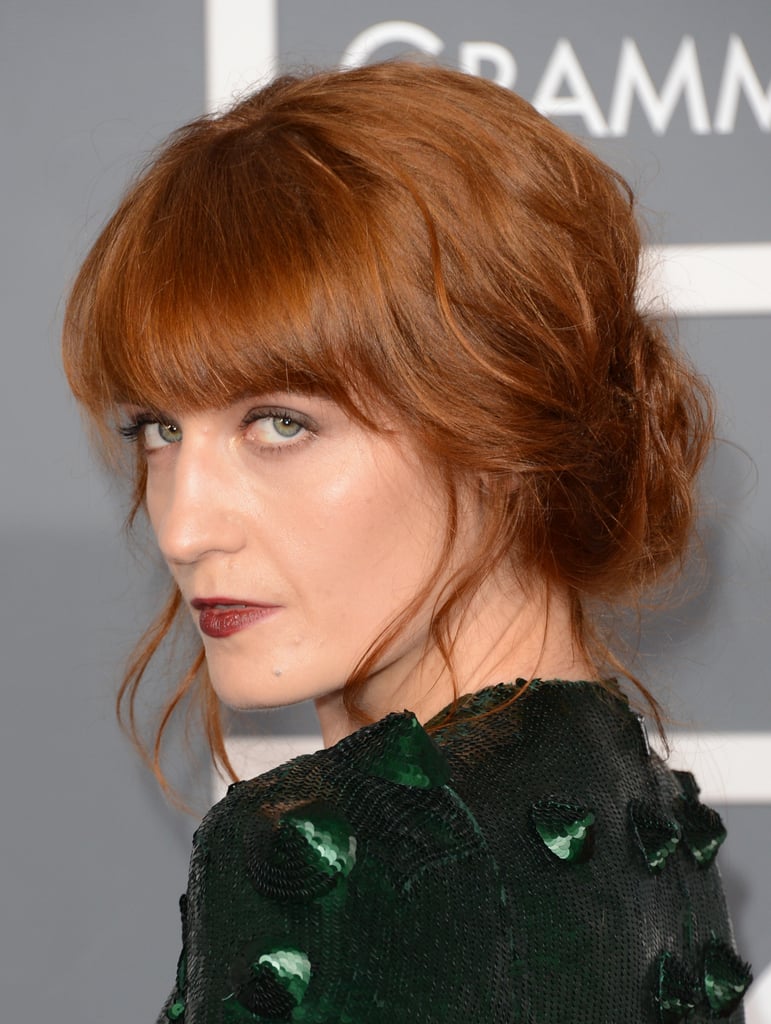 A fan of the full-figured fringe, Florence Welch wears bangs that cascade into a face frame, making them much more versatile.
Ashley Madekwe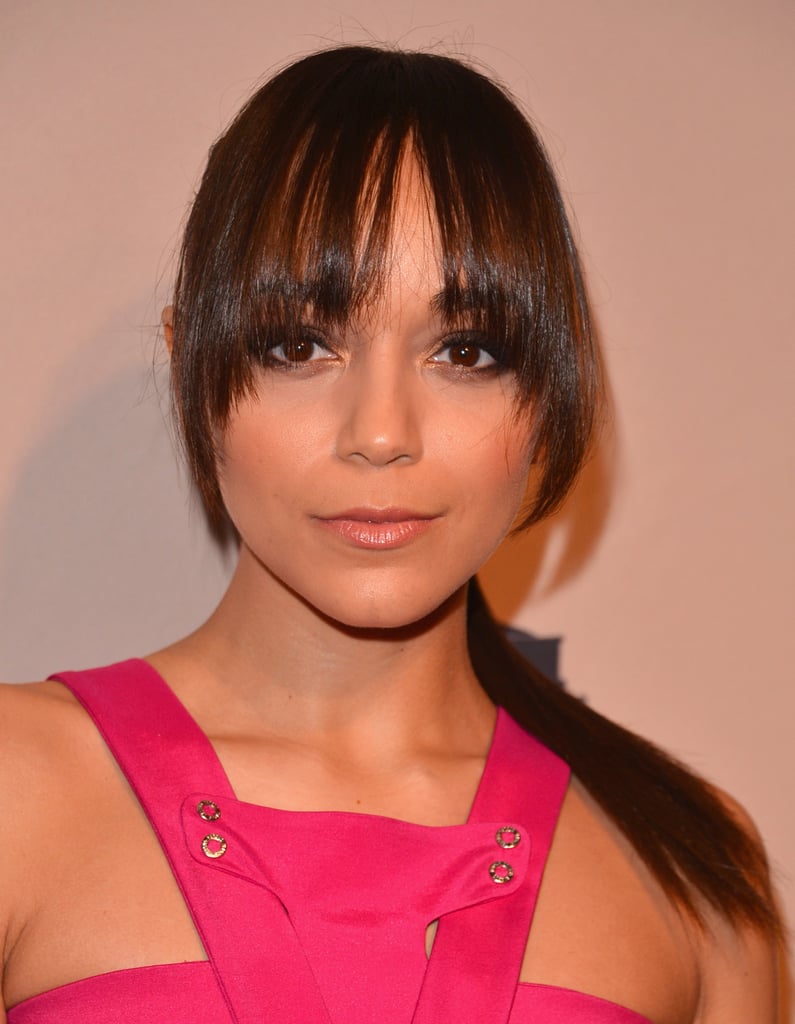 Long, face-framing fringe can be unexpectedly cool, like Ashley Madekwe shows here.
Naomi Campbell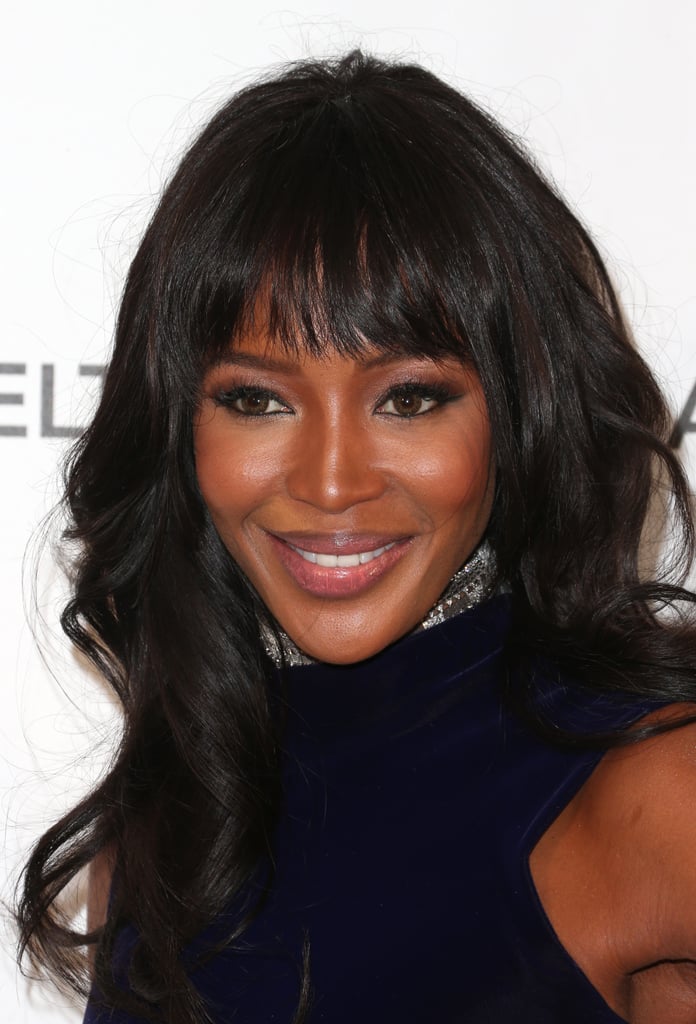 The mid-bang has become Naomi Campbell [25]'s signature, and she's fantastic at showing how versatile the style can be.
Amy Poehler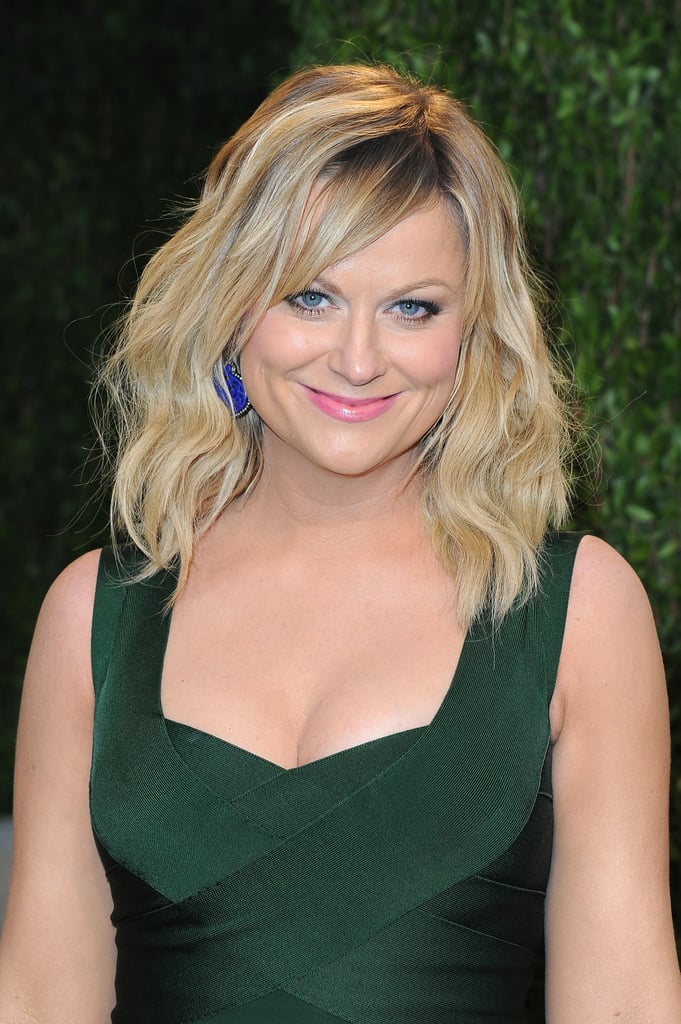 Funny girl Amy Poehler [26] shows us that just a little hint of sideswept bangs can completely change up your look.
LeAnn Rimes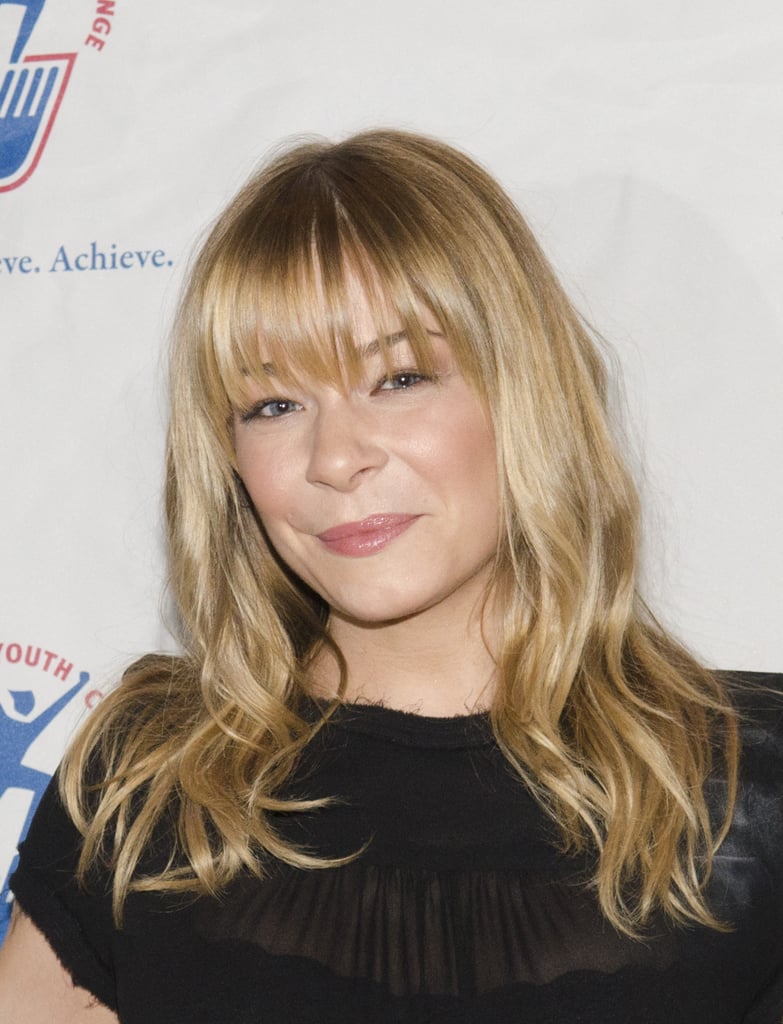 Singer LeAnn Rimes is a fan of piecey fringe that hits right at the eyes.
Kirsten Dunst
Growing out your bangs is a snap, like Kirsten Dunst [27] shows here. Just pair them with a severe side part.
Amanda Peet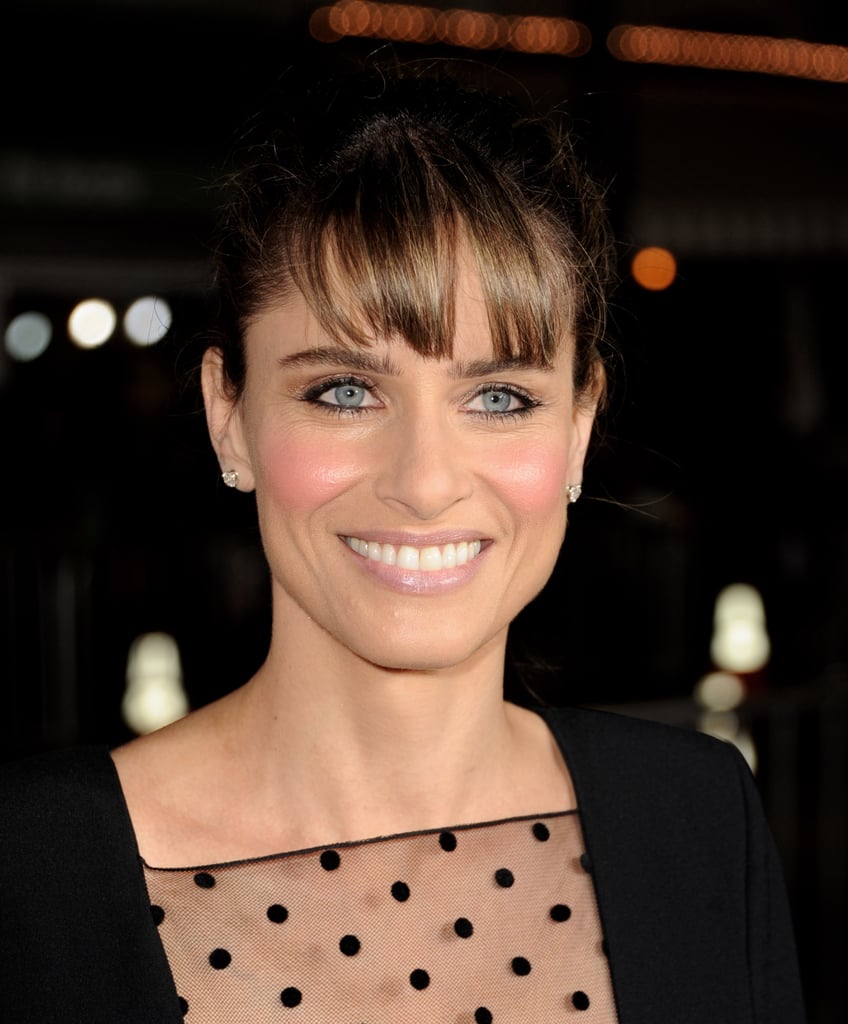 If you're thinking about brow-grazing fringe but not sure about taking the big leap, look to Amanda Peet [28] for inspiration. The actress's thin, textured take on bangs is a great way to test drive the look.
Kelly Rowland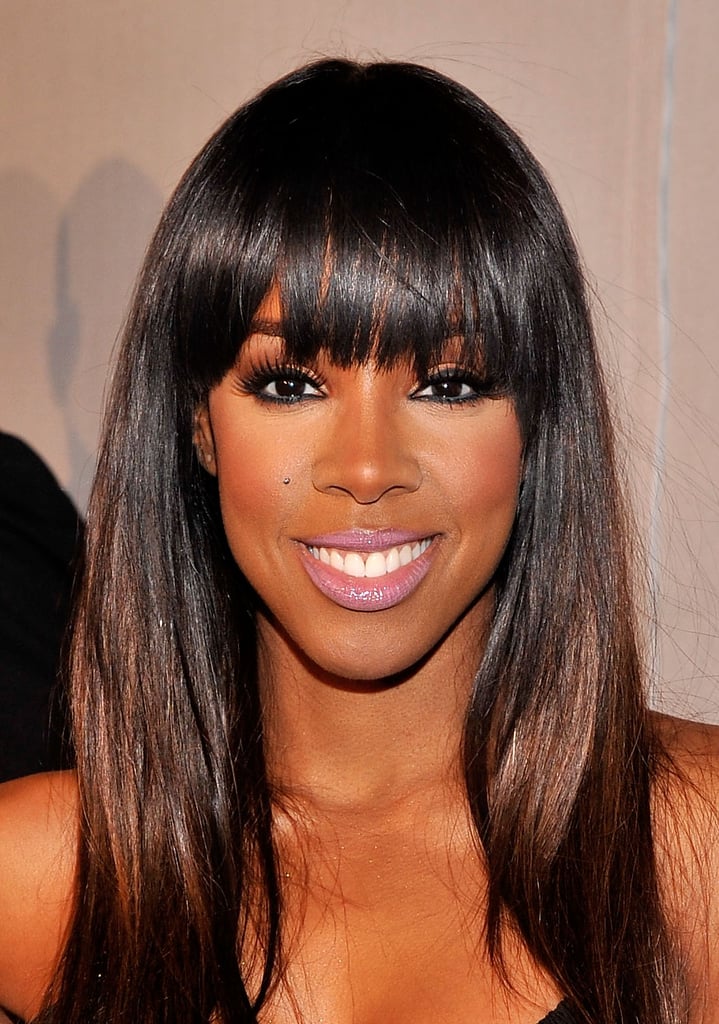 Kelly Rowland's blunt cut is great for balancing out a longer face.
Karlie Kloss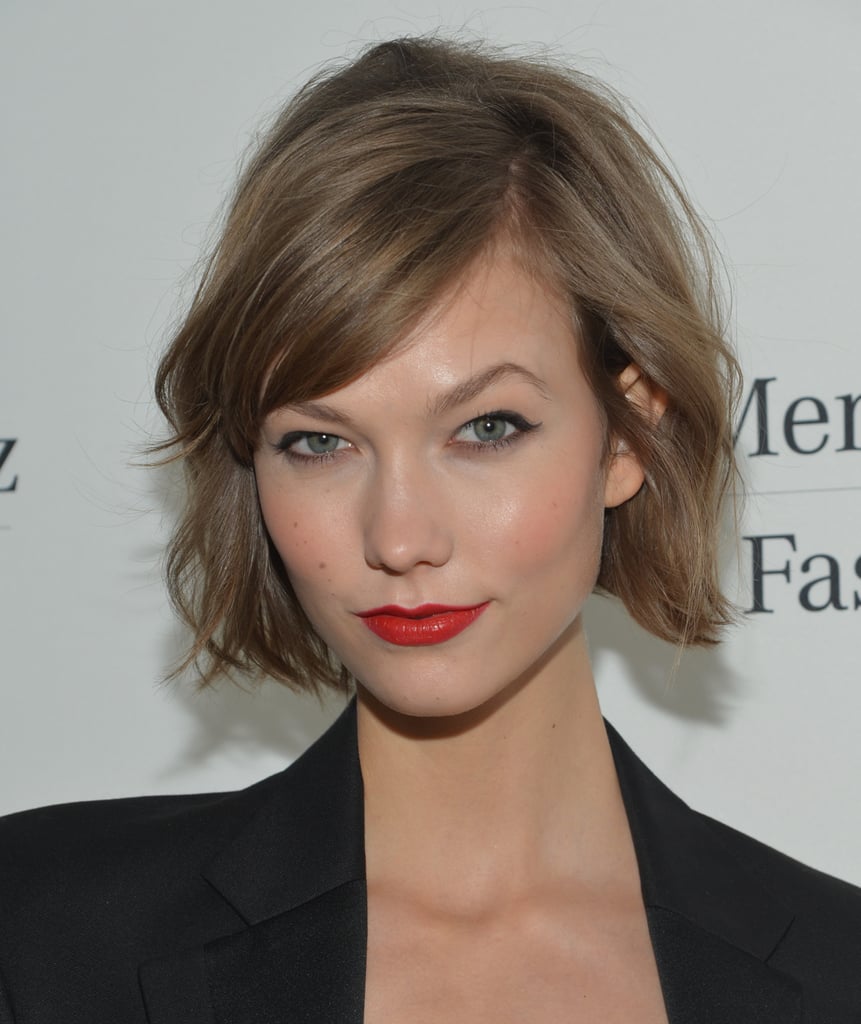 Karlie Kloss is now infamous for her chop, but her sideswept bangs give the cut much more dimension.
Kate Upton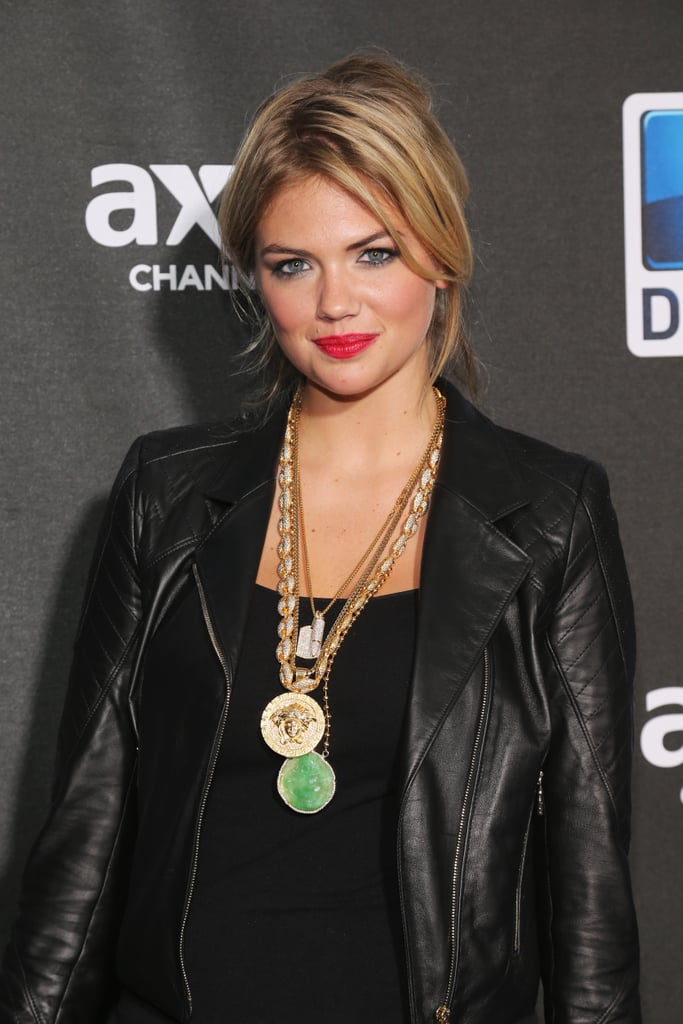 Kate Upton's long, face-framing bangs are the ultimate bombshell look.
Marion Cotillard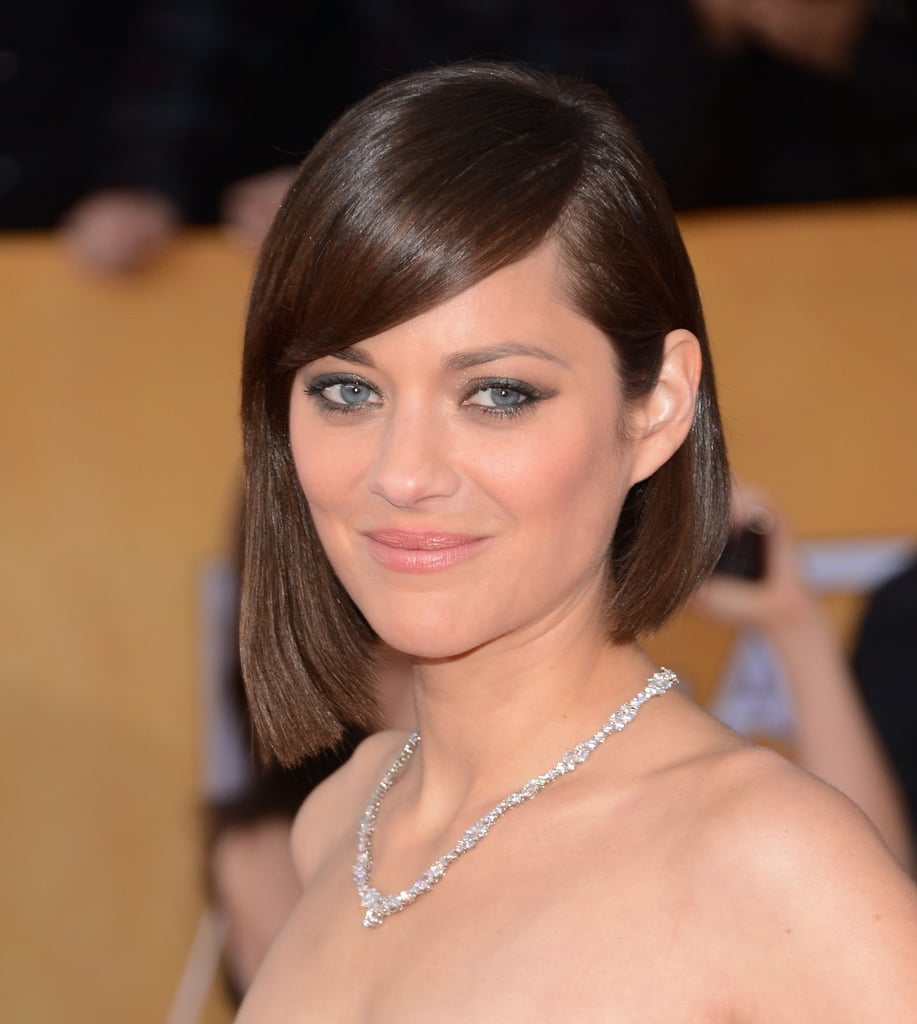 Sideswept and elegant, Marion Cotillard's fringe is a more mature take on the bang trend.
Jenna Ushkowitz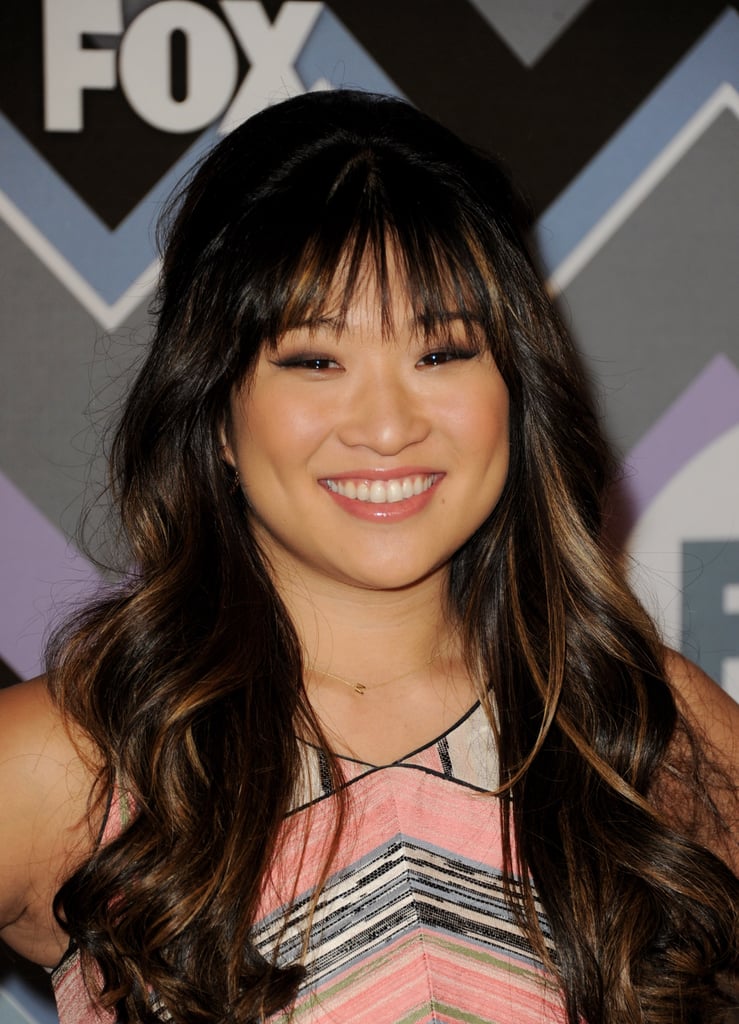 Jenna Ushkowitz's piecey bangs help balance out her round face shape by covering up her forehead.
Michelle Williams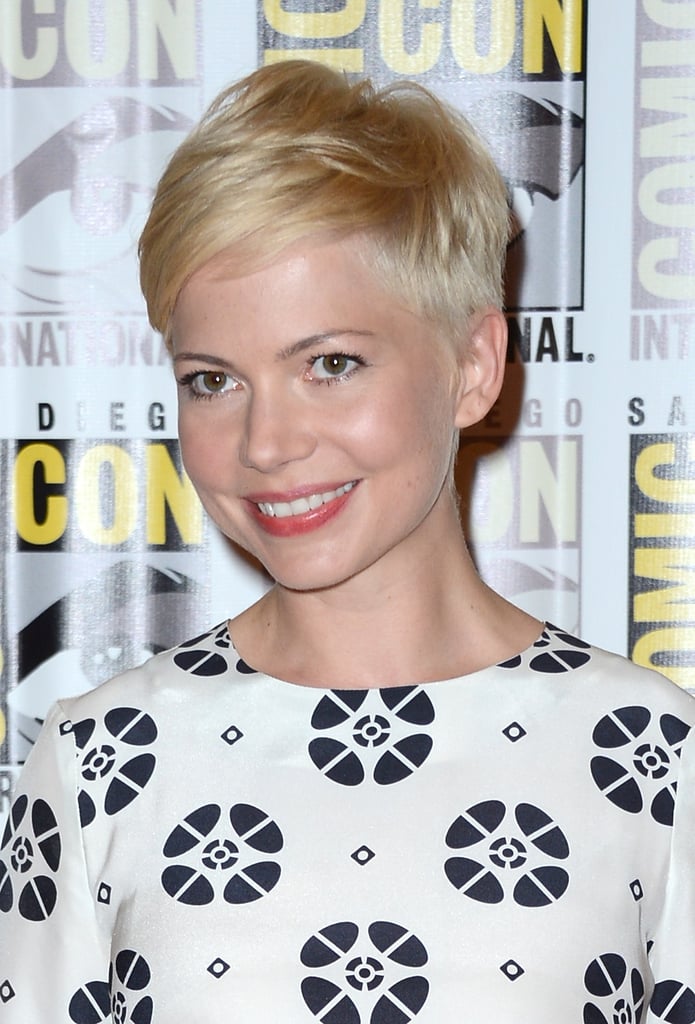 Her pixie cut is sweet enough on its own, but Michelle Williams [29]'s sideswept fringe adds a gamine twist to the style.
Kerry Washington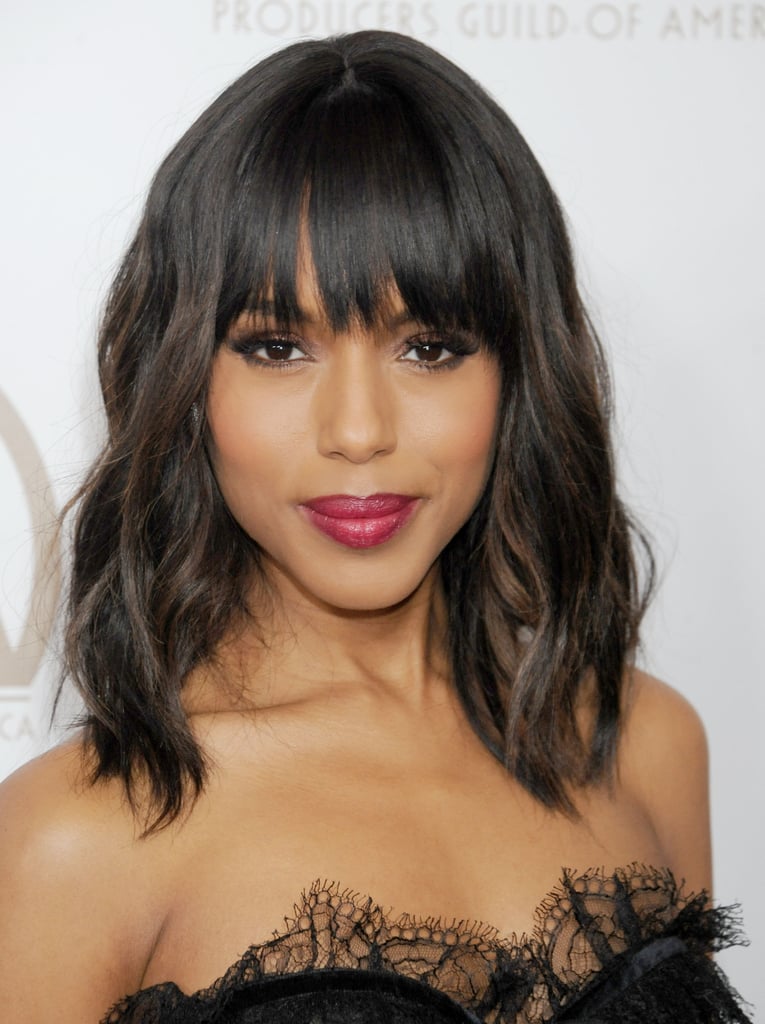 The Scandal star always looks flawless, but her grown-out fringe is particularly noteworthy. If you're opting for a lob like Kerry Washington's, ask your stylist to cut you longer, choppier bangs. Anything too short will look more playground than posh.
Alexa Chung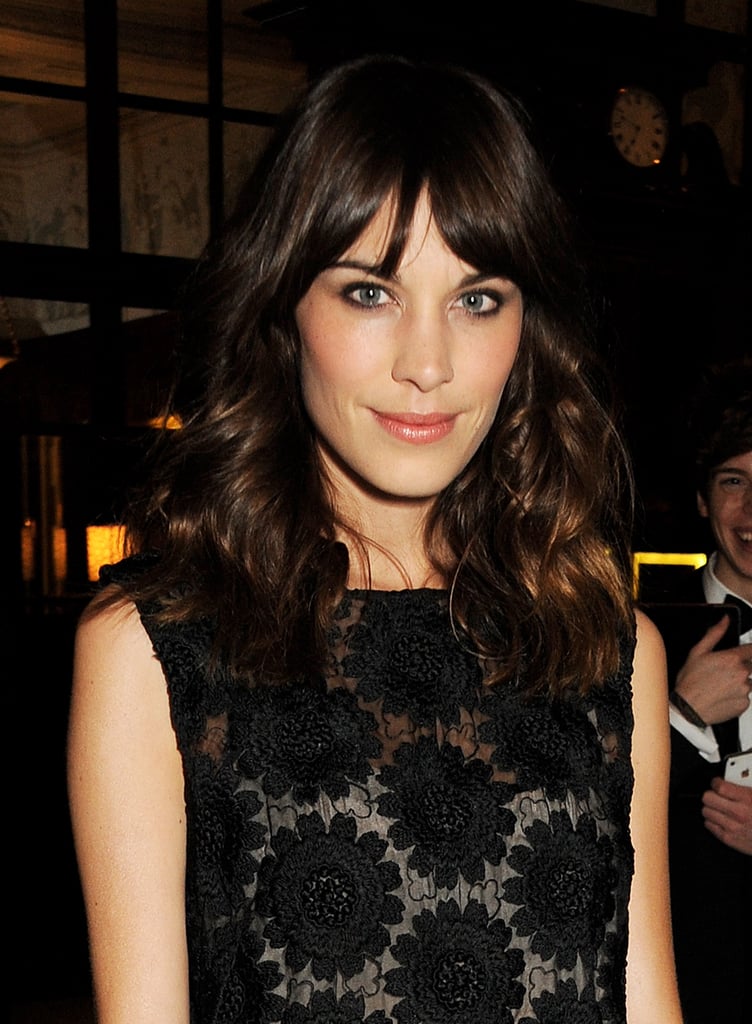 Known for her chic wash-and-go hair, Alexa Chung is the queen of fuss-free fringe. The trick is to not overstyle: just rough-dry your bangs and let them fall as they wish.
Emma Stone
Sleek and polished, Emma Stone [30]'s midlength fringe is a perfect example of bangs that can be styled down the center or swept off to the side.
Bella Heathcote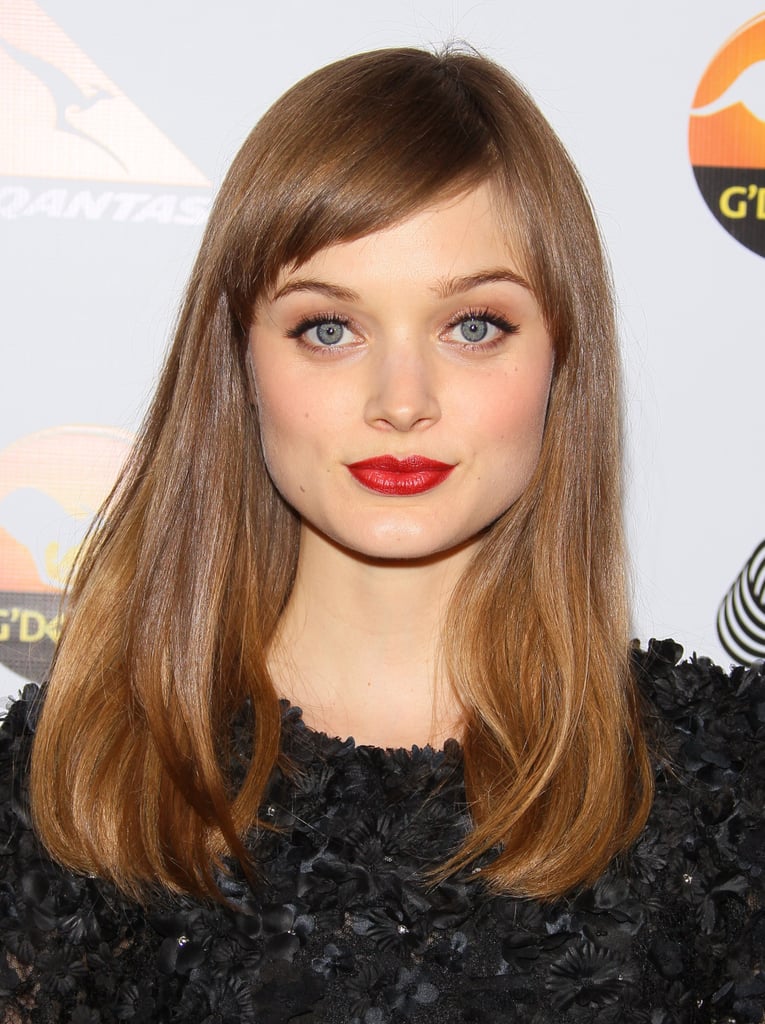 Bella Heathcote shows how a great pair of bangs can add some dimension to a one-layer style.
Dianna Agron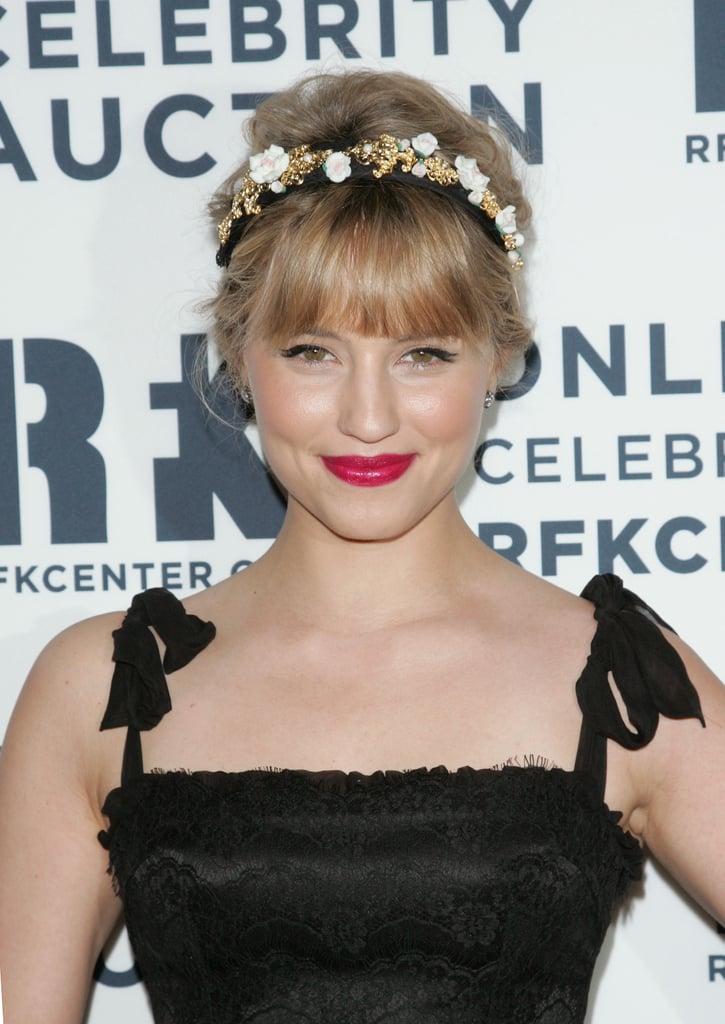 Glee sweetheart Dianna Agron [31]'s middle fringe looks fabulous when paired with a pretty headband.
Reese Witherspoon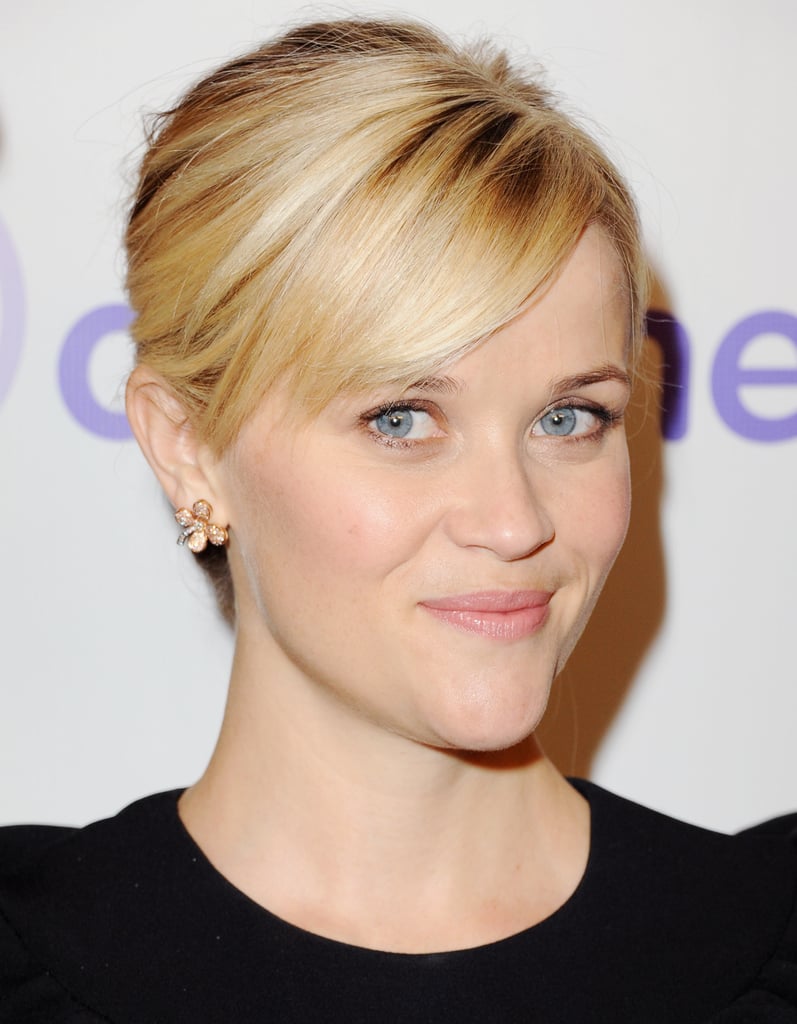 Not sure you want to commit 100 percent to your new fringe fetish? Opt for Reese Witherspoon [32]'s long, ruffled cut. This style of bangs blends away into your hair when you want but can easily be showcased in a side-swooping fashion.
Felicity Jones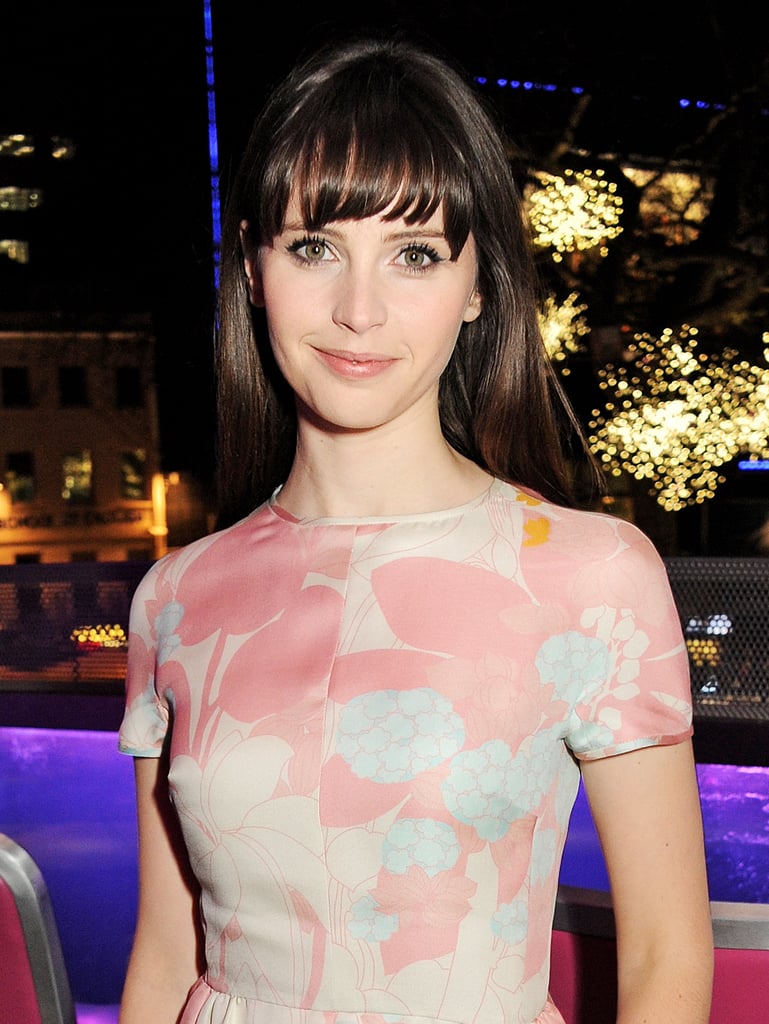 British darling Felicity Jones pulls off the perfectly gamine center style. To get her piecey look, try working a small amount of pomade, like Serge Normant Meta Form Sculpting Pomade [33] ($25), onto your fingers and lightly running them through your fringe. The effect will be sweetly rumpled and edgy.
Keira Knightley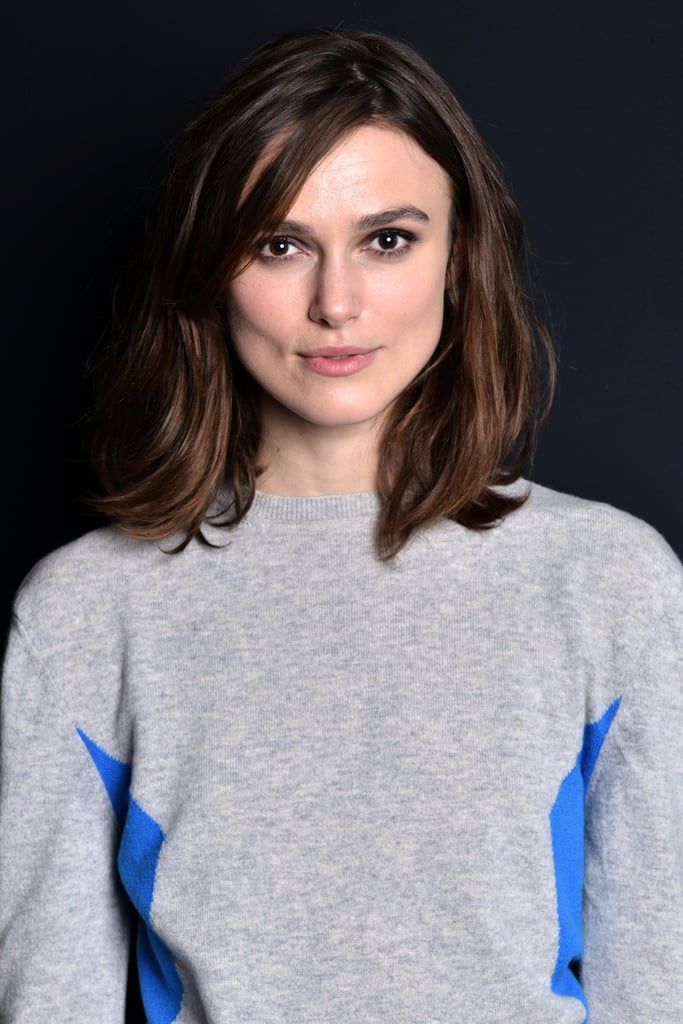 Sometimes, all you need to update your hair is to cut some long side bangs into it, like Keira Knightley [34]'s easy style.
Michelle Obama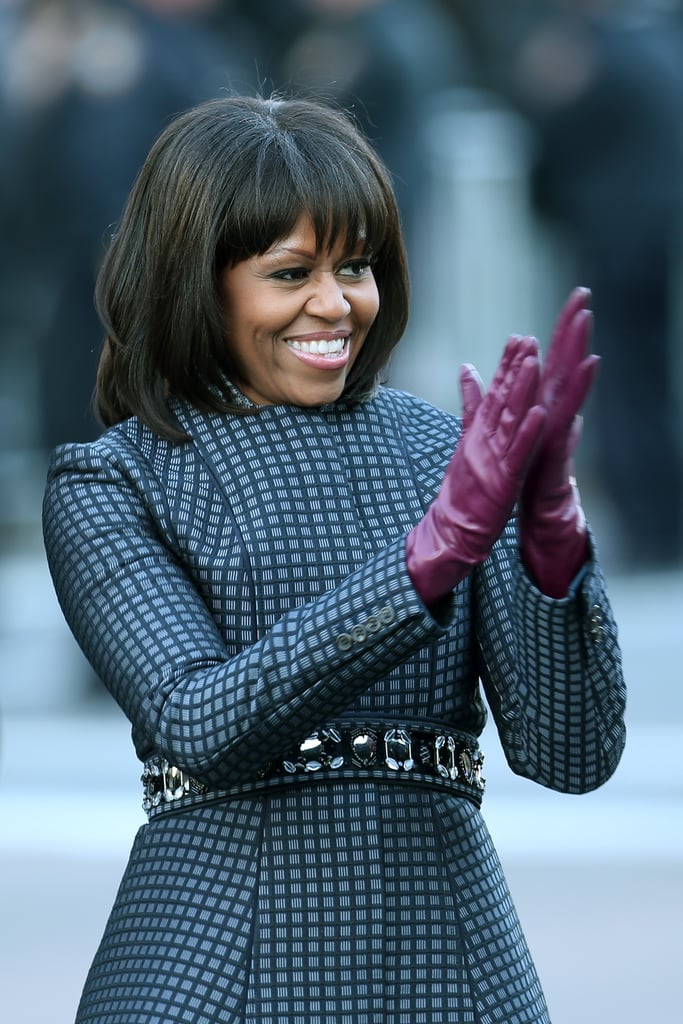 The first lady's hair was thrust into the limelight during her husband's inauguration earlier this year and for good reason. Her piecey cut is a flattering complement to a chin-length bob.
Zooey Deschanel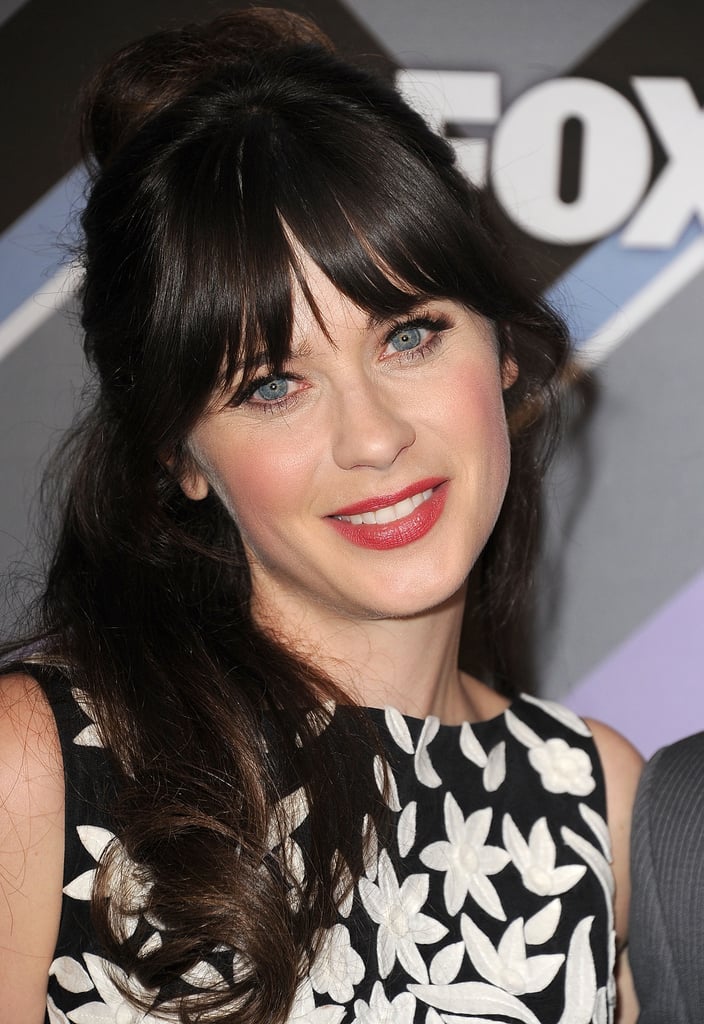 Her chestnut hair and center bangs are her signature, and Zooey Deschanel [35] told us how much she identifies with the hairstyle [36], which she's had since she was a little girl.
Jennifer Lopez
Part face-framing layers and part long bangs, Jennifer Lopez [37]'s fringe is another great option for those on the fence with their hair.
Jessica Biel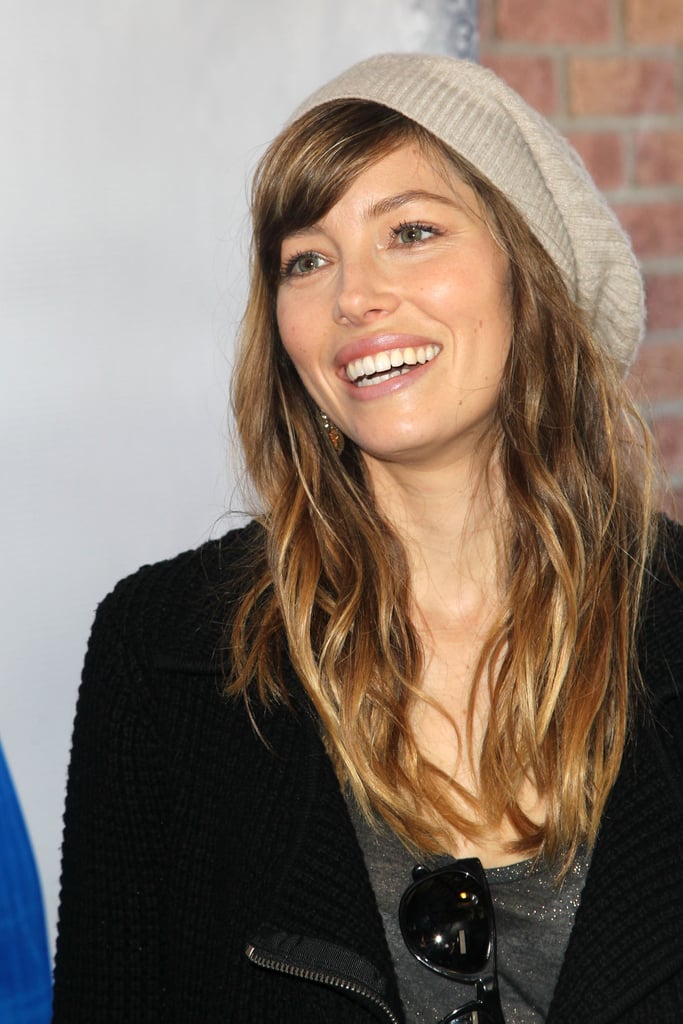 Jessica Biel [38] proves the versatility of blunt bangs, wearing hers sideswept and under a cute chapeau.
Lea Michele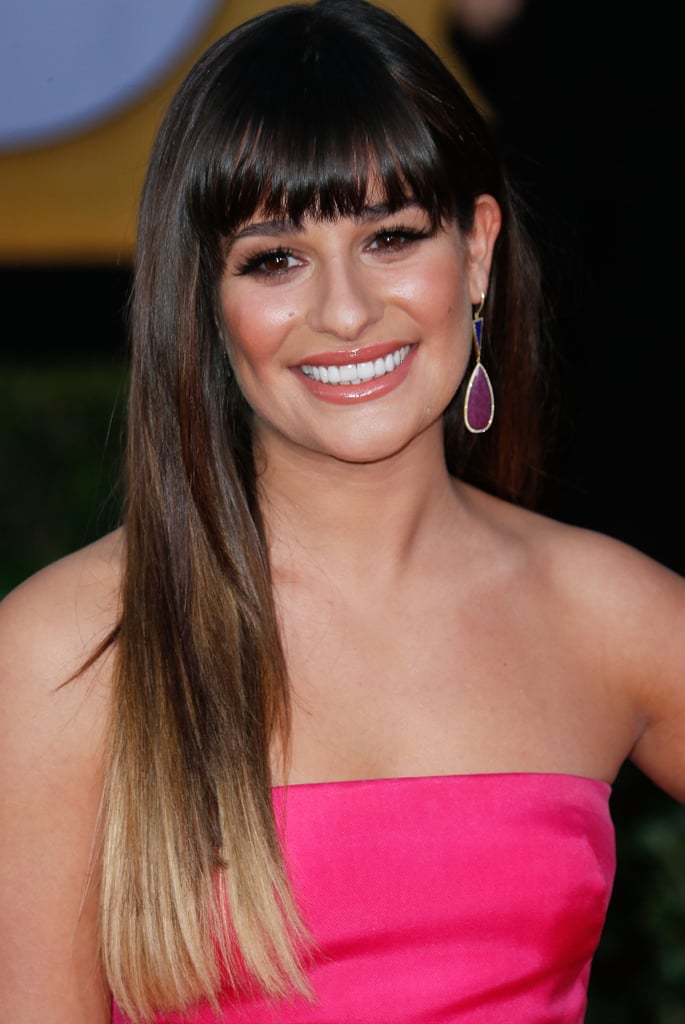 Although she sliced her bangs for her role as Rachel Berry in Glee, Lea Michele [39] also shows how versatile a center fringe actually is. Lea is sometimes seen with her bangs on full display and other times expertly hides them for her red-carpet appearances.
Taylor Swift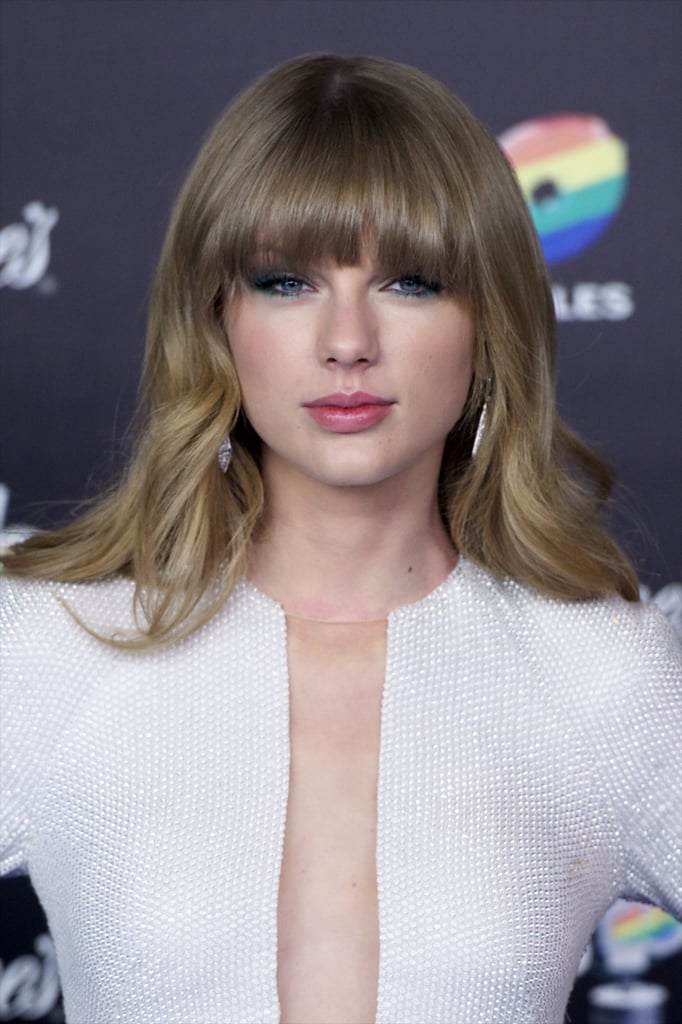 The country singer is known for two things: sing-along breakup songs and a full fringe. Taylor is normally seen pairing red lipstick with her bangs, a makeup trick that helps draw the eye down to the face.