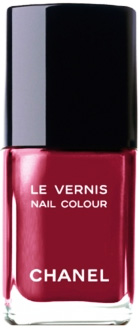 Chanel polishes, while pretty, are also dishearteningly expensive. I love nail polish, but I generally find myself wincing when asked to shell out $23 for a tiny bottle of the stuff. So I was excited to see that through what I suspect is some kind of attempt at making department stores more "fast fashion,"
Neiman Marcus
's Cusp boutique is
selling the Spring 2011 Chanel shades for $18
even though they're listed for $23 on the Chanel site. I don't know how Chanel feels about being undersold, but buying from Cusp does take a little bit of the sting out of laying down big bucks for lacquer. Still expensive? You betcha, but if you've got to have it, you might as well save a few bucks.