When you're dancing to your favorite band in the sweltering heat of a music festival like Coachella, beauty may be the last thing on your mind. But the looks that come out of week one at Coachella are notorious eye candy, and for good reason. Get some street-style inspiration when you keep clicking.
Source: Getty [1]
A pop of orange on the toes makes for a fun accent to these sexy sandals.
Photo: Meg Cuna
A red lip and tinted sunglasses are a pretty pairing.
Photo: Meg Cuna
This subtle ombré hair is a hot trend for Spring.
Photo: Meg Cuna
Blond, tousled locks and a touch of color from the sun is a California-cool look.
Photo: Meg Cuna
Even ladies with lighter hair can rock an ombré look.
Photo: Meg Cuna
The lob lives on at Coachella.
Photo: Meg Cuna
Coral polishes pop against gray sandals.
Photo: Meg Cuna
A sweet chapeau helps you cover up from the sun.
Photo: Meg Cuna
Red hair with red lipstick is twice as nice.
Photo: Meg Cuna
A baby-blue manicure matched magnificently with a Céline bag.
Photo: Meg Cuna
Nude manicures are always a good look.
Photo: Meg Cuna
We're excited for Summer colors when we look at this turquoise polish.
Photo: Meg Cuna
Blush-colored talon nails make a serious statement while still being demure.
Photo: Meg Cuna
A turban is a daring choice, but by pairing it with a fresh face and nofuss hair, this desert beauty made it look way easy to pull off.
Photo: Meg Cuna
Eccentric and iconic big round glasses are even more powerful when coupled with a bright coral lip.
Photo: Meg Cuna
Heavy bangs are always a fun way to update your Summer style.
Photo: Meg Cuna
This festivalgoer's metallic manicure was edgy and cool.
Photo: Meg Cuna
A pop of red across the lips was the cornerstone to this modern-vintage look.
Photo: Meg Cuna
Wavy, jet-black hair is the ultimate in cool-girl chic.
Photo: Meg Cuna
A long half-moon manicure is a modern twist on a classic.
Photo: Meg Cuna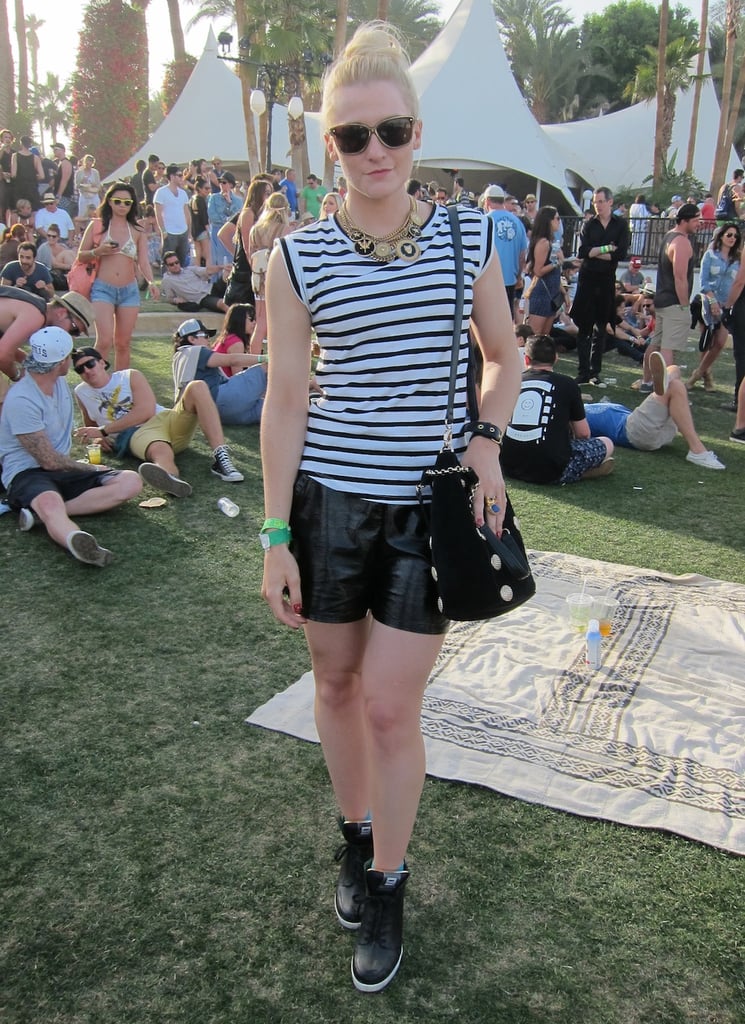 POPSUGAR editor Lindsay Miller looked sporty cool in a topknot.
Photo: Chi Diem Chau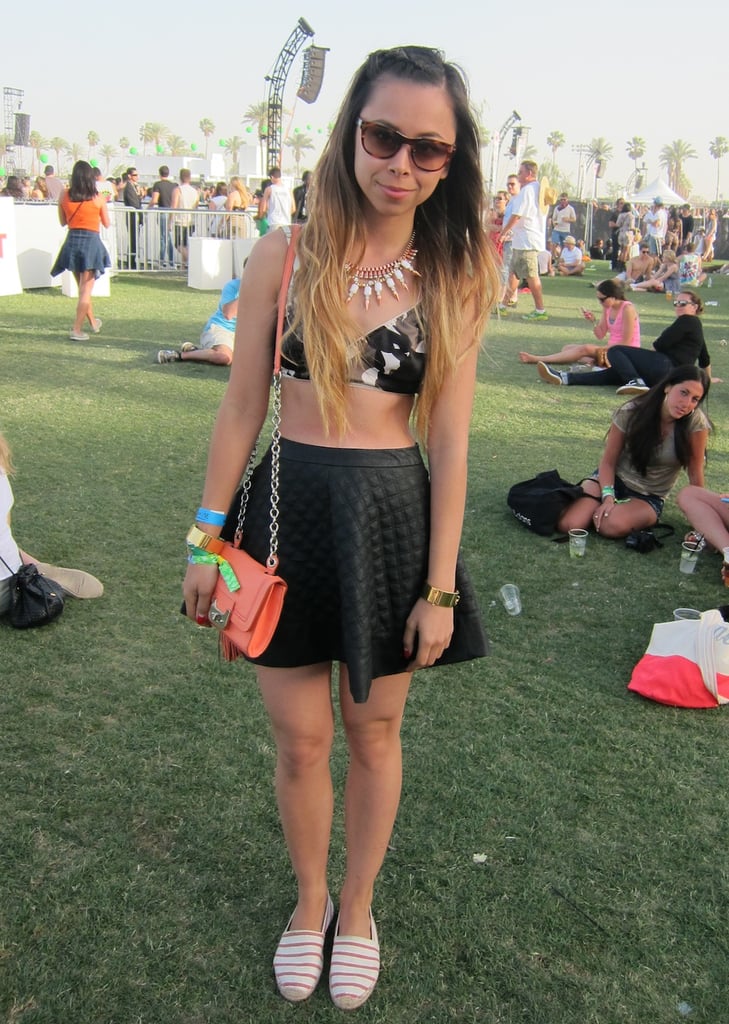 A long hairstyle with a slight twist got an edgy update with an ombré dye job.
Photo: Chi Diem Chau
A long, edgy lob looks great with some wispy bangs.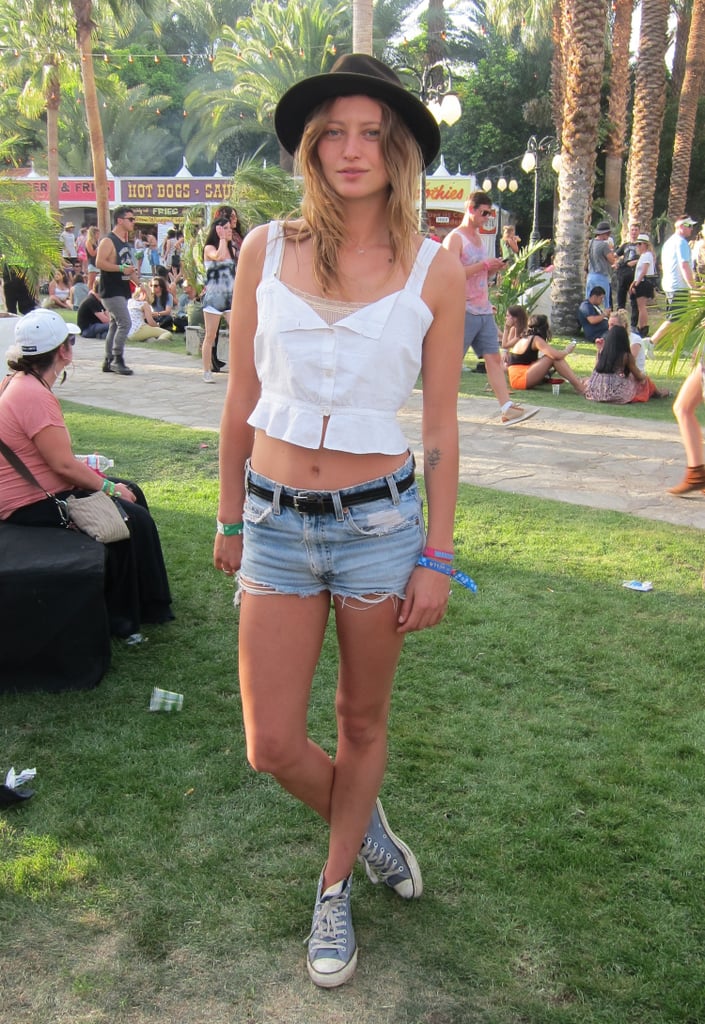 A rugged fedora hat polished up this grunge-girl look.
Photo: Chi Diem Chau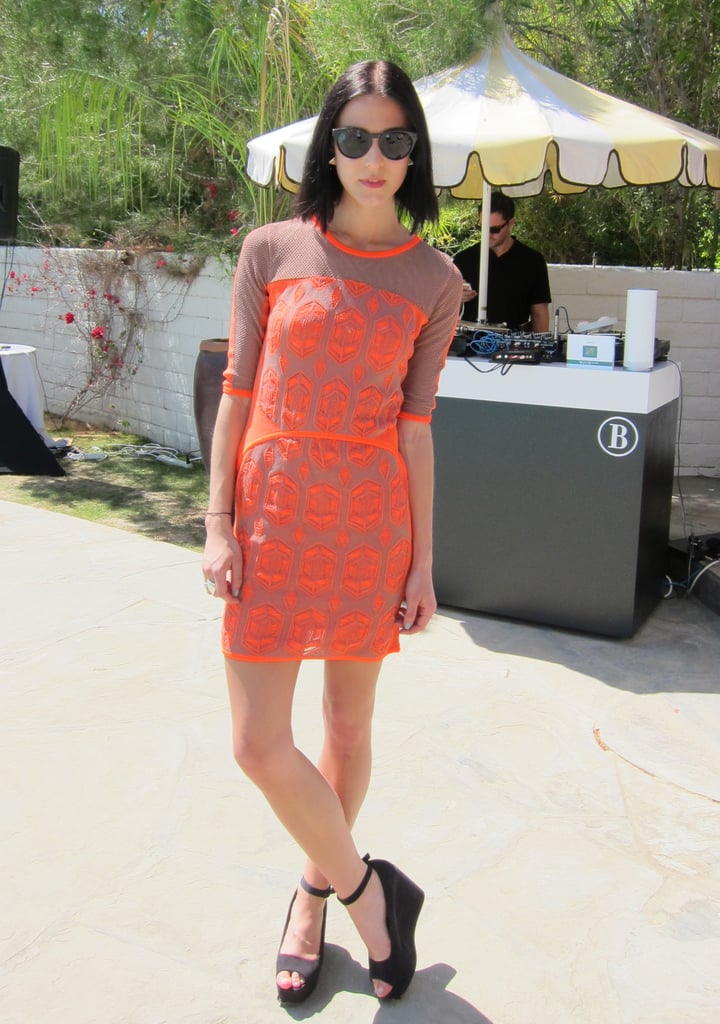 This black, straight lob was modern and gorgeous.
Photo: Chi Diem Chau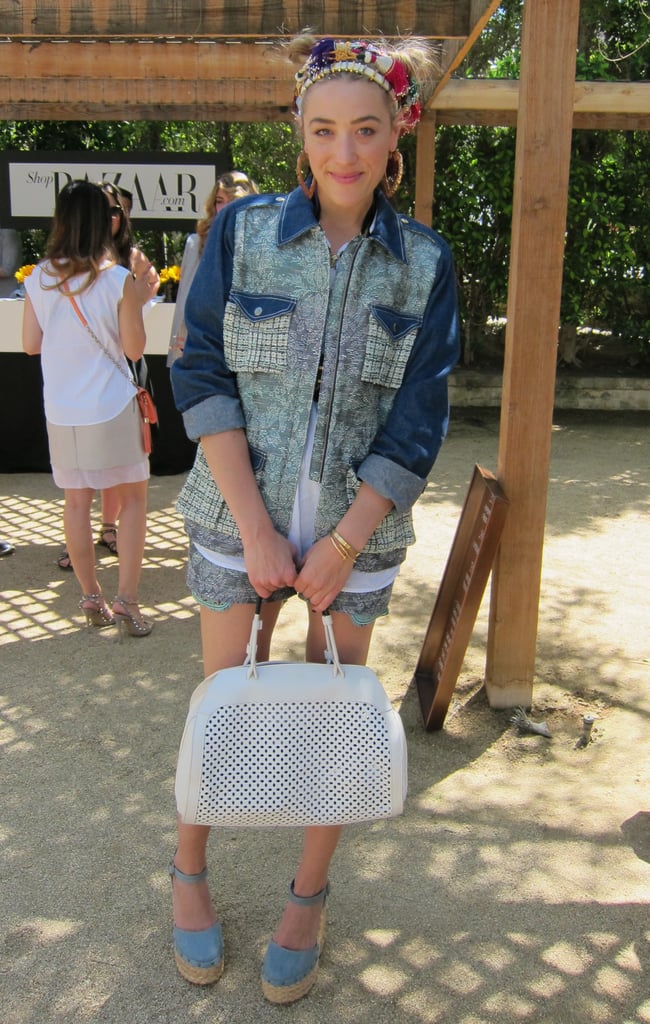 DJ Mia Moretti showed off a double-buns hairstyle and a funky headband.
Photo: Chi Diem Chau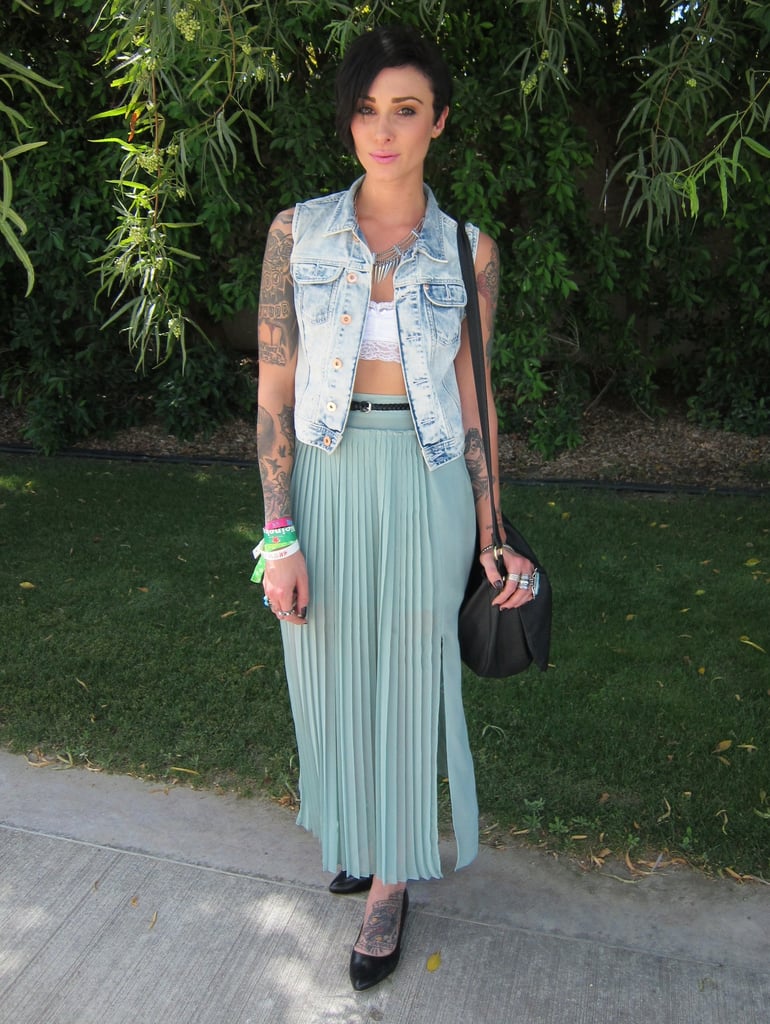 Hot-pink lipstick and a tousled updo made for a perfect festival look.
Photo: Chi Diem Chau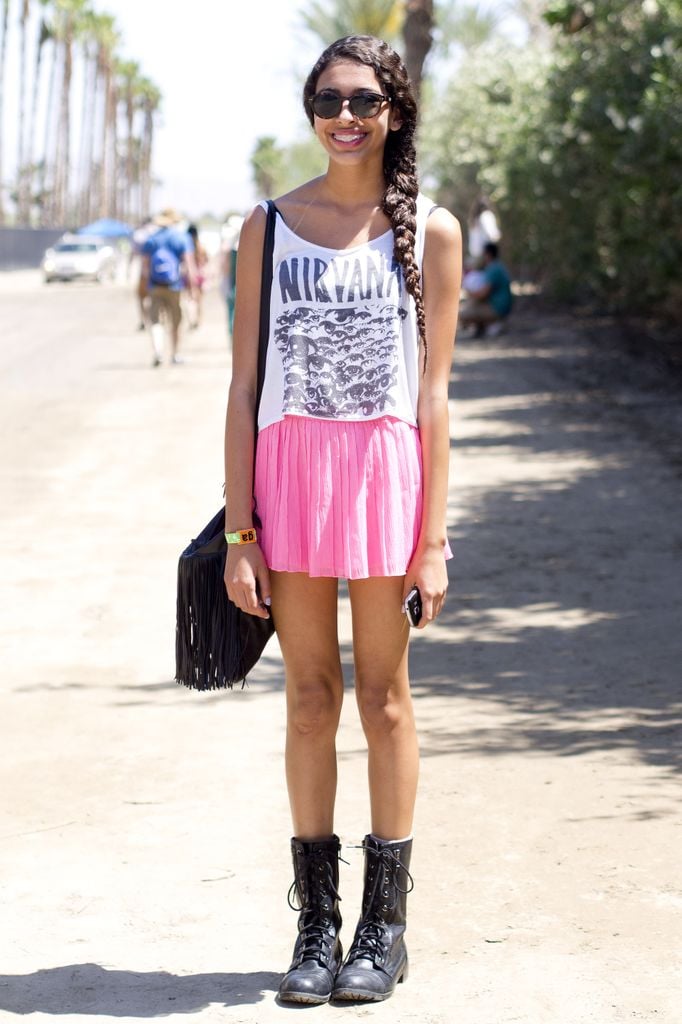 This oversize braid was one of the coolest we saw at the festival.
Silky, crimson hair and a nude lip made for an easy, breezy festival look.
We love the way this festivalgoer swept her aubergine hair into matching buns.
A makeshift flower headband looked great paired with a boho braid.
Try a turban headband to keep you cool when the sun is blazing.
Tinted pink hair and a floral headband made for a modern hippie look.
A jeweled headband is a pretty way to elevate any hairstyle.
A berry lipstick and coiled curls paired beautifully with a rose headband . . . and a slice of watermelon.
A piled-high hairstyle looked incredible with inky black liner and red lipstick.
We love this girl's textured hair and army-green nail polish.
Natural makeup and long bangs made for a cool, casual look.
This festivalgoer's modern hippie look was amazing, especially those braided dreads.
Braids and flowers: the ultimate in festival style.
If you're at a loss for flowers, this girl's got you covered.
These pigtail braids were simple and sweet.
Sometimes, a little bit of body paint is all you need for the ultimate in festival beauty style.
If we had headwear as amazing as hers, then we'd be dancing too.
With her ombré hair, crimson lips, and amazing nail art, this festivalgoer was a triple threat.
Eve's gilded hairpiece and maroon braid were a tantalizing pair.
This festivalgoer's half-moon manicure, fiery red hair, and headscarf made for a modern rockabilly look.
The best way to amp up a braid? Bump it up at the crown.
This DJ's short, blond crop was just darling.
Red hair and red lipstick make a great duo.
This festivalgoer made an impression donning a gilded manicure and grown-out bangs.