Coming Soon: Estée Lauder Vivid Garden Summer Color Collection
I can't say that I've been to a real, official afternoon tea in the garden. I can't say that I've even officially been to an afternoon tea — that is, unless you count my friend's baby shower in Ohio, where it was snowing outside, but we still enjoyed bite-sized treats like mini cucumber sandwiches and clotted cream in the comfort of indoors. Regardless, a garden-side afternoon tea sounds quite nice, don't you think? And that's exactly what inspired Estée Lauder in its Vivid Garden Summer Color Collection for '09.

While there will also be a warm Bronze Goddess Collection for the rising temperatures ahead, the limited-edition Vivid Garden palette focuses on whimsical, floral-inspired vibrant shades such as pinks, purples, teal, aquamarine, and lime. Creamy textures and sheer glazes provide the finishes.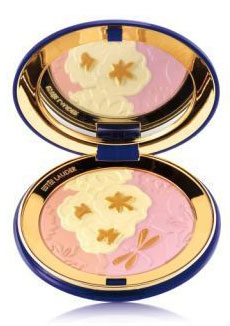 Find out what's new when you
.
Base look for face:
Vivid Garden Illuminating Powder ($32): Includes three slightly shimmery, floral-inspired shades with a dusting of gold.
Duo-Tone Eye Pencil ($18.50): Comes in contrasting tones of Onyx and Pearl.
For a Jasmine Garden Look (Available at Saks Fifth Avenue, Neiman Marcus, and Bloomingdale's):
Signature Eyeshadow Quad in Jasmine Garden ($35)
Pure Color Illuminating Gloss in Lotus Blossom ($18)
Pure Color Crystal Lipstick in Sweet Lychee ($22)
Pure Color Nail Lacquer in Lotus Blossom ($18)
For an Orchid Garden Look (Exclusive to Nordstrom):
Signature Eyeshadow Quad in Orchid Garden ($35)
Pure Color Illuminating Gloss in Peach Blossom ($18)
Pure Color Crystal Lipstick in Crystal Coral ($22)
Pure Color Nail Lacquer in Peach Blossom ($18)