A Day in the Life of Mally Roncal
A Day in the Life of a Celebrity Makeup Artist
Like us on Facebook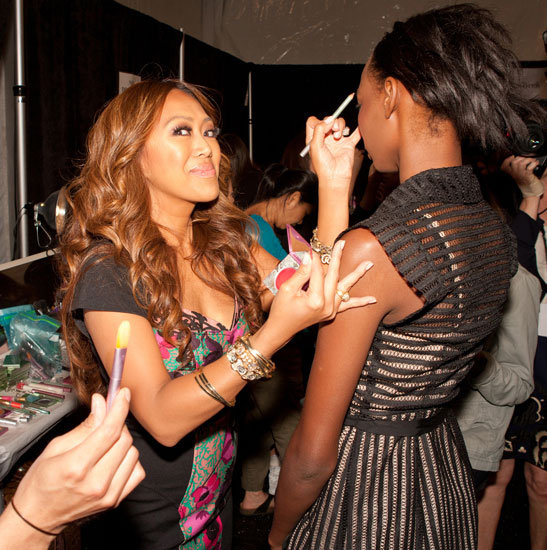 We are pleased to present the following post, written by our guest writer Mally Roncal!
Hi, BellaSugar beauties. For those of you who don't know me, I'm Mally Roncal, celebrity makeup artist and president and creator of Mally Beauty. Like so many of you fierce ladies out there, I am an entrepreneur, a mom (to three beautiful girls), and a beauty addict. While I love getting glammed up for my live appearances on QVC, photo shoots, and for TV shows, when you find me at home, I've got my hair up and I'm wearing no lashes — total mommy-mode. My life is not always glamorous jet-setting, big hair, and heels, and I would not change any minute of it. Here's a peek into a non-TV day, giving you an inside look into my very blessed life. See Mally's full-day schedule when you read more.
6:00 a.m. My "alarm clock" (aka my three daughters, or Beans, as I like to call them) run into my room and make sure that I am up nice and early. My husband Phil and I get them dressed, fed, and bring them to school.
8:00 a.m. Regardless of where I am going or what I am doing, I always take at least five minutes to put on my face. I am so passionate about this. We as women are givers — we give to our children, our families, our friends, our jobs — so it is important that we also take that five minutes for ourselves. On those days when we need to get out the door quickly, all you need is some concealer, blush, my Volumizing Mascara, a great lip gloss, and my Face Defender to keep you poreless and bulletproof all day long.

9:00 a.m. Meet with the gorgeous and talented Tracy Reese to discuss the makeup look we're creating for her show at New York Fashion Week (if it's that time of year).

11:00 a.m. My assistant Sayra and I work on creating face charts while in the car . . . we're loving this look!

12:00 p.m. Time for lunch. My amazing nanny made some delish homemade chili.
1:00 p.m. Run to a business meeting at QVC about some upcoming launches. Can't wait to show you what we have in the works!

2:00 p.m. Phone interview with my favorite magazine editors. It's so much fun sharing my makeup artist tips and tricks with them.

3:00 p.m. Time to talk with Jill, my incredible director of product development. Can you believe we're already working on fierce, bulletproof products for 2013?

4:00 p.m. Head home to spend some quality time with the Beans and Phil — karate class, dance class, playing with makeup! I love their pure hearts and their incredible imaginations. It inspires me so much.

5:00 p.m. Major multitasking time: hop on a conference call, while whipping up some of my favorite Filipino sinigang (wait, did I add the lemon juice?).

7:00 p.m. Story time in bed with the girls; they always want another one.

7:30 p.m. The girls are snuggled up in their beds, and Phil and I are still working, wrapping up everything from the day.

8:00 p.m. I love this part of the day: Ustream time, where I chat with my "Mallynistas," live.

9:30 p.m.
Catching up on my DVR. Phil and I are loving The Voice, American Idol, and Oprah's Next Chapter.

11:00 p.m. Time to take off my makeup (a must no matter how tired you are), and moisturize from head to toe before heading to bed myself.

Photos courtesy of Mally Roncal