Drew Barrymore [1] knows how to work a room. Sitting at a table in downtown NYC, the Flower Beauty brand owner and actress takes the time to learn every editor's name and compliment each of their beauty looks at an intimate media gathering. In fact, Drew is such a fan of one attendee's vampy lipstick that I wouldn't be surprised to see a similar shade on the Flower display in the future.
"I want to have really strong colors [in the Flower line] and not six pinks that look exactly alike," she said. "I get inspiration on the streets, the Pantone book, discontinued colors . . . If I see something I like, I snap photos."
Even though the actress has an eye for color, Drew chose go almost makeup free for the occasion. But she did manage to apply a few swipes of her Tea Rose Kiss Stick [2] ($7) at the last minute.
With a toddler to care for and another baby on the way, speed is important when it comes to Drew's own beauty routine. "I just don't have time anymore," she explained. "I use the Skincognito Stick Foundation [3] ($9). It covers my brown Melasma from being pregnant, but luckily I don't have the mustache yet. Really, I just want two products that will work together to make me look good in 60 seconds." Read on to discover more of Drew's Flower favorites, as well as what's next for her affordable, girlie brand.
Source: Instagram user popsugarbeauty [4]
Flower Lip Suede Velvet Lip Chubby
The latest Flower products offer a lot of chubbies: Lip Chubby [5] ($8), Eye Shadow Chubby [6] ($8), Lip & Cheek Chubby [7] ($10), and Highlighter Chubby [8] ($10). The thick pencils are made for on-the-go use, and she also had different types of women in mind when she created each product. "I love a good all-ages, all-backgrounds, all-economics party," she explained, meaning there is truly something that fits most skin tones, hair colors, and eye colors in her new 39-piece collection.
Drew's ultimate goal is to offer luxury-quality products for a drugstore price. When asked what's next, skin care came up. "I'm like a greyhound at the gate," she noted. "But skin care is economically different." While she would love to pack all her knowledge into a mass-ready range, it will have to wait until she discovers a sustainable business model. Until then, Flower CC cream perhaps?
Drew at the Golden Globe Awards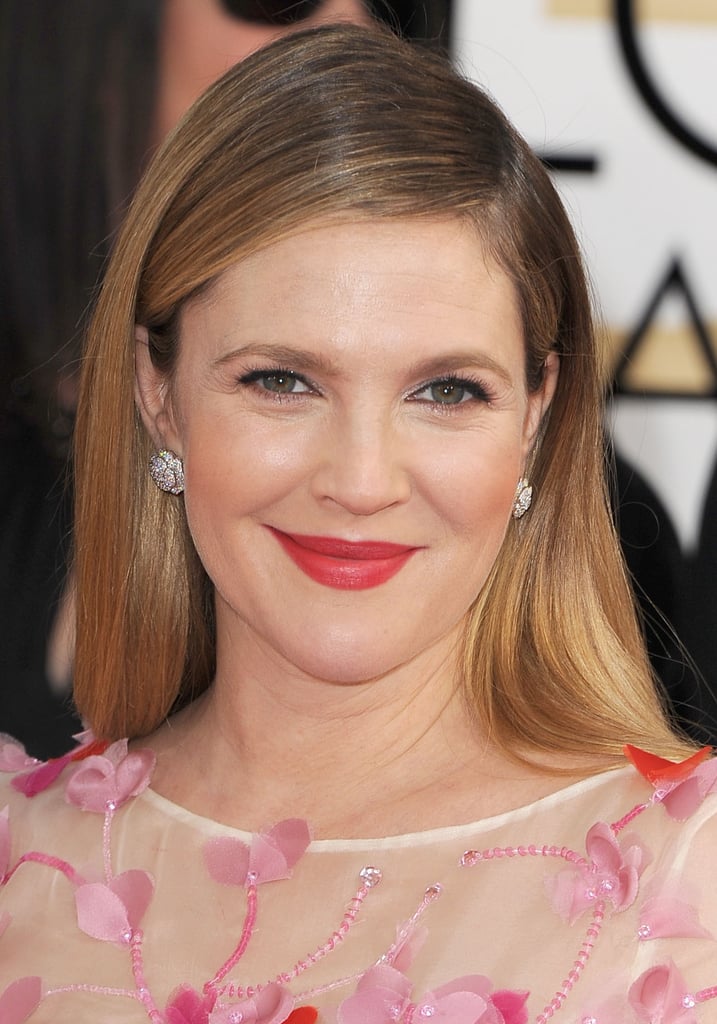 Drew lists the matte Lip Suedes as some of her favorites, and she actually wore the Red-dy to Bloom [9] ($8) shade to the Golden Globe Awards [10] earlier this year.
"It's all about the Flower Beauty product I want to promote at the time, whatever product I want to create a get-the-look around," the savvy businesswoman explained of how she picks which Flower goodies to wear on the red carpet.
Overall, I would use words like down-to-earth, intelligent, and curious to describe Drew, but she sums it up best: "I'm Drew, cofounder of Flower Beauty, el presidente, lover of all things beauty, lover of makeup, lover of women."