Summer is just a few weeks away, and that means you're likely looking for some easy, hairstyles that keep your hair away from your face. Enter the ponytail. The great thing about this classic look is that you can wear it anywhere from sleek and shiny or tousled with a matte texture. See five ways to do it now.
Casually Carefree
For something that's dressy without being too serious, follow Angelina Jolie [1]'s lead and sport a casually carefree ponytail. After curling the hair with a wide-barreled iron, place your strands back into a ponytail just above the occipital bone. Leave a few layers out around the face for a playful finish.
Pop of Color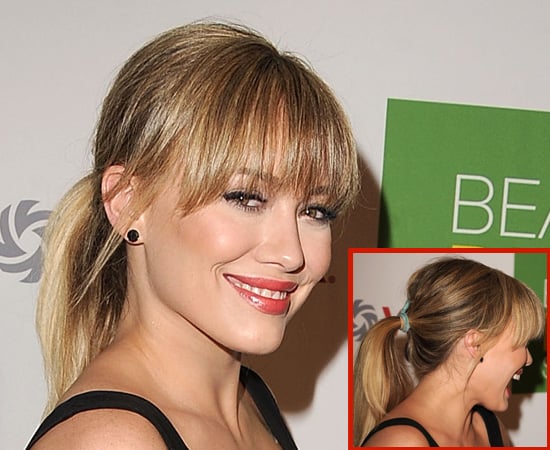 Here's Hilary Duff [2] wearing a simple ponytail style with blunt fringe. But a cute, colorful hair tie makes it all the more appealing.
Sleek and Chic
Lucy Liu [3]'s sleek ponytail looks even more polished accentuated with a simple side part. To get the look, blow the hair out straight, applying a glossing serum to enhance shine. Once the hair is parted off to one side, just pull the rest of it back at a point right below the crown. Wrap a section of hair around the base of the ponytail for a chic finish.
Bouncy Bouffant
Penelope Cruz [4]'s cute '50s-style bangs and bouncy fall made for one impressive hairstyle at the 2011 Cannes Film Festival. For a truly voluminous take on the coiffure, consider adding some temporary extensions, like Jessica Simpson's headband fall [5] ($99).
Modern Classic
No side part or fringe here for Rosario Dawson [6]. Instead, she accentuated her pretty features with some slight volume at the top. To re-create her style, simply tease the front of the hair, along with the crown. Then, smooth the hair with a fine-toothed comb before pulling it back.