When she's not rocking Daenerys Targaryen's white-blond wig on Game of Thrones, Emilia Clarke is a brunette bombshell. Last night, the It Brit enhanced her natural beauty at the Golden Globes with an ethereal hair and makeup look created by some some of the top pros in the biz. Her nails were done in a glamorous wine color to add some vampy drama to her Proenza Schouler gown. Read on for our full breakdown of the look — which is sweet enough to wear from brunch to evening cocktails.

"I was so inspired by Emilia's Proenza Schouler gown," Dove celebrity hairstylist Mark Townsend said. "The mix of embroideries looked like movement, so I wanted her hair to move beautifully as well." He prepped her hair adding a few drops of the new Dove Pure Care Dry Oil Nourishing Treatment [1] ($11) in her damp hair and combing it through. Next, he sprayed Dove Oxygen Moisture Root Lift Spray [2] ($6) to the roots and blow-dried strands with a round brush. Then, he took three-inch sections of hair and wrapped each section around a 1.5-inch curling iron, because a larger barrel creates looser waves instead of tight ringlets. He finished the look with Oribe Dry Texturizing Spray [3] ($39) for texture and Dove Pure Care Dry Oil Nourishing Treatment for shine.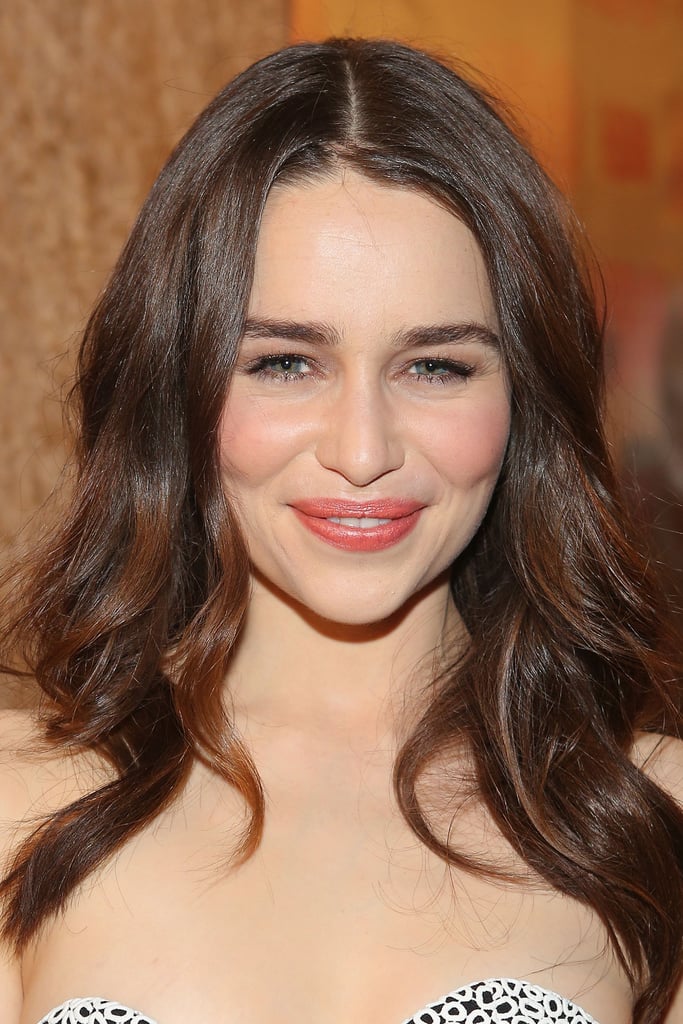 "When I'm working with younger actresses, it's always nice to keep them clean and fresh, so their own features show up and are not muted out," Chanel makeup artist Jillian Dempsey said. "I wanted to keep her effortless-looking. Emilia has beautiful porcelain skin, so I didn't really need to cake on a ton of foundation or powder." So Dempsey just added a thin layer of Chanel Vitalumière Aqua Ultra-Light Skin Perfecting Sunscreen Makeup [4] ($45).
To get her khaki-and-bronze eye makeup look, Dempsey outlined her peepers with Chanel Stylo Yeux Waterproof Long-Lasting Eyeliner in Khaki Précieux [5] ($30), a khaki gold-green. She then layered on Chanel Limited Edition Quadra Eye Shadow in Séduction [6] ($59). "I didn't do a traditional smoky eye, but I wanted her eyes to have a little drama — to look ethereal, and worn in, and dewy, and luminescent," Dempsey explained. Her lashes were finished with Chanel Inimitable Mascara [7] ($30) and short-length individual lashes on three quarters of her eye.
Emilia's lips were done up in Chanel Rouge Coco Hydrating Crème Lip Colour in Mystique [8] ($34), a dusty rose color. "I like to apply a nude lip liner, like Chanel Le Crayon Lèvres Precision Lip Definer [9] ($29), after I put on the color so it doesn't look too perfect," said Dempsey. "I call it my 'scribbling method': You put on your lipstick color with a brush, so it looks like you're staining the lips at first. Then you take your liner, and you push out on the upper corners of the mouth to build a shelf where you want the color to go, moving with the natural shape of the lips. Then you go back in with your lip color."
When it came to her nails, Lisa Postma painted Emilia's paws with Sally Hansen Complete Salon Manicure in Wine Not [10] ($8) and finished with Sally Hansen Complete Salon Manicure Dry + Go Drops [11] ($8).