Exhibition Magazine to Launch Premiere Issue
New Magazine to Explore Just Lipstick in Its First Issue
Like us on Facebook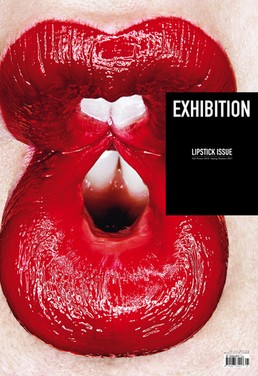 In a unique approach to publishing, a new luxury magazine Exhibition will publish one issue a year, focusing on just a single topic. For the premiere issue, lipstick will be covered at depth. "The lipstick is a commercial object yet full of symbols and symbolism. It is iconic, timeless, intimate, and generates plenty of fantasies," editor-in-chief Jean-Christophe Husson, a former magazine and fashion label art director, told WWD. (See more of Husson's work here.)

The 140-page spread ($27) will include an unusual range of stories: macaron maestro Pierre Hermé's pastry interpretations of iconic red lipsticks from Dior and Chanel, a depiction of actress Kelly Brook painted with lipstick, and a feature with makeup artists like Tom Pecheux showing off their favorite reds.

Exhibition will be available at chic Parisian concept store Colette starting Jan. 10, and will then branch out to international newsstands on Jan. 25. A one-topic glossy is a clever idea, and there is definitely something intriguing about lipstick, but will you check out this singular-topic magazine?