Over the past few weeks we've been exploring various looks that make all the different eye colors pop, from blue-eyed [1] to green-eyed [2] to brown-eyed beauties [3]. But what if your eye color is a combo of two or three of these shades, or your eye color looks as if it's completely changed depending on what it is you're wearing? In these cases, you have lots of options. Here are five palettes for inspiration.
Bronzed Glow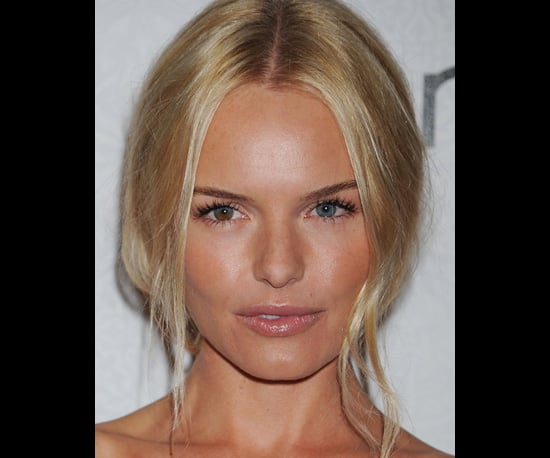 Did you know that actresses Demi Moore [4], Mila Kunis [5], and Kate Bosworth [6] all have heterochromia [7], a difference in coloration of the eyes? If this applies to you, take a cue from Kate, who made her blue and brown eyes pop even more with simple, bronzed-glow makeup and strategically placed highlighter. Sometimes less truly is more, no?
Gray Gardens
Olivia Wilde [8]'s piercing light eyes are perhaps her most distinguishing feature. While her eye color is actually a blue-green, when encircled with this gorgeous copper shadow, the shade became even more intense. The contrasting warm orange brought out the coolness of her eyes. Learn how to get a tightly lined eye look here [9], and then smudge on a fun apricot-hued shadow, like Bare Escentuals Eye Color in Iced Tangerine [10] ($13).
Amber Waves
Perhaps you're like Rashida Jones, whose eyes take on both green and golden brown tones. Whether you call it amber or maybe even hazel, when she accentuated her peepers with a rich claret lipstick, like MAC Dubonnet [11] ($14), her eyes stood out even more.
In the Navy
Katie Holmes actually has hazel eyes, but with her waterlines dressed up in a shimmery navy liner, her eyes took on a more bluish hue. To take it even further, pair the look with a brick-toned gloss to complement any warm tones you might have in your eye color.
A Plum Deal
Aishwarya Rai's stunning green/blue/gray eyes, when paired with plum lipstick and smoky eye makeup, were enviably gorgeous. To re-create the look, experiment with the various shades in Pop Beauty's Eye Shaper Palette in Plum Popper [12] ($24), and top it off with a mauve lipstick, like L'Oréal's Endless Lipcolour Lipstick in Undeniably Mauve [13] ($10).