Eye Shadow 101: The Best Hues For Your Baby Blues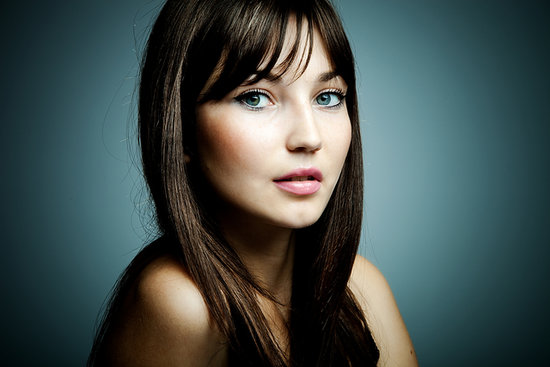 Welcome back to Eye Shadow 101. The first installment was all about purple shadows for hazel/green eyes. Number two is dedicated to finding the best-suited eye shadows for all of you blue-eyed beauties. Whether you have more of a sky blue tone or a navy color, men will melt when they catch a glimpse of your baby blues.
Let's begin with a short reiteration of the basics from installment number one. The goal of wearing eye makeup is to enhance and bring attention to your eyes. The rule of thumb is to wear the opposite color eye shadow of your eyes on the color wheel so that your eyes really stand out (or pop as they say in the makeup world).
If there's one thing to remember when it comes to blue eyes it's this: avoid matching your eye shadow to your clothing or your eye color. If you have blue eyes, wearing blue eye shadow makes your eyes look duller — and complementing your clothing has been out since the '80s. Imagine if you were wearing red or black? Yikes!
To specifically make your blue eyes traffic stoppingly bold, I suggest colors such as: browns, grays, golds, rusty peaches, or plum colors. To see my product recommendations and reviews read more
As we know, metallics are hot right now and they are easy to use alone. Just apply them to the lid and crease. My bronze and gold pics for blue eyes are: Half Baked by Urban Decay, a really rich gold; Amber Lights by MAC, a shimmery golden peachy-brown; and Beach Fluid Iridescent Eye Shadow by Chanel, a perfect combination of bronze and gold.
MAC also makes an awesome eyeliner called Teddy, a darker shimmery bronze that looks great with any of these shadows.
If you are going for the whole shebang (lid, crease, and highlighter) these are my suggestions. Typically, the lightest color is applied to the entire eyelid and to the edge of the eyebrow. Select a deeper color from the same color family to do the crease and dust a highlighter just beneath the brow. I love Done That by Make Up By Armando for the lid, MAC's Trax (a burgundy-plum flecked with bronze shimmer) for the crease, and Smashbox's Butter, a gold-yellow as a highlighter.
Don't forget to blend well. When you think you've blended enough, blend some more! The goal is not to have obvious edges of color. Remember, lighter colors highlight and darker colors recede and add depth and shading.