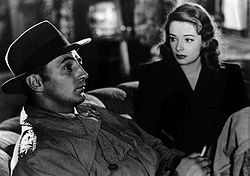 Do you know your film noir, doll? This cinematic genre often starred alluring actresses such as Veronica Lake, Rita Hayworth, and Ava Gardner. Common features of these types of films include a highly stylized appearance of both the characters and scenery, a crime, and some sort of dramatic, sexual undertone in the backdrop — think
The Maltese Falcon
and
Out of the Past
, or in more modern films,
Basic Instinct
or
No Country For Old Men
. Along with these artistic flicks come some pretty creative names. Now it's time for you to do a little sleuthing of your own. Is it a film noir or a fancy shampoo?
Film Noir or Fancy Shampoo?