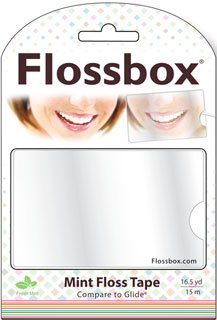 Here's a new addition to the annals of quirky products:
Flossbox
($24/pack of six), a credit-card-shaped dental floss holder with a mirror on the back. The catch is that for a little extra, you can put whatever you want on the front, from your personal information to a design you upload yourself.
I can see orthodontists leaping all over these to use as business cards, but they could also make good favors for a post-trick-or-treating Halloween party — or at the end of any kind of big barbecue/foodie shindig. If you're a frequent flosser, does the Flossbox appeal, or would you rather just stick with slipping a tiny spool of the stuff in your purse?