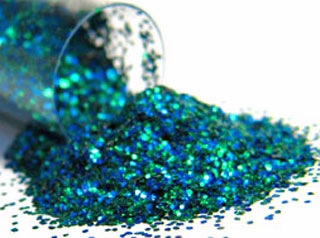 The season almost demands that you wear chunky glitter polish at least a couple of times, but big glitter polishes tend to be on the expensive end, and polish with tiny glitter takes endless coats to get the same bold, sparkly effect. There's an incredibly easy solution, though: just make
your own
. That way, you'll have polish that looks great, is a color that's hot on you, and can match your makeup and outfit. To find out how, just read more.
Get some fine-size flake craft glitter ($1.39), or medium size if you want it really chunky.
Find some clear nail polish, like Boots No. 7 Stay Perfect Nail in Clear ($3.37). If you have a half-full bottle, all the better.
Pour half the nail polish out into a bowl or another container, and funnel the glitter into the polish bottle.
Shake it up!
Apply.