The 66th annual Cannes Film Festival kicks off Wednesday, which means fabulous hair and makeup moments are right around the corner. From red carpets to photocalls, the Cannes Film Festival is routinely a feast for the eyes for the beauty mavens of the world. Can't wait another minute to see some gorgeous premiere stylings? Click through our slideshow retrospective to see the best looks from years past.
Sophia Loren
Italian actress Sophia Loren waved to fans sporting her signature teased ponytail and cat-eye liner at the 1964 Cannes Film Festival.
Jane Fonda
Jane Fonda's tight ponytail and amped up lashes looked beautiful at the 1978 festival.
Elizabeth Taylor
If anyone could rock a mighty bouffant like this, it would be Elizabeth Taylor. She opted for this look at the 1987 festival.
Madonna
In 1990, Madonna [1]'s film In Bed with Madonna was released, and the singer wore a red lipstick and a curly updo to the Cannes premiere.
Carla Bruni
French beauty Carla Bruni's hair had a subtle hint of ombré at the Cannes Film Festival in 1995.
Nicole Kidman
A fresh-faced Nicole Kidman [2] looked gorgeous with a head full of curls at Cannes in 1995.
Jodie Foster
A smiling Jodie Foster [3] glowed with berry lips at the 1997 Cannes Film Festival.
Liv Tyler
Back in 1998, Liv Tyler [4] opted for frosted blue shadow and a low ponytail in Cannes.
Kate Moss
British beauty Kate Moss [5] opted for strategic contouring and a slicked-back style on the Cannes red carpet in '98.
Brooke Shields
Actress Brooke Shields [6] sported her signature bold brows at Cannes in 1998.
Salma Hayek
Salma Hayek [7]'s brown shadow and heavy lip liner were definitely trendy in 1999.
Elizabeth Hurley
Sexy starlet Elizabeth Hurley [8] wore her hair in a voluminous blowout at the Cannes Film Festival in 1999.
Uma Thurman
While attending the 2003 Cannes Film Festival, Uma Thurman [9] sported sexy, glossy hair and a pop of red on her lips.
Claudia Schiffer
Silky blond locks and dewy skin made for a gorgeous look on Claudia Schiffer at the festival in 2000.
Calista Flockhart
Calista Flockhart [10] donned trendy microbangs at the 2000 Cannes Film Festival.
Penelope Cruz
Black-lined eyes, bold brows, and a bombshell blowout made for a sultry look for Penelope Cruz [11] in 2000.
Debra Messing
Debra Messing [12]'s sexy, beachy waves were the ideal accent to her surroundings at the 2000 Cannes Film Festival.
Jaime King
Jaime King showed off long, chestnut-brown hair at Cannes in 2002.
Iman
2003's festival saw model Iman sporting a flipped out hairstyle and a gray smoky eye.
Marion Cotillard
Marion Cotillard gave blond hair a go at the 2004 amfAR Cinema Against AIDS event at Cannes.
Evan Rachel Wood
While promoting her film Down in the Valley in 2005 in Cannes, Evan Rachel Wood matched her berry shadow to her lipstick.
Beyoncé Knowles
Beyoncé Knowles [13] opted for glowing skin and a sideswept ponytail at the Cannes premiere of Dream Girls in 2006.
Jennifer Hudson
Jennifer Hudson [14]'s vibrant green headband matched her dress at the Cannes premiere of Dream Girls in 2006.
Angelina Jolie
A curly half updo and natural makeup was a more casual look for Angelina Jolie [15] in 2007.
Natalie Portman
Natalie Portman [16] pulled her kinky, curly hair into a gorgeous chignon for the Palme d'Or Closing Ceremony in 2008. A silver smoky shadow circled her eyes.
Gwyneth Paltrow
At a photocall for Two Lovers back in 2008, Gwyneth Paltrow [17] wore her signature blond locks in a sexy, A-line cut.
Diane Kruger
Diane Kruger [18] has become quite the Cannes Film Festival darling, and her textured side braid at a photocall for Inglourious Basterds in 2009 is a great example as to why.
Kerry Washington
Kerry Washington sported a retro beehive updo along with a deep red lip at the Cannes premiere of Face in 2009.
Kate Beckinsale
In 2010, Kate was rocking a serious ombré dye job, which looked lovely paired with a subtly green smoky eye for the Palme d'Or Closing Ceremony in Cannes.
Eva Longoria
In one of her edgier red carpet appearances, Eva Longoria [19] opted for a slicked-back pompadour at the premiere of On Tour in 2010.
Rosario Dawson
A textured ponytail, bold brows, and a pop of red on her lips made Rosario Dawson [20]'s look at the premiere of Les Bien-Aimes in 2011 pitch perfect.
Kirsten Dunst
A Cannes Film Festival staple, Kirsten Dunst [21] glowed with a cat eye and red lipstick after winning best actress for her film Melancholia in 2011.
Kristen Stewart
Kristen Stewart [22]'s velvety red-orange lipstick paired nicely with her gorgeous green eyes at the Cannes premiere of Cosmopolis in 2012. The actress swiped Nars Lip Liner in Jungle Red [23] ($22) onto her lips with the brand's Semi Matte Lipstick in Heat Wave [24] ($26) on top.
Jessica Chastain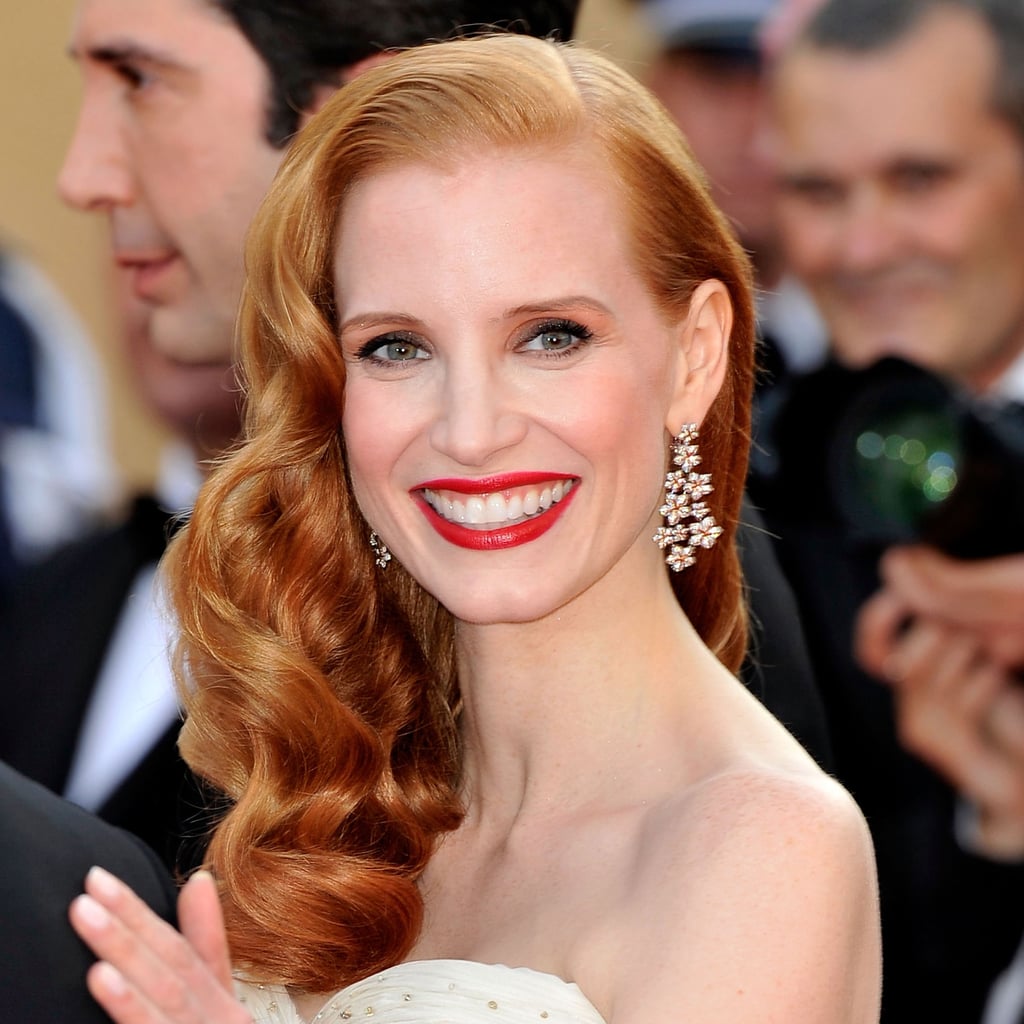 Here's Jessica Chastain in Veronica Lake waves and glossy red lipstick at the premiere of Madagascar 3 in 2012. As for her glowy skin, it's in part due to Sisley's Black Rose Cream Mask [25] ($158), which her makeup artist, Mary Greenwell, applied to Jessica's skin before her various Cannes red carpet appearances.