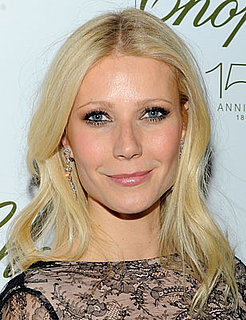 You might know that
Gwyneth Paltrow
's GOOP newsletters, while sometimes mocked by bloggers, actually do contain lots of great content straight from industry insiders. And whether you're a fan or not, you have to give the longtime actress credit for her efforts in trying to bring insider tidbits to the masses. Today's edition is one after my own heart, offering up some pretty cool
hairstyle tips and tricks
from her pals in the hair biz. See five of my favorites when you read more.
From celebrity stylist Orlando Pita: To create a slightly unkempt effect on a fishtail braid, push up on it first before securing with a hair elastic.
From hair health expert Philip Kingsley: For a different kind of at-home treatment, apply a scalp and hair mask, like his Scalp Mask ($7) and Elasticizer ($5.50-$125), while soaking in the tub. "The relaxation will help your hair internally, and the warmth and steam of the bath will help penetration of the products," he tells GOOP.
From Alli Webb, owner of LA's Drybar: For the best blowout results, start off with a clarifying shampoo and super-light application of conditioner just on the ends.
From Ricky Kenig of Ricky's NYC: Need help in the updo department? "This how-to-do-an-updo kit ($22) seems to sell out all the time at our stores," Kenig said.
From GOOP: For amazing hair, Gwyneth recommends Chapter Organic Perfect Prenatal Vitamins ($36). "Pregnant or not, this super vitamin made my hair grow thick, long, and healthy when I was taking it," she reveals.