It's the night actors honor each other, but it's the night we honor the best hair and makeup of the SAG members. From Jennifer Lawrence [1]'s rock-star-worthy pixie cut to Jennifer Garner [2]'s romantic bun, there's so much to love. See it all right here!
Kerry Washington
The nominee and expectant mother pulled her hair back with a sweet black band. Her rose lipstick matched her bejeweled top, while her mauve shadow was the perfect foil.
Amy Adams
It was a more formal style for the actress, with a carefully curled faux bob and must-have orange lipstick.
Jennifer Lawrence
The nominee's pixie cut was already growing in, with bangs swept across her brows. Her steel-gray shadow complemented her peach gloss.
Lupita Nyong'o
Leave it to the season's winner on stage and off stage to come up with the most daring makeup look of the night! In addition to her higher-than-ever hair [3], the actress paired hot-pink lips with turquoise-accented eyes.
Cate Blanchett
The nominated star played up her luminous skin with shades of petal pink, and her blond locks were pulled back into a soft updo.
Sandra Bullock
The Gravity star looked out of this world with shimmering cocoa shadow and matching peachy lips and cheeks.
Sandra Bullock
It was a tousled bun and cut-glass cheekbones for the nominated star.
Sofia Vergara
The actress went for full Rita Hayworth with glossy curls and deep rose lips.
Claire Danes
It was a dark and stormy night for the actress, who went for heavy smoky eyes and a tawny lip with her bedhead hair.
Jennifer Garner
The actress played up her strong brows with rose shadow on her lids and violet under her lower lashline. And her wavy updo was the stuff Pinterest dreams are made of.
Michelle Dockery
The Downton Abbey star added a dash of gold shadow across her lids and went with a classic red lip.
Julia Roberts
Does Julia Roberts [4] ever have a bad hair day? The actress, who was nominated for her role in August: Osage County, styled her hair in beachy waves and swept a shimmering gray shadow across her lids.
Elisabeth Moss
The nominee played it perfectly coordinated between her lipstick and her dress.
Mariah Carey
Sideswept, glossy waves were the cornerstone of Mariah Carey [5]'s look. Her skin was bronzed and luminous, adding to her gorgeously glamorous look.
Anna Gunn
The Breaking Bad actress matched her blue eyes to her outfit but kept her makeup light with soft waves.
Julia Louis-Dreyfus
The winner for female actor in a comedy series was no laughing matter on the red carpet with her perfect blowout and heavily lined top lids.
Isla Fisher
Talk about Hollywood glamour! The redhead showed off her lush locks in loose curls, paired with deep red lips.
Emilia Clarke
She may play a blonde on Game of Thrones, but the actress flaunted her dark hair on the red carpet.
Natalie Dormer
Natalie Dormer chose the SAG Awards to show off her new, extreme undercut. The left side of the actress's hair was shaved bare, while the right side was styled in glossy waves. A braid down the back of her hair broke up the two sides. Natalie's makeup focused on a sexy smoky eye and a nude lip.
Tina Fey
The comedienne tried out a new look with a middle-parted updo and chocolate smoky eyes.
Oprah Winfrey
It was all about the curls for the media mogul!
Kaley Cuoco
Newlywed Kaley smoked out her eyes in a shocking blue shade, while she kept the rest of her makeup look simple. Her hair was styled in loose, glossy waves.
Camila Alves
A neutral makeup look showed off Camila Alves's natural beauty. Her silky hair was styled into a half updo.
Malin Akerman
Malin added volume at the crown of her updo and went for an icy makeup palette.
Elisabeth Röhm
Looking far more romantic than her American Hustle character, the actress swept up her waves into a chignon. Her makeup was high shine with shimmering cheekbones and perfectly arched brows.
Elisabeth Röhm
The side of her chignon was accented with glittering pins.
Hannah Simone
The New Girl star swept up her long locks but left her bangs and a few wisps around her face.
Anna Chlumsky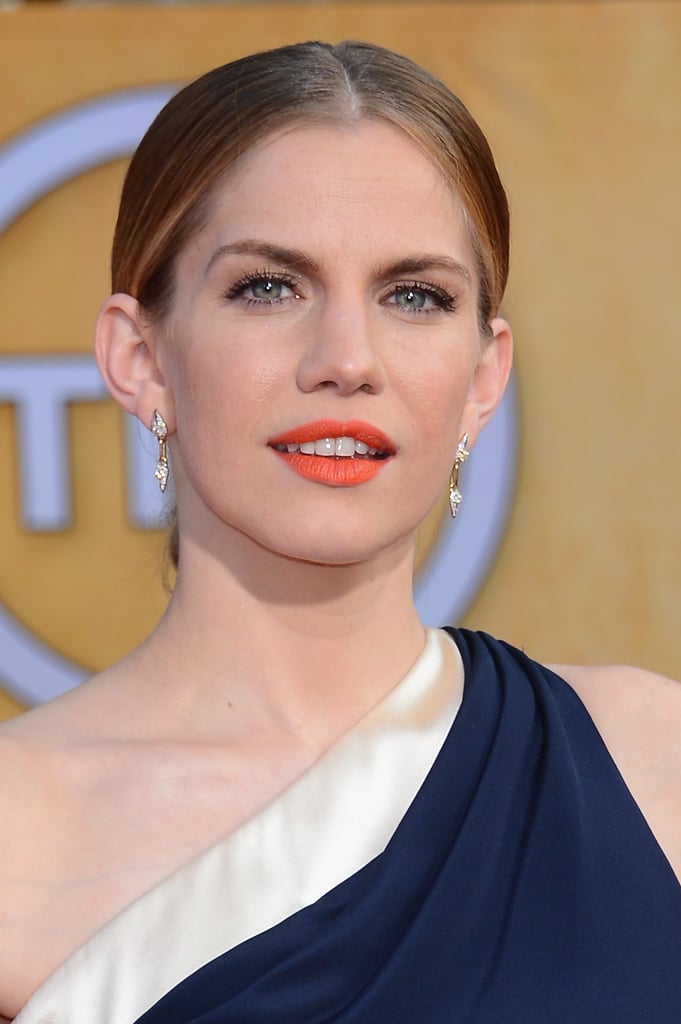 The Veep costar gets our vote for her on-trend orange lipstick.
Ariel Winter
It's a blue streak for the Modern Family actress, who dusted her lids with coordinating shadow to her dress. Soft, long curls completed the look.
Edie Falco
The nominee for Nurse Jackie left her caramel hair down but flicked up her liner for a cat eye.
Giuliana Rancic
The E! host swept her bob back into an easy straight style, highlighting her smoky gray eyes.
Kelly Osbourne
Sticking to her lavender hair, the TV host kept her bob nice and simple. Her eye makeup was centered on heavy black liner and lashes.
Sarah Paulson
She may play a witch on American Horror Story, but Paulson looked perfectly sweet with hot-pink lips and a middle-parted bob on the red carpet.
Abigail Breslin
The actress went for a '60s bouffant half updo with darkly lined eyes.
Katrina Bowden
The 30 Rock actress left her long blond hair loose and straight to match her simple and clean makeup.
Jane Krakowski
It was all about the bob for Jane, who peeked out from behind her bangs with green-shadowed eyes.
Sarah Hyland
The young actress went sweet and simple with bold brows and curled, long hair.
Amanda Peet
The actress went for casual cool on the red carpet, with a ponytail and easy bangs.
Laura Carmichael
Lady Edith, we hardly recognize you! The Downton Abbey actress scraped her hair back to put the focus on her major earrings and golden eye shadow.
Mindy Kaling
Lashes and brick-red lips were the perfect pairing for the actress.