No No Hair Removal Review
The Big No!No! Update
Like us on Facebook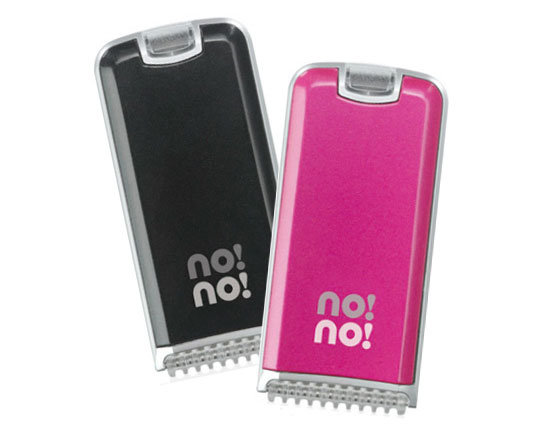 Does No!No! hair removal work? After my initial review of No!No!, I promised an update on the new device. My little pink gadget and I have been together for a couple of months now, and so I can give you a more robust idea of how well it works. (If you need a quick intro to how No!No! works, just read the first review.)

The first thing to understand is that using No!No! ($250) requires a time commitment. No, it's not a huge one, but it's still there, and I often had a hard time fitting my zapping time into my routine. I usually spend 20 to 30 minutes using No!No! on my legs and bikini line, and you're supposed to do this two or three times a week. It sounds easy, but if you have a busy schedule, it can be difficult to keep up this pace. (I found that it was easiest if I used the device while watching DVDs.)

For the full update, read more.

Because I often missed a session or two with No!No!, I've had good but inconsistent results. That's all because of me, not because of the product, but I feel like it's worth mentioning again. No!No! doesn't magically zap your hair away immediately; it takes time. I've been using No!No! more consistently over the past few weeks, and I can say that I already see a big improvement.

Before, I'd mentioned that the smell of burning hair was a turnoff. The more you use No!No!, the better it gets, because you're dealing with small bits of stubble. So that's not so bad. And again, the actual procedure is genuinely painless. Occasionally, along the bikini line, I can feel the heat, but it doesn't burn.

So does it get rid of hair? Yep, it does. I have significantly less growth on my legs, and while the skin isn't completely hairless, it's a considerable improvement. Plus, because I have less hair, I don't have to shave very often. Now, if you want 100% hairless skin, you'll probably either have to use the device forevuh or consider waxing or laser hair removal. But if, like me, you just want to deal with less hair overall, and to shave less often, it works well. For this reason, I think No!No! would be a fantastic find for women who feel their arms are more hirsute than they'd like.

The bigger issue, of course, is the price. I received a test unit to review here, but No!No! retails for $250. Not chump change! Whether it's worth buying depends on your needs. I think No!No! is worth purchasing if:
It fits within your budget.
You're willing to spend an hour to 90 minutes each week, for four to six weeks, to get results.
You want to minimize body hair, to get professional-level results, and can deal with the occasional stray hair that comes back.