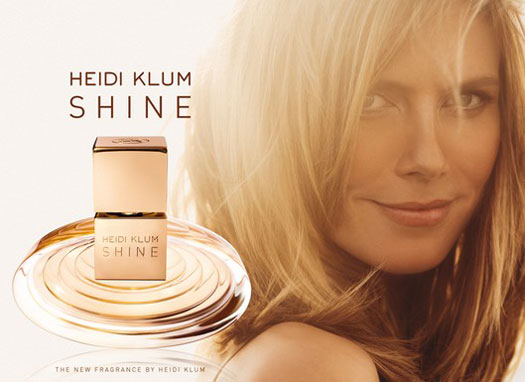 We already know
Heidi Klum
for her modeling and hosting talents, but get ready to know her in another kind of way, as a celebrity perfumer. This September, Heidi is set to
launch her first fragrance
, Shine ($17 to $35). The oriental scent will include notes of pear, pink peppercorn, and mandarin at the top; mimosa absolute, sunflower, and lily of the valley at the middle; and Venezuelan tonka bean, vanilla, and musk cosmone at the drydown.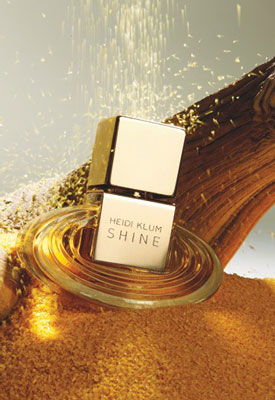 "There are different moods that, as a fragrance creator, you can travel to," Heidi told
WWD
. "But for my first one, I wanted what I felt my staple would be. I wanted it to be sensual and feminine, but still luxurious and expensive-smelling — because I think there are so many perfumes out there that smell cheap and too sweet," she added.
The bottle for Shine is structured to look like a circular wavy pattern, and the ad is similarly beachy with sand splashing down in the backdrop. Of the ad, Heidi says she loves the fact it's not too retouched. "My snaggletooth is coming out a little bit," she explained. (Say what?)
Look for a flanker, Summer Shine, to come out next year, as well as another addition to the line in 2013. Are you taking a shine to the idea?