Homemade Tattoo-Gun Tattoo
The One Time a Homemade Tattoo Has Looked Cool
Like us on Facebook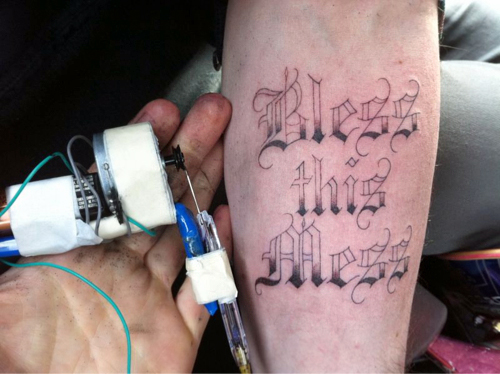 Apparently, it's not too hard to rig up a

DIY

tattoo machine if you have nine-volt batteries, a pen, a toothbrush, a needle, masking tape, parts from a DVD player, and a little ingenuity. Famed tattoo/fine artist Scott Campbell (his ink is on

Marc Jacobs

, Courtney Love, Sting, and

Orlando Bloom

, among others) and filmmaker Casey Neistat recently did a very scary thing and built their own makeshift tattoo gun.

They document assembling and using the gun in their new short film dubbed Prison Tattoo, which takes them all over New York, from a convenience store to garbage cans and finally to Tompkins Square Park, where Campbell gives a friend a real tattoo using the contraption. It's pretty fascinating to watch, and also disquieting to think about people making these for themselves. Kids, don't try this at home.