Hooray For Bing Mobile Deals!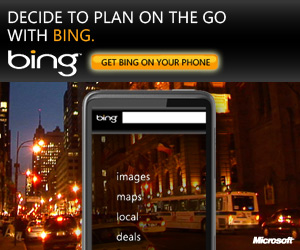 With Bing Mobile Deals — available at m.bing.com on your iPhone or Android — searching multiple sites for the perfect offer is a thing of the past. Whether you're a restaurant connoisseur, a fitness fanatic, a spa lover, or a festival goer, Bing Mobile Deals gives you access to 200,000 local deals in over 14,000 cities and even your exact location within seconds. Once you find what you like, you can buy it instantly, save it for later, or share with a friend.
Bing wants to know, what's your favorite type of daily deal? Answer the poll question below!