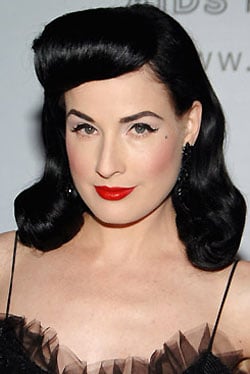 Old is new again. Makeup from the 1940's are back in style, and this style is one of the most glamorous and polished beauty looks of the season.
So if you're still deciding what your makeup style will be to ring in the new year, here's everything you'll need to know about creating Dita Von Teese [1]'s sexy starlet look at home.
For a list of product suggestion and application tips,
FACE: Begin with a clean and well moisturized face and add a touch of primer [2] to your skin so that it's even and your pores appear nice and tight. Next, using a concealer brush, apply a little bit of creamy concealer to any red areas on your face. When it's blended, dab a little bit of your favorite foundation [3] onto a sponge and blend it all the way down to your neck so that you don't have any jawline marks. Lastly, set your foundation with a translucent powder [4].
CHEEKS: Contour [5] your cheeks with a matte bronzer and a neutral blush. Add a little bit of highlighter [6] to the tops of your cheekbones and blend outward for a dewy effect. And as a fun finishing touch, take a black waterproof eyeliner and carefully and precisely, create a false beauty mark near your lip.
EYES: Begin by sweeping a vanilla shadow all over your lids as a base and then add some champagne shimmer [7] just below your brow-bone and inside the inner corners of your eyes. Next, apply a light layer of a deep brown shadow to your crease, blend well and then dab more of the champagne shade in the center of your upper lid. Line your upper lashes with a liquid black eyeliner (lining your bottom lashes is optional) and the most important part of this look is applying false eyelashes [8] for a length and drama.
LIPS: Fill in lips with a creamy nude liner. Dip your concealer brush in concealer and brighten up the edges surrounding your lips. Apply your favorite red lipstick [9] to your lips in a very precise manner with a lip brush and top lips with a red gloss [10] for sexy shine.
Source [11]