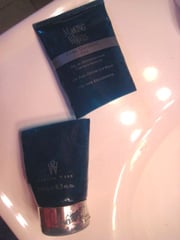 [0]Sick of paying big bucks to replace your favorite lotions and gels? There's a way to hold off a little longer. You might think you're already getting most of the good stuff out of the container, but there's often much more hiding within. (Case in point: Urban Decay Primer Potion [1].)
Fortunately, PartySugar [2] shared how she squeezes a few extra uses out of her favorite hair gel when it's running low. It's really easy to do, and you'll get your money's worth. To see how it's done, just grab a plastic tube of your favorite product, then .





Step one: You'll need the tube and scissors for this project. Squeeze the product as close to the opening as you can, then cut the tube in half. Use your finger or a tool to remove the extra product from the top half of the tube. Place the product in the bottom half.



Step two: Pinch the bottom half and slip it inside the larger half, as shown. You'll still be able to squeeze the product out a few more times before returning to the store for a replacement.