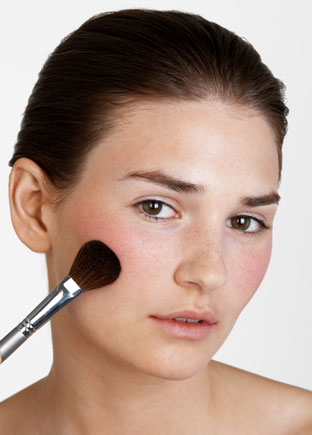 It turns out that
choosing a blush color
isn't so hard after all, and when it comes to applying this face-enhancing makeup product, a similar principle rings true. Once you know a few tricks and application techniques, you can say goodbye to blotchy mishaps and streaky effects. Find out how to sweep on blush properly (and how
not
to) when you read more.
Going offsides: "I know a lot of people tend to go a little old-school with it [applying blush], explains Kate McCarthy,

Glo

Minerals' national makeup artist, adding, "They'll start at the apple of the cheek and either do a circle on the apple of their cheek, or they'll pull it all the way out to their ear." So instead of going out, go up. "Pull [the bush] up to your temple, through the hairline. It gives an instant lift to the face," explains McCarthy.
Round and round: If you have a round face shape, create an elongated look by keeping the blush on the cheekbones, pulling it up and out toward the temples. To define even further, top off with bronzer on the hallows of the cheeks and also right under the jawbone.
A little goes a long way: For long or oval shapes, apply the blush just under the apples of the cheeks to add dimension and the illusion of roundness.
Have a heart: McCarthy recommends balancing out a heart-shaped mug by applying blush right below the apples of the cheeks, blending it up and out. Not only does this method help to emphasize bone structure, but it also helps to "square out" the face.