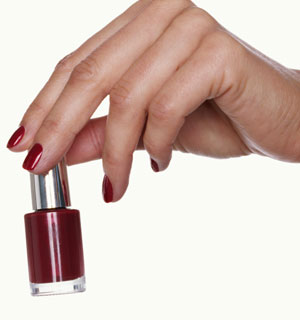 Strangely enough,
it's rare that one finishes a bottle of polish
[1]. Maybe it's clumpy, maybe you're just over it. Whatever the reason, you shouldn't just hold onto old polishes forever.
However, some formulas contain toxins like formaldehyde, toluene, and DBP — which is why we recommend looking for safer "three-free" lacquers. If nail polishes are not properly disposed of, these dangerous ingredients can seep into the soil and water supply. Mr. Yuk would not be pleased. Whatever you do, don't throw polish into the trash or down the drain. (It is paint, after all.) Your city's hazardous-waste collection is the answer. Search the web to get the scoop on the details of your local center. And since it's Earth Month, be sure to check out what other beauty items can and can't be recycled [2], too.