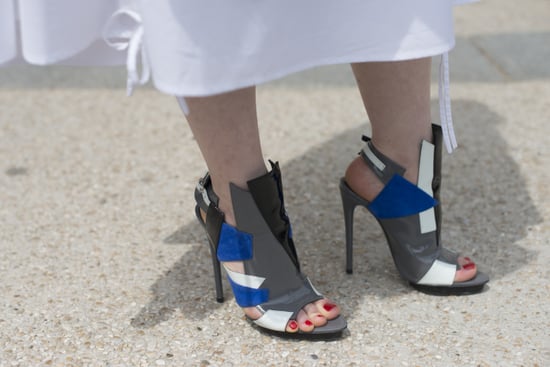 Turns out your mom was right: sometimes you have to choose comfort over looks. But thanks to a whole bunch of products and do-it-yourself methods, most of the time, you can wear those cute, warm-weather-appropriate shoes without suffering.
Blisters are caused by friction, so the key is to prevent your shoes from rubbing against your feet. Moisture-wicking socks are used by athletes to prevent blisters from forming, but unfortunately, socks and sandals just don't mix (unless the Clark Griswold look is something you're going for). While it's practically impossible to keep your shoes from touching your skin, you can follow a few different methods to create a thin barrier between you and your sandals. So bust out the espadrilles and huaraches, because it's time to get blister-free this Summer. Get the details when you read more.
Going in for the block: There are several blister prevention sticks available on the market designed to create an invisible barrier on the skin, like Gold Bond Chafing Defense Anti-Friction Formula [1] ($10) or Band-Aid Active Friction Block Stick [2] ($7). But first thing's first: wear shoes that fit. Anything too loose or too tight is just asking for it.
My pad or yours?: Lots of antiblister products contain cushions or gel pads to put a serious blockade around your feet — essentially trying to mimic a blister — like Band-Aid Advanced Healing Blister [3] ($6) or Dr. Scholl's Blister Treatment [4] ($6). As an added bonus, all of these products can also be worn over pre-existing blisters. For the truly serious stiletto-wearing gal, there are also a variety of specially shaped pads to keep your feet in check, like Foot Petals' Red Carpet Collection [5] ($50).
Lube up: When in a pinch, a touch of petroleum jelly or baby powder applied to problem areas can help put a stop to blistering.
The onset: Keep some precut moleskin patches in your purse for those just-in-case kind of moments. Try Profoot Moleskin Comfort Strips [6] ($4) or Dr. Scholl's Moleskin Plus Padding Strips [7] ($4).