This Spring, our love affair with flower crowns has blossomed into a serious obsession. Not only are these beautiful, blooming wreaths bright and colorful, but they also make us feel like tiara-sporting Kate Middleton when we put them on. We've spotted the popular style at weddings and around festivals all season long, and we're inspired to keep rocking our stunning head toppers all the way through Fall.
So, what's the secret to creating and rocking these gorgeous garlands? We talked to Christy Meisner, the New York-based flower crown designer behind Crowns by Christy [1] and the new book Flower Crowns [2]. Her beautiful toppers have been spotted on celebrities, style stars, and real girls like us. Christy offered up thoughtful advice about everything from making your crown last through a weekend of concerts to the best way to DIY [3] a crown yourself. Check out some of her gorgeous creations [4] that are sure to inspire you through festival season and beyond!
Source: Crowns by Christy [5]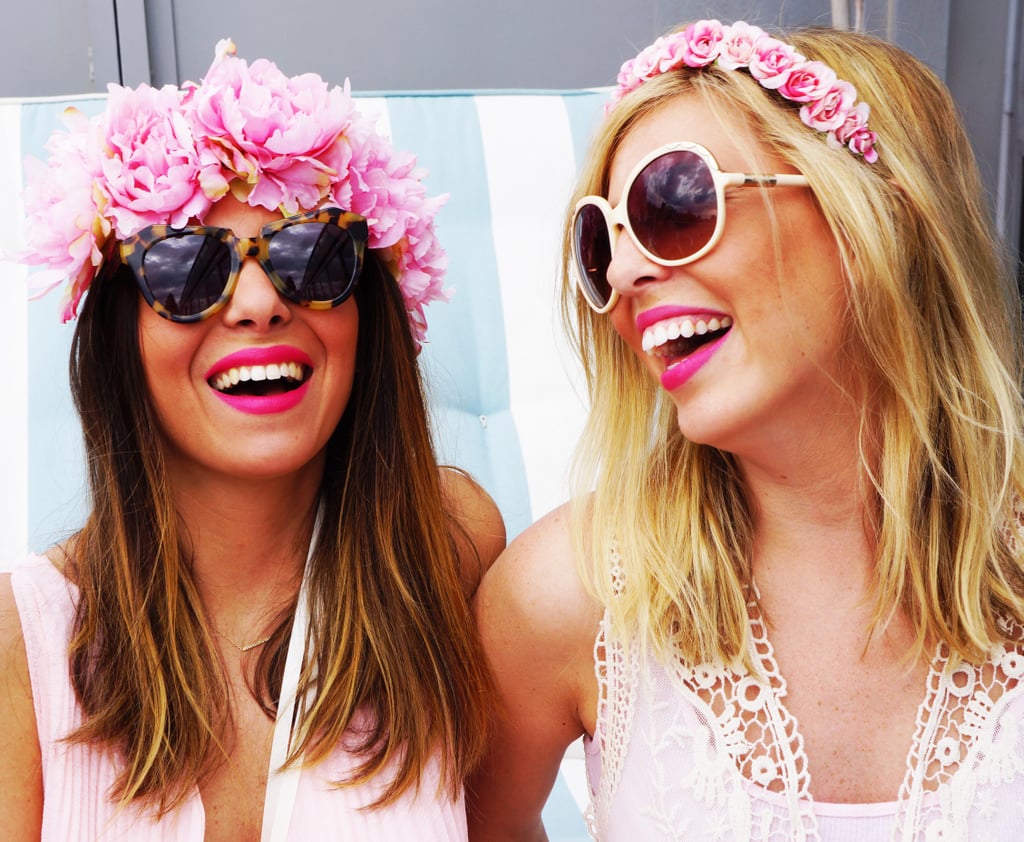 POPSUGAR: Festivals are long and hot, is there any way to make a flower crown last?
Christy Meisner: For festivals, some people like fake flowers that will last for a few days. If you're wearing real flowers, keep them in the refrigerator before to help them last longer throughout the day. Just know that once you're wearing the crown in the heat, the time counts down, like Cinderella. That's sort of the beautiful thing about them; they only last for so long, so you want to make the most of it while you can.
PS: Will certain flowers stand the heat better?
CM: Sometimes smaller blooms are better for that. I love using wax flowers. I also love to use freesia since they usually can hold a little bit longer. If you're doing larger daisies or roses, they have a shorter life span, as beautiful as they are.
PS: Do you ever use flowers with scents?
CM: Jasmine is great for adding scent. There's not a ton of color in the blooms, but you can kind of weave them in with other flowers to create the smell. Wax flowers also have a minty smell to them. Sometimes I will also spray them with fragrance to give it an extra scent. So, if you want your crown to smell, you can always spray it with your own perfume.
Source: Crowns by Christy [6]
PS: What's the best way to secure a crown?
CM: I've seen people do them in so many different ways. I personally use ribbons to close them in the back. I originally did that because the elastic headbands would not stay on my head, and the prefitted ones don't necessarily fit me either. I started closing the back of them with ribbon, and I found that that's a really great option for everyone. If you want to wear the crown underneath your hair, you can do that, or you can wear it on top, half up half down.
PS: Do they need to be secured?
CM: Sometimes it helps to just put a couple of bobby pins in there, but for the most part if you tie the ribbon, it stays on pretty well. I've met girls who have beautiful afros and wear the crown, or someone with a pixie cut or supercurly hair, because it's easy to adjust the ribbon. Also, I love the look of the ribbon; there's something so girly and innocent about it.
Source: Crowns by Christy [7]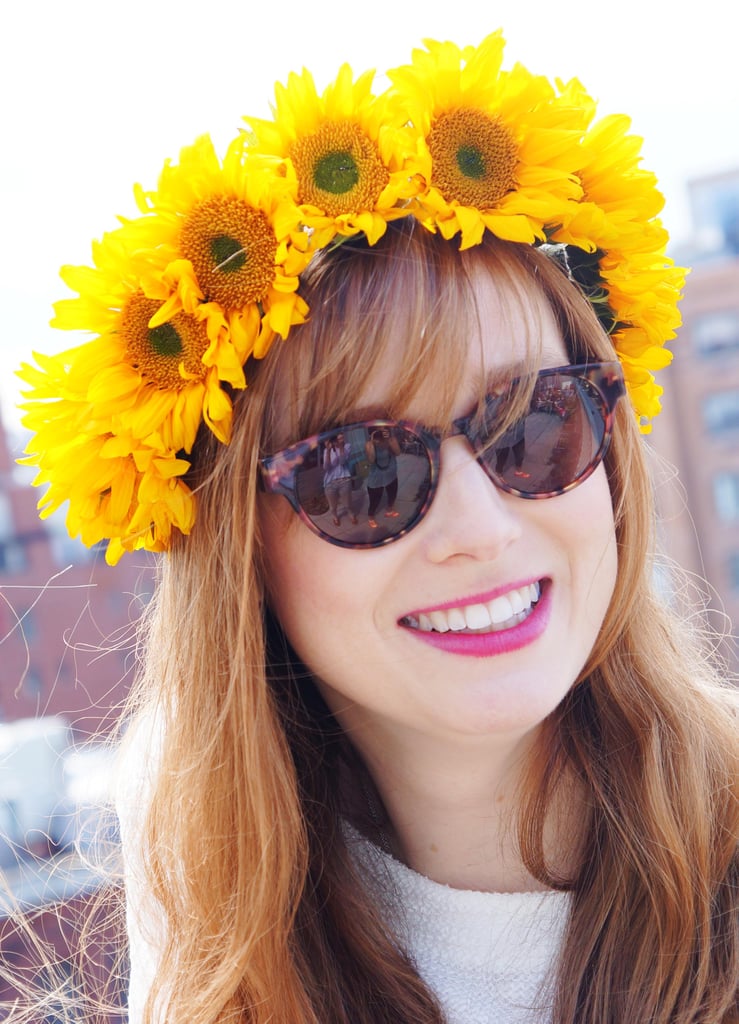 PS: What hairstyle would you recommend pairing with a flower crown?
CM: You can't go wrong wearing a flower crown if you have a middle part and long, wavy hair, but really everyone can rock the look. You could braid the ribbons down into pigtails, or wear your hair in a bun and wrap the ribbon around it; it really doesn't matter.
Source: Crowns by Christy [8]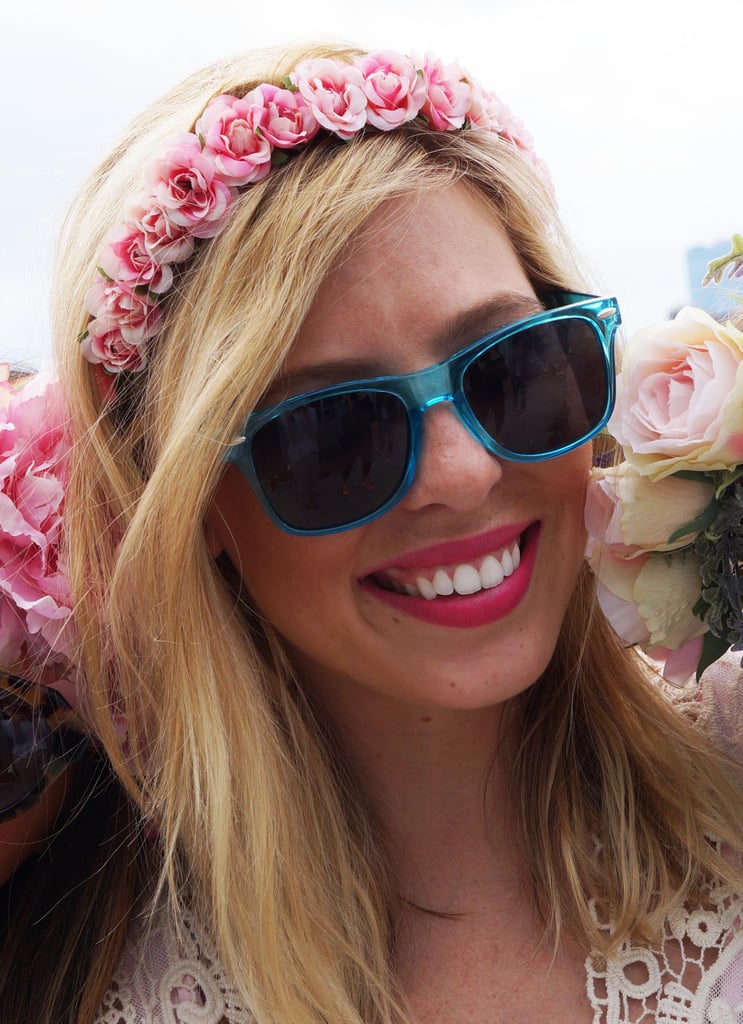 PS: What about clothing and makeup?
CM: It really just depends on what kind of look you're going for that day. If you're thinking about more of a boho look, maybe you want more neutral-colored flowers. If you're a girl who's gonna wear a bright floral print, then maybe you want a brighter, more colorful option.
Source: Crowns by Christy [9]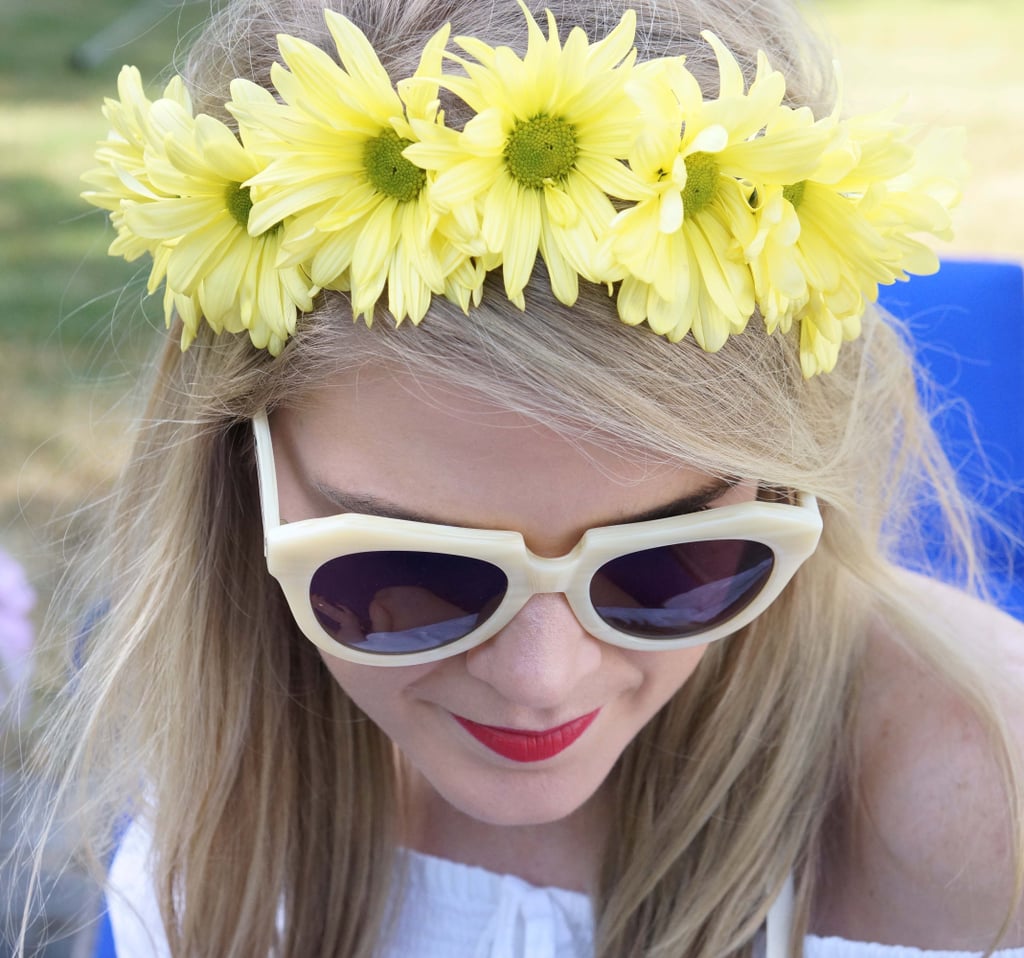 PS: Do you have any DIY tips for making a flower crown at home?
CM: The secret is finding really great floral wire because you're really using wire to sew your flowers into the crown. You can find it at the hardware store or in your local flower district.
PS: Any tips for arranging the flowers?
CM: It's like a painting. I pick one thing and then I pick another, one by one as I add the flowers. So, depending on the color scheme, it's nice to have a bunch of different flowers, huge blooms and smaller dainty ones.
Source: Crowns by Christy [10]