You can iron on just about any decal you want on just about any t-shirt of your choice. And now, you can iron on your own deodorant.
Odor Tags
(about $18 for six — about $70 for 24) from UK brand Odegon allow you to do just that. One tag measures 7 cm by 4 cm, and can be either ironed or sewn on. The odor-absorbing, nanoporous fabric traps body odor and will last as long as your clothing does.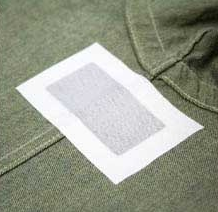 Constructed of a controlled carbon material and military-grade fiber, the tags are odorless, nonallergenic, and free of chemicals. Not only do they capture the stink, but they also absorb wetness. While you can't wear them with tank tops to beat the heat, they're a clever idea for sleeved garments. Would you wear them?