If Jared Leto [1] has the most in-demand hair right now (Google trends says oui!), then Chase Kusero is the most sought-after hairstylist. Chase has been Jared's go-to hair guru for the past five or so years, helping Jared reach his perfect style today: naturally textured, ombré beach waves. Girls want his hair. Guys want to be him. And Chase holds the key to that hairdresser magic. So after Jared took home an Oscar for best supporting actor in Dallas Buyers Club on Sunday night, we rang up Chase to get the scoop on Jared's enviable mane. We learned the secrets to getting Jared's strands (hint: showering too often does not a rock star make), why Jared really is just a "dude," and how his locks enhance his gorgeous baby blues. Plus, we played word association with the style pro. Read on and let the Jared Leto hair obsession ensue [2]!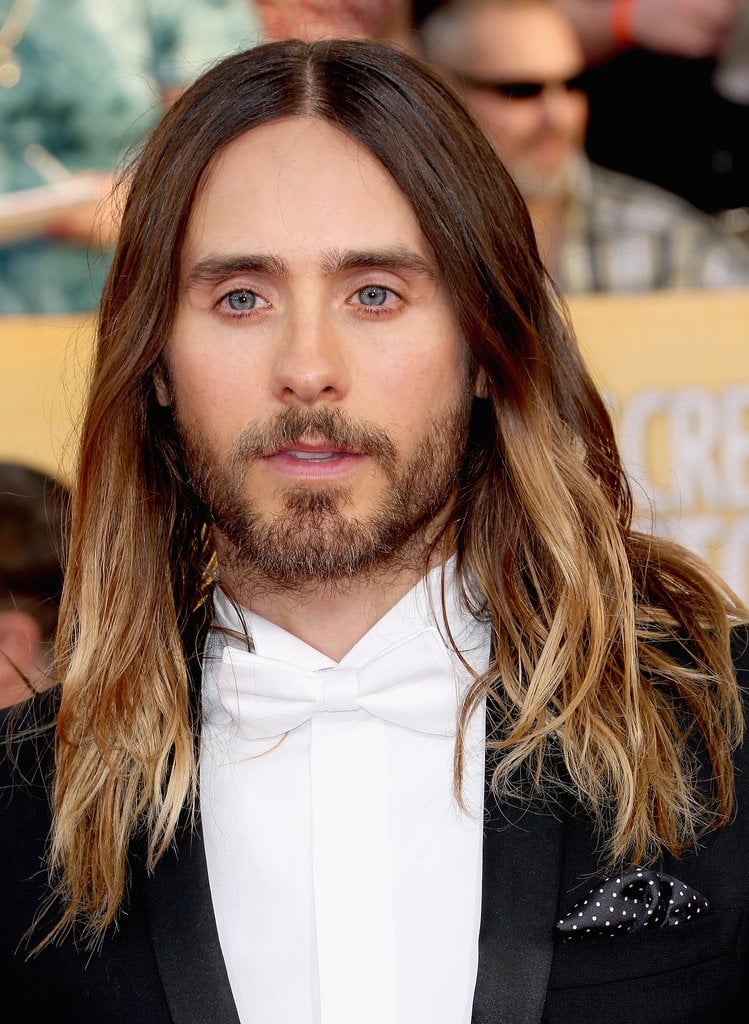 POPSUGAR: Before the Oscars, we polled our readers to see how Jared should wear his hair [3]. The options were beach waves, ponytail bun, or the wet look. The results: 45 percent picked waves, 42 percent picked an updo, and 13 percent said the wet look. Our readers had it right! So how did you and Jared reach this monumental decision?
Chase Kusero: We've definitely been experimental, and that's been a key to his hair looking great. He likes to have his style unique to the moment. We did ponytail bun for Golden Globes [4], and if we did it again, it would seem [old]. We did the Indie Spirit Awards the night before [5], so he started with product in his hair, and then he slept on it. When he put his jacket on, we knew it had to be down for an iconic vibe. We knew that was it.
PS: What are some tips you can offer our readers to get Jared's undone beach waves at home [6]?
CK: We did subtle things, and it just worked. Yesterday was a big day for him, so his hair was kind of an afterthought. Washing the hair less is the key. Using some sort of wave-enhancing shampoo will add more moisture. That has been the key: moisturizing the hair allows it to hang well, have shine, and separate. The more moist the hair is, the more it can wave. Use a flat iron to bend 10 pieces, and it will give it that separation and make it feel undone. But we never use a curling iron or anything on Jared, or it will look too much like glam waves. Straight ends are also the key. Don't go all the way down with the hair iron to keep ends straight. It will make it look more disheveled.
PS: You have said that he doesn't and will never wear extensions. What are some natural tips for growing hair long? Does he get routine trims or eat certain foods? We heard he is a vegan.
CK: In the case of a female client, trimming is more of a necessity. When we started the process of growing out his hair, he left it in my hands. So we wanted it to get to a certain point so it doesn't look cut. Trimming it to make it grow is a myth. Yes you need to cut off dead ends, but doing less is better. Not doing color as often, getting less haircuts, washing it even less are all good for the growing process.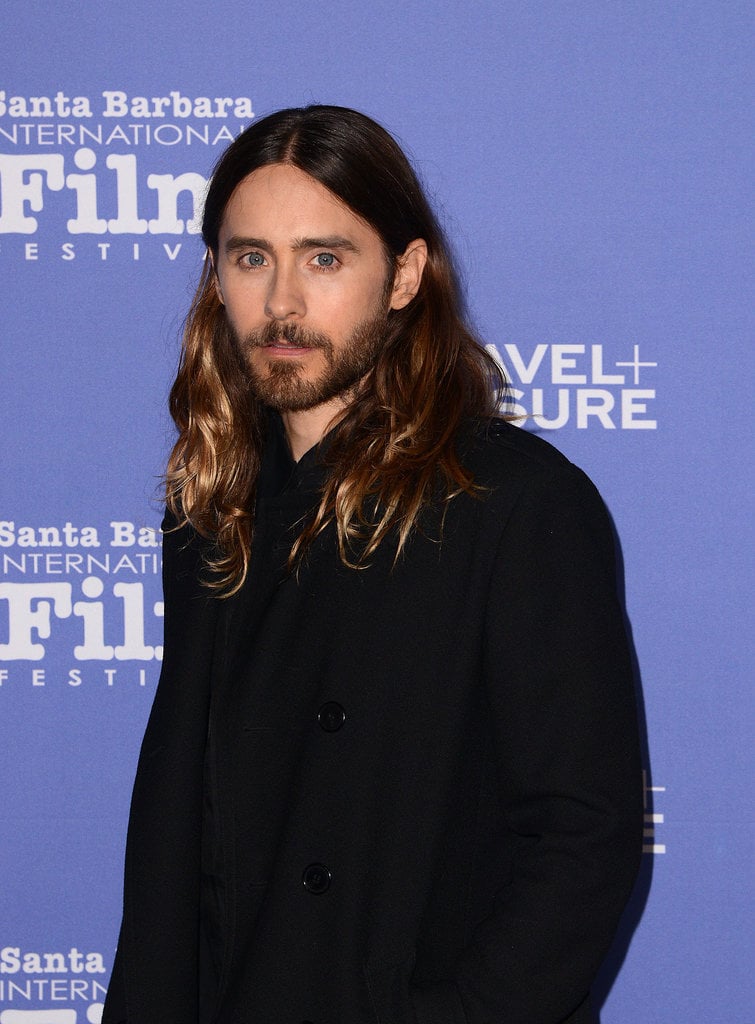 PS: So how often do you recommend washing hair?
CK: Washing hair is a personal preference. I am a big fan of dirty hair, so it depends on the person, his or her scalp, and if he or she works out a lot. At most, wash it every other day. If you don't feel clean, then rinse your hair or wet it without cleansing it.
PS: What makes his hair so appealing to both men and women in both sexual and hair-envy ways?
CK: That is a big thing: the hair is on him. If that hair was on someone else, it may not have that power. It's due to him looking great and having great hair. He's a guy, but he is pulling this off. Not a lot of guys could pull off a look that women want. We only did pieces of blond on his hair in September, and we have not touched it since. Women are looking at it, because they see a blend of color — the way his waves hang and separate and it fades to light. Women see it, and that's what they want their hair to do. A lot of guys are growing their hair out, but not a lot of guys can pull this off.
PS: Which actresses have already requested the secrets to his hair color?
CK: I woke up sometimes last week and had Instagrams and messages from people from all over the world. Olivia Wilde [7] and Kat Dennings were asking who did his hair, and they were posting pictures of him, [talking] about their hair envy. It was kind of funny.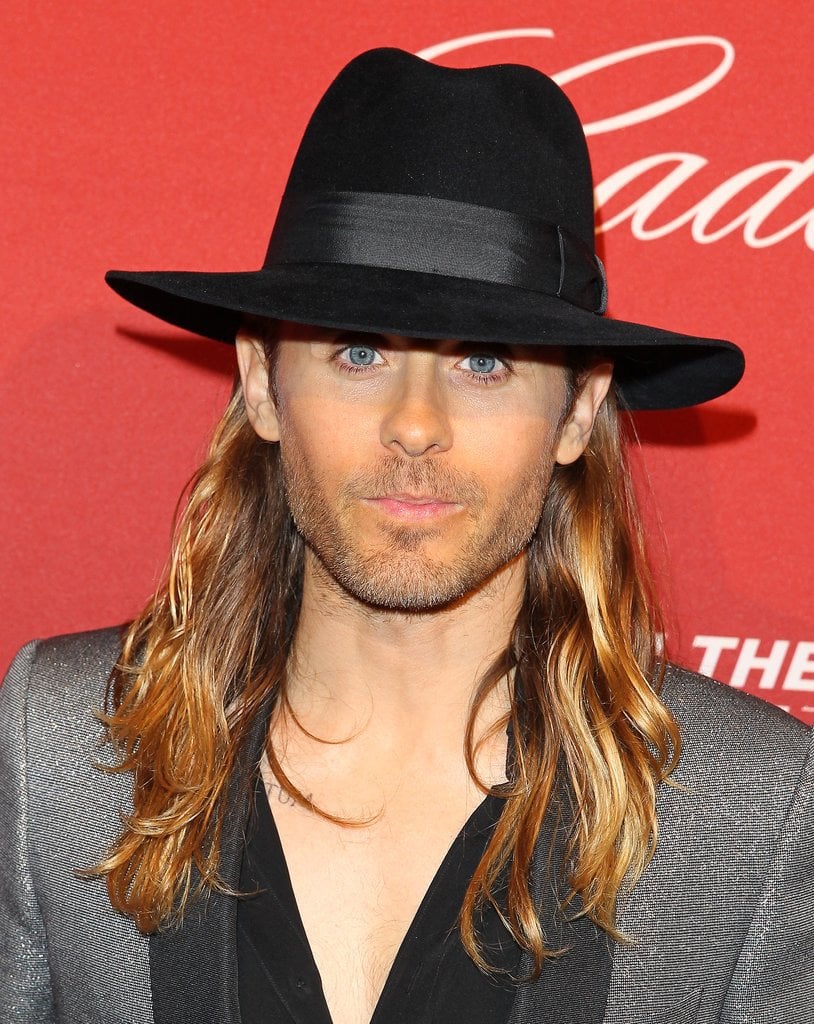 PS: Jared also has the most amazing eyes. How does he use his hair to play up his piercing baby blues?
CK: For sure. His eyes are one of his strong points. When we decided to color his hair when it got long, [we made sure that] the ombré did not start up high and did not look like highlights. We wanted it more lived-in and natural than that. I didn't want anything too light near his eyes. I wanted it natural around his eyes and then light at the ends.
PS: Do you ever groom his eyebrows?
CK: No, he doesn't do his brows, and he barely shaves. In Dallas Buyers Club, he shaved brows and body hair, and it's funny because he doesn't want anyone to do that in real life. He is a dude in the true sense of the word.
PS: The fact that he's such a pretty dude just adds to his sex appeal.
CK: For sure. For my career, I always thought this would happen with an actress. It was never my intention or his for him to have great hair. I am just there because he has trusted me to cut his hair for the past five or six years. He is a very low-maintenance dude.
PS: Where do you see his hair evolving next? We hear rumors that a haircut is coming!
CK: We always switch it up. We have done everything from the mohawk to mullet and asymmetrical, but this is my favorite of the looks. I like when he wears his hat with his hair tucked behind the ears. We would potentially cut it for a character or a role, but right now, there are no plans to cut it.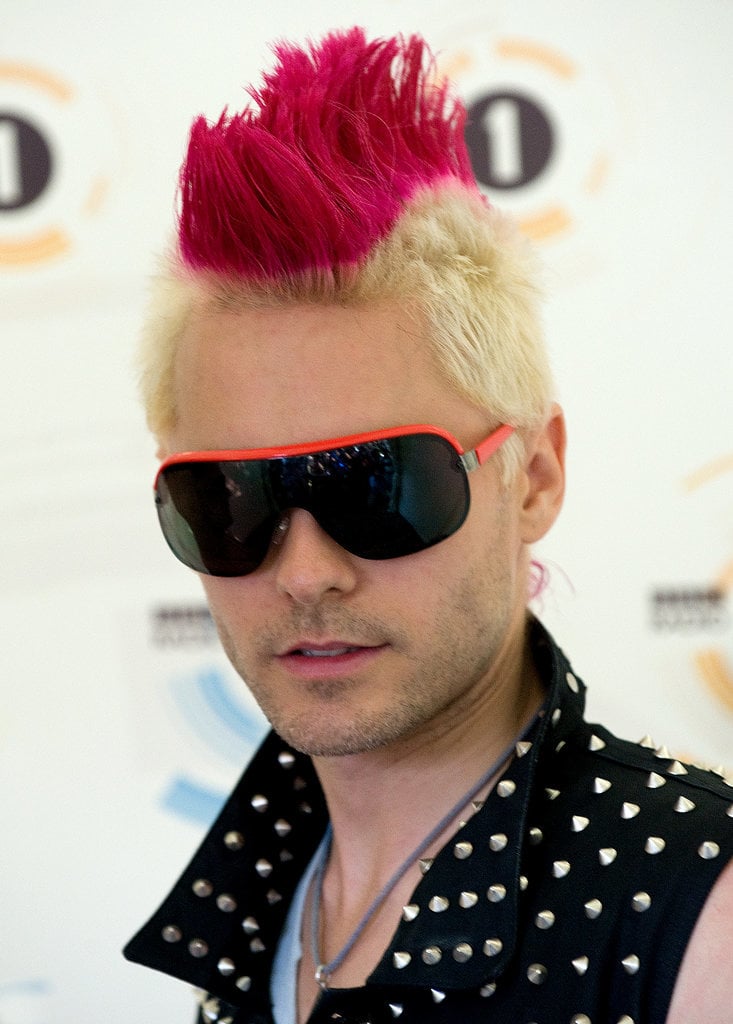 PS: Jared has worn some pretty epic hairstyles, and we even rounded them up [8]. Which throwback Jared hairstyle is your favorite?
CK: Probably one of the most memorable is his pink mohawk and blond sides. I also liked when it was a bit longer and kind of messy with texture a few years ago. Right now, it's perfect timing for this kind of look for him. This look moving forward will be that iconic Jared. His funky, exaggerated punk-rock days are over. Never say never, but I think we are done with the punky colors.
PS: What is Jared like when he is getting ready? Does he play music? Drink juices?
CK: We always drink water in glass bottles — that's always the thing. We are pretty chill. Jared is a really healthy guy, a longtime vegan. He snacks on healthy things. Mostly he is in the zone or practicing speeches. He is busy with his band. Sometimes we look at different artwork for his band before we cut his hair. If we listen to music, it's usually something he is doing that he needs to perfect. He's a perfectionist.
PS: What did you think of his acceptance speech last night [9]? It was so inspiring, right?
CK: It was amazing. It was great. It was moving. His mom is amazing, too. She comes to the house when we are getting ready. It was cool to see her reaction. It's been a road. We've been working every day for the past four months. He has won 36 awards. Maybe last night was 37 — everything from independent ones to the SAG Awards and UK awards. It's crazy.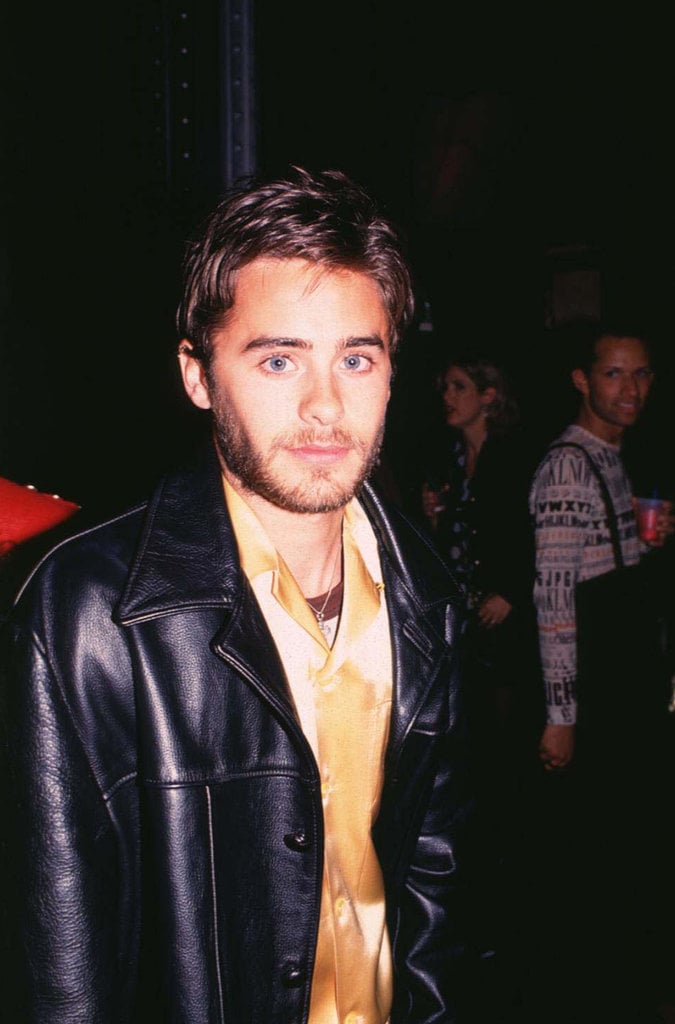 PS: So I'd love to play the word association game with you. Ready?!
CK: Yes.
PS: Ombré:
CK: Natural.
PS: Beach waves:
CK: Jared Leto [10].
PS: Rock star hair:
CK: Jared Leto.
PS: Jordan Catalano:
CK: No comment.
PS: Oscars beauty:
CK: Iconic.
PS: Pharrell's hat [11]:
CK: Retiring.
PS: Blow dryer:
CK: Necessity.
PS: Lob [12]:
CK: It's been done.
Chase Kusero