As Hollywood's ultimate It girl, of course Jennifer Lawrence [1] has been rocking an of-the-moment pixie cut. But as of recent, it looks like she's saying goodbye to her supershort strands in favor of another trendy haircut: the bob. Here, we track how she artfully grew it out [2]— from her big reveal on Facebook, to her elegantly styled longer strands, to today's fresh look. We can only wonder: is a lob coming next [3]?
Source: Getty [4] and Splash News Online [5]
The Pixie's Facebook Debut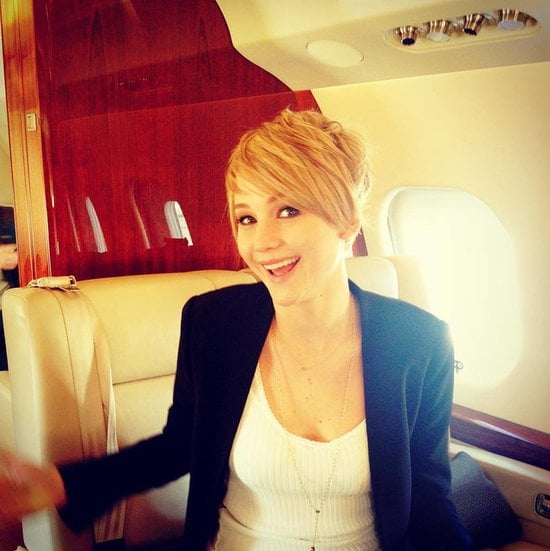 We got our first glimpse of Jennifer's big chop when she revealed this photo on Facebook [6] in November 2013.
Source: Facebook user Jennifer Lawrence [7]
Jennifer Lawrence's Pixie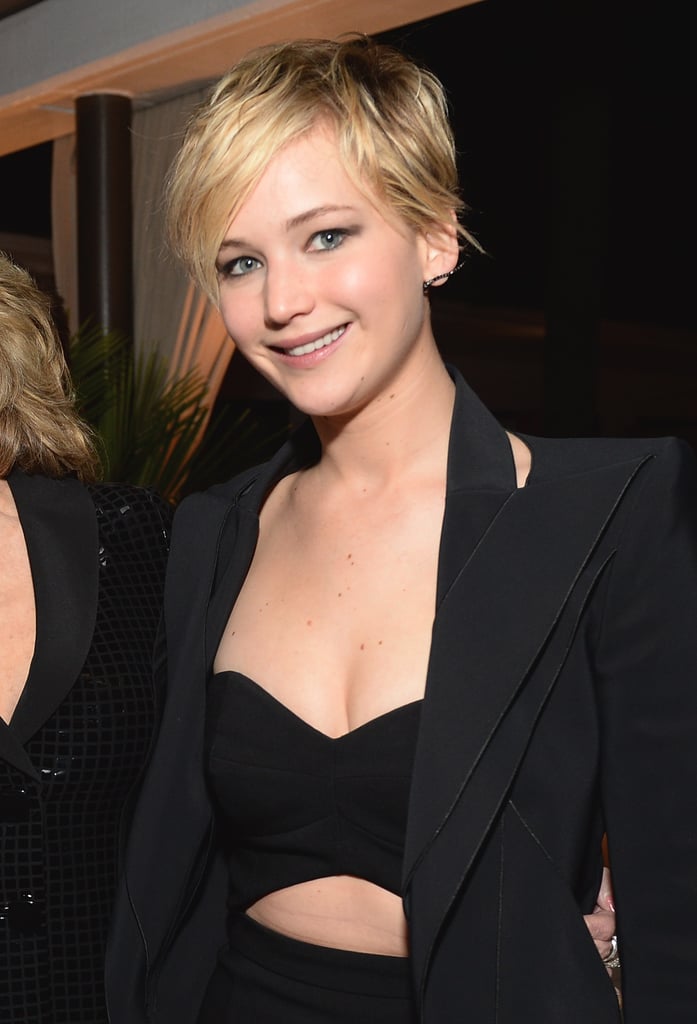 Here's one of her first red carpet moments with her new 'do. She styled it in a casually cool way, combed over to one side with texture.
Jennifer Lawrence's Stylized Pixie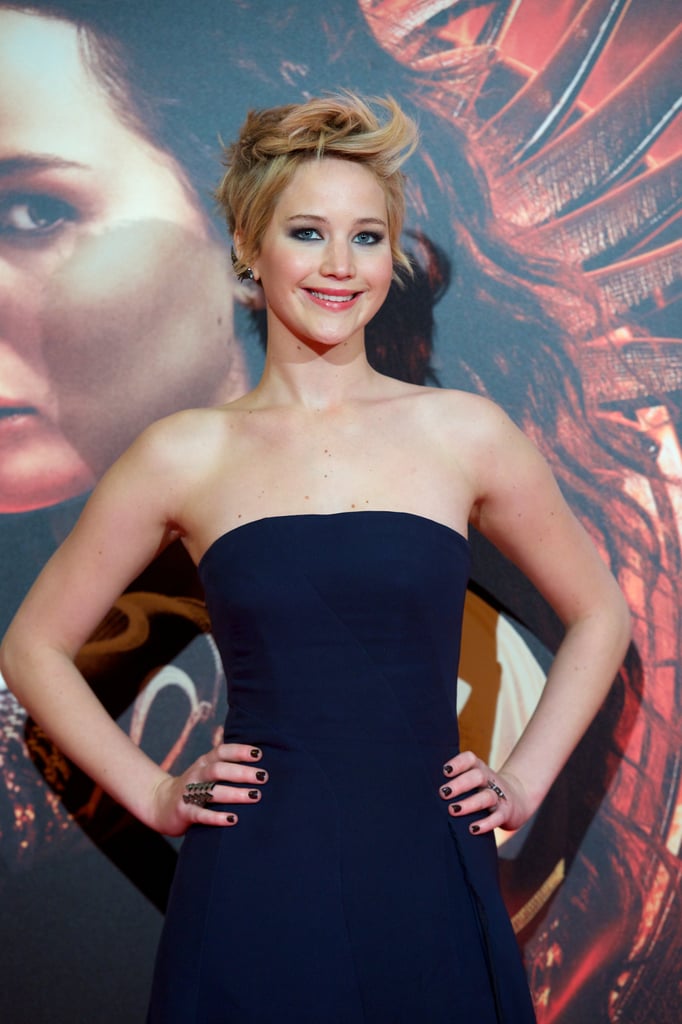 She then went on to the Catching Fire tour, where she showcased her cut in a bevy of styles, including this tousled look.
Jennifer Lawrence's Slicked-Back Pixie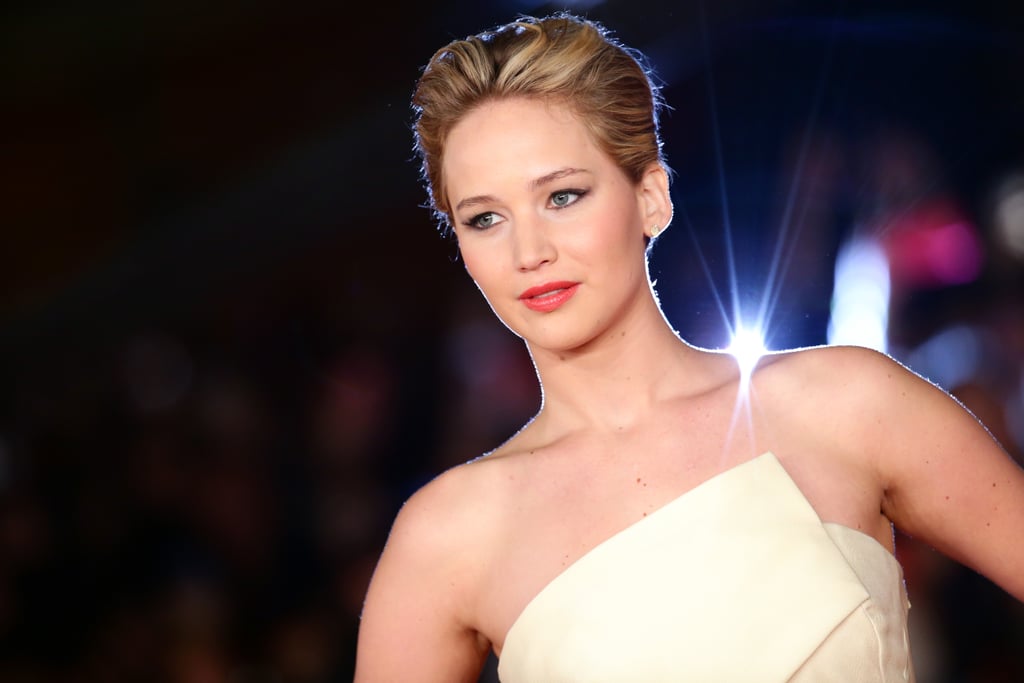 One of our favorite repeated Jennifer short styles was when she slicked it all back, letting the spotlight fall on her gorgeous features.
Jennifer Lawrence's Sleek Pixie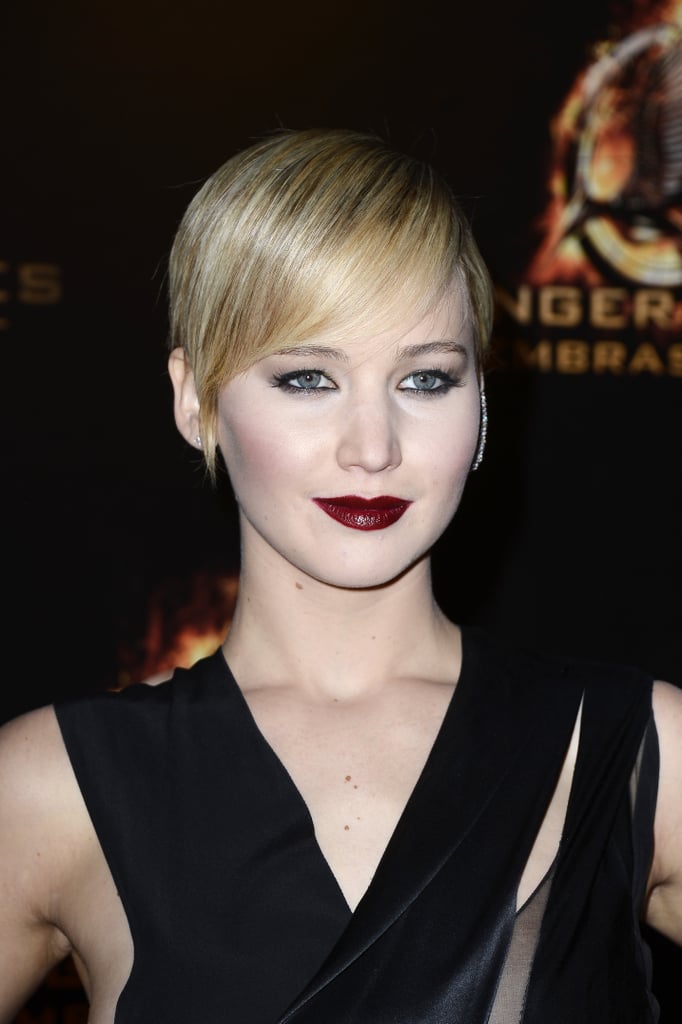 She proved just how versatile a crop can be by also wearing her hair ultrasleek and straight.
Jennifer Lawrence's Pixie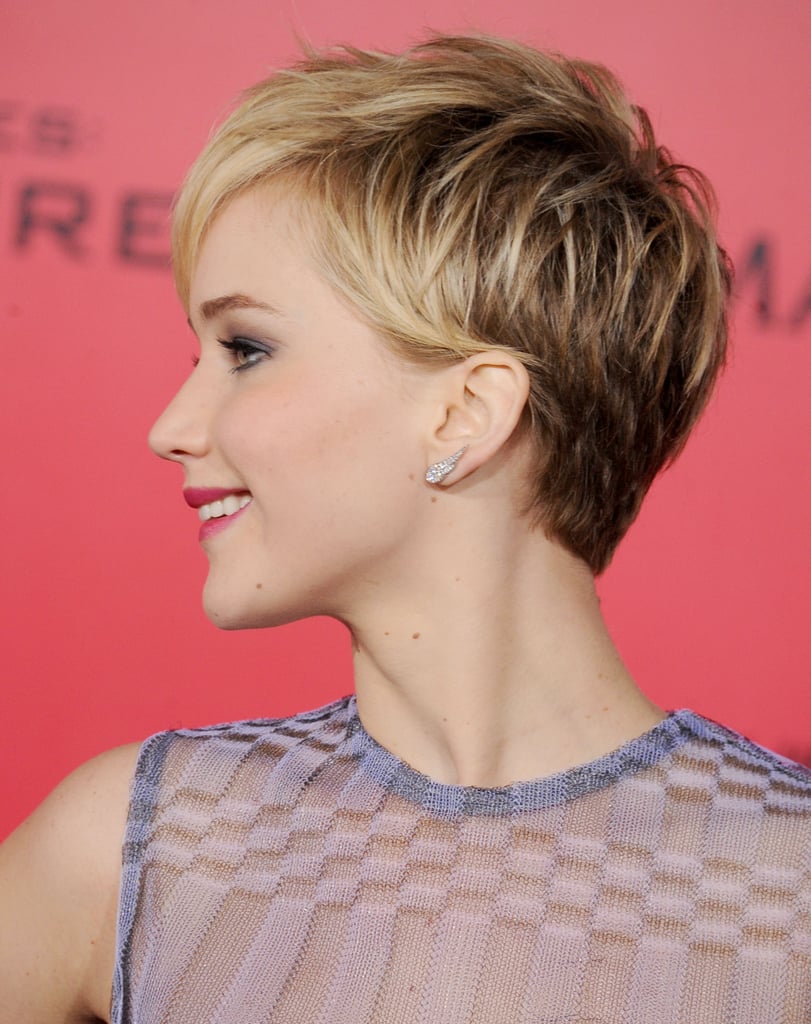 Here, she went with a more bedhead look — plus, you can see the cut from the side.
Jennifer Lawrence's Classic Pixie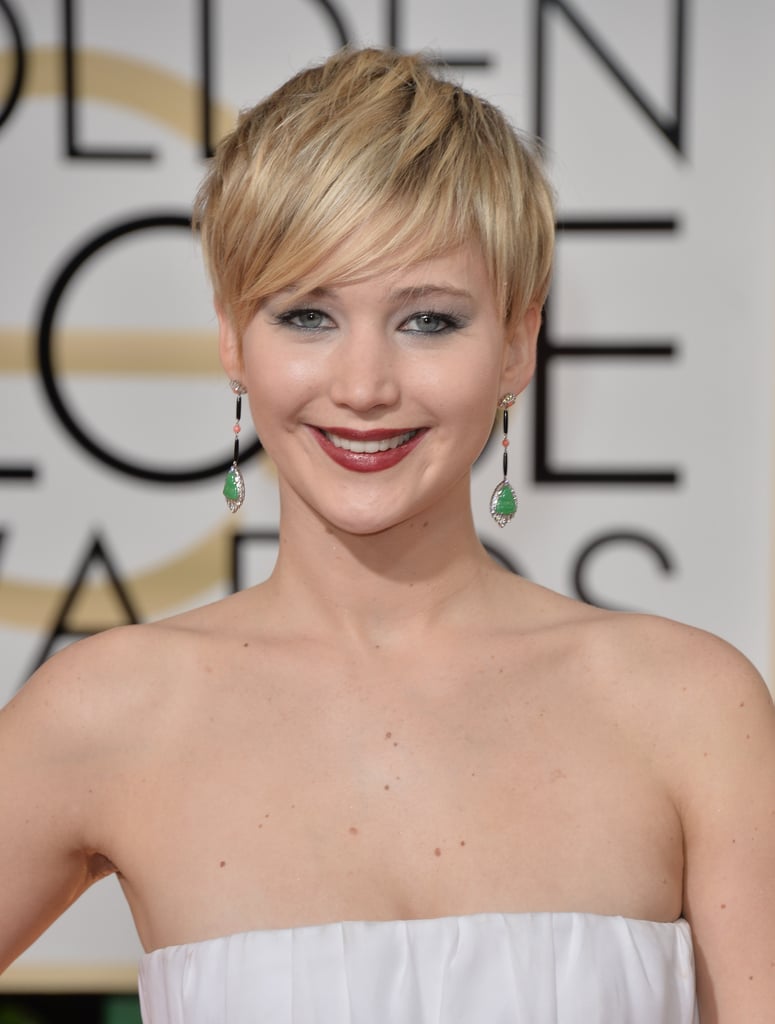 At the Golden Globes, Jennifer's crop was still intact and worn in her signature style: long, side bangs grazing her brows.
Jennifer Lawrence's Grown-Out Pixie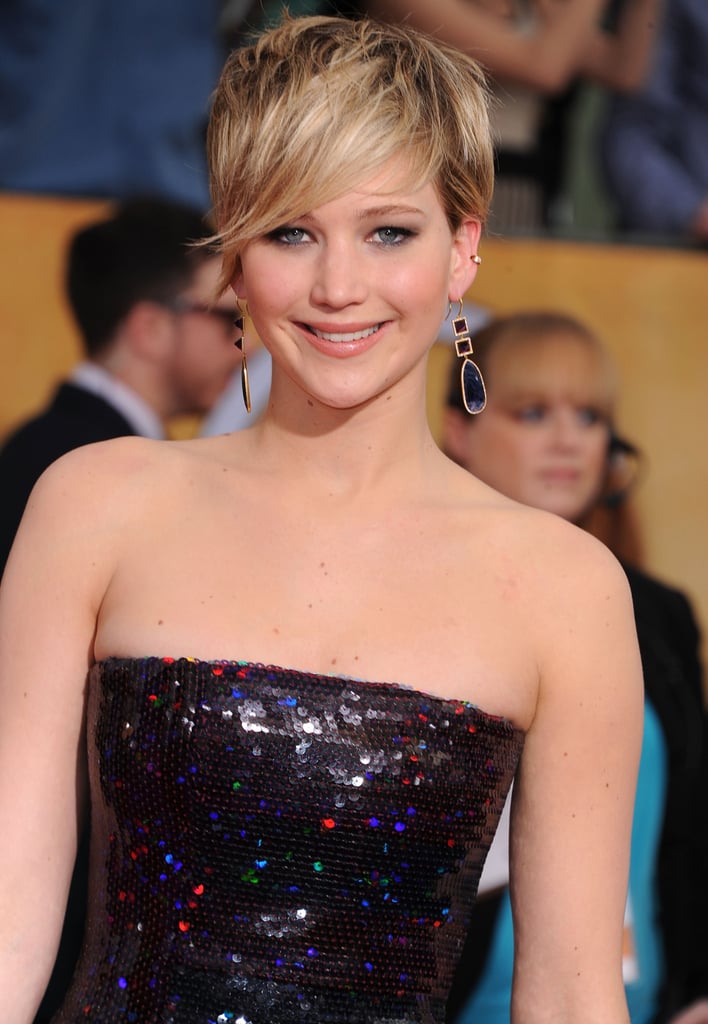 The SAG Awards gave us our first glimpse at the grown-out stages. Here, we see her side bangs were just a bit longer.
Jennifer Lawrence's Grown-Out Pixie
For the Oscars, she definitely was tired of the 'do, as we can see the long pieces in the front and side. Gel, hairspray, and embracing the volume made for a chic grown-out style.
Jennifer Lawrence's Bob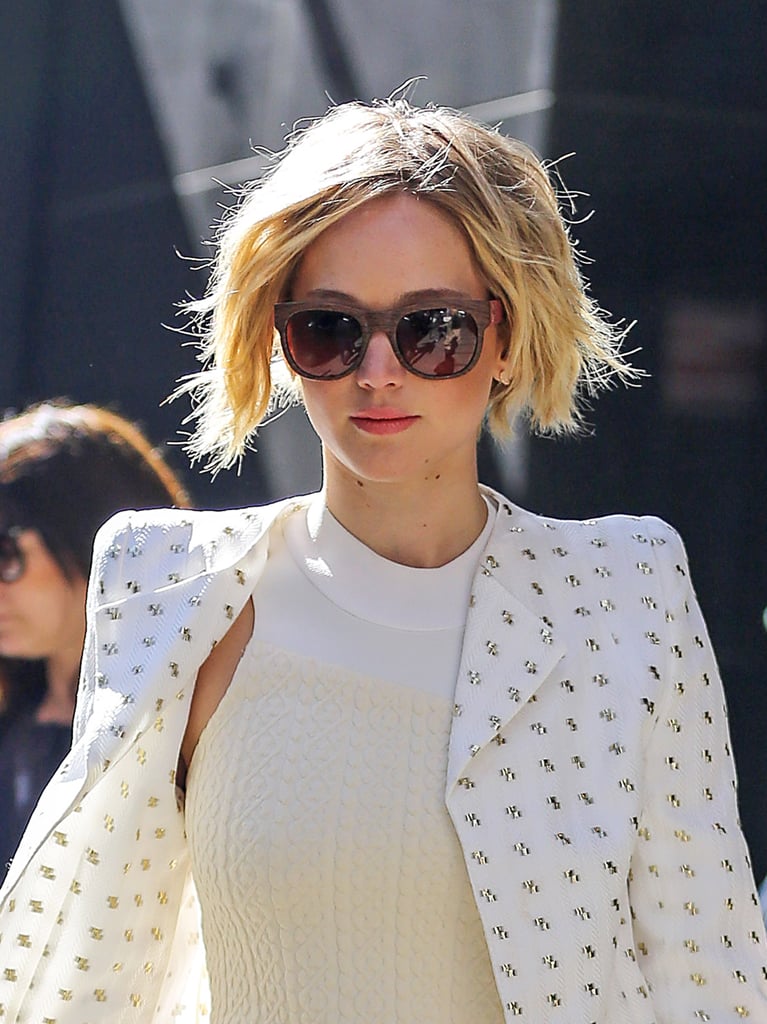 After about six months, Jennifer finally grew out her pixie in favor of a bob that falls between her ears and chin. How long do you think she will grow it from here?