Kate Mara was winning last week when she wore this style. Literally, we can find nothing wrong with her beauty look at the House of Cards season premiere. Her hairstylist Mara Roszak used bobby pins as a faux headband. The zigzag pattern cut across her blond bob from ear to ear, which reminds us of the style from the Helmut Lang Fall 2014 runway [1]. The 'do was sleek on top and flipped out at the ends. Her makeup was also a shining red carpet moment for the actress: her gold and green eye shadows picked up on the jewel-tone sequins in her dress and made her brown eyes pop. Keep scrolling to see her look from all angles, and to get tips from Roszak for re-creating the look at home.
From the Front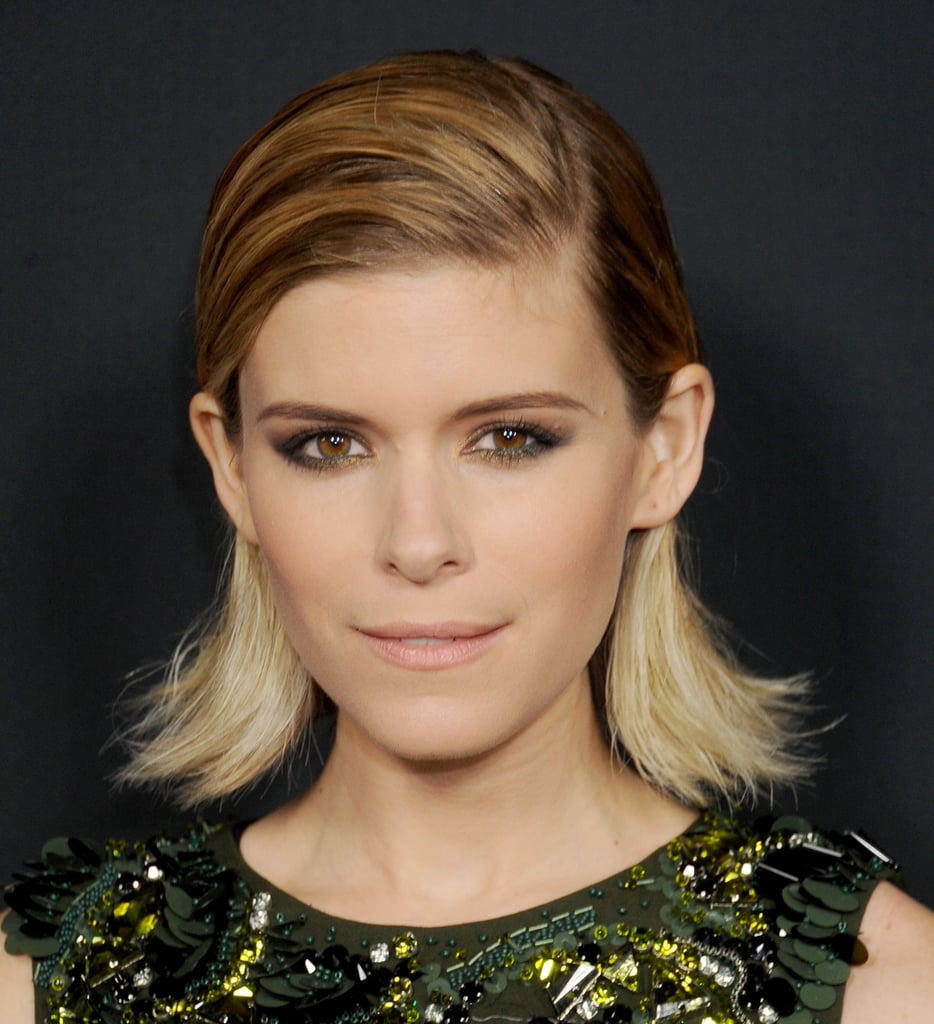 POPSUGAR: Which products did you use to get Kate's hair so sleek?
Mara Roszak: L'Oréal Paris Advanced Hairstyle Sleek It Frizz Vanishing Cream [2] ($6) all over damp hair from roots to ends, and dry 90 percent of the way. Then add more cream to give it a slightly wet effect. Spray all over with Advanced Hairstyle Lock It Bold Control Hairspray [3] ($5). Then create the pin design. To finish the look, use Advanced Hairstyle Txt It Deconstructing Gum [4] ($4) on fingertips to piece out the bottom for a lived-in look.
From the Right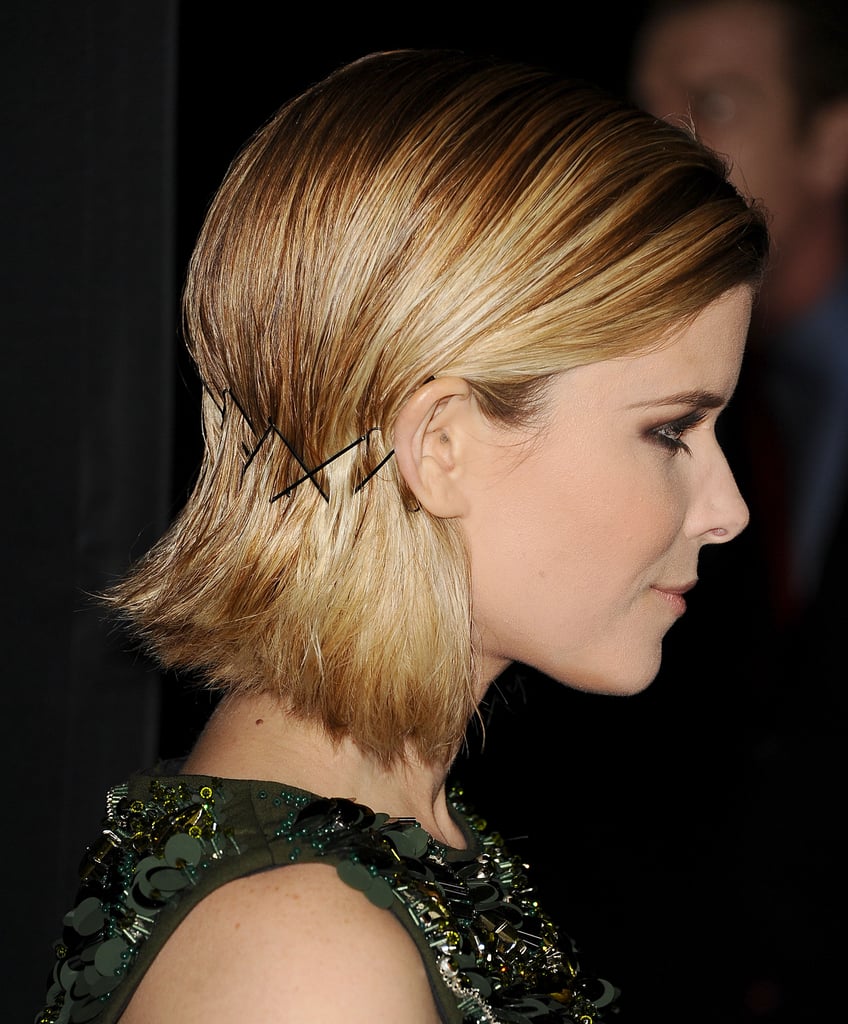 PS: What inspired you to use the bobby pins in this creative way?
MR: Bobby pins are a part of my everyday life and a complete necessity when creating most hair styles. I thought, why not expose them? It almost gives the hairstyle an inside-out feel. There are endless possibilities for design with bobby pins. Using them as an accessory instead of hiding them is something different and fun.
From the Left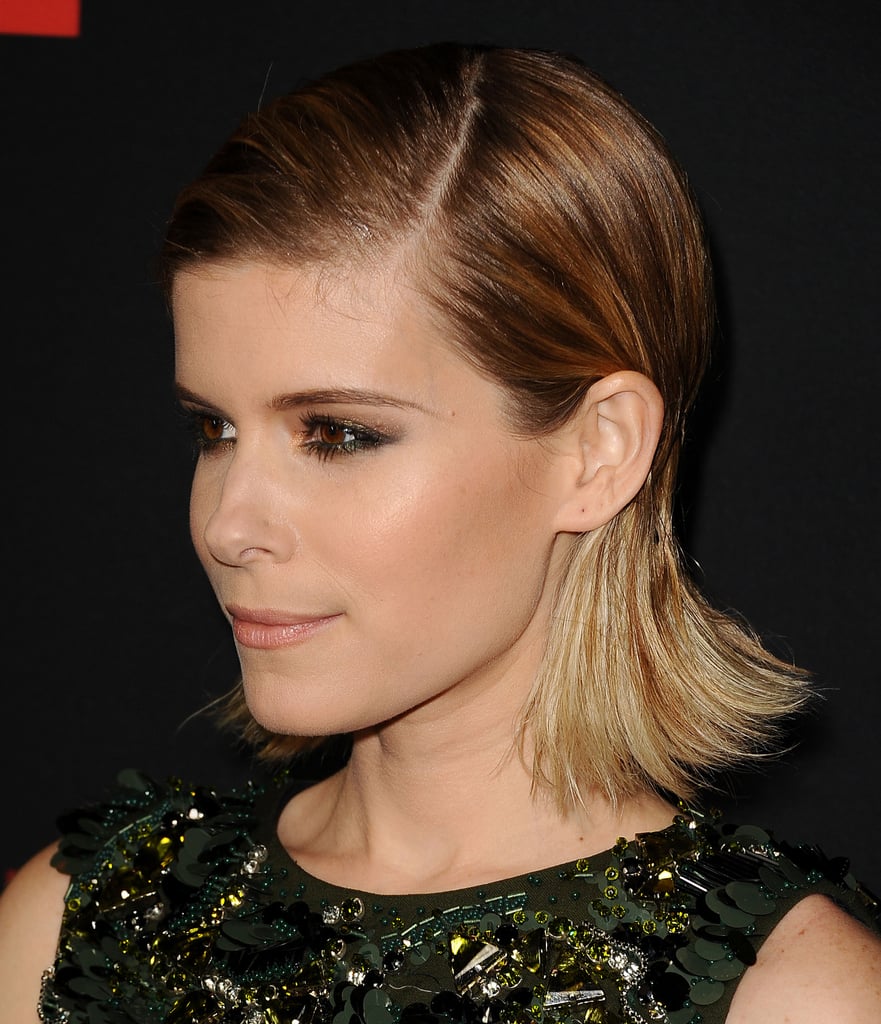 PS: Do you think this is a style that can work for dark hair colors, too? How would you change the look for brunettes?
MR: Yes, I do! The bobby pins don't need to be the focal point, but just an added detail. Using brightly colored pins or white ones on dark hair would be a fun way to make them pop out more.
From the Back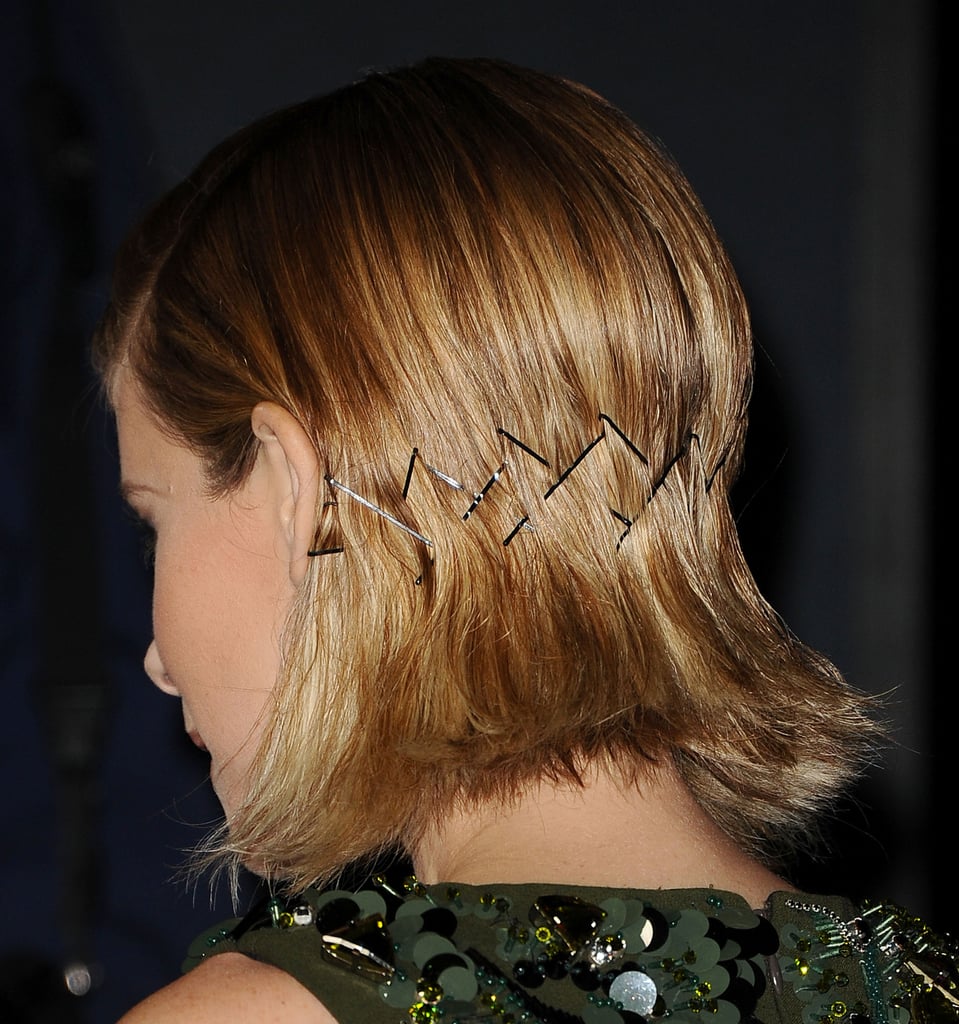 PS: Do you have any tips for getting the bobby pin design if you're doing this style at home?
MR: When playing with bobby pins at home, it's best to design a style in which the pins interlock or crisscross. This will help them to stay in place. It also helps to spray hair spray on the bobby pins first, to add a slight texture to the pins, along with lightly spraying the hair where the pins are going to go to create a base.
PS: What are some other ways you can use bobby pins as hair accessories?
MR: Placement is something that should be played with. With a side-parted style, adding pins at the part, using the arch of the eyebrow, is a good starting point. Or picking one side of the head to accessorize also looks great. The pins can be in an "X" shape or just layered back on one side. Designing patterns is fun, and there are endless possibilities.