When we first spotted this Kate Middleton updo during the duchess's royal tour [1], it immediately went on our must-try-at-home list. Turns out you don't need an entire traveling hair team at your beck and call to get the look! Vidal Sassoon celebrity hairstylist Ben Skervin simplified this updo and gave us tips to fake Kate's incredible blowout [2] at home. This style is perfect for DIY [3] brides: who doesn't want to channel a duchess on their wedding [4] day? And we don't mean to brag, but this knockoff is pretty darn close to the real thing. Don't miss our other Kate-inspired tutorial on how to re-create her half-up hairstyle [5]. Just grab a gorgeous lace gown and a regal wedding venue, and voilà, you'll have a wedding fit for a princess! (Charming prince not included.)
Step 1: The Blowout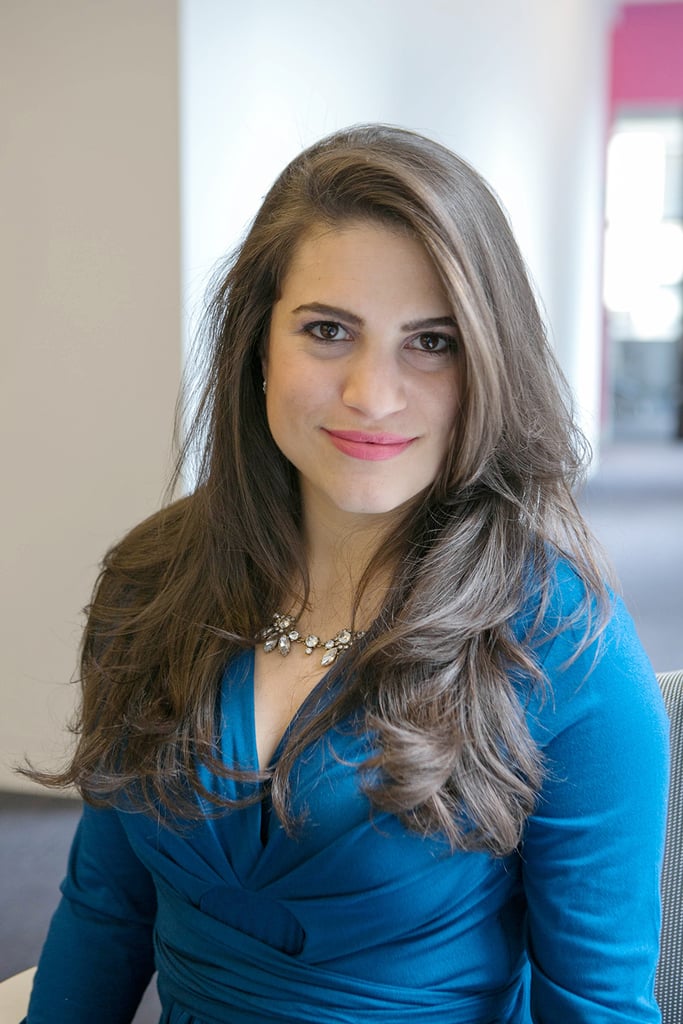 As with all of Kate Middleton's styles, the foundation is an amazing blowout (don't worry if it's a day or two old for this updo). To get salon-worthy volume at home, you want to focus all of your attention to the ends, and wrap hair around a round brush to get that perfect curl.
"Think about setting hair on a roller," Skervin explained. "Blast [ends] with hot air, then let it cool down. To unravel hair with minimal frizz, use a twisting motion that locks in the curl. He applied Vidal Sassoon Pro Series Boost & Lift Foaming Air Mousse [6] ($5) before blow-drying and finished with Vidal Sassoon Pro Series ColorFinity Dry Shampoo in Rich Darks [7] ($5).
Step 2: Tease at the Crown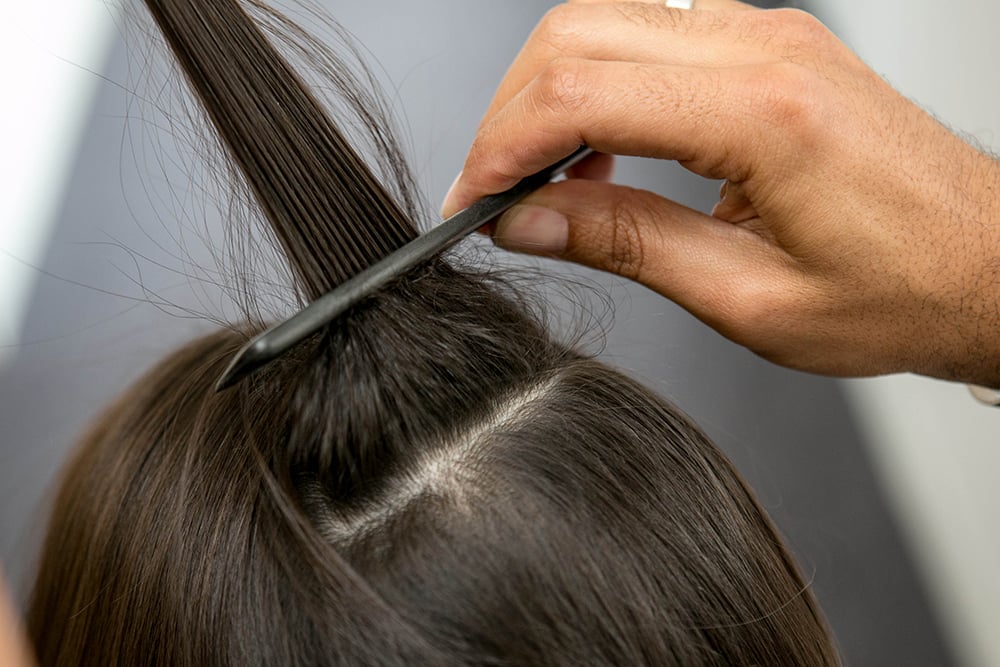 Backcombing gets a bad rap, but by using Skervin's technique, tangles will be obsolete. Take a one-inch section at the crown and make sure it's completely combed through and detangled. Then, starting about one-and-a-half inches from the roots, push down toward the scalp. You should only have to do it twice to get the volume you desire, and smoothing over is a cinch.
Step 3: Pigtails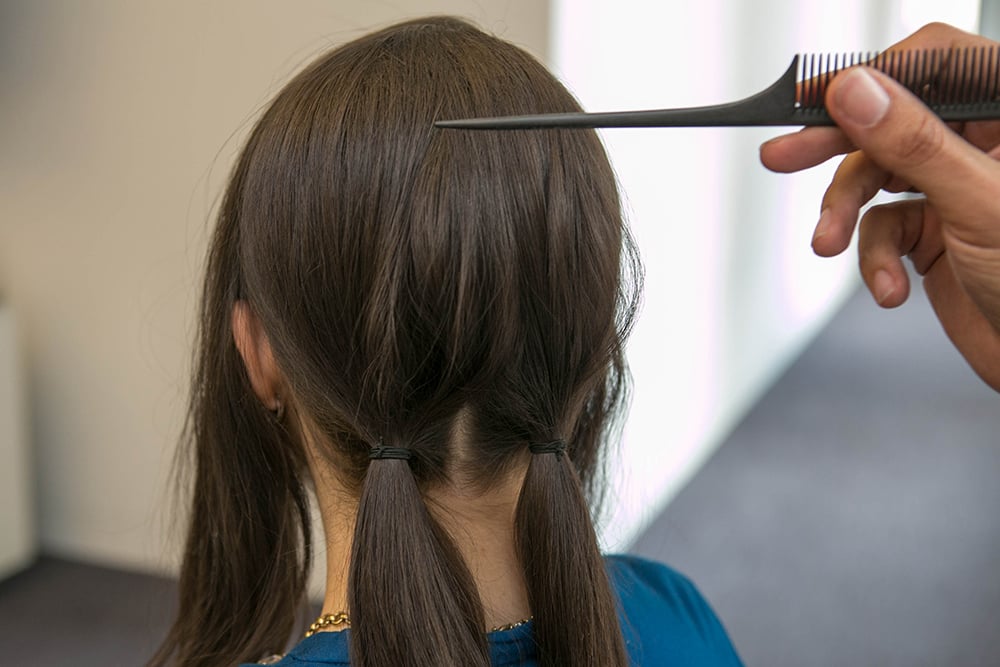 Skervin started sectioning hair with a deep side part. Then he divided the strands into four parts: one section on each side from crown to ear and two sections in back. "Don't make the part too clean; make it zig-zaggy and bulky, so you can easily hide the part." Use two clear rubberbands to make loose pigtails low at the nape.
Step 4: Stuffing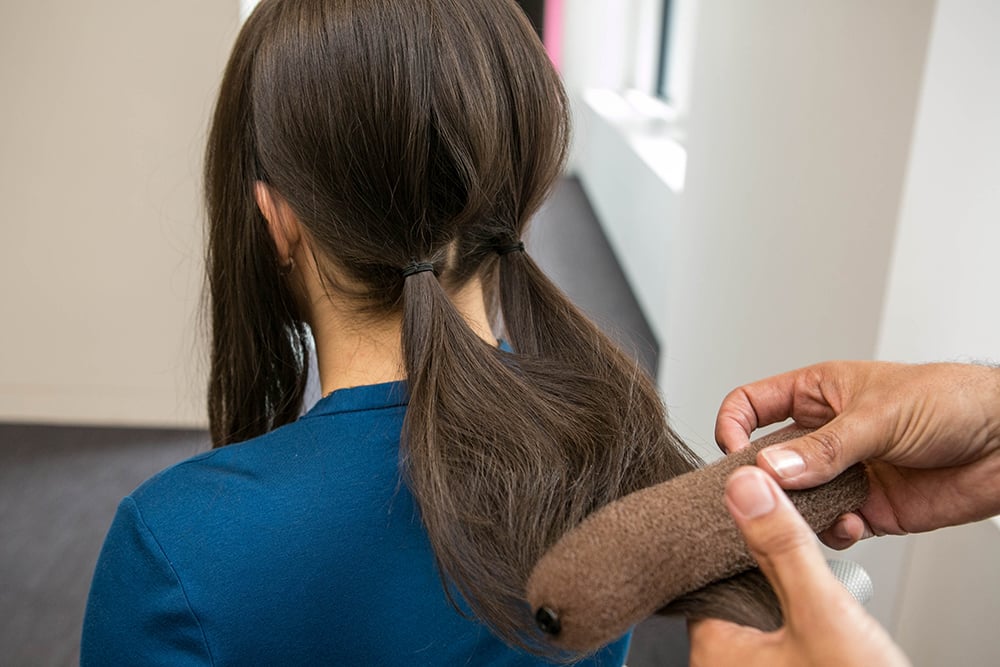 Backcomb the pigtails, leaving the ends straight. This will help blend the two sections together. Skervin then rolled hair over a donut (find one that coordinates with your hair color) to mold the chignon.
Step 5: Secure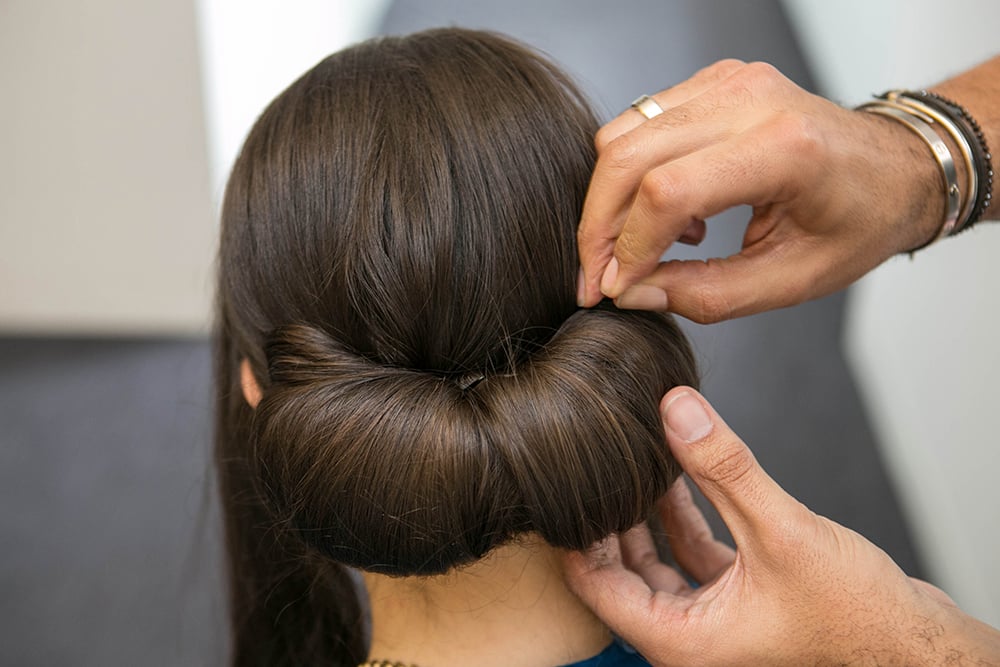 Stretch and arrange hair so that all the stuffing is hidden, then secure with bobby pins. Make sure to place pins at each end, on top and, at the bottom. Skervin's pro tip for making V-shaped pins more powerful: bend one end into a hook. With tight bobbies you can criss-cross two into an X-shape to ensure they stay put.
Step 6: Twist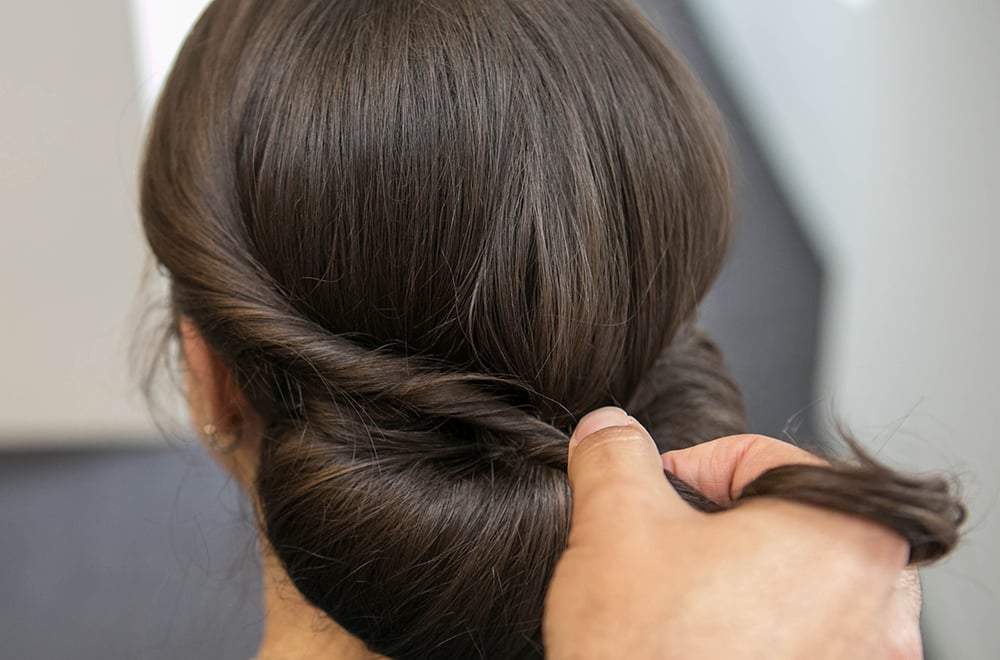 Take the side sections from the front, and twist them back over the bun until they cross in the middle. Secure with bobby pins.
Step 7: Decorate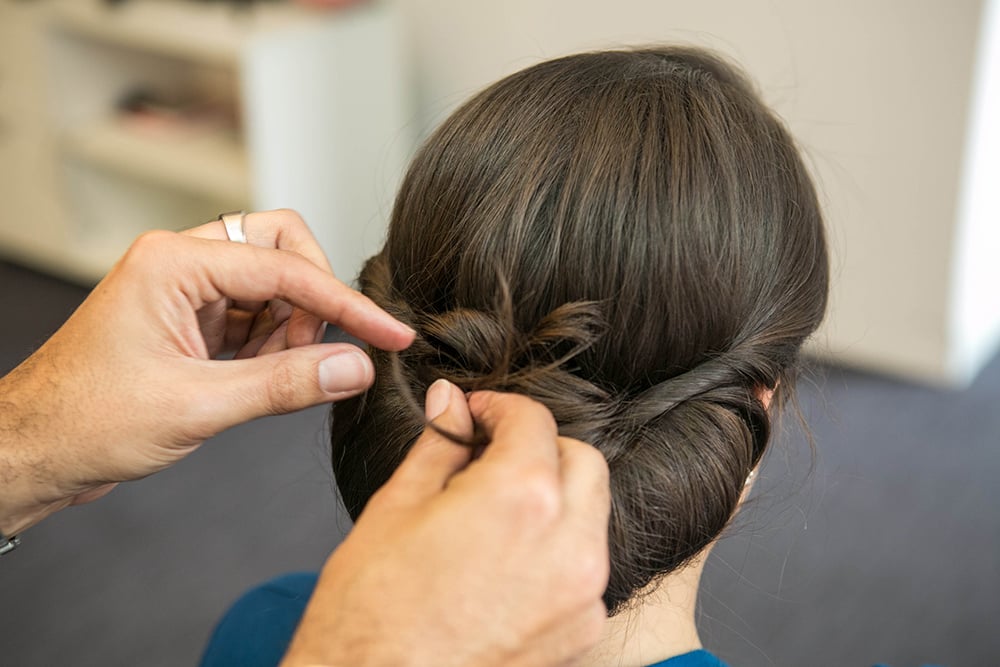 Finally, fold the loose ends into several circular rosettes (this is your moment to freestyle). Skervin spritzed the finished updo with the Vidal Sassoon Pro Series ColorFinity Finishing Hairspray [8] ($5) as the last step.
The Finished Look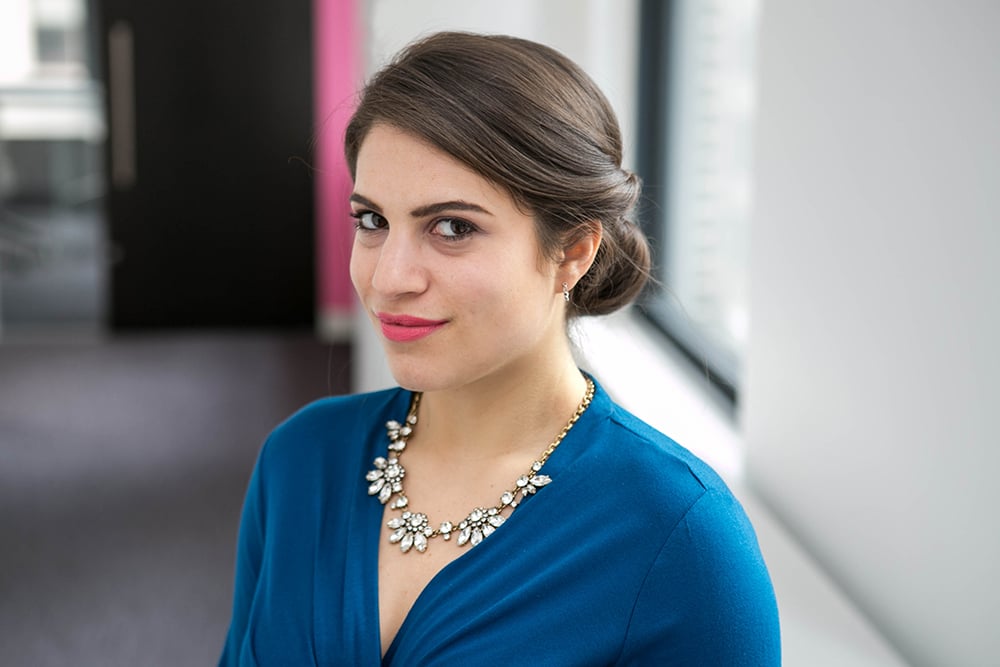 The Original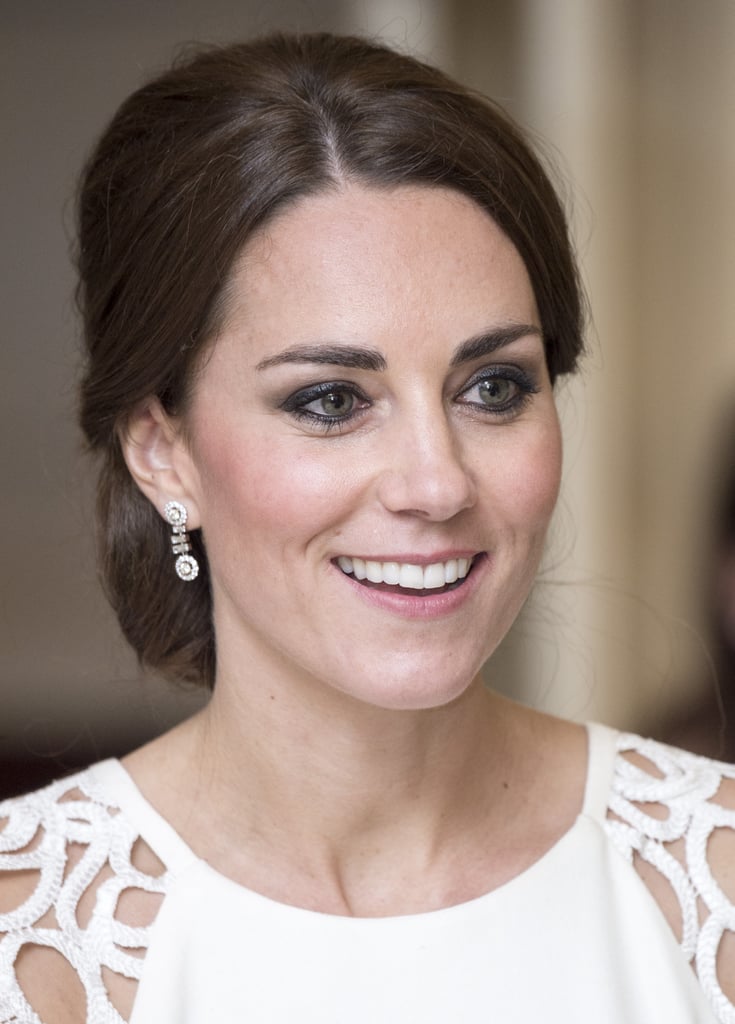 The Finished Look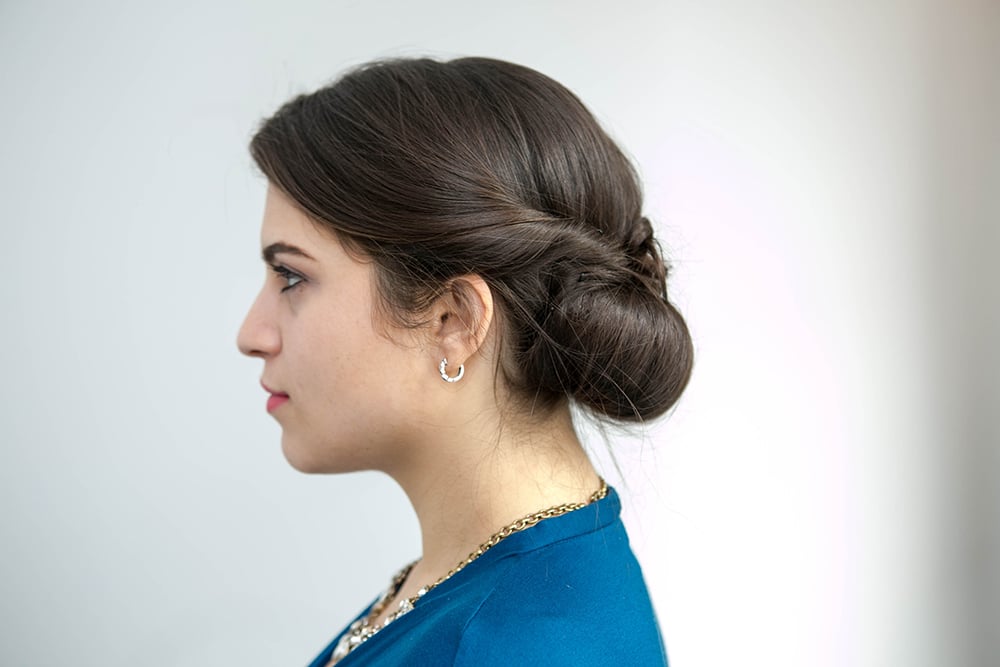 The Finished Look
The Original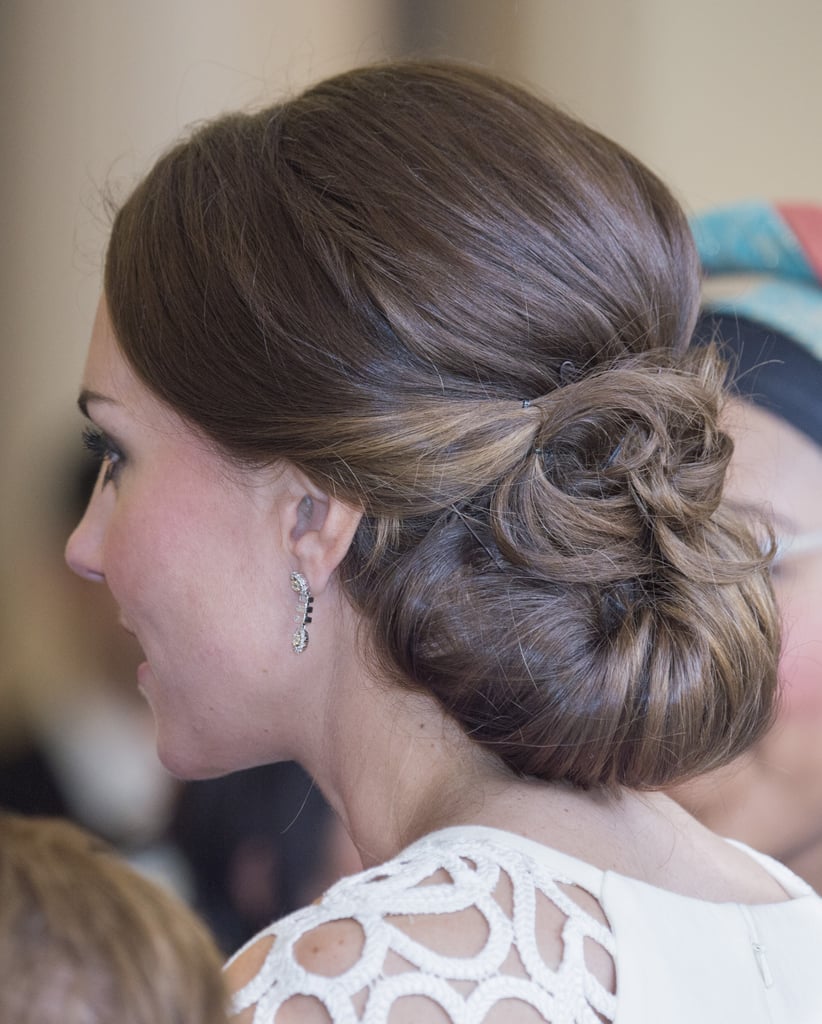 The Finished Look