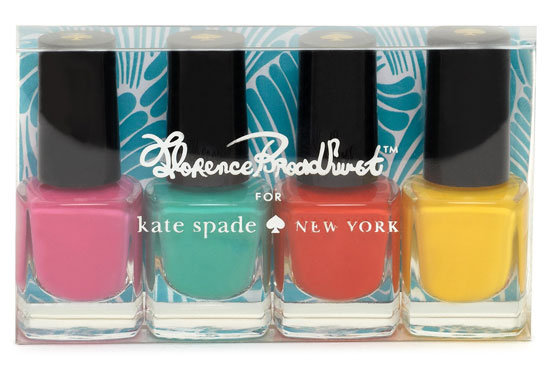 When
Kate Spade
, known for its love of color, links up with lipstick maven Poppy King, you know it's going to be good. Following last year's launch of the cleverly named lipstick/lip gloss hybrid,
Supercalifragilipstick
, and now there's something new. Available next month is a limited-edition mini nail polish travel set ($28) developed by King.
Inspired by the bold works of designer Florence Broadhurst, each shade is named after a pattern created by the Australian artist: Watermelon Fingers, Sea Foam Swirls, Solar Orange, and Yellow Cockatoo. "I have long been waiting for the right reason to turn my eye from lipstick to nail polish," King said in a statement, adding, "Florence Broadhurst was the perfect inspiration to have me design nail shades that spoke to the same female fun as lipstick." Look for the perfect-for-warm-weather polishes in Kate Spade New York stores and on katespade.com.