Katy Perry [1] is a muse for many colorists, given her adventurous nature when it comes to hair color. We know she's never afraid of those bright, head-turning shades — just take her green highlights [2] for example. And as a brunette, it takes time to attain and maintain these bright hues, so we give her props for her chameleon-like, hair-changing abilities. Of course, Katy would bring out every color in the spectrum for her Prismatic World Tour. She even gave us a sneak peek at the wigs she'd be wearing on Instagram [3]!
Take a look at her showstopping hairstyles, and let us know which is your favorite! We're partial to the pretty pastels.
Long and Sleek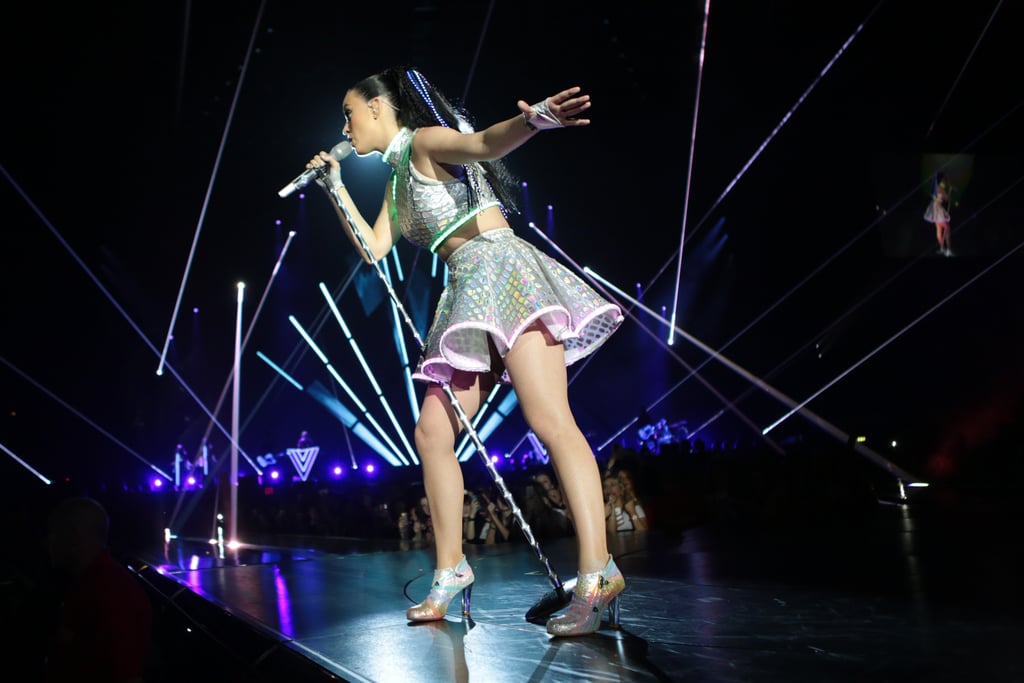 Katy worked the crowd during the opening act of the show, Prismatic, in a sleek, long ponytail with fabric accents.
Cleopatra Chic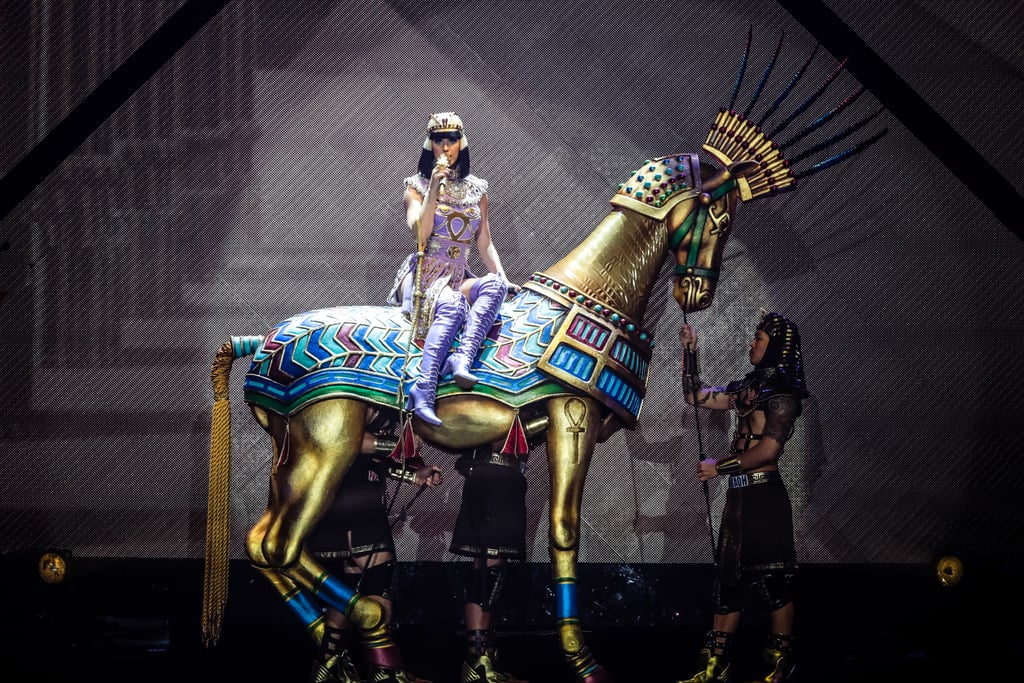 During "Dark Horse," Katy re-created her video look, wearing a brunette Cleopatra wig with blond highlights, styled with a gold headpiece.
Blonde Ambition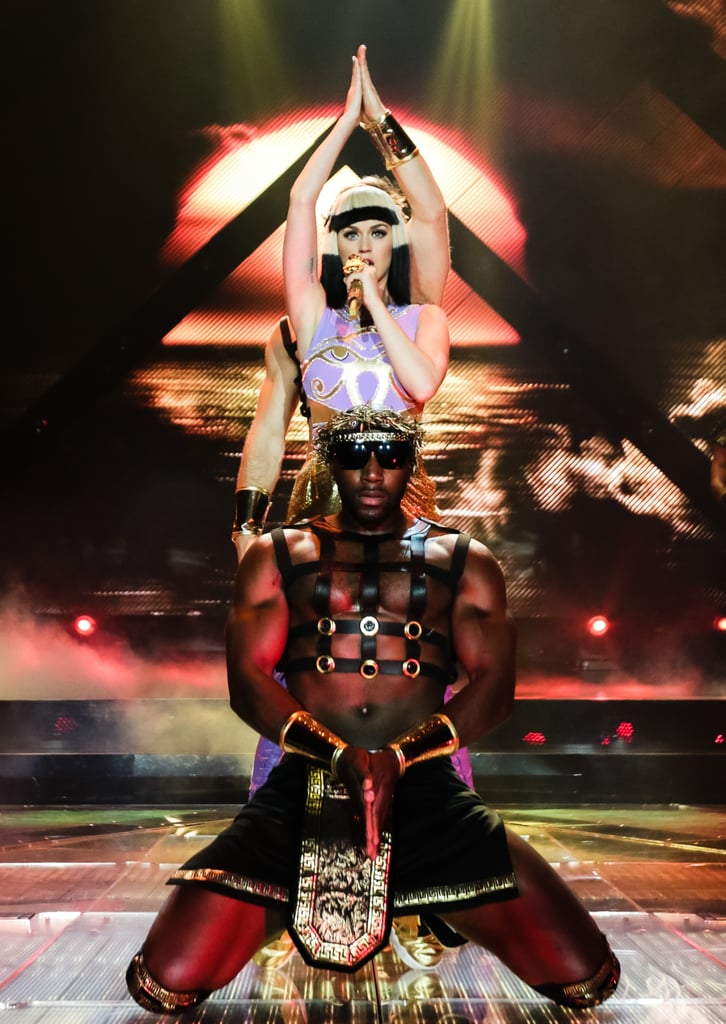 As the headpiece comes off, she revealed that it's actually a platinum blond wig with black highlights! Talk about a structured bob.
Short Bob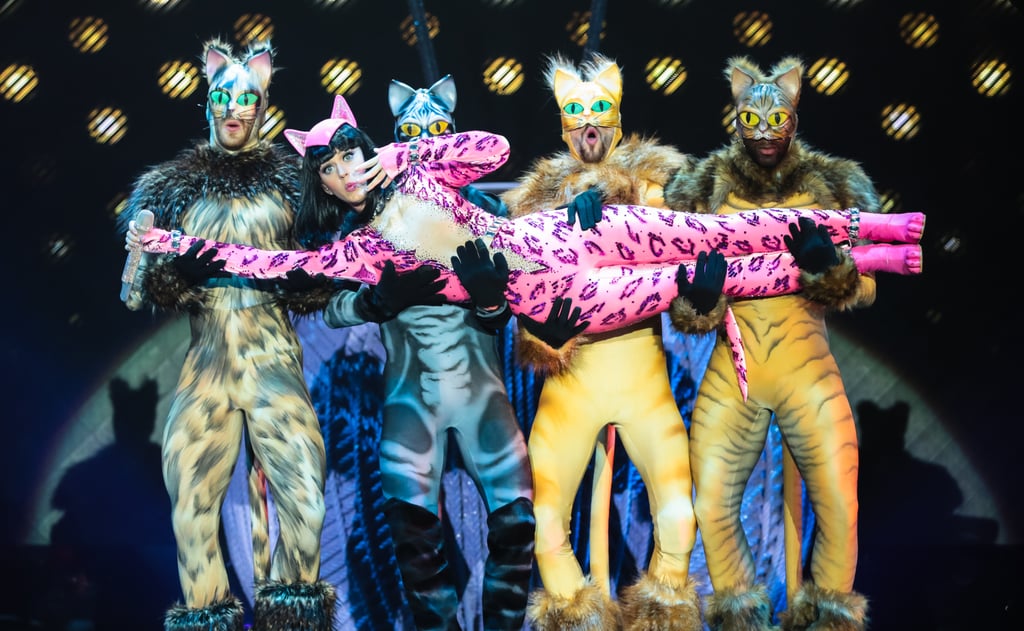 Feline Katy performed with her "KatyCats" during the "Cat-oure" portion of the show in a short blunt bob with bangs. She definitely knows how to work cat ears purr-fectly (sorry, had to).
Feline Fun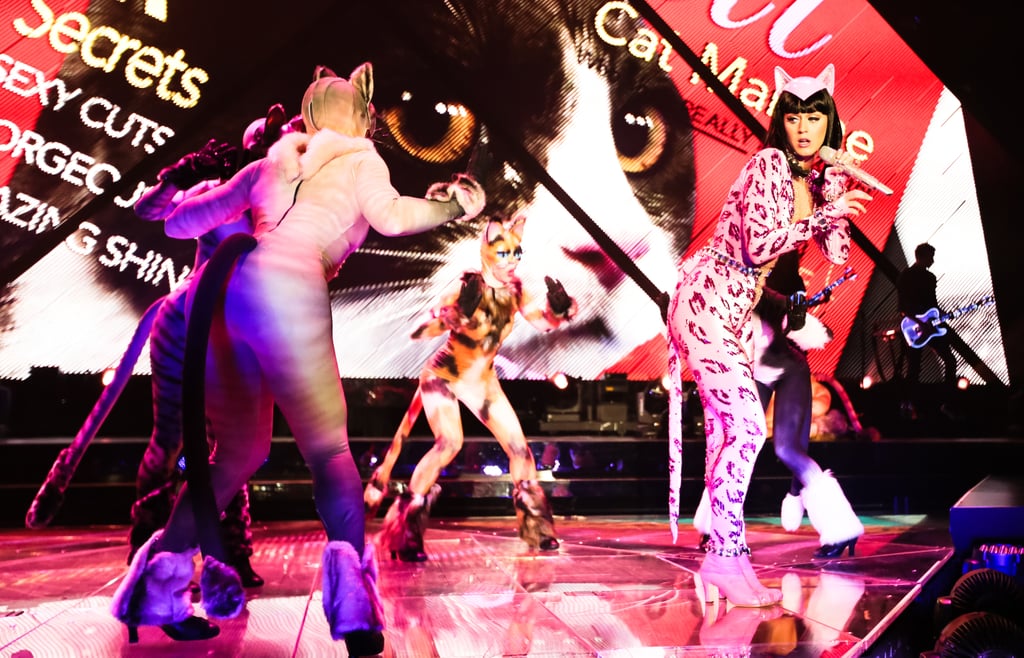 Here she was gettin' down on the catwalk.
Pastel Highlights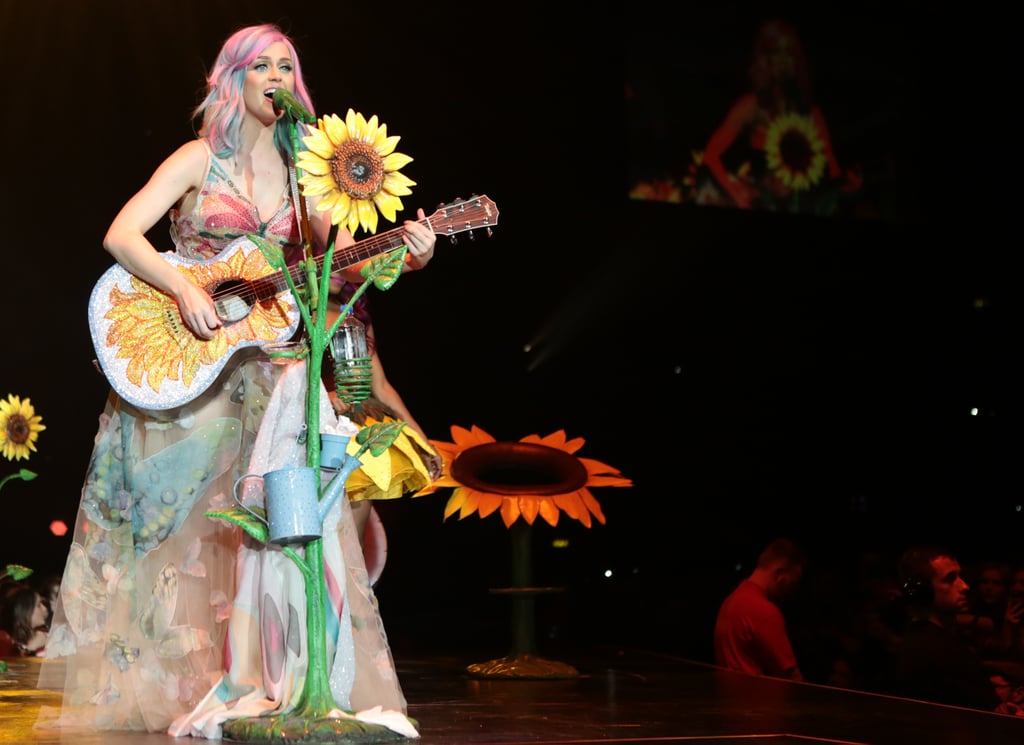 During the acoustic portion of the concert, Katy embraced her hippie, flower-child side, complete with multicolored pastel-highlighted hair.
More Pastels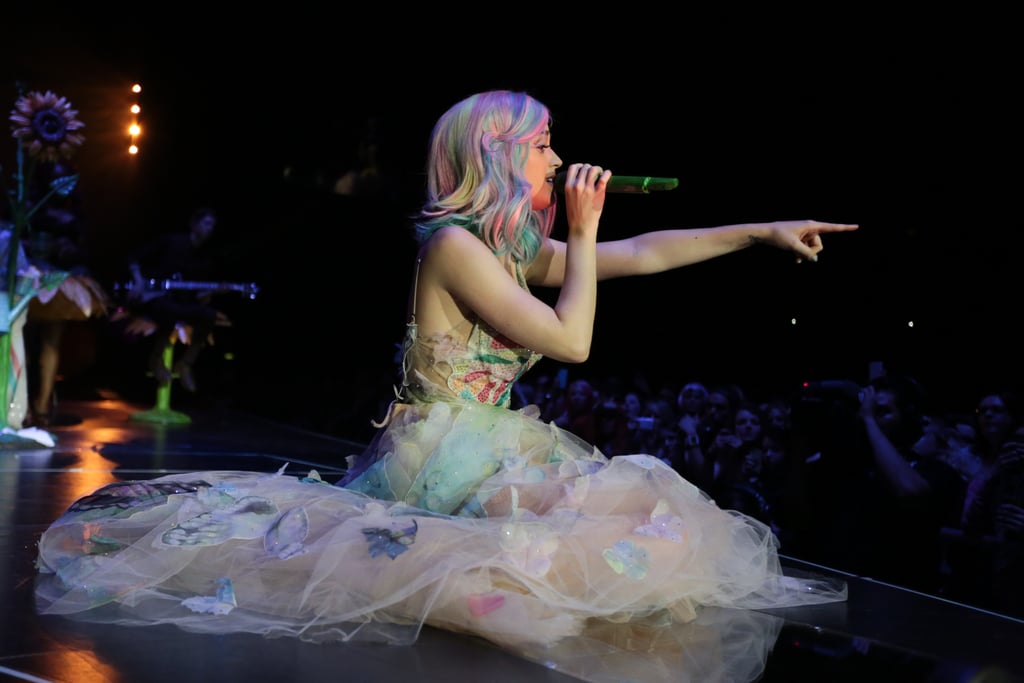 Wonder how long it took to perfect the colors in this wig?
Going Green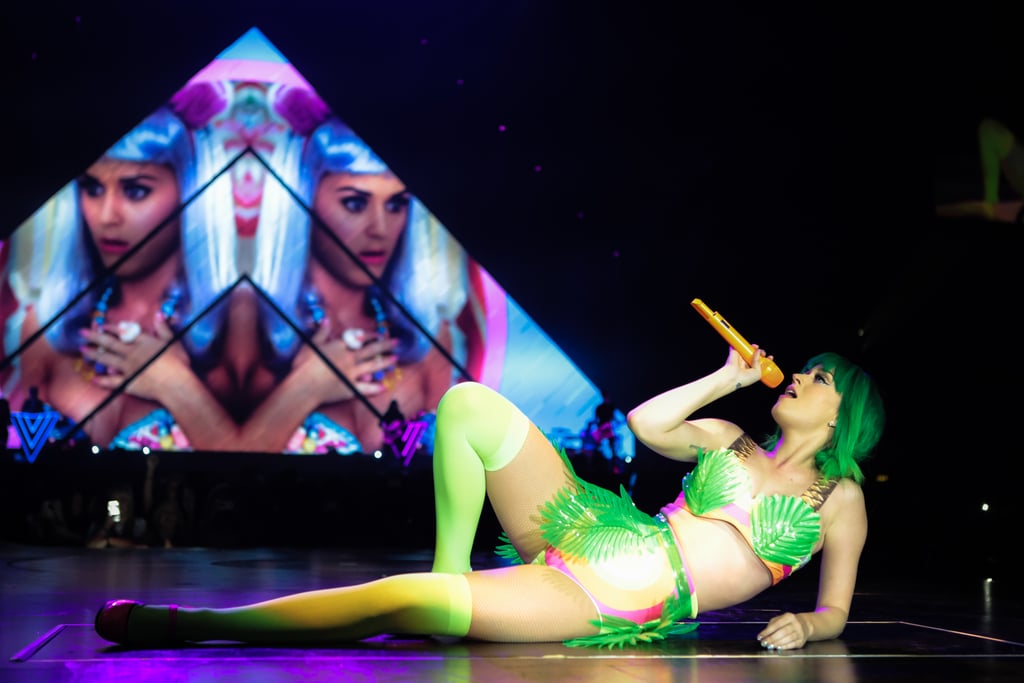 The "Hyper Neon" portion of the show included three of Katy's mega hits, including "California Girls," "Teenage Dream," and her latest single, "Birthday." Her affinity for green hair shows — this black wig was spray-painted to create bright-green highlights.
The Big Finale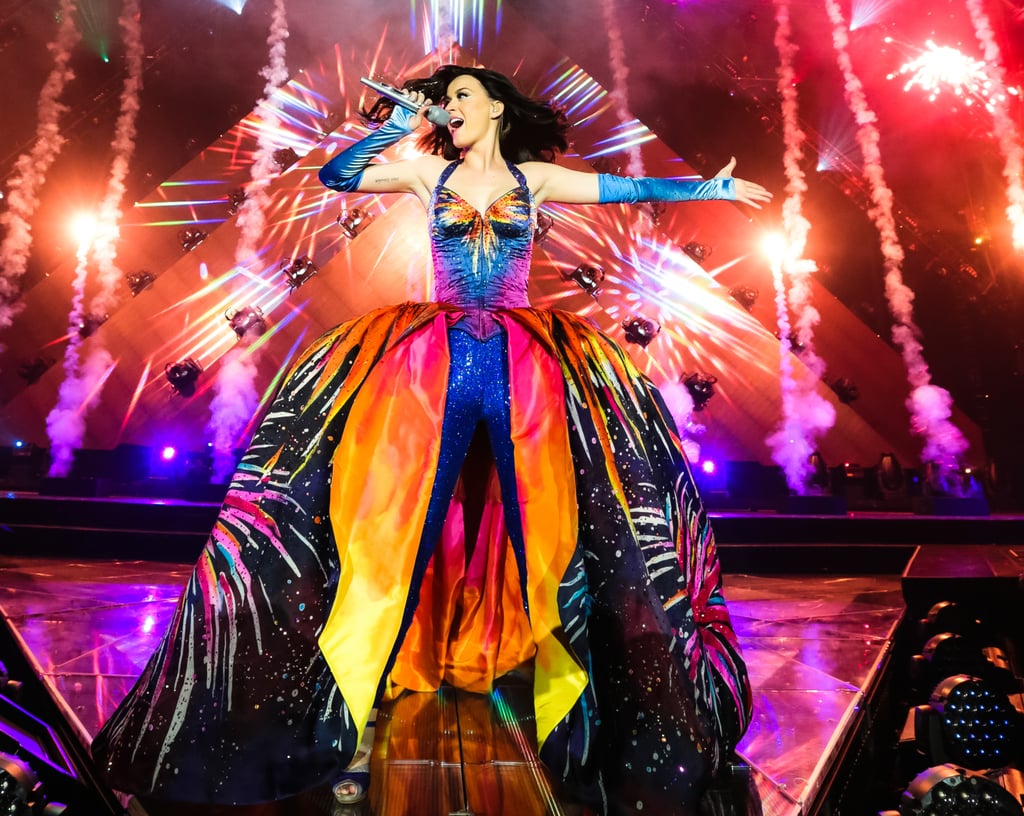 During the encore, Katy let her ensemble do all the talking, leaving the wigs backstage and rocking out with her natural hair.