Kiehl's and Jeff Koons Team Up For One-Day-Only Charity Project
Kiehl's and Koons Team Up Again, For Just One Day
Like us on Facebook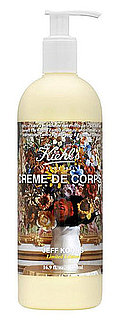 Hot on the heels of their initial product collaboration,

Kiehl's

and artist Jeff Koons are again joining forces for a charitable cause. This Saturday — and this Saturday only — 

Kiehl's

is selling a newly designed version of its famed Creme de Corps body lotion.

Here, more of Koons's art wraps the bottle, and 100 percent of the net proceeds (up to $25,000) will go to The Koons Family Institute. For the art collector on a budget, it's a smart holiday gift. Here's the catch: the goods are available only in select New York and California stores. But, psst, if you sneak over to Kiehl's Facebook page, you can find out how to have it shipped. Just don't forget — if you have to have it, you also have to circle Dec. 4 on your calendar.