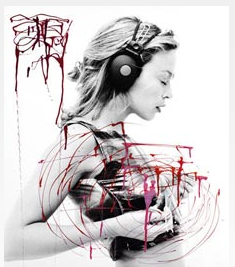 Kylie Minogue
is unquestionably a pop music icon,
but now she's trying her hand at being a visual artist, too
— and nail polish is her paint of choice. It's an interesting choice, and totally in keeping with Kylie's girly persona. This piece, a photograph of her by the artist Rankin that she covered in abstracted swirls, is being auctioned off this Saturday for the UK charity Youth Music. Since nail polish and car paint have very similar formulas, I can see it being a legit medium. But what do you think? Is nail polish art like Kylie's meant to be taken seriously?