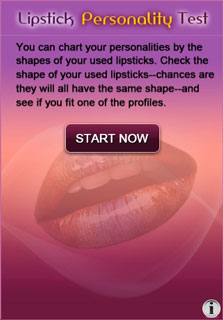 Lipstick personality tests have been around forever, and guessing what that funny shape your lipstick becomes as it wears down "means" is probably as old as the product itself. But now the hokey-yet-entertaining game has moved into more technologically sophisticated territory with the
Lipstick Personality Test iPhone app.
It's free — which is a good thing, since the concept isn't exactly complicated. Alternatively, you could just assume that the way your lipstick wears down has more to do with the shape of your lips than with your thoughts, but where's the fun in that?