Let's talk Lupita Nyong'o, shall we (oh, you thought I was done after the Lupita-inspired makeup tutorial [1] and best beauty looks montage [2] . . . not!). Today, her new Vogue cover for July was released. While this is a big honor in fashion, it's also inspiring for the beauty world. She's changing the way we classify what is pretty.
Personally, I fell in love with Lupita for many different reasons. As a beauty editor, I get a thrill every time she comes walking down the red carpet with bold eye makeup and bright lipstick. As a woman with natural hair, I'm shocked at the number of ways she can style her short Afro. As a Black woman, I'm pumped to witness this gorgeous dark-skinned lady take the entertainment industry by storm. Keep reading as I sum up my Lupita girl crush and what this "most beautiful" win means for the beauty business.
Source: Vogue/Mikael Jansson [3]
She Makes the Afro Even More Awesome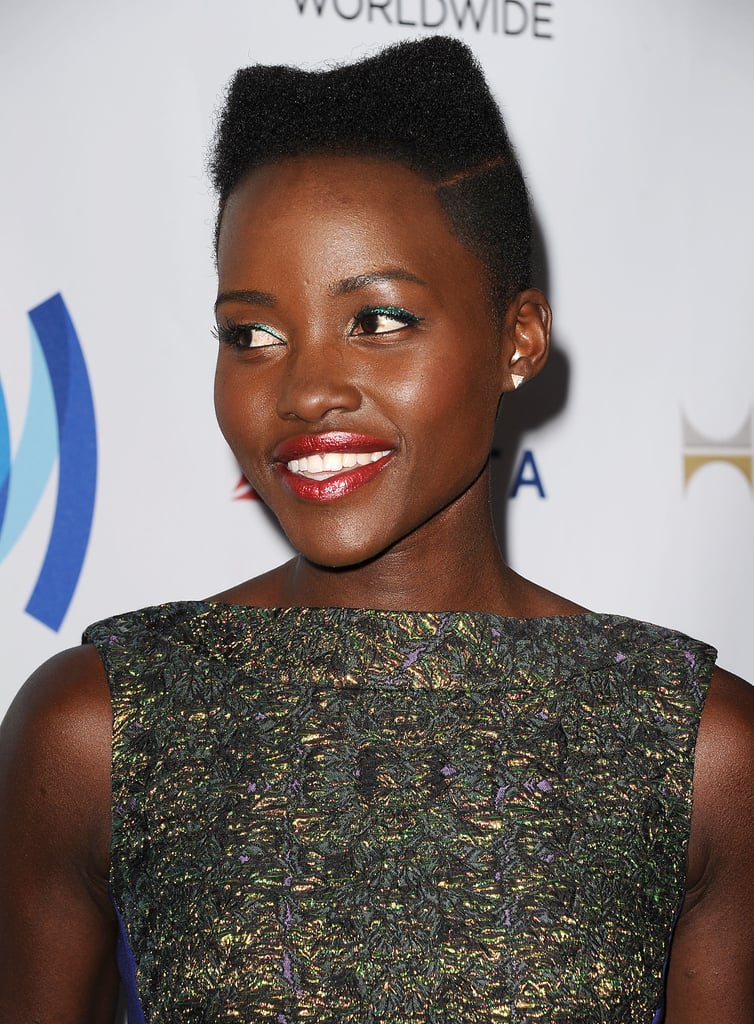 Over the last decade, natural hair has been on the upswing in the Black community. Everyone is talking about how gorgeous Afro hair can be, but Lupita is bringing love to the ladies with the TWA (teeny-weeny Afro). I mean, how many ways can she style two inches of hair? There's been the Elvis pompadour, the Minnie Mouse puff, the cat ears, and the widow's peak. Apparently, the options are endless with an amazing hairstyling team [4].
Whereas women with short-cropped hair might have felt limited in the past, her numerous styles only prove what I already knew: there's nothing more versatile than natural hair. You can wear it straight, curly, or picked out. It's the epitome of self expression.
She's a Beauty Rebel
Lupita shoots a big middle finger to all the beauty rules. She has no qualms about rocking a bold eye and lip combination [5] on the step-and-repeat. Plus, she's also a big fan of statement-hue nail looks and has decorated her digits with pastel blue, orange, purple, gold, and more. Her picks inspire me to branch out and try every shade of the rainbow (buh-bye, neutrals).
She's Ending the Dark-Skin, Light-Skin Debate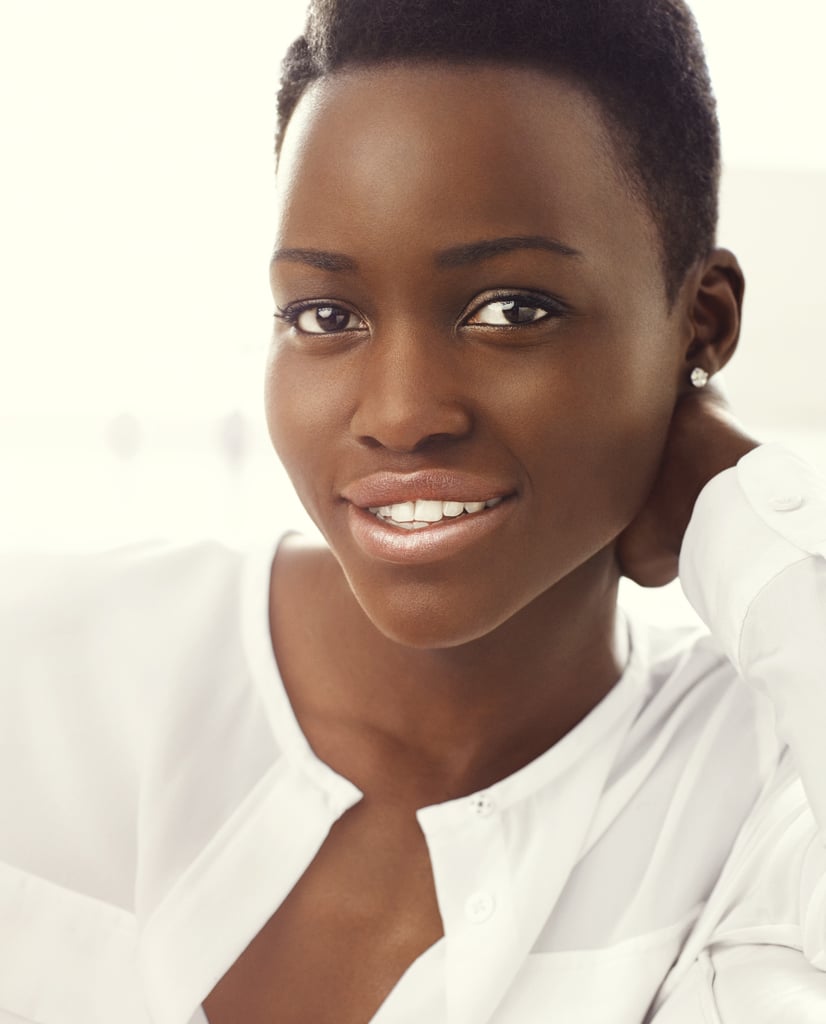 Lupita is moving from the big screen to billboards with her Lancome contract [6]. That role makes her the first Black celebrity to represent the brand. Perhaps her popularity will convince even more mainstream makeup brands to extend their foundation shades far beyond the beige and tawny range. Brown skin comes in many different variations, from my own caramel color to Lupita's mahogany complexion. Every woman deserves to be represented in the concealer and foundation category — don't you think?
Source: Lancome [7]
She's a Hollywood Trailblazer
As People's Most Beautiful Person for 2014, Lupita joins a list that includes only two other Black women. Halle Berry [8] won in 2003 and Beyoncé in 2012. From a young age, we're told beauty takes many shapes and colors, but the entertainment industry still has room to improve in the diversity department. Even Lupita doubted her own beauty (which is just insane). "I remember a time when I too felt unbeautiful," she said during the Essence Black Women in Hollywood Luncheon [9]. "I put on the TV and only saw pale skin, I got teased and taunted about my night-shaded skin. And my one prayer to God, the miracle worker, was that I would wake up lighter skinned."
Source: People [10]
She's Just So Smart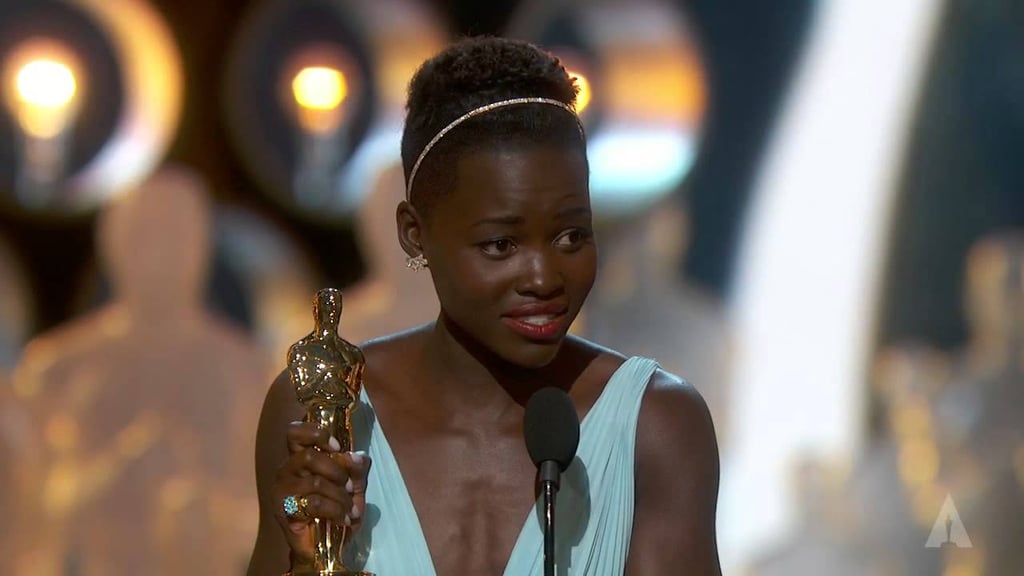 Every time Lupita opens her mouth to give an acceptance speech, I think, "Wow, this woman is so intelligent!" She is a Yale University graduate, after all. And even though she's the current It girl on everyone's must-see list, Lupita remains humble and honored every time she accepts a new award. She's the type of woman we all want to be friends with, and even more importantly, she's a woman I want my future children growing up watching on TV and aspiring to be.