While there are many bold beauty trends right now — such as eyebrows on fleek [1] and Kylie Jenner's lips [2] — the minimal look is here to stay. The ever-popular Instagram hashtag #IWokeUpLikeThis and its counterparts #NoMakeup and #MakeupFree have inspired a bevy of celebrities to share bare-faced photos with the trending tag. And we are impressed by their bravery to show their untouched faces [3] to the world. These inspiring women fought stereotypes of perfection, proving to us that sometimes stars want to keep their looks low-key too! Don't forget to keep up with our editors by following POPSUGAR Beauty on Instagram [4]!
Related: Beauty Editors Share Exactly How They Take Care of Their Skin [5]
Cameron Diaz
Cameron showed off her ageless complexion (and her new book!) in a quick selfie.
Jennifer Lopez
Jennifer inspired us all to hit the gym [6] after flaunting this selfie. It may be hard to look away from her incredible abs, but check out her radiant, makeup-free complexion!
Cindy Crawford
The legendary supermodel shared a makeup-free selfie in honor of her 50th birthday. How luminous is her skin?
Bar Refaeli
The model posed for this selfie — with spots and freckles on full display — as she debated what food to order.
Bella Thorne
Bella explained that she struggled with acne for many years. "I used to cry every night because I thought I looked so ugly," she shared. The actress posted this picture to inspire her fans to embrace their natural beauty.
Salma Hayek
"Wet hair, no makeup, no filter, no retouch, but very good light," declared Salma. She forgot to mention "exceptional genes!"
Kaley Cuoco
Kaley shared this sweet makeup-free snap with Chester, her adopted fur baby.
Bella Hadid
Before getting her beauty sleep for the evening, Bella took a selfie that highlighted her luminous skin.
Eva Longoria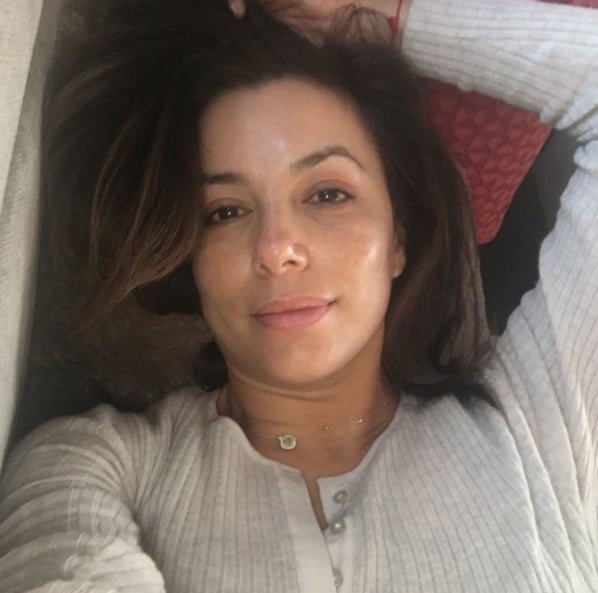 "Good morning #CorpusChristi!! I'm so happy to be here!" Eva declared. Right after she woke up in her hometown, she snapped this glowing barefaced selfie.
Mindy Kaling
Mindy loves sharing her beauty secrets [7] with her fans, even her tricks to battling breakouts. "That zit cream in your 30s life," she quipped on Instagram.
Cindy Crawford
"Getting some beauty rest before my Meaningful Beauty shoot in Palm Springs tomorrow!" announced the stunning model. Though she may be turning 50 in February, Cindy looks like she hasn't aged at all since the '90s.
Cameron Diaz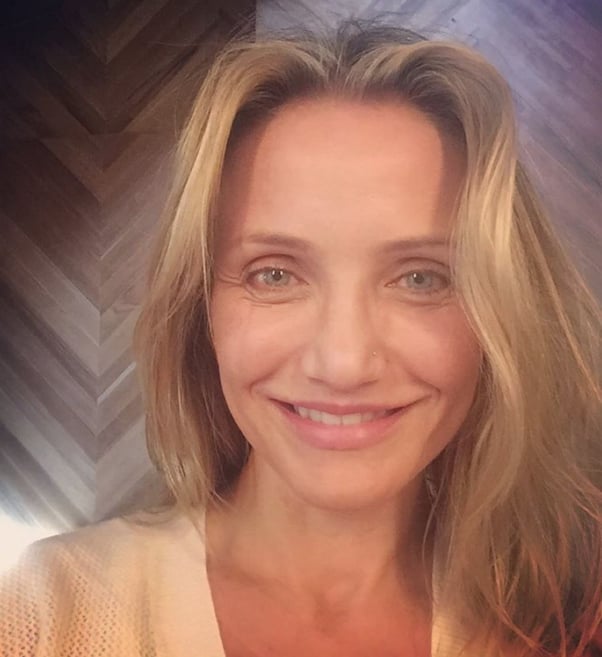 m
In anticipation of her upcoming book [8], Cameron shared a makeup-free selfie. She asked her fans to share a similar picture showing where they are in the aging process — the top 50 photos will be selected for the cover of her new book!
Christie Brinkley
Before appearing on HSN to sell her line of skin care products, Christie shared this impeccable bare-faced selfie. Can you believe she's 61 years old?
Ashley Benson
"It's the new trend," declared the Pretty Little Liars star. Yup, that's blemish cream dotted all over her face.
Nicole Scherzinger
The British singer showed off poreless skin and enviable brows in her makeup-free selfie.
Olivia Munn
Olivia flaunted freckles and a luminous complexion in this post to Instagram. The cameo by puppy Chance was just a bonus.
Bella Hadid
e
The model's skin seemed lit from within as she took this early-morning makeup-free shot.
Laverne Cox
Laverne used a bevy of hashtags to caption her glowing no-makeup selfie, including #AuNaturale, #NoMakeup, #NoWeave, and #washfacenobase.
Jenna Dewan Tatum
Jenna shared this sexy snap from a makeup-free photo shoot in Cabo. The photographer who captured her radiant complexion was none other than her hot husband, Channing Tatum [9].
Whitney Port
Whitney is tired of people mocking her makeup-free selfies on Instagram. The designer laid it all out in the caption of this bare-faced photo. "Goodbye haters! I'm gonna embrace my bare, colorless, pale and ghostly skin because I don't need to hide behind anything."
Chrissy Teigen
Chrissy shared a sweet selfie with one of her bulldogs as she relaxed with a movie. Perhaps this image was snapped after completing her beauty regimen [10]?
Demi Lovato
"#NoMakeupMonday day after the #VMAs selfie!!!" Demi exclaimed. We're pretty envious of her amazingly luminous skin.
Kylie Jenner
Kylie showed off her glowing skin and tousled bed head the morning after she flaunted bangs at the MTV VMAs [11].
Gigi Hadid
"Frex," said Gigi, referring to her cute freckles — who knew they were even there?
Jenna Dewan
Jenna's skin looked dewy and radiant after a tough workout.
Adriana Lima
Adriana shared her luminous skin secret — boxing! — in this selfie.
Doutzen Kroes
Doutzen's blue eyes popped against her dewy complexion.
Whitney Port
"So fresh and so clean!" declared the fresh-faced star.
Carrie Underwood
Carrie took a break from her grueling workout to share her glowing skin with Instagram. "Fortunately I have sweet Penny to help get me cleaned up! Ew," she said of her canine companion.
Lady Gaga
The musician shared a selfie as she relaxed with a good book and bare skin.
Demi Lovato
Demi let her freckles shine in a "No Makeup Monday" selfie.
Kelly Osbourne
Kelly showed off her glowing skin with a just-rolled-out-of-bed selfie.
Sofia Vergara
Sofia posted this poolside vacation photo without a stitch of makeup on. Que linda!
Tyra Banks
Tyra took to Instagram to show off a raw, no-makeup selfie. She captioned the photo with an inspirational message: "You deserve to see the REAL me. The REALLY real me."
Zendaya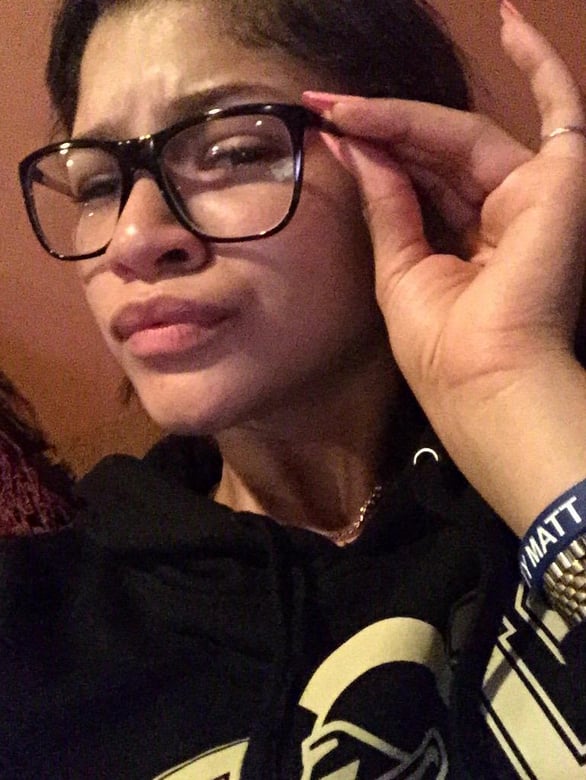 After Twitter user Manstagram_ shared [12] a before/after photo of makeup artist Shannon C. implying she looked unattractive without makeup, Zendaya shared her own makeup-free selfie. "She slays both ways," she tweeted at Manstagram, adding the hashtag "#wannaborrowmyglasses."
Laverne Cox
The Orange Is the New Black star posted this makeup-free photo with the caption: "Always good to have days with no makeup to let my skin breath. #washfacenobase #TransIsBeautiful."
Diane Kruger
Diane shared this photo with the caption, "I don't know why I still look like a teenager sometimes..#Sky#nomakeup#thegoodolddays." We are trying to control our jealousy . . .
Jennifer Aniston
Jennifer became an advocate for going makeup-free while filming the movie Cake. The star, who only sat in the makeup chair to get faux-scars applied, described going bare-faced [13] as "so fabulous — so dreamy and empowering and liberating."
Taylor Swift
Taylor bared her product-free skin while she snuggled up in bed in London.
Kesha
Kesha's makeup-free, brooding gaze was captioned simply with the rainbow, cat, and heart emojis.
Source: Instagram user iiswhoiis [14]
Gwyneth Paltrow
Gwyneth took this selfie out in "Big Sky country," flaunting her makeup-free freckles.
Source: Instagram user gwynethpaltrow [15]
Gisele Bündchen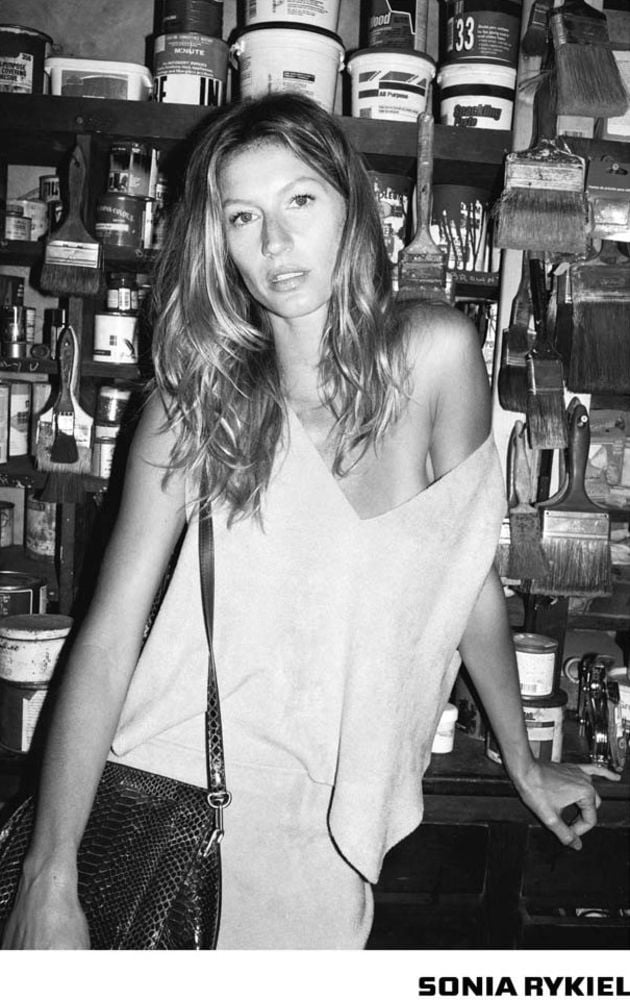 Gisele Bündchen [16] went makeup-free for Sonia Rykiel's new advertising campaign, proving the Brazilian model doesn't need a hair and makeup team to be a bombshell.
Source: Juergen Teller for Sonia Rykiel [17]
Jennifer Lopez
JLO shared another fresh-faced selfie with her Instagram followers — and her son Max snuggled up close to join in on the fun. "#mamalove #perfectday," Ms. Lopez declared.
Source: Instagram user jlo [18]
Megan Fox
Megan is new to the Instagram scene, and she posted this makeup-free selfie as one of her first snaps. Obviously there's no movie magic involved in her extrathick brows.
Source: Instagram user the_native_tiger [19]
Jennifer Lopez
Jennifer Lopez [20] is one hot mama! The 44-year-old [21] beauty went makeup free, showing off skin as fresh as it was when she was Jenny from the block.
Source: Instagram user jlo [22]
Ashley Greene
The actress started the day with a morning selfie — sans makeup. Yeah, she really woke up like this.
Source: Instagram user ashleygreene [23]
Zooey Deschanel
Zooey kicked off her weekend with a makeup-free Saturday.
Source: Instagram user zooeydeschanel [24]
Lorde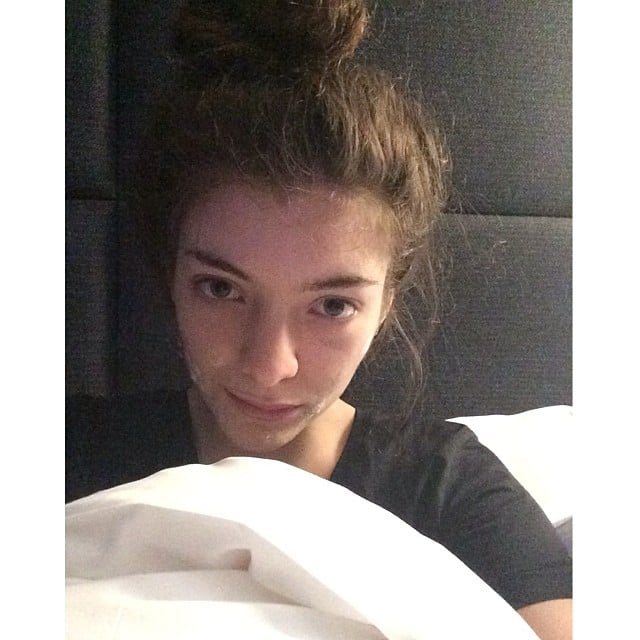 As an outspoken critic of photoshopping and unrealistic beauty ideals [25], Lorde wasn't afraid to share a selfie while wearing acne cream.
Source: Instagram user lordemusic [26]
Beyoncé
The gorgeous singer was snuggled up in bed sans makeup. Yeah, #shewakesuplike that. Perfect.
Source: Instagram user beyonce [27]
Cameron Diaz
Even barefaced, Cameron looked fresh and flawless.
Source: Instagram user camerondiaz [28]
Miranda Kerr
Miranda spread the love while letting her real beauty shine at the beach.
Source: Instagram user mirandakerr [29]
Drew Barrymore
Drew Barrymore [30]'s skin glowed while she took a snack break during Fashion Week. Source: Instagram user drewbarrymore [31]
Rosie Huntington-Whiteley
Rosie and her snuggle buddy were both all-natural beauties in her plush bed. Source: Instagram user rosiehw [32]
Gisele Bündchen
Doting mom Gisele didn't need to pile on products to look utterly flawless. Source: Instagram user giseleofficial [33]
Bar Refaeli
Bar refused to hide her adorable freckles.
Source: Instagram user barrefaeli [34]
Gwyneth Paltrow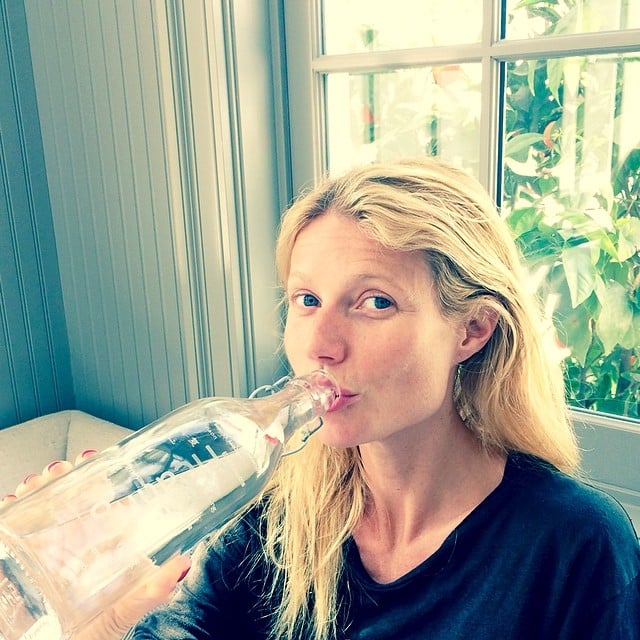 Gwyneth took care of her skin by staying hydrated.
Source: Instagram user gwynethpaltrow [35]
Adele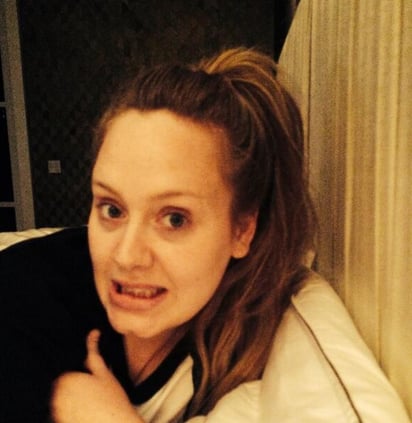 To celebrate her 26th birthday, Adele shared this makeup-free shot.
Source: Twitter user OfficialAdele [36]
Demi Lovato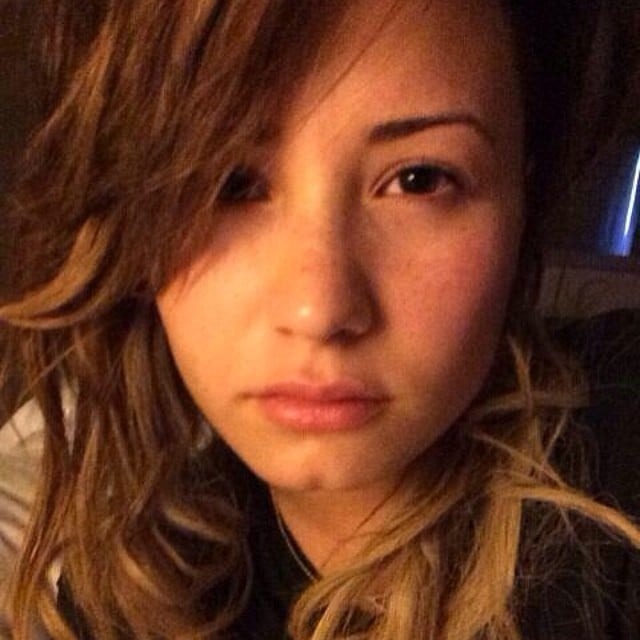 Demi looked beautiful with no makeup on. Source: Instagram user ddlovato [37]
Lupita Nyong'o
Lupita went product-free while lounging around. Source: Instagram user lupitanyongo [38]
Jessica Alba
Postfacial, Jessica's skin was clean and clear — no need for makeup here!
Source: Instagram user jessicaalba [39]
AnnaLynne McCord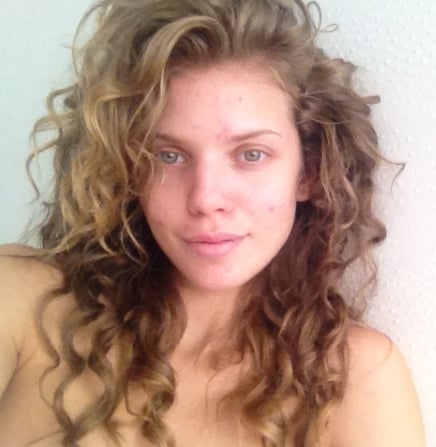 AnnaLynne fought the stereotype of Hollywood perfection when she shared this photo of her acne in 2012.
Source: Twitter user IAMannalynnemcc [40]