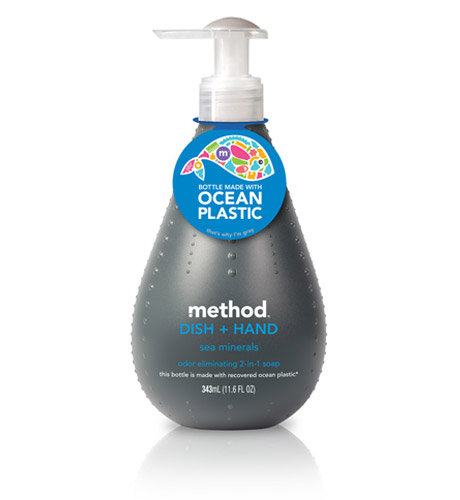 While it's nice to imagine the ocean as a happy playground for turtles and dolphins, the reality isn't so pretty. Each year,
several millions of tons of plastic
— everything from tossed containers to grocery bags — enter the ocean. On average, 46,000 pieces of plastic are floating in
each
square mile of sea. More than a million seabirds die from eating plastic each year, as do thousands of sharks, turtles, and other marine life.
Enter Method's dish and hand soap ($5, Whole Foods), which is packaged in a blend of recovered ocean plastic and postconsumer recycled plastic. Over the past year and a half, Method employees joined cleanup groups to hand-collect plastic from beaches in Hawaii — more than a ton in total. From there, the recovered plastic was recycled into the bottles that hold the soap. (It smells fresh, by the way.) Will soap bottles alone save the planet? No, but they can move people to reuse and recycle. And since the first step toward a cleaner ocean is keeping plastic out of it, that seems like a good place to start.