Since her first term in the White House, Michelle Obama has wowed us with her fashion choices [1], but her style above the neck has also been memorable. And since the first lady has already gone through her midlife crisis hair change (i.e. the bangs), we've loved seeing how her look has evolved throughout President Obama's two terms.
As the Obamas' time in the White House draws to a close, we're reminiscing on all of her best hairstyles — some of which made international news. Read on to see them for yourself.
July 2009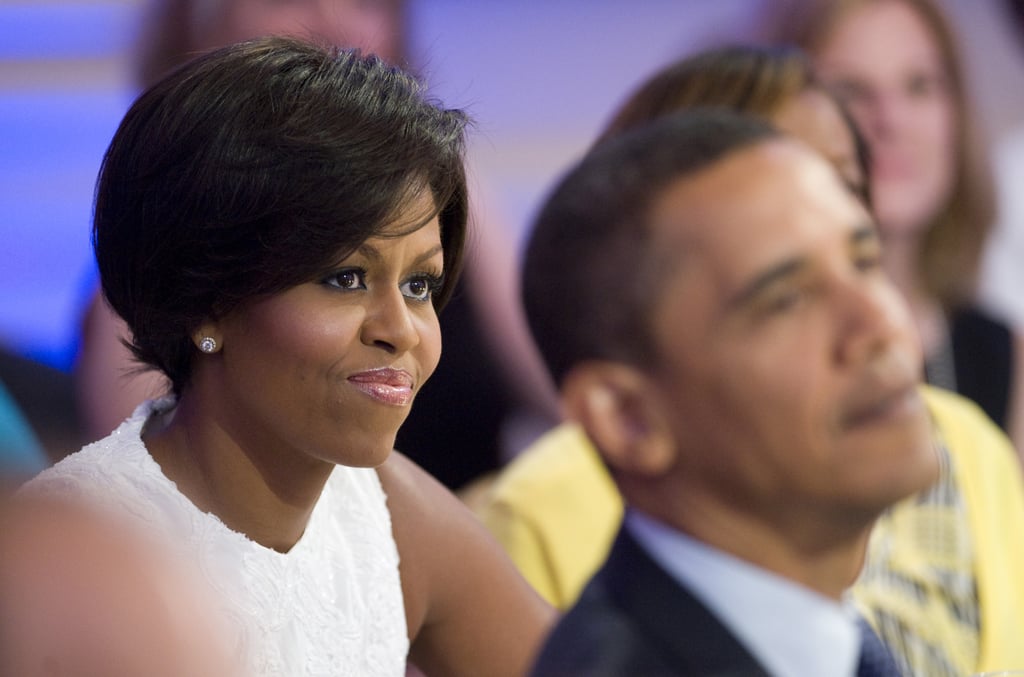 Back in 2009, Michelle faked us all out with this tucked-under updo. She didn't get a cut in reality, but we have to say, the crop looked good on her.
February 2010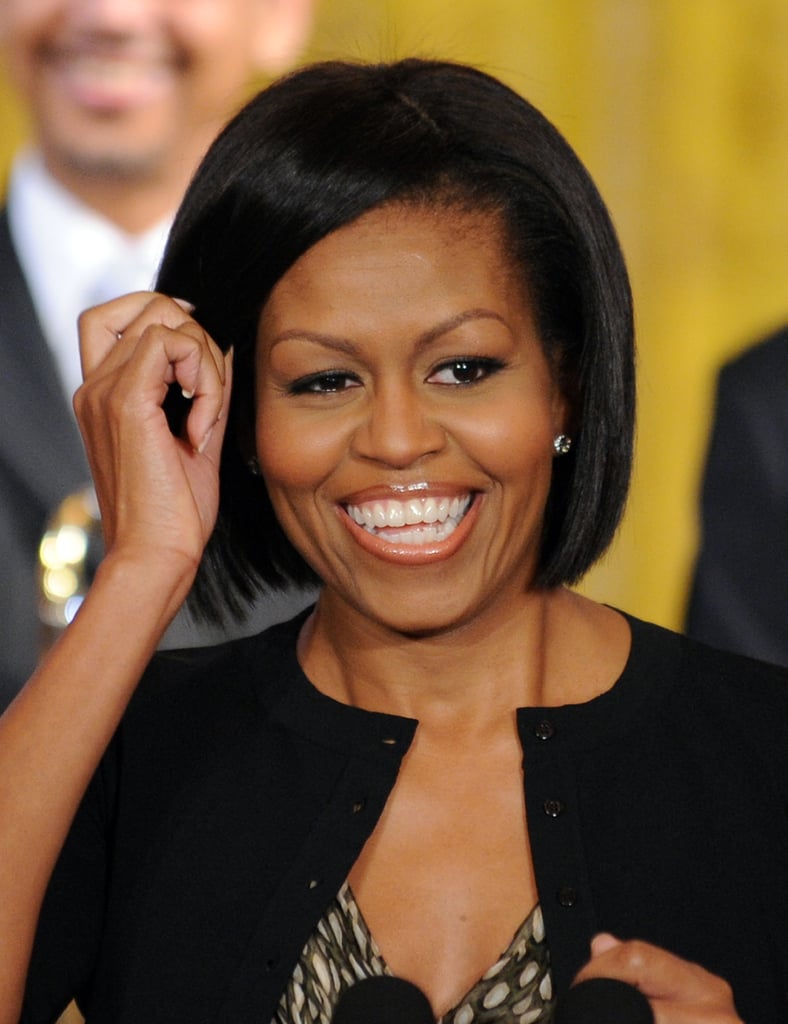 During Barack Obama's first term, Michelle's hair hovered around shoulder length, and she often wore it in this straight bob. It's the perfect maintenance style for a busy first lady.
May 2010
Greeting dignitaries requires a formal finesse. Michelle wore a head full of curls to welcome the Mexican president in 2010. She played up her blue dress with bright navy eyeliner, too.
January 2011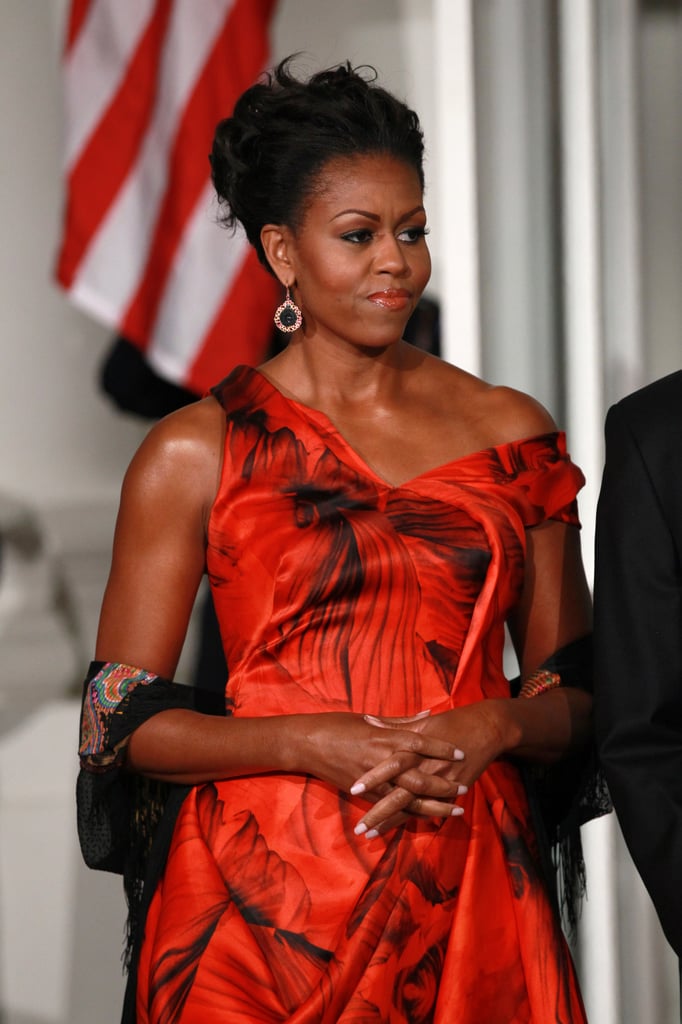 At another state visit in 2011 for the Chinese president, Michelle pulled her hair back into a twisted updo and added a glossy orange lip — a rare choice for a woman who usually keeps her makeup conservative.
July 2012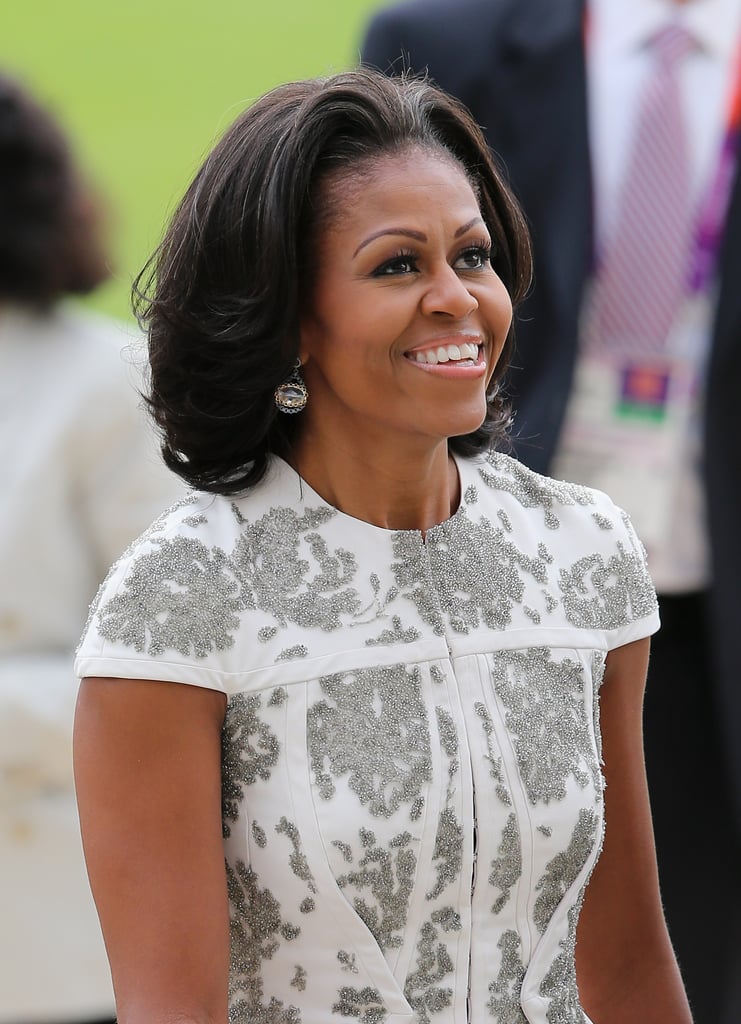 In 2012, the Obamas visited Buckingham Palace ahead of the London Olympics. Michelle wore her bouncy bob curled at the ends and very light makeup.
October 2013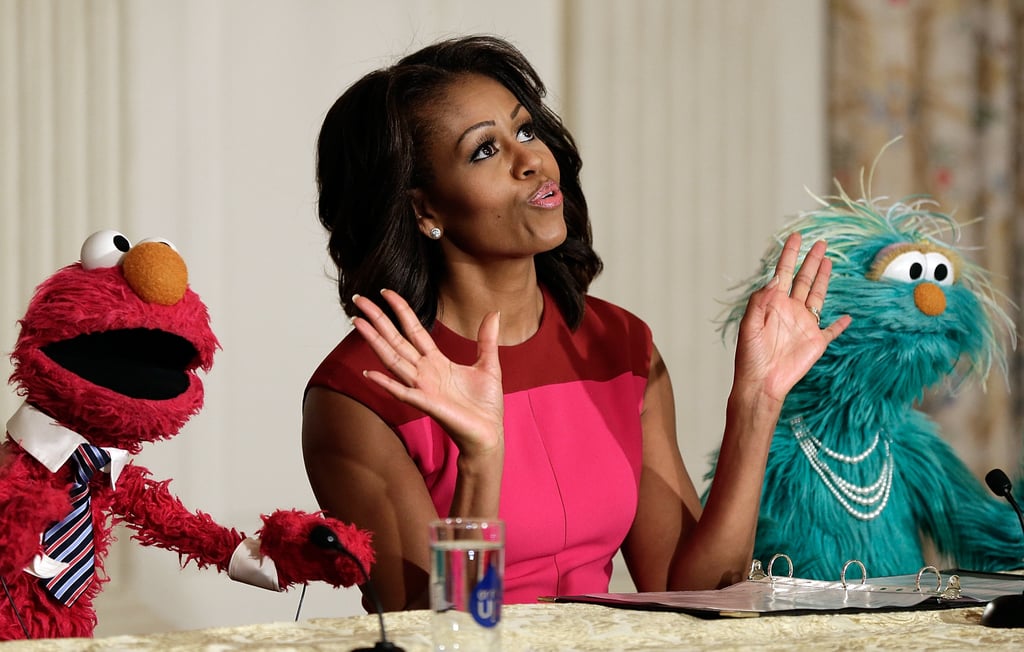 While hanging out with Sesame Street residents Elmo and Rosita, Michelle showed off glossy layered locks.
January 2013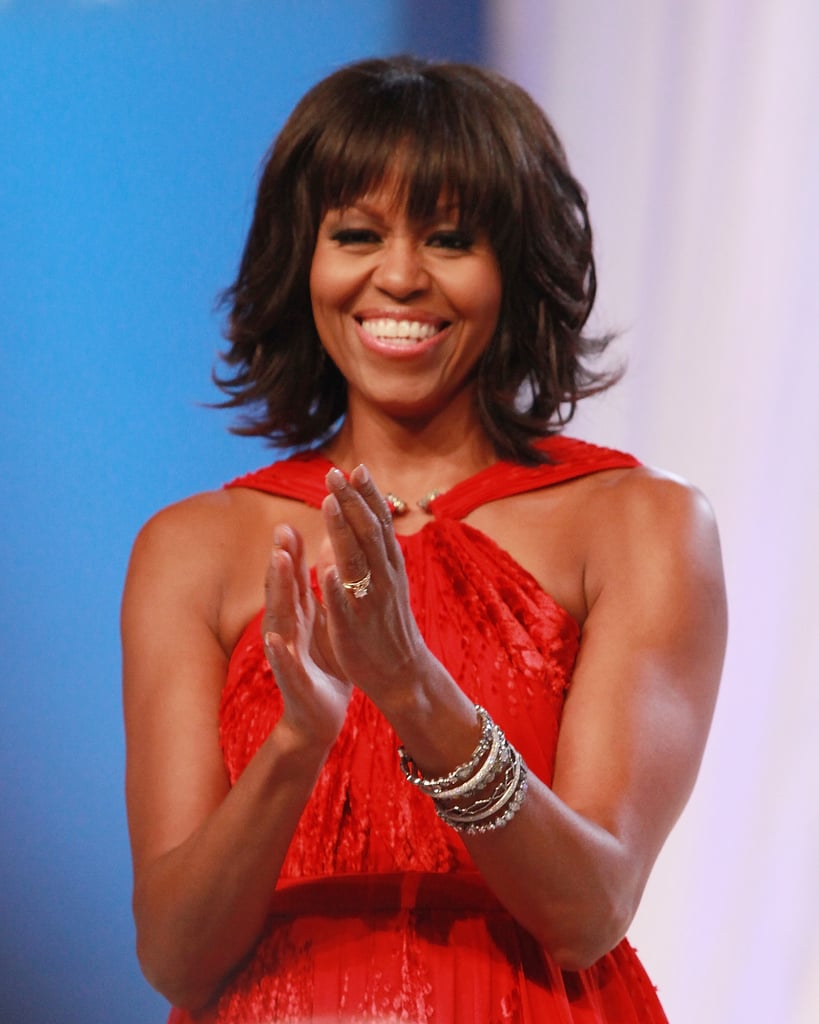 Everyone was talking about Michelle Obama's Jason Wu dress at the Inaugural Ball, but the hair world was in a tizzy over her blunt bangs and flipped-out curls.
February 2013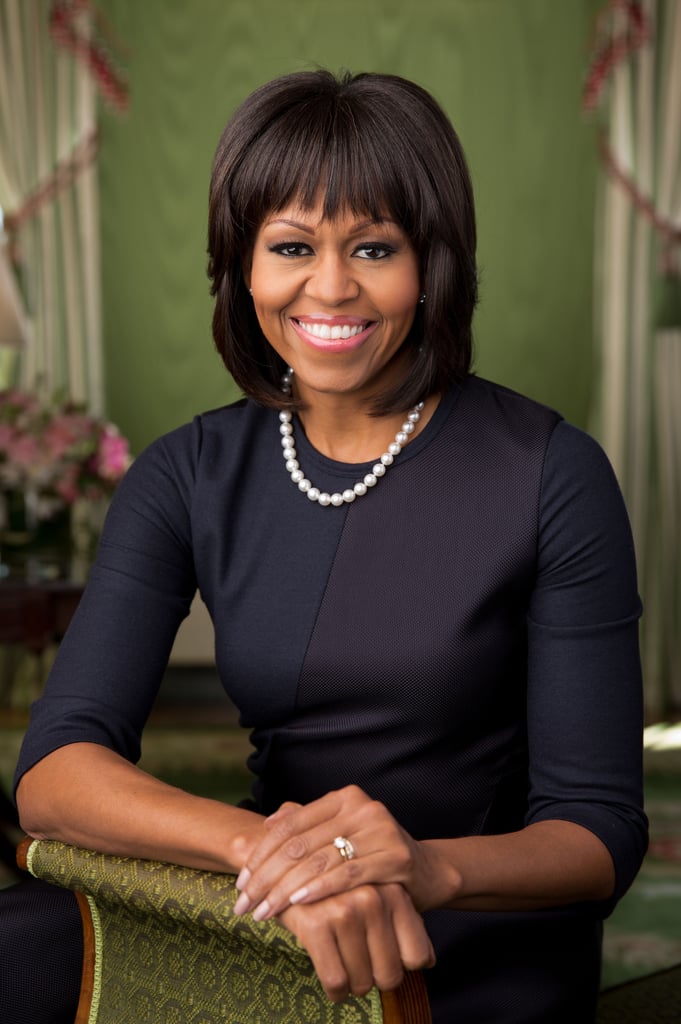 In her official White House photograph for her second term as first lady, Michelle was sporting her controversial full fringe, which she admitted was a part of her midlife crisis [3].
March 2013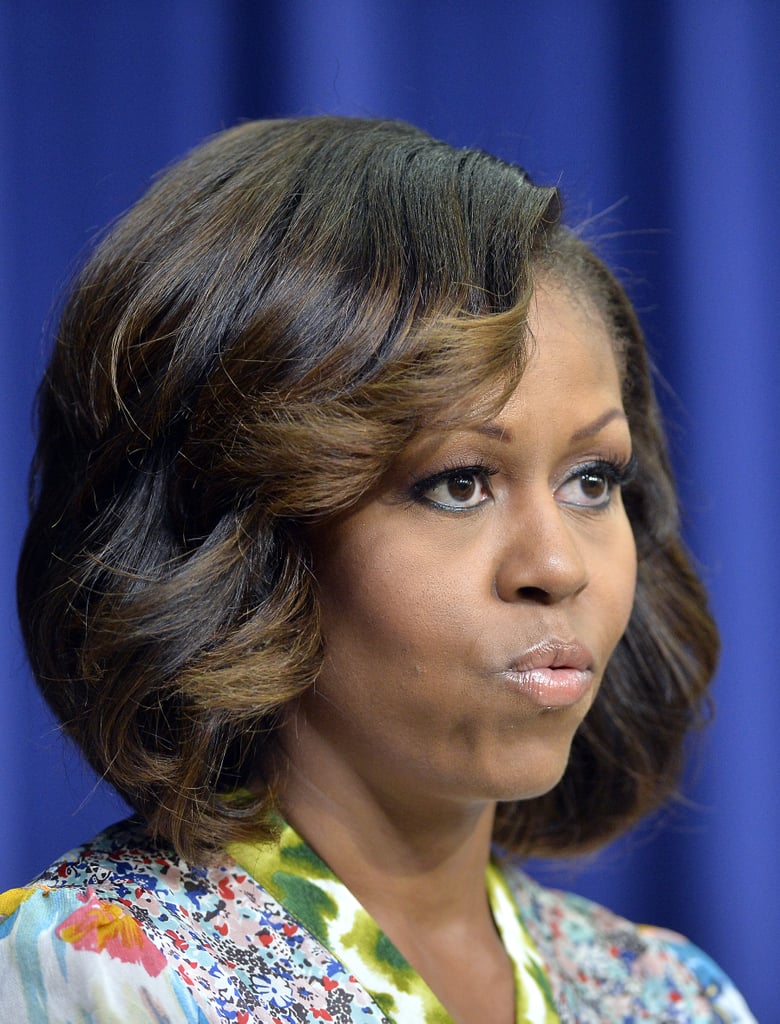 Like most women who cut bangs, Michelle got over the look pretty fast. Instead, she started wearing a deep side part and added caramel highlights around her face.
November 2013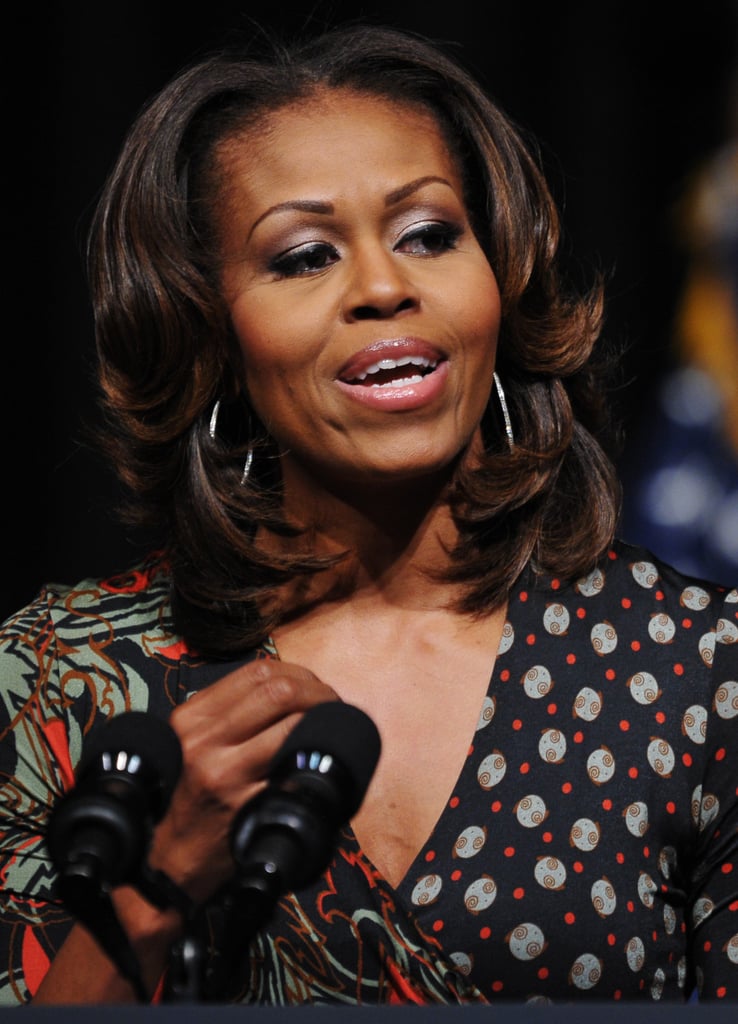 Michelle is far beyond her fringe now and is currently wearing her hair with a middle part and feathered à la Farrah Fawcett.
December 2013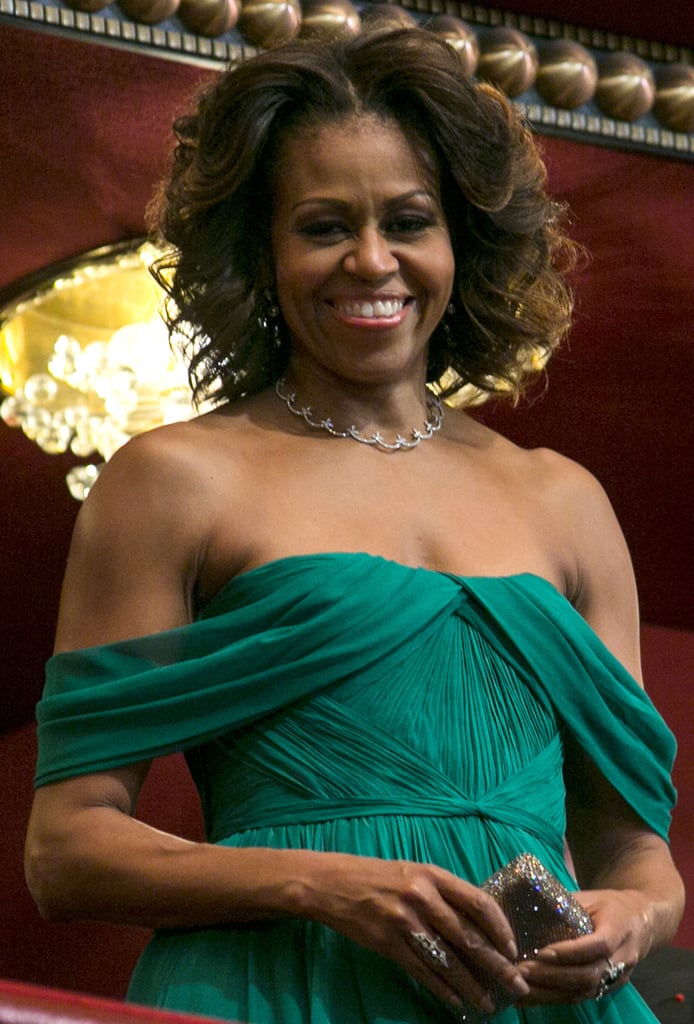 For the Kennedy Center Honors in 2013, Michelle's style wasn't short on volume, and her makeup was applied with a light touch.
May 2014
Michelle had a blast at the White House Correspondents' Association Gala while showing off windswept waves.
March 2015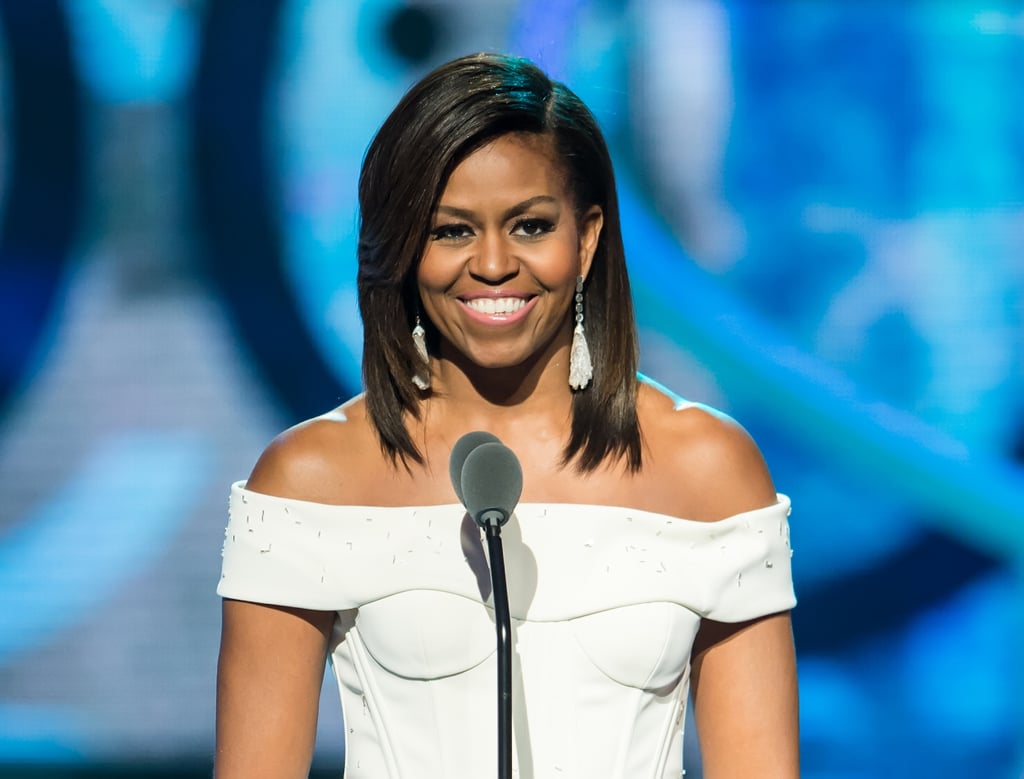 At Black Girls Rock!, Michelle wore her strands in a sleek, straight style with a deep side part.
April 2015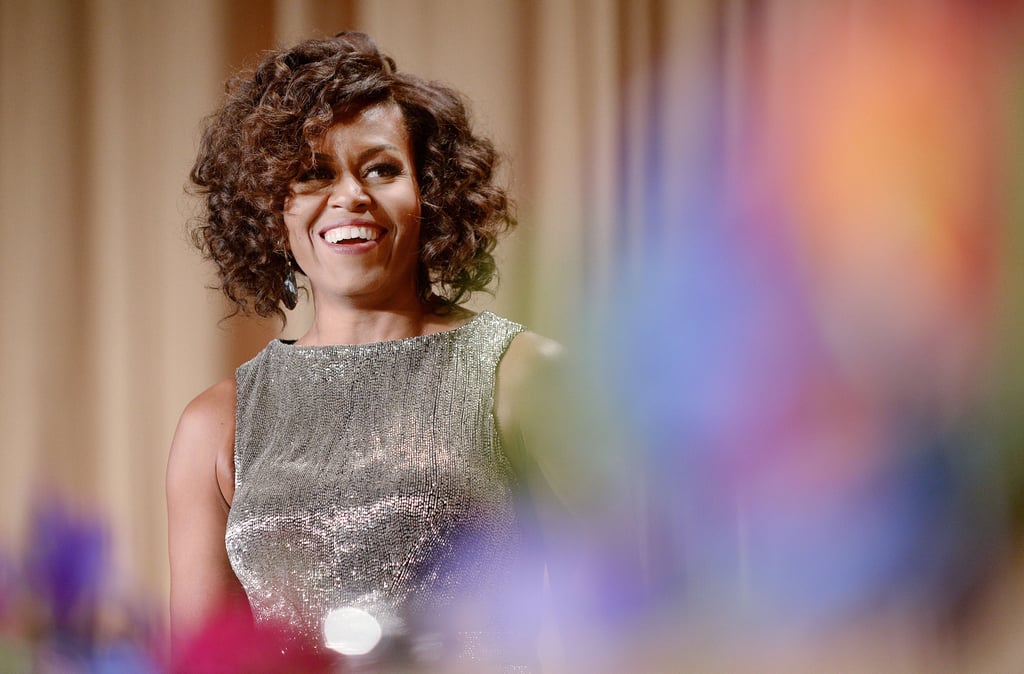 Michelle's curly coif looked festive and fabulous at the White House Correspondents' Association Gala.
June 2015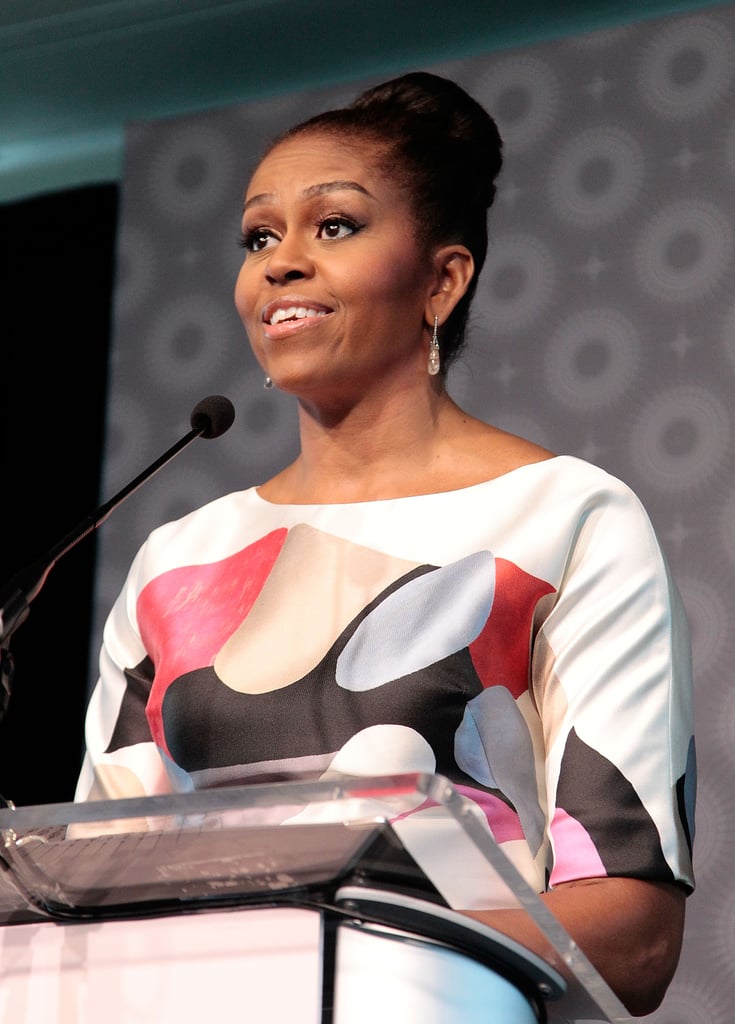 At the MORE Impact Awards luncheon, Michelle sported a chic ballerina bun.
March 2016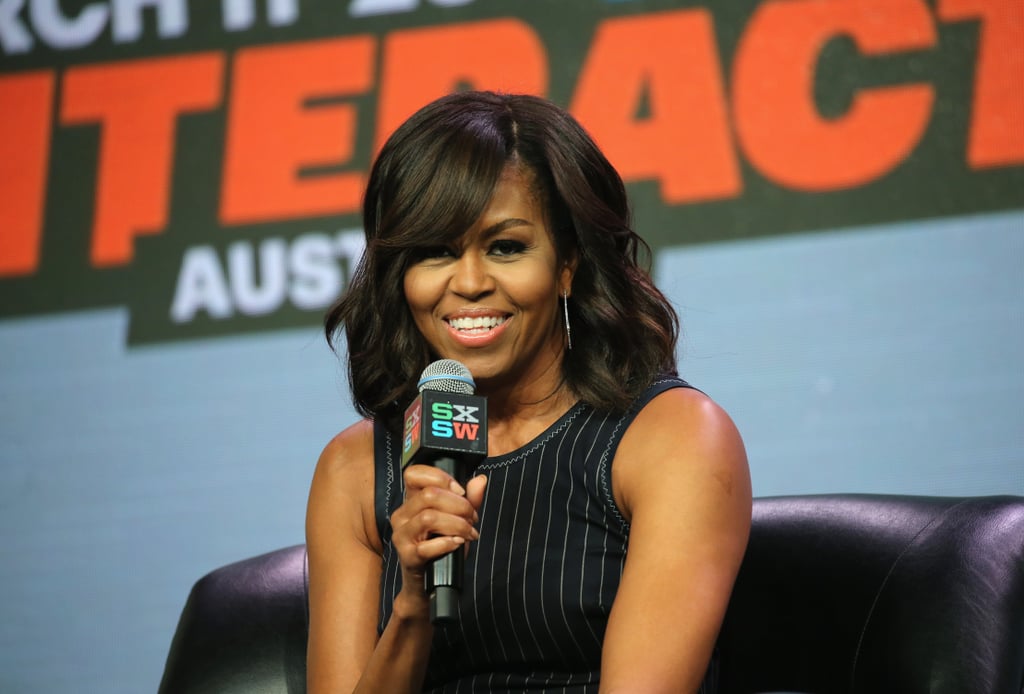 At South by Southwest, Michelle's long bangs almost gave her look a bohemian vibe.
June 2016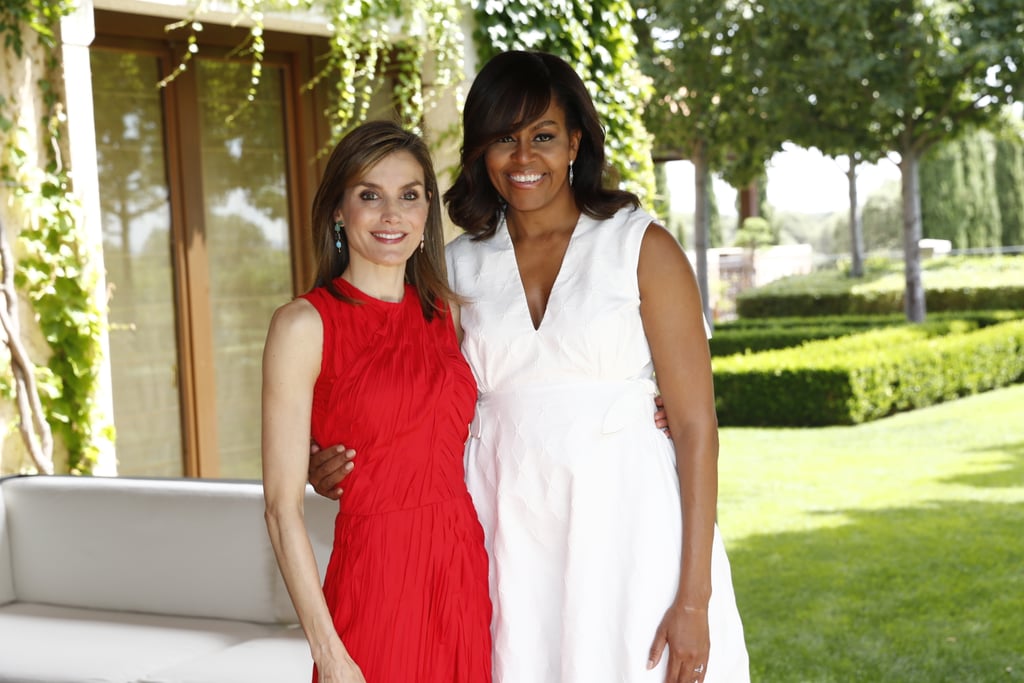 While she spent time at the Spanish Royal Palace with Queen Letizia, Michelle rocked her hair in glossy, elegant waves.
July 2016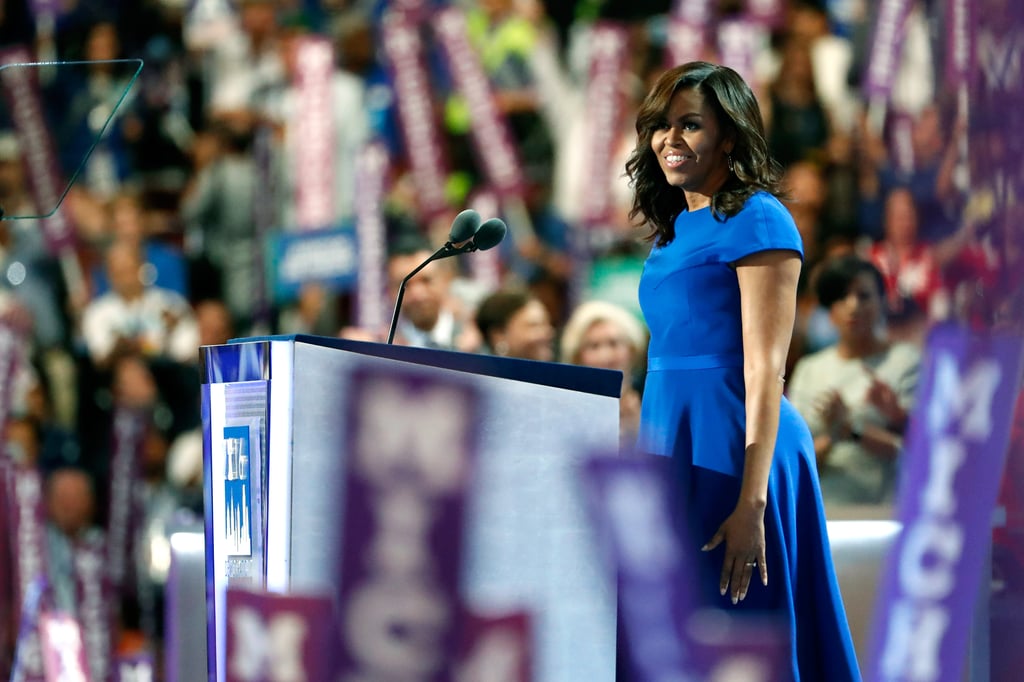 During the Democratic National Convention, Michelle wowed millions with her powerful speech [4], which was punctuated by her shining strands.
December 2016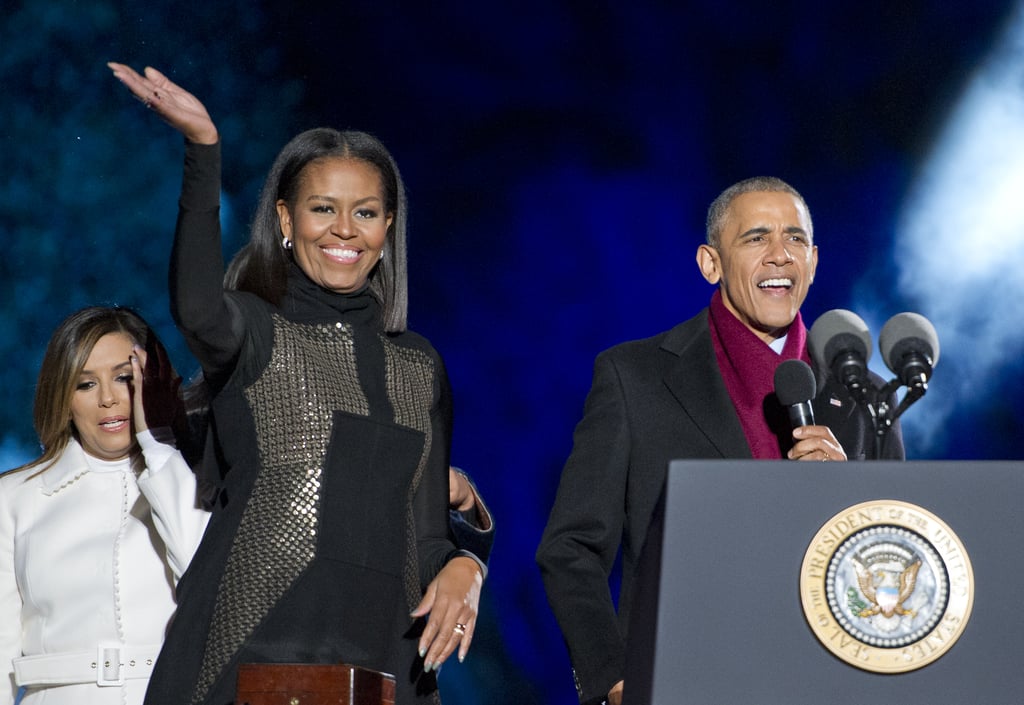 At the National Tree Lighting Ceremony, Michelle debuted a new bob [5] that made it clear she was ready for a new start.
January 2017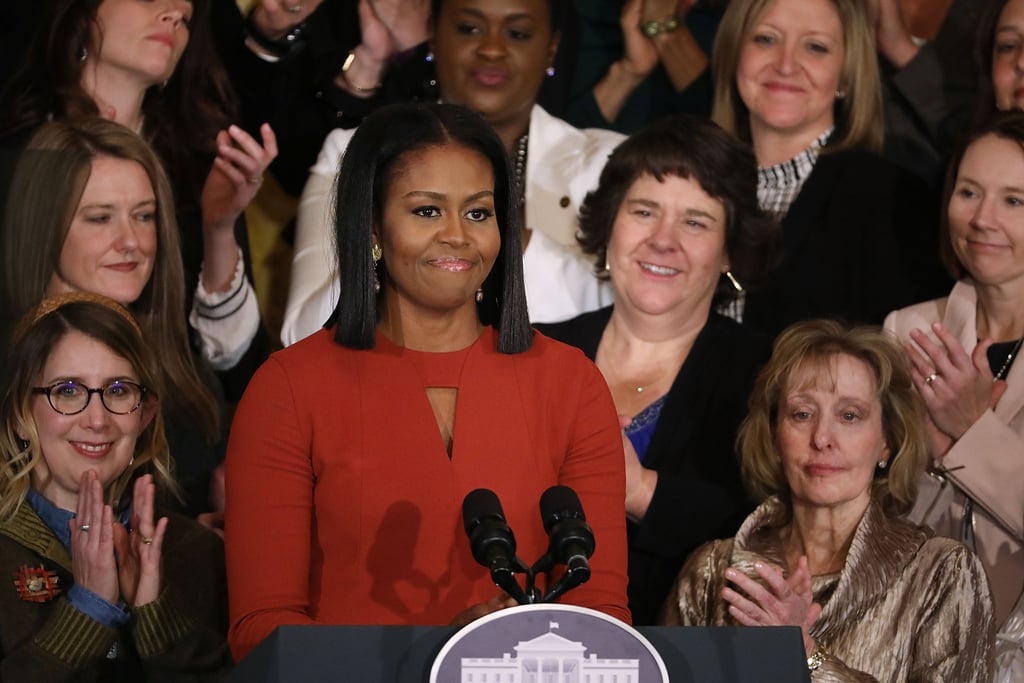 Michelle brought back the superblunt style for her final speech at the White House. Both her words and her strands left a lasting impression.