Miley Cyrus [1] has been causing quite a stir for the last few years, from the bleached-eyebrow stunt [2] to her NSFW music video [3]. All this drama makes us think back to her more innocent days as Hannah Montana. That's right: before she put twerking on the dance-move map, she was working her Southern twang as a country star on the Disney Channel. Back then, she wore bubblegum-pink lip gloss and extralong locks. Now, Miley's style is more edgy than innocent. Celebrate Miley's 23rd birthday by looking at her beauty evolution, from a curly-haired girl to a smoky-eyed teenager to an envelope-pushing young lady. We capture how she morphed into the grill-loving, bum-shaking woman we know now ahead.
2006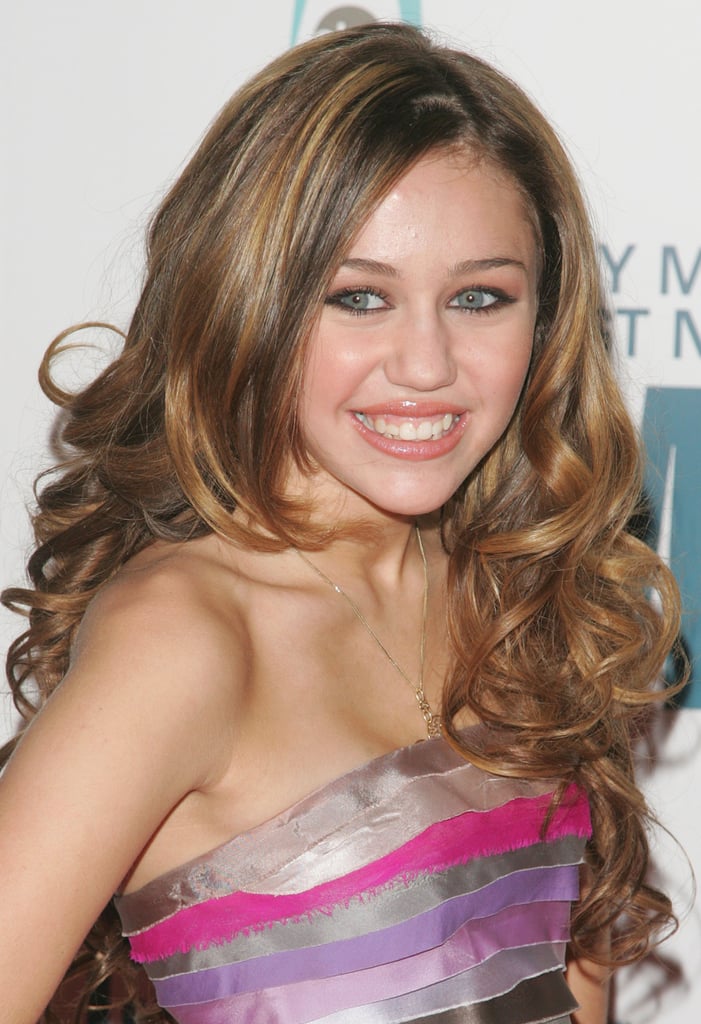 Dear sweet Miley Cyrus [4] arrived wide-eyed and bouncy-curled in 2006 as a Disney Channel darling. Her show, Hannah Montana, featured her famous country star dad, Billy Ray Cyrus, and the plot focused on her vocal skills.
2008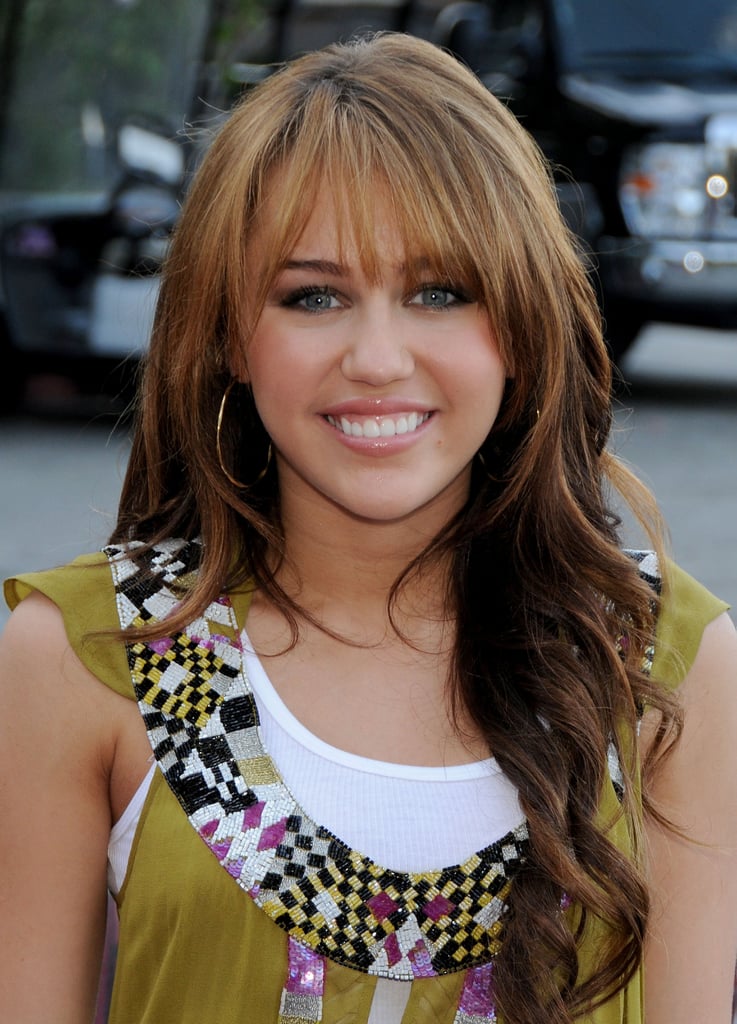 A little more grown-up, a 16-year-old Miley experimented with blunt bangs for a time and began her love affair with black eyeliner.
2010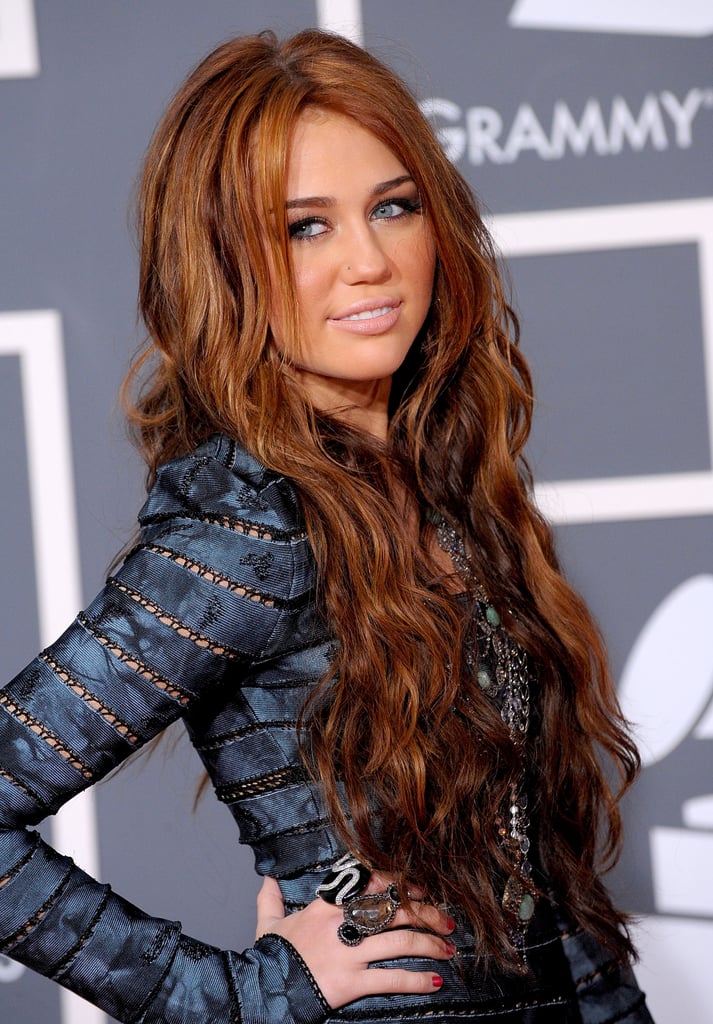 At the 2010 Grammy Awards, Miley went for a totally different look that featured wavy chestnut hair that was more rock star than country.
2011
Miley kept up her glamour girl persona at the 2011 MTV Video Music Awards. Her girlish outfit included a twisted chignon and brick-red nail polish.
2011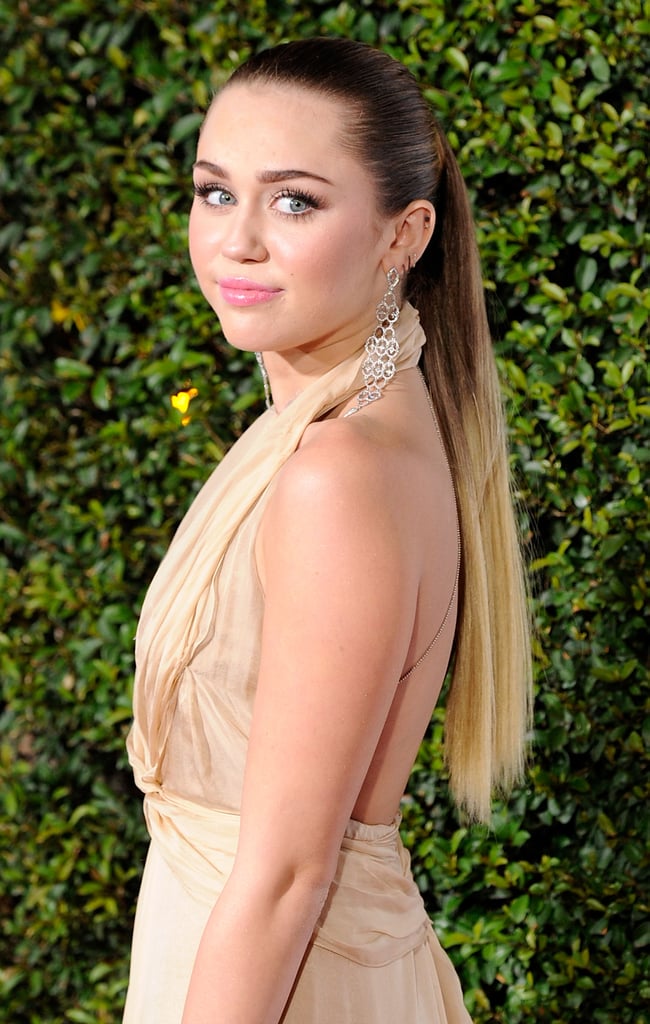 Miley was back to her sweet yet sultry style in 2011 when she sported this trendy ombré hair color and pink makeup palette.
2012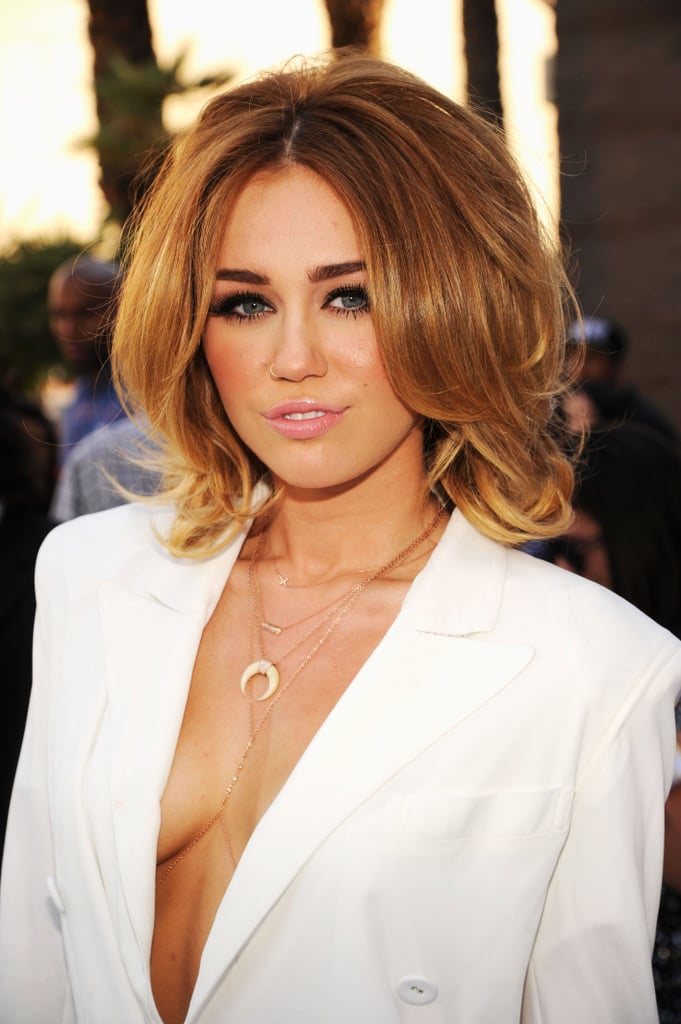 With her voluminous curls, smoky eye makeup, and plunging neckline, Miley seemed to be sending a message at the 2012 Billboard Music Awards: "So long, Hannah Montana!"
2012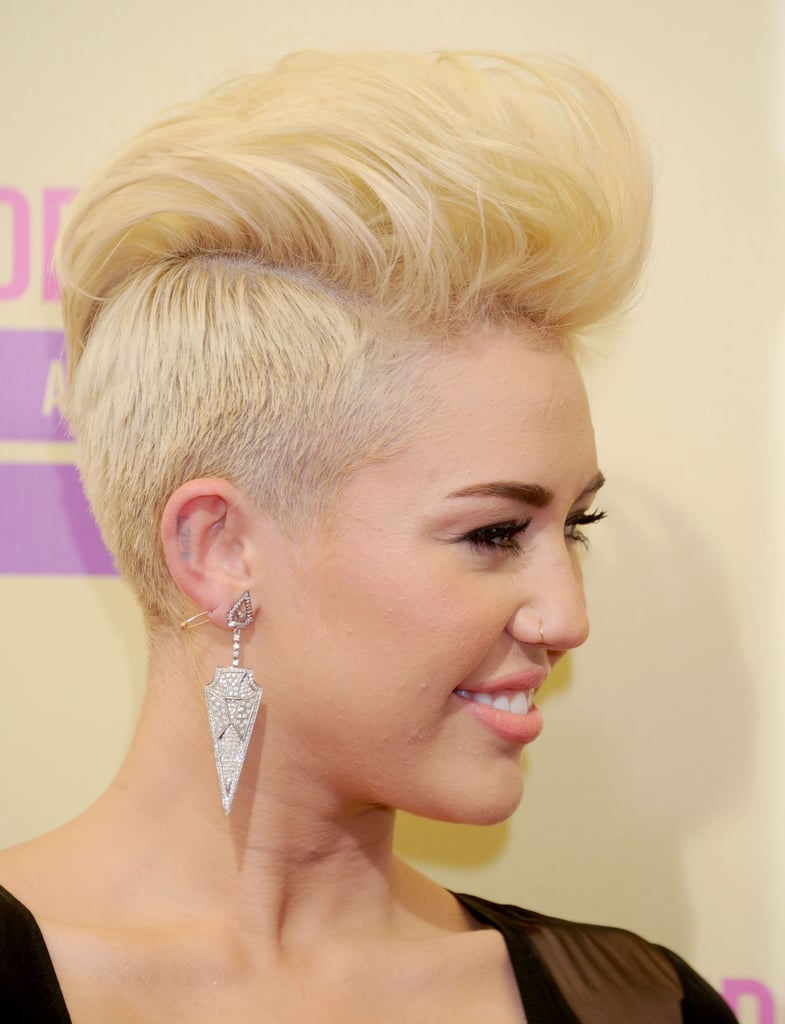 Jennifer Aniston [5]'s go-to hairstylist, Chris McMillan, was responsible for Miley's drastic hair change in Fall 2012. She went from a blossoming brunette to a provocative platinum blonde overnight.
2013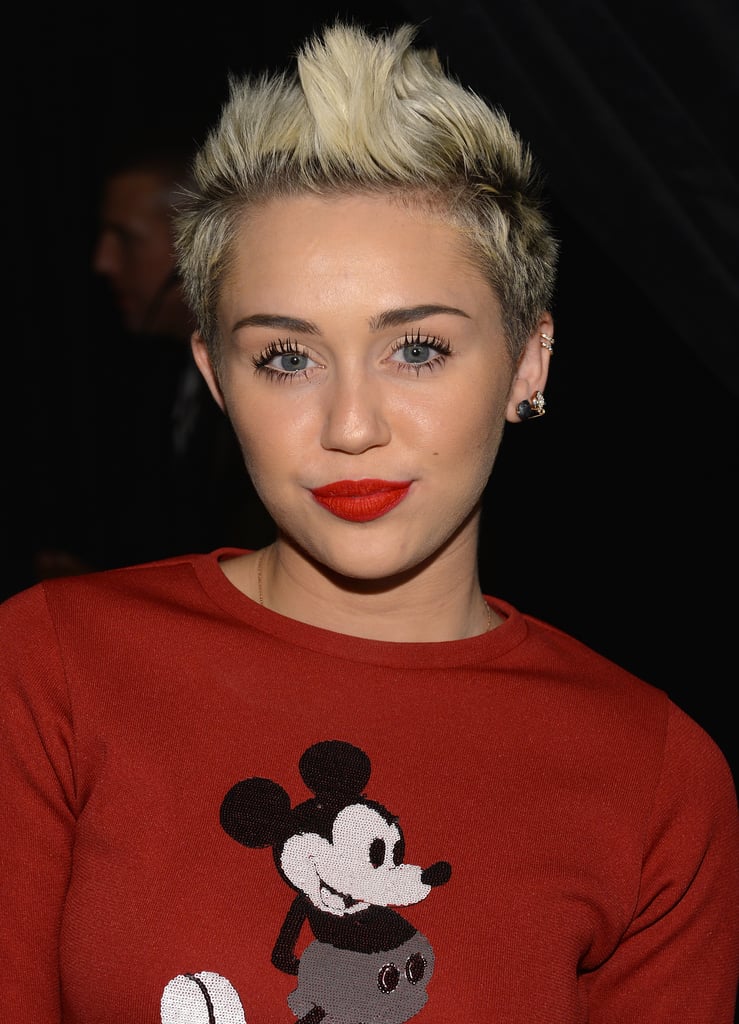 Miley went even shorter with her hair in early 2013, spiking her white-blond tips straight up against her darker base.
2013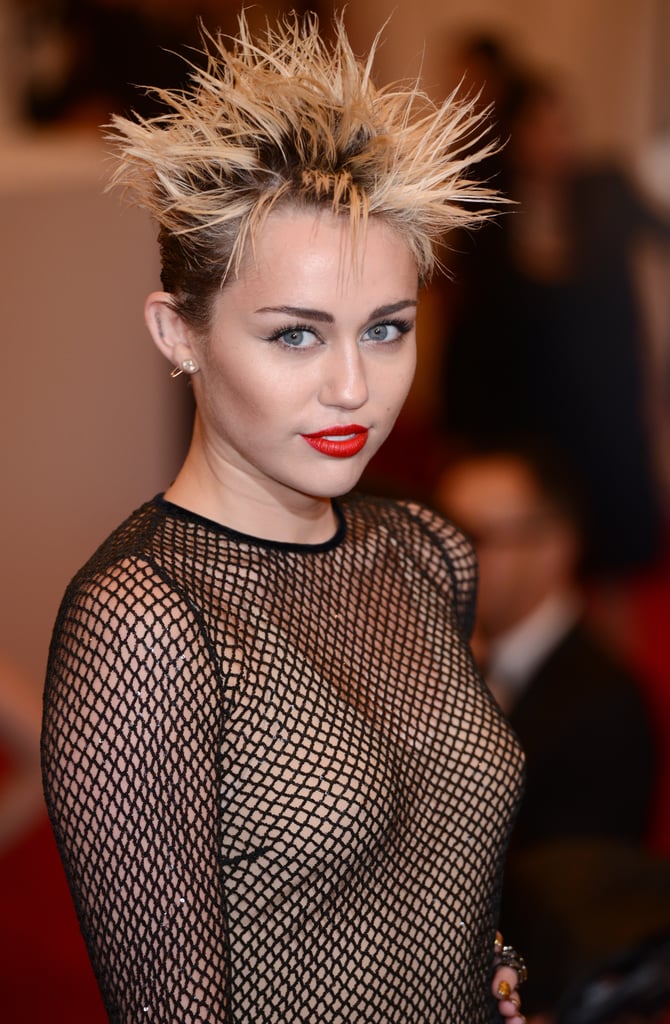 At the 2013 Met Gala, her hair stood straight up to fit into the punk theme.
2013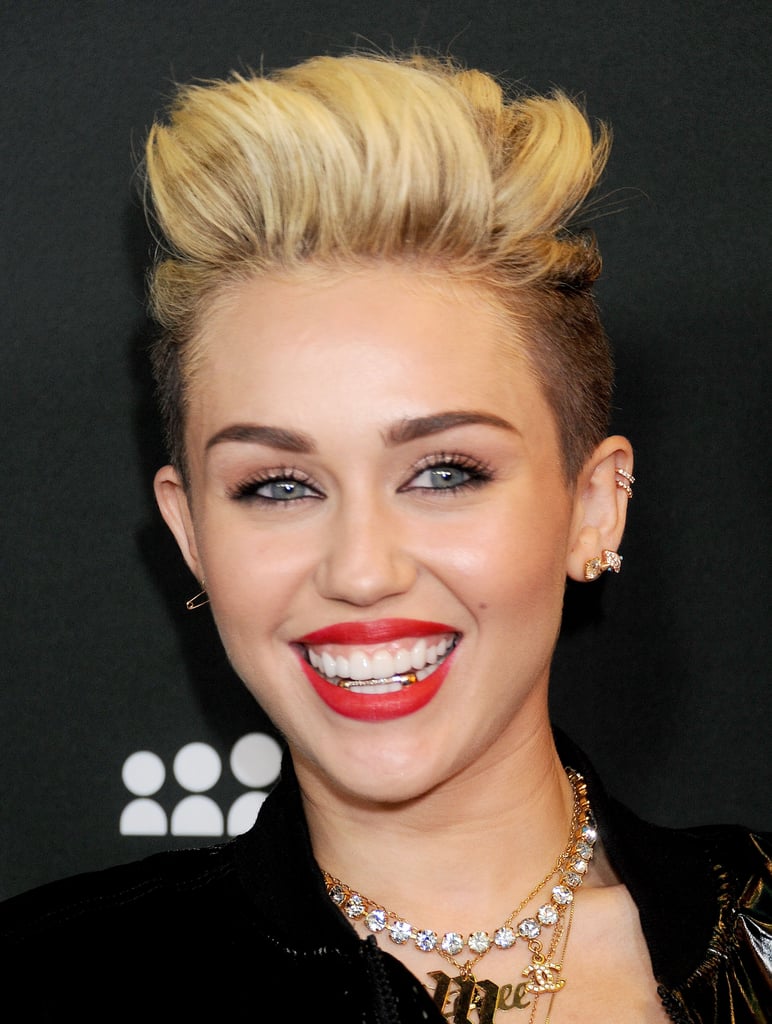 This Summer, Miley showed off her signature cherry-red lip color — and an edgy new grill.
2013
With her hair a little grown out, Miley was spotted sporting double topknots at the 2013 MTV VMAs. Incidentally, the style is quite conducive to twerking because you don't have to worry about getting hair in your face!
2013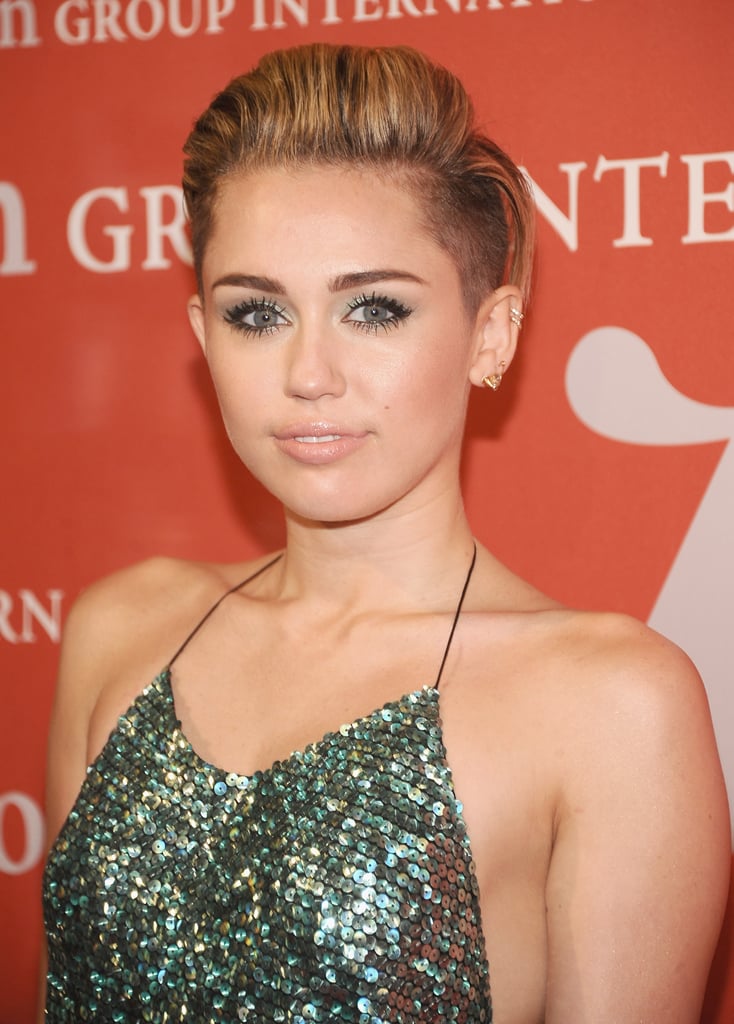 Miley toned her beauty look down at the 30th annual Night of Stars event wearing a seafoam eye shadow and sequined dress, transforming her shaved sides into a very ladylike look indeed.
2013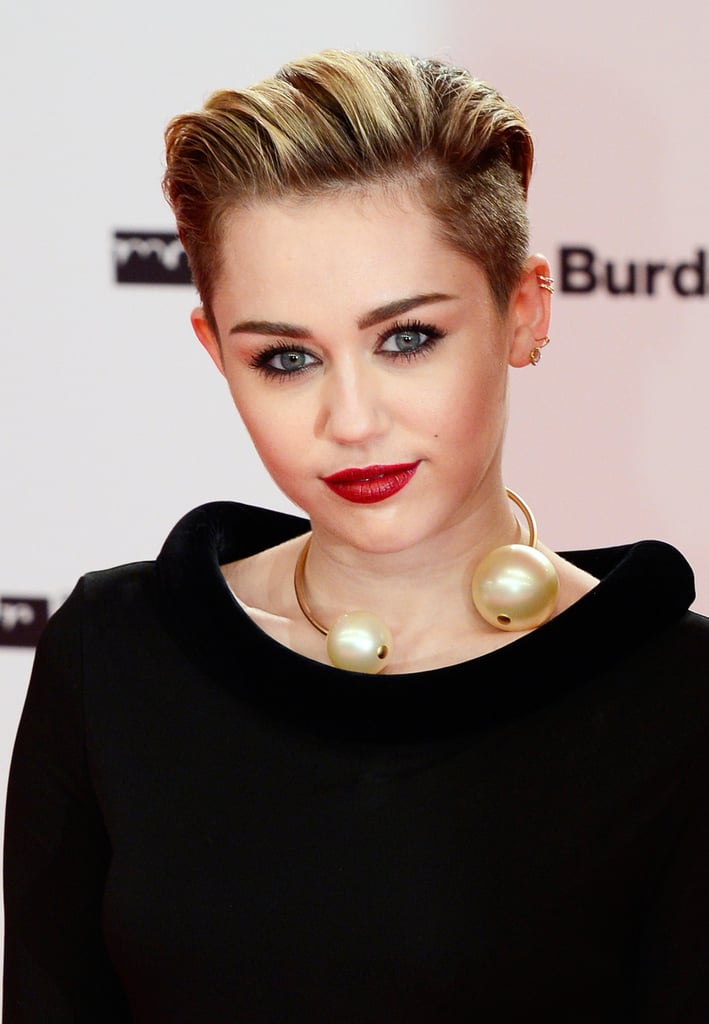 This vampy lipstick and heavy eyeliner worked perfectly with Miley's slicked-back hairstyle. This appearance was the last time the singer was seen before bleaching her eyebrows [6].
2014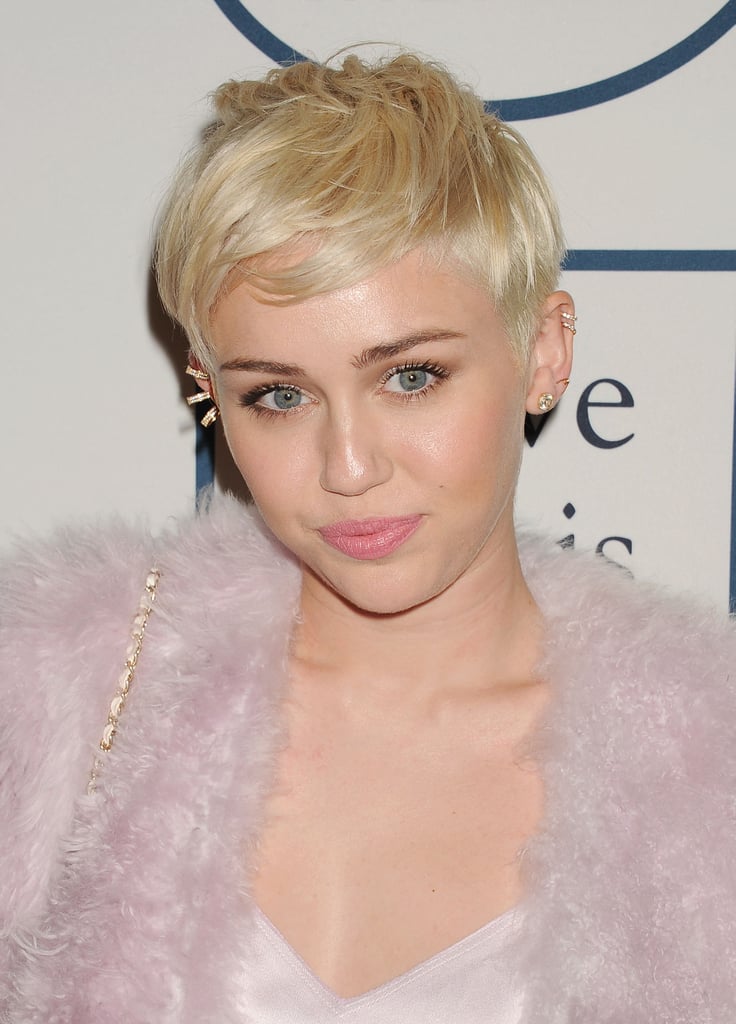 Miley was back to a platinum pixie for a pre-Grammy Awards performance in 2014. She also traded her dark makeup palette for soft pinks.
2014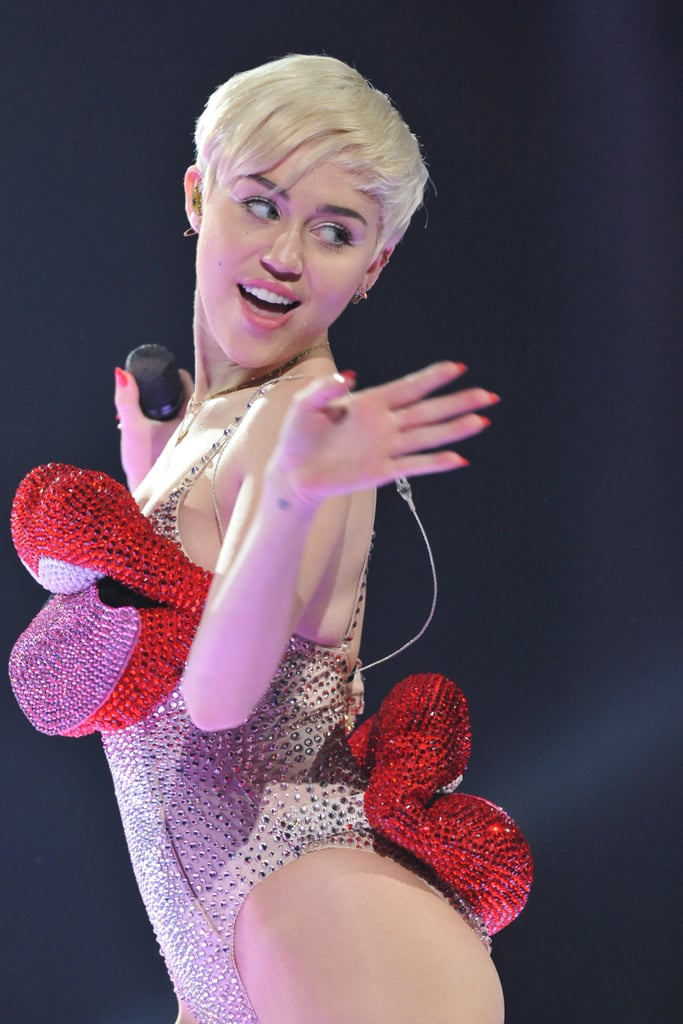 Miley is keeping up her short crop and bright hair color for her Bangerz tour.
2014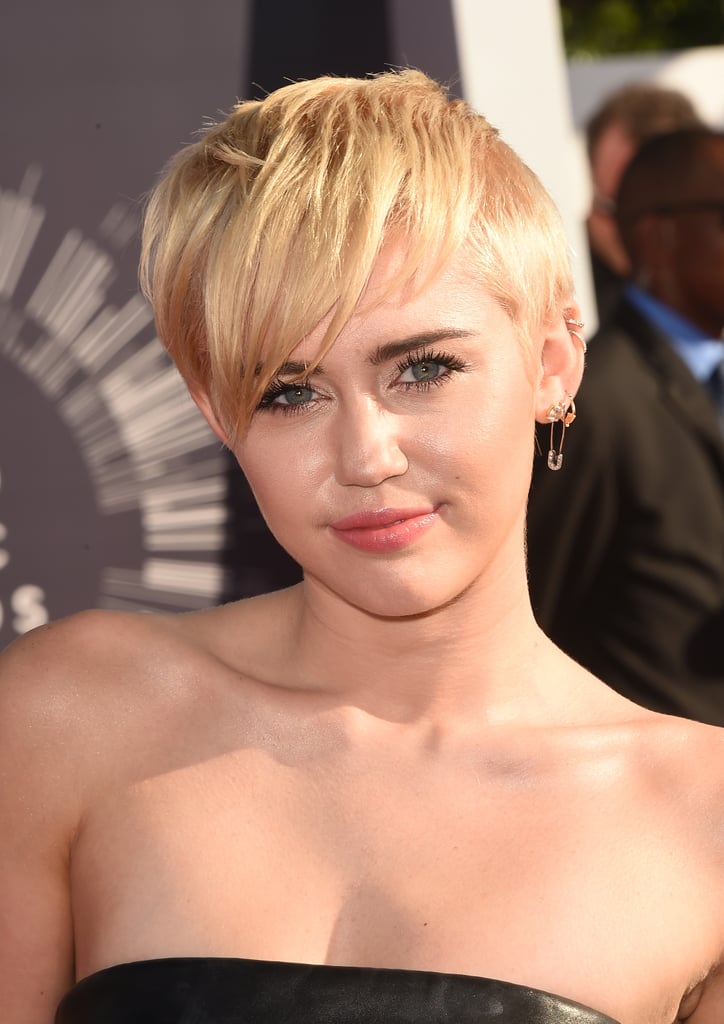 For the MTV Video Music Awards, Miley brushed the long bangs of her cropped coif forward, creating a seductive and edgy look.
2014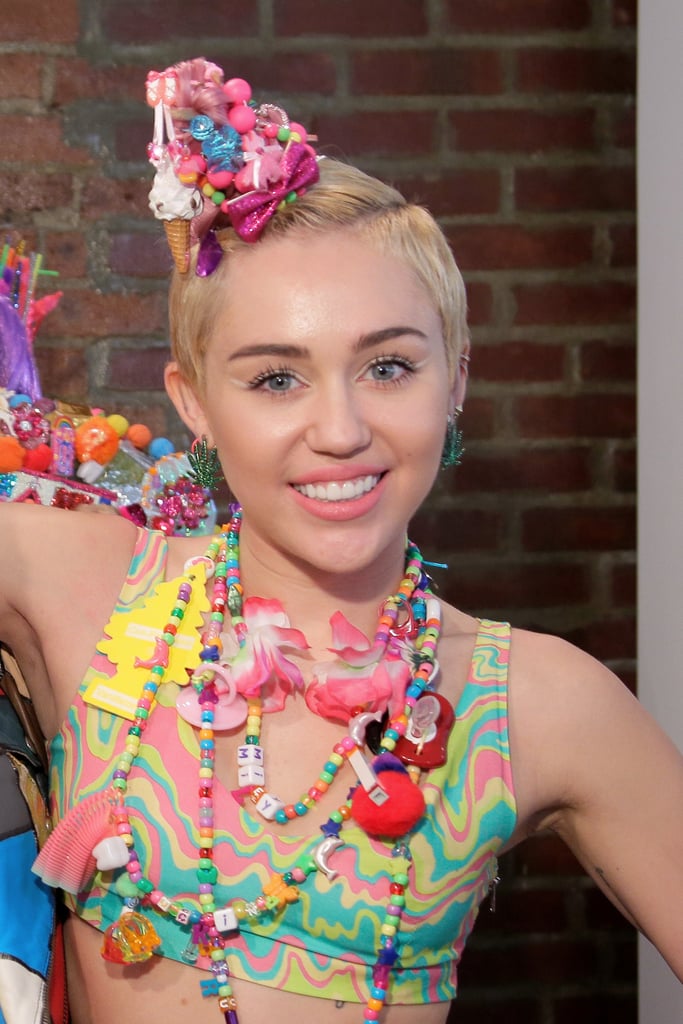 Backstage at the Spring 2015 Jeremy Scott show, Miley had her short, platinum strands slicked back in a boyish style accented with a kitschy hair accessory. She finished off the look with slashes of white eyeliner.
2014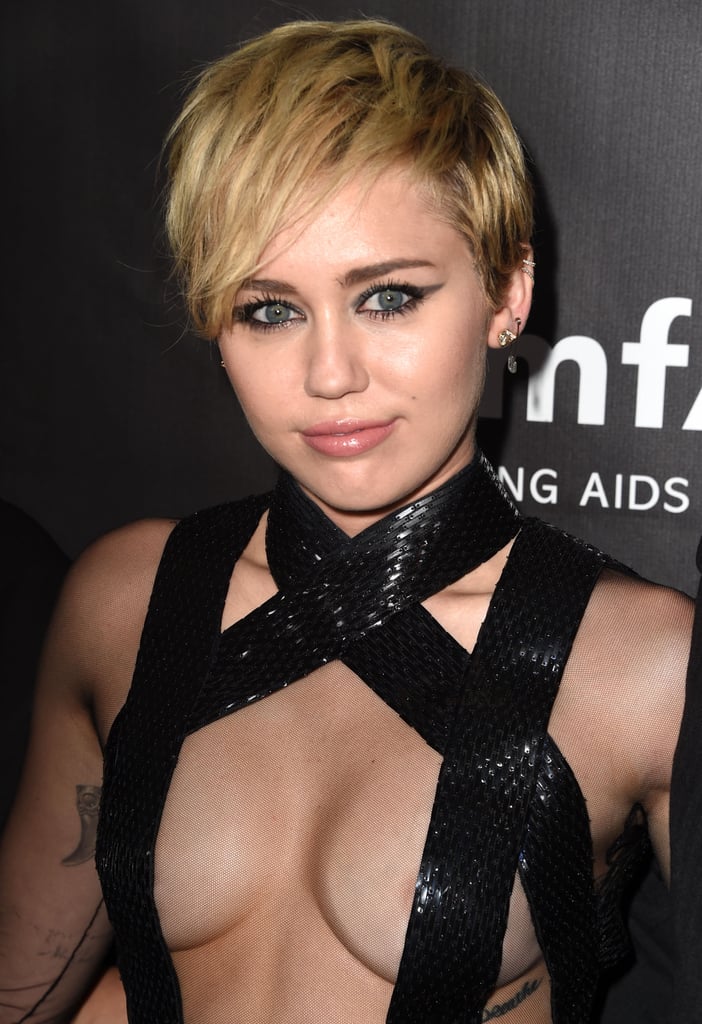 At the amfAR Inspiration Gala, Miley's textured golden locks and graphic cat eye were as edgy as her sheer ensemble.
2015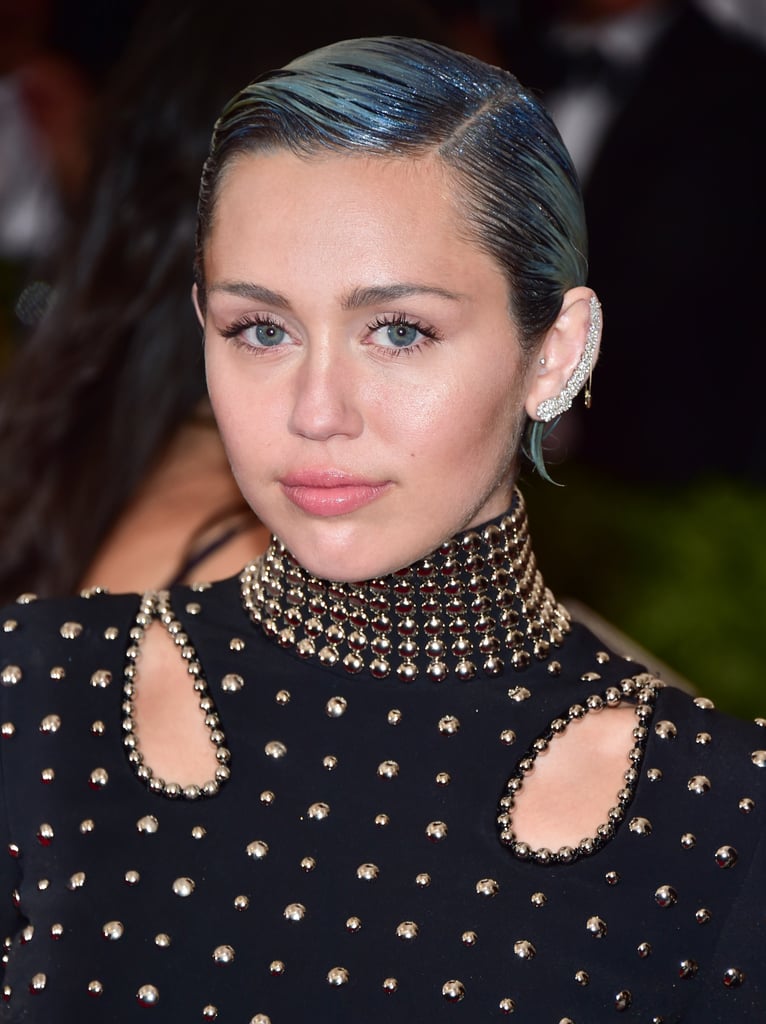 At the Met Gala, Miley dyed her hair a punk-ish hue. The color really picked up the blue in her eyes (and the studs on her dress).
2015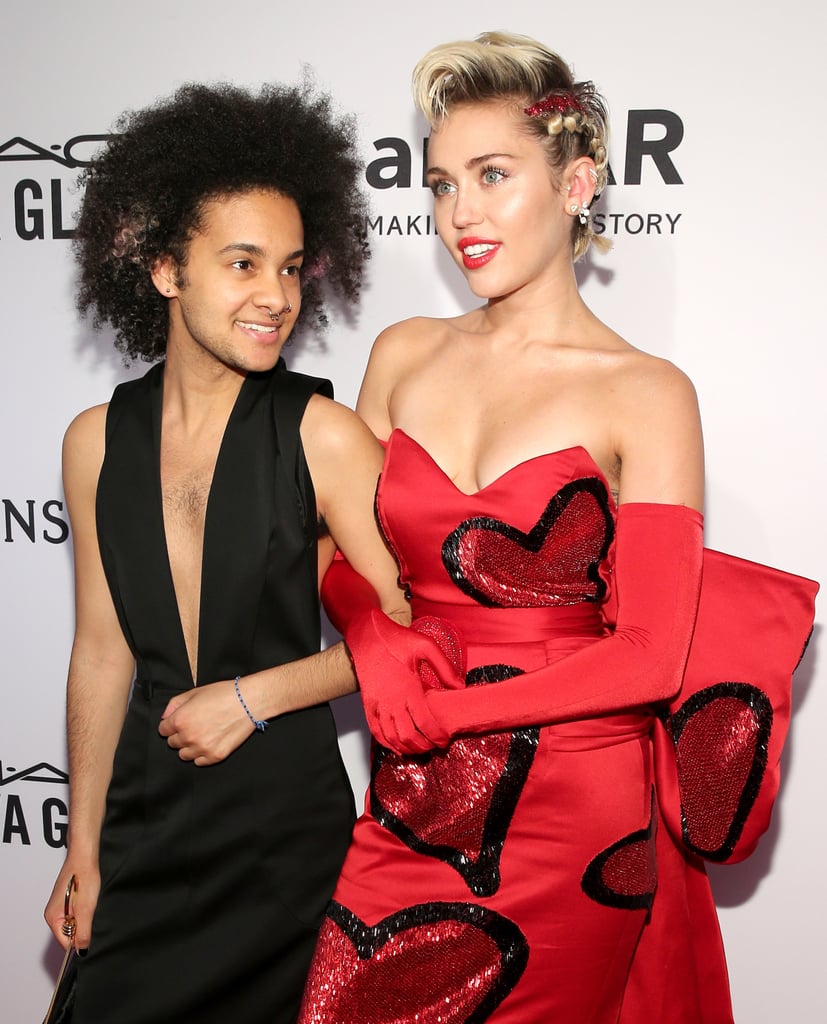 At the amfAR Inspiration Gala, Miley decorated her white-blond pixie with red cornrows, creating a mohawk look.
2015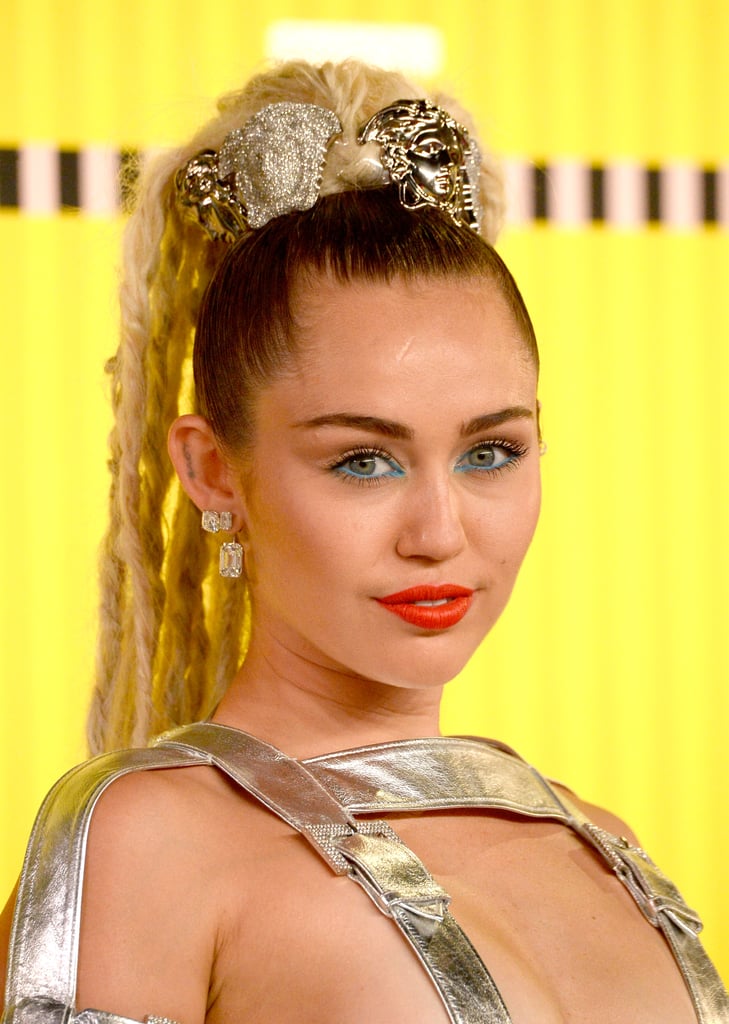 At the 2015 MTV Video Music Awards, Miley rocked the red carpet with a faux dreadlock ponytail topped with a decorative gold barrette. She finished her wild look with icy-blue eyeliner and punchy coral lipstick.
2015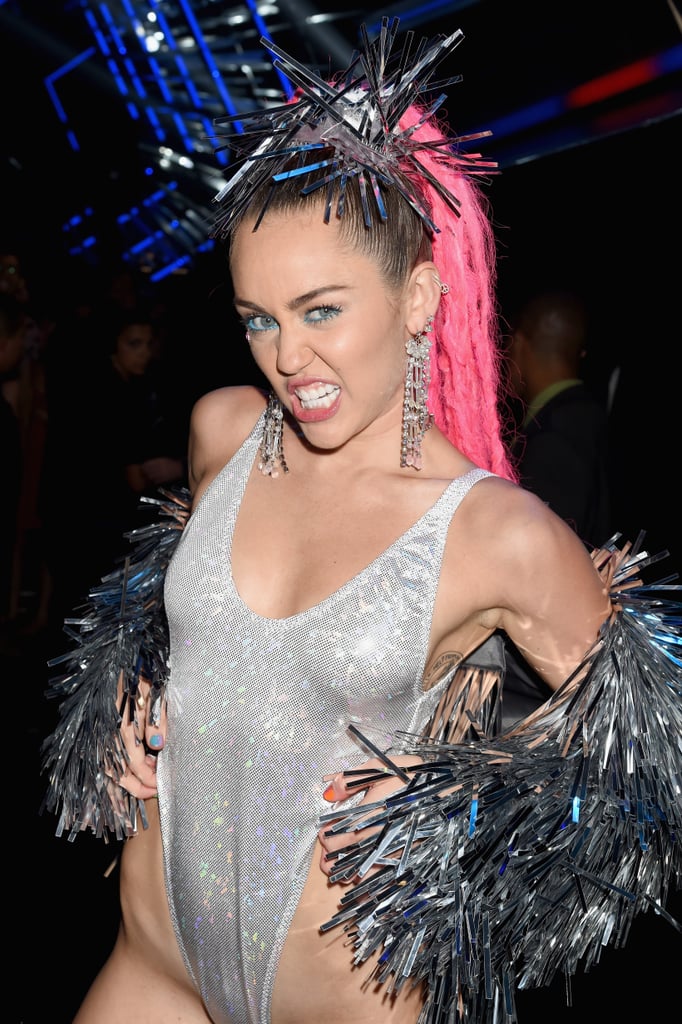 During an outfit change at the 2015 VMAs, Miley gave neon pink strands a test run.
2015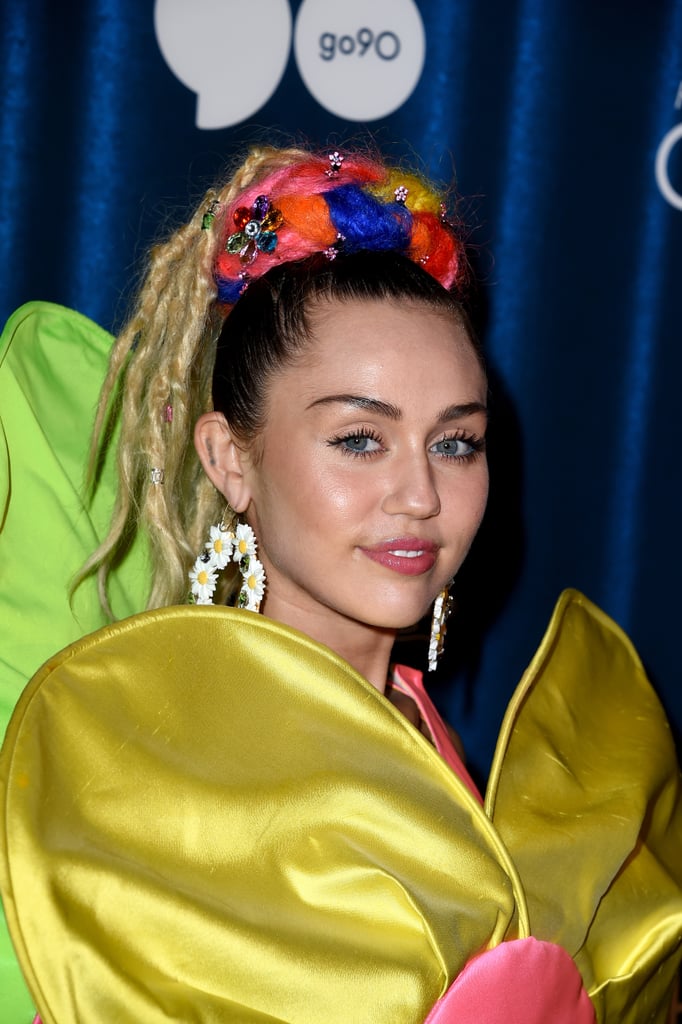 At James Franco [7]'s bar mitzvah, Miley accented her faux dreads with a colorful floral hair accessory. She kept her makeup natural, showing off dewy skin, bold brows, and sheer pink lip gloss.
2015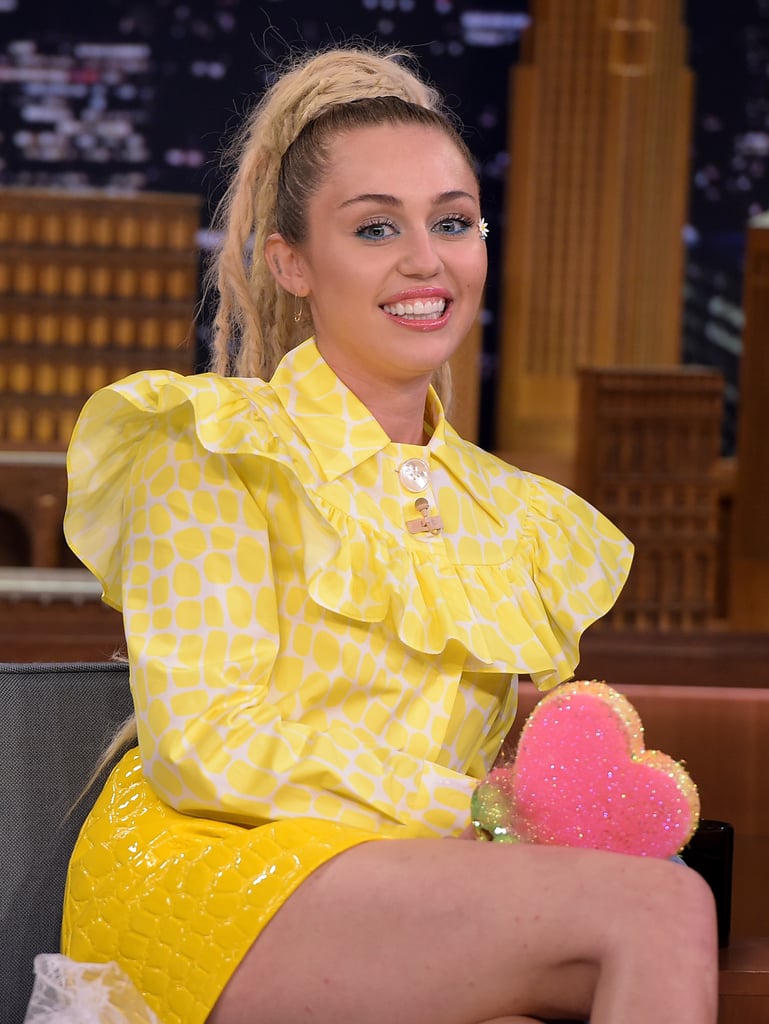 During an appearance on The Tonight Show, Miley piled her faux locks into a pretty ponytail-bun hybrid. Her rosy lips and blue eyeliner were vibrant yet didn't clash with her bright yellow ensemble.