Mix Up Your Style, Mix Up Your Scent!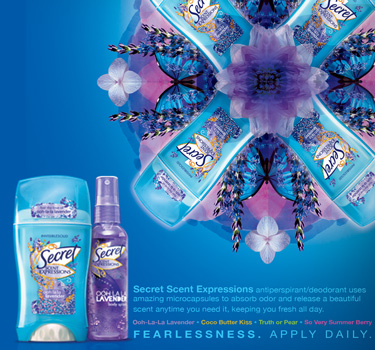 We each have a style all our own, be it bohemian chic or modern sleek, but true style is all about showcasing your creativity with confidence. The outfit you put together, the color of your hair, the makeup you wear — they say a lot about you and express how you're feeling on that particular day. Luckily, with Secret Scent Expressions, you can even express how you feel through your scent! Feeling bold? Throw on an LBD, rock a hot pink lipstick, and spray Secret Scent Expressions in Truth or Pear. Maybe you pair your brand-new designer skirt with a vintage tee to keep it chill. Go with Ooh-La-La Lavender. Whatever the case may be, mixing things keeps it fresh and leaves you with a unique sense of style all your own . . . just like your favorite scent.
We'd love to hear how you like to mix things up. Is it floral and stripes, is it black and white? Leave a comment below and inspire us!