When I walked into Molly Sims's dressing room at a warehouse in Brooklyn in New York, I had to do a double take. From the back, it seemed like Jessica Chastain or Amy Adams [1] was sitting in the chair. Molly had just undergone a major transformation, thanks to the work of Nexxus celebrity color expert Aura Friedman. For the first time in 10 years, Molly ditched her sun-kissed blond locks in favor of bright strawberry-red strands. It was hard for the megamodel to hide her enthusiasm over her new hair hue as she kept enthusiastically checking herself out in the mirror.
"I looked at her skin tone, hair color, and eyebrows," Friedman said of choosing Molly's red hue. "She has a lot of golden in her skin tone. I knew she would freak out if it was too dark. She's used to being a blonde. I thought it would be great to have the lightness and dimension that a blonde would have but with more copper and apricot-y tones."
As a hair-dye virgin [2], I had tons of questions for Molly about getting over going-red jitters, keeping the color from fading, and changing up your makeup routine to match your hair. Read on to see if redheads may just have more fun!
Molly as a Blonde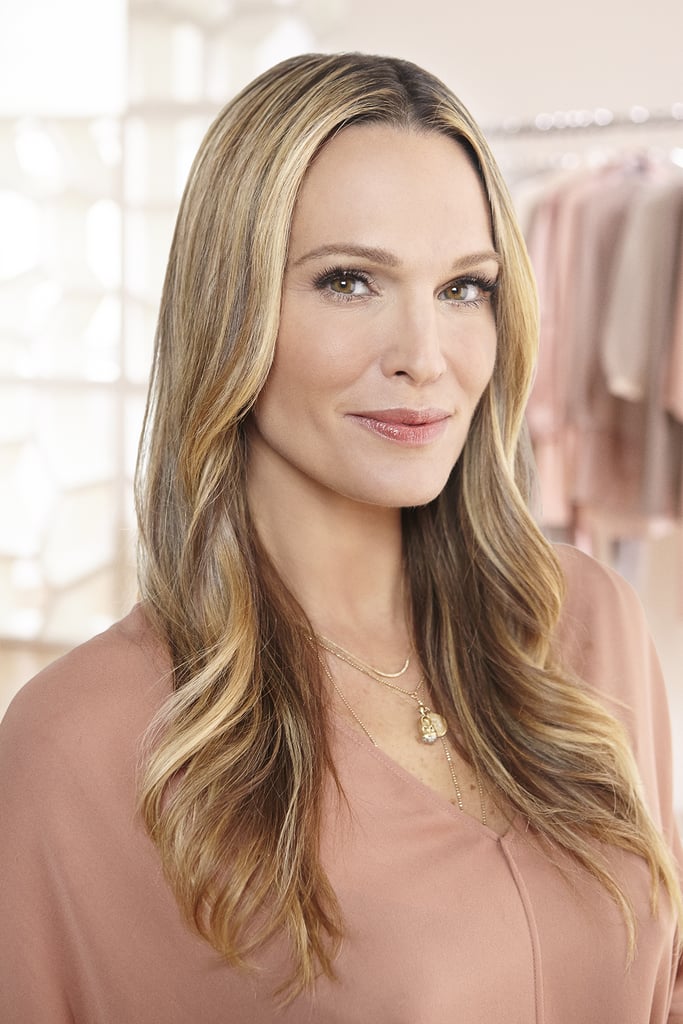 POPSUGAR: Have you always been a blonde?
Molly Sims: No. During my first 10 years of modeling, I had jet-black, espresso hair. Then I went blonde in 2000, and it's funny because my agents were like, "You cannot go blonde — it will ruin your career." And said, "I'm doing it." So I did it, and that's been the last 10 years.
PS: So what brought you to go red?
MS: I just wanted a change — to do something bold. I thought about cutting it. I spent so long growing it out and getting it back from the pregnancy. But I wanted something different. I turned 40.
PS: How does hair color affect your identity?
MS: Everything. Hair color affects everything about you. It affects your confidence. When you have a good hair color, you feel good about it.
PS: How do you feel about being a blonde vs. a redhead?
MS: It definitely plays into your personality. It's like being dark, light, or kind of mysterious. You'll wear different clothes [to go with your hair color], and it brings out different sides of you. When I come home from getting my hair color done, I always ask my husband what he thinks — hinting for a compliment.
PS: How do you think your husband [Scott Stuber] is going to respond to this color?
MS: I think he's going to like it. I do.
Source: Frances Tulk-Hart for Nexxus [3]
Aura Working on Molly's Hair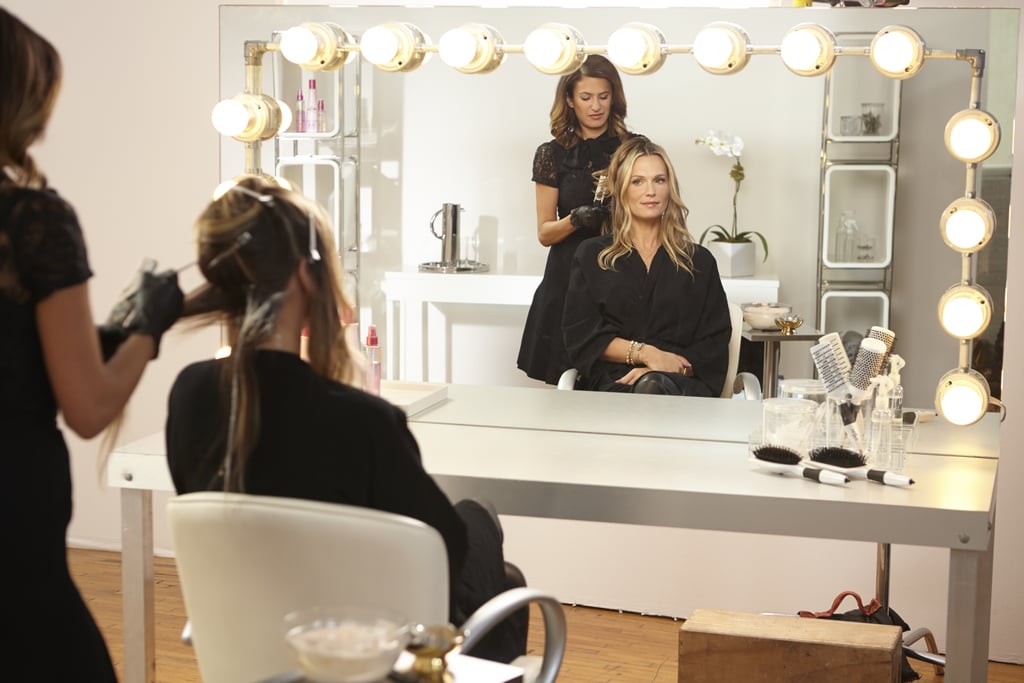 PS: How did you decide on this exact shade if red? Did someone inspire it?
MS: I loved Amy Adams [4]'s hair — it has richness, depth, and dimension. My color is a coppery gold. You can see the blond still coming through, which I love.
PS: So do you plan on changing your makeup routine at all with your hair?
MS: You have to. We just changed it. I looked kind of ashy and a bit washed out, so we added bronze to warmth up [my complexion]. Either that, or you go the opposite direction: porcelain.
PS: Are you going to wear red lips with the red hair?
MS: Oh, totally. I would rock a red lip.
PS: And are you going to be changing your eyebrows?
MS: We did it already. That's a big thing with women. We lightened my brows to an ash-blond color. It makes your eyes stand out. If you're blonde or if you go red, you have to be careful not to go too orangey.
PS: What was the process like working with Aura?
MS: Aura's amazing. She spent so much time and energy. We talked on the phone for the past two weeks — she sent me pictures. She's very professional and she spent three hours [on my hair color], just trying get every part right [today]. She's committed. And you need somebody committed when you're going from platinum to red.
Source: Frances Tulk-Hart for Nexxus [5]
Molly's Go-To Hair Color Primer

PS: What products are you going to use to upkeep the color?
MS: I love the Nexxus Color Assumer Pre-Wash Primer [6] ($18). You just use two pumps on dry hair, then use shampoo, conditioner, gloss, and you're done. It helps your color last twice as long, because it locks in the color. The problem with going red or going blonde is that color fades.
PS: Are you going to stay red?
MS: I think I'm going to stay red for a while. I like it. I like it. I was a little concerned because it's such a big thing. I'm more concerned with what my baby is going to think.
PS: Do you think he's going to react differently?
MS: A little bit. I think he's going to be a little bit surprised. I think my girlfriends are going to be more surprised. My husband's going to think he's sleeping with a different person.
PS: Did anybody know that you're doing this?
MS: No.
Molly Looking Red Hot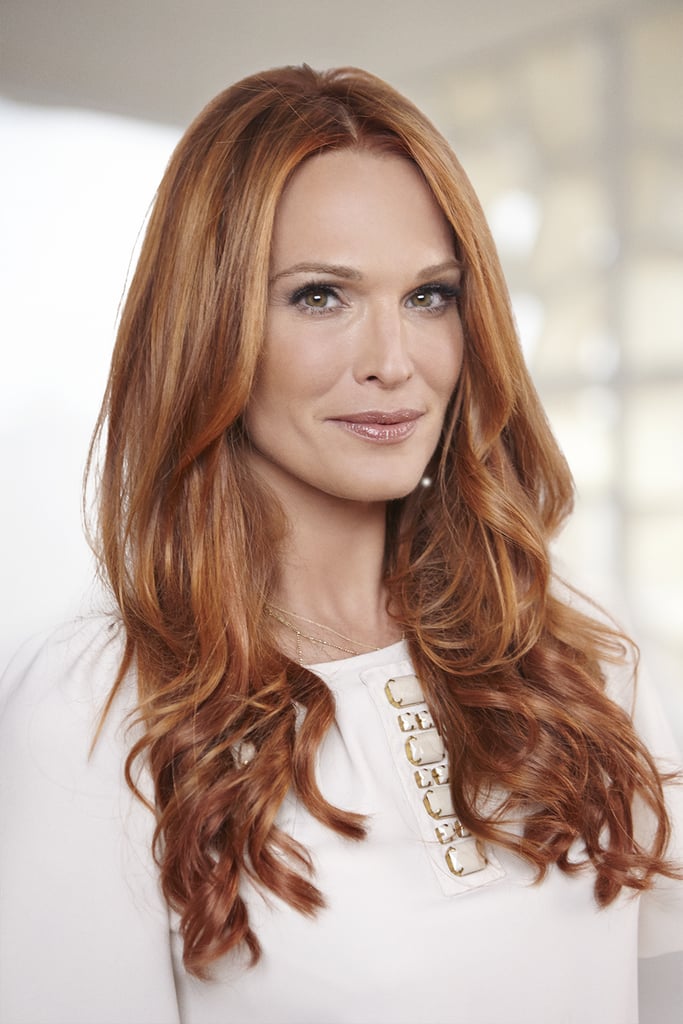 PS: Are there any hairstyles you're really excited to try with your new hair color?
MS: I always wear it down and side part or whatever. I'm kind of liking wearing it back with a little bit of volume. I want to do some fun braids in the Summer.
PS: Do you have any tips for girls who are thinking about going red, but are nervous to take the plunge?
MS: My biggest thing is to try on wigs. I did it. Also, try to put depth in the color. So my hair has some blond at the bottom to add a different dimension to it.
PS: Is there anything else you want us to know about going red?
MS: I'm really happy. It's fun.
PS: Redheads have more fun?
MS: I think so. More mysterious.
Source: Frances Tulk-Hart for Nexxus [7]