Monday Giveaway! Too Faced Glamour Revolution, Brown Lash Injection, and Lash Lights Mascara
Like us on Facebook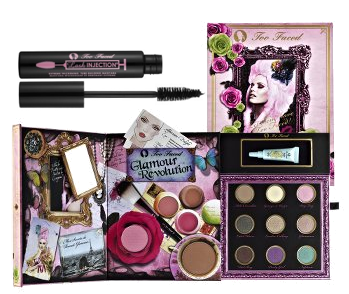 The folks at
Too Faced
Cosmetics ask, "Why be pretty when you can be gorgeous?" All thanks to our friends at
Sephora
, you'll be able to live their philosophy to the fullest if you're chosen the winner of this whole new makeup set, plus two mascaras. Every day this week, we're offering up three items from the trendy line of
Too Faced Cosmetics
. Each day's lucky winner will receive the following:
Glamour Revolution — A makeup book full of everything you'll need to look glamorous, including: nine Single Eyeshadows; three Lip Glosses; a Chocolate Soleil Bronzer; a Brightening Blush; and Shadow Insurance.
Lash Injection — A super-volumizing and lengthening mascara with a giant wand to give you substantial lashes.
Lash Lights Mascara — Be one of the first people to try out this new product. In fact, this mascara is so new, it's not even available until Tuesday!
To enter, just take the quiz by 5 p.m. today and one winner will be selected at random. Your eligibility is not based on getting the answers correct, just on taking the quiz after you are logged in. You do, however, need to be a PopSugar Community member to enter. So if you're not already one, register now. One quiz entry per person; all repeat quizzes will be ignored. Prizes can be shipped to US destinations only. Remember: You must be logged in to the PopSugar Community for your entry to count. For the complete rules, click here. Good luck!
This quiz has been closed and is over.
Results
The average score is 1.8 or 90%