More Holiday Fun from MAC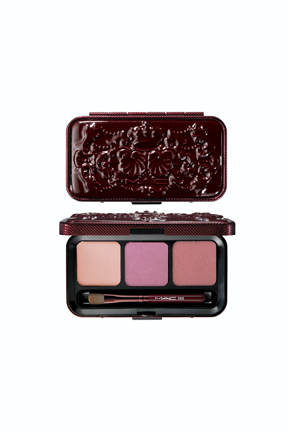 1
More Holiday Fun from MAC
Woo woo, MAC has just released more of its holiday collection. First it was Antiquitease, and now the special holiday compacts are coming out. I met with my MAC contact earlier this week, and she gave me a few of these treats to try out. I haven't tried them yet, but I'll keep you posted on which, if any, are must-buys. To see a slew of photos (no, really, I'm talking a LOT of photos), and to find out about the products, read more


There are three new groups within the holiday collection. The Royal Assets collection features gold and silver shadow and lip compacts, which have an antiquey feel on the outside—but gorgeous colors on the inside. The packaging is totally over the top without being gaudy. Their cousin is Viva Glamorous, which has similar design but is done up in deep red. Inside, you'll find two lipsticks and one gloss; you can go for cool tones or warm tones.
Then there's the Heirlooms series, which is completely on-trend with its woven clutches. These are really cute because they feel so festive, and the slightly nubby fabric is totally Jackie O. Inside, you'll find brush sets for face, eye or basic needs. Pretty soon, you'll also see the Finery collection, which puts two lipsticks and a complimentary gloss inside similar bags.
Whew! That's a lot. After I do some playing with the samples this weekend, I'll keep you posted on any must-haves from this collection.
Latest Beauty