Thanks to products with the coveted multitasking status, we're all saved a little time, space, and best of all — money. Check out five great ones for your hair, face, and body at the link below, and be sure to tell us what multitaskers are part of your daily routine.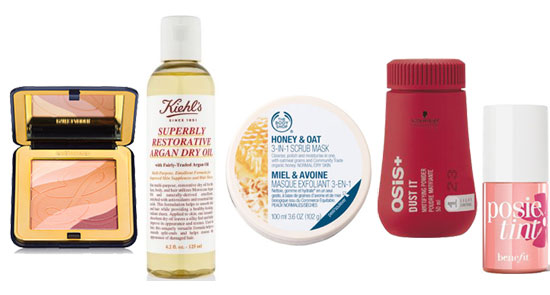 Get the details when you read more.
Estée Lauder's 5-Tone Shimmer Powder [1] ($36) adds just the right amount of glow to the face when swirled together (I like to dust mine onto the forehead, cheeks, and across the brows, nose, and chin). But when a color is used alone, it makes for flattering blush or shadow options.
Chances are that if you're prone to dryness, your skin and hair both show the effects. Kiehl's Superbly Restorative Argan Dry Oil [2] ($42) can be used on the body, face, and hair — particularly the split ends — to bump up hydration.
What makes The Body Shop's Honey and Oat 3-in-1 Scrub Mask [3] ($16.50) a three-in-one product, anyway? It's formulated to deep cleanse, exfoliate, and add hydration to the skin. It also comes in a Blue Corn [4] formula.
Schwarzkopf's Dust It Mattifying Powder [5] ($17) eliminates excess slickness, but also adds lots of volume and matte texture if you're looking to give your locks a boost.
Branching off the popularity of the much-loved Benetint, Benefit's Posietint [6] ($28) gives a sheer pink wash to both the cheeks and lips, all while brightening the complexion.