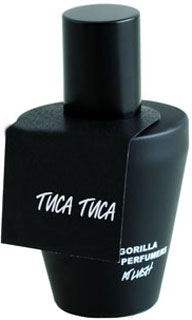 How do you feel about violets? If you love them, let me introduce you to Lush's new perfume,
Tuca Tuca
($30), available in in spray or solid form. The scent is very much a sweet green floral, made with violet leaf absolute and vanilla, making it reminiscent of old-fashioned violet pastilles.
Both the spray and the solid have a nice, soft drydown, but the spray is a lighter, more powdery fragrance, and the solid is sweeter and a bit heavier. Neither scent develops an awful lot, but that's not necessary for enjoying a perfume if you like its body accord. It's made with a lot of high-quality absolutes (but not entirely organic), and for the price and the niceness of the scent, I'd say it's a very good deal.