There are two types of polish-lovers: the ladies who keep a few colors for their weekly mani-pedi appointment and the women who might as well have stock in OPI because nail polish is taking over the bathroom closet. We admit we're somewhere close to the extreme side of that spectrum. While we'll never give up our Essie Ballet Slippers, we're currently craving niche lacquer colors that even our fellow nail junkies won't recognize. These boutique brands fit that bill. And it's not just the shades we adore; the majority of these companies hold high environmental standards, meaning the polish is acceptable for vegans, expectant moms, the gluten sensitive, PETA participants, and kids.
Rescue Beauty Lounge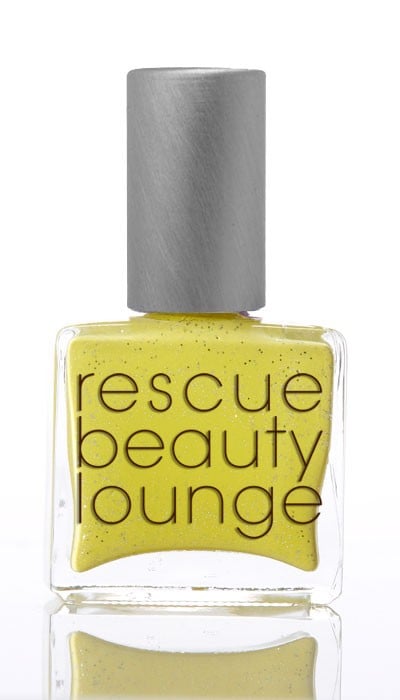 If there is any nail company that supports its fan base, it's Rescue Beauty Lounge. Brand owner Ji Baek wrote the book on healthy nails (literally there's a book [1]), and she creates her shades with polish-lovers in mind. After two coats, the colors are vibrant and not chunky. Plus, every lacquer including this textured chartreuse called Cue the Montage [2] ($20) is five free (no formaldehyde, toluene, DBP, formaldehyde resin, or camphor). Overall the RBL shades are a fun mix of glittery hues and timeless favorites.
Ella + Mila
Named for one of the founders' twin daughters, Ella + Mila is the perfect polish line for mothers and daughters to share. The shade range includes classics — like the opaque gold color Gilded [3] ($11) — and seasonal trend-driven shades little girls will love. Plus, it's 5-Free, vegan, cruelty free, USA made, and PETA approved. Each shade is quick-dry, so smudging is a worry of the past.
USLU Airlines
Reading the names of the USLU Airlines shades is like a lesson in international travel. For example, this bright orange is called DSL [4] ($16) in honor of the New Guinea airport. This nail brand is based in Berlin and meets all the strict cruelty-free standards of the European Union (which is an outstanding feat). The color are a mix of brights, glitters, nudes, metallics — really every hue you could dream up.
Habit Cosmetics
Go ahead and skip the strengthening base coat for once because all Habit polishes are infused with myrrh to remedy fragile nails. These polishes are vegan friendly, gluten free, anti-animal testing, and five free. Plus, the cap is made of bamboo, making the most stringent environmentalist proud. Try this gorgeous green called Moss [5] ($18) on your next trip to the salon.
Lauren B. Beauty
You've probably heard of Philip B. hair care, and Phillip's niece Lauren just happens to be a manicure expert. She created her own line of luxe lacquers inspired by everything LA. For instance, this lavender hue is titled Pacific Palisades [6] ($18). These shades stand up to the working-girl test: they're chip-free for a week or more! Lauren B. also created five different nudes to cater to several different complexions.
Treat Collection
The 54 shades in the Treat Collection are inspired by the fashionable ladies of Berlin. The entire collection has a glamorous feel, and all the polishes are five free. You won't find any neons here, as classic shades like the cool red shade, Celebrity [7] ($18), are the foundation of the brand. And you'll love having these weighty, gold-capped bottles on your vanity.
Tenoverten
Tenoverten is a beloved NYC salon chain (Rooftop pedicures? Yes, please!) that has expanded its empire to Sephora stores. Recently, it released a new sheer white hue called Washington [8] ($18) that's perfect for your Labor Day barbecue. You won't see kitschy glitter shades in the Tenoverten lineup. There are only a bevy of chic colors with a few bright metallics thrown in. They've even got a shade in SoulCycle's signature saffron [9].
Octopus Party
For the ultimate selection in boutique beauty loot, we turn to Etsy. Octopus Party is a favorite among nail bloggers because the shades make great bases for intricate designs. Right now we're loving the green hue Mint Me at Midnight [10] ($10). The shade is just bright enough to add a pop of color without being too distracting.
Mischo Beauty
A pregnant Kitiya Mischo King started her five free nail polish brand when her hunt for nontoxic nail polish turned sour. Currently, the collection touts a curated selection of fierce shades such as this red-orange hue, Billie [11] ($18). We love this brand because every shade screams, "I'm wearing my big-girl heels today!"
Priti NYC
You can spot Priti NYC polishes on runway models during Fashion Weeks across the globe. The extensive assortment of shades from pale pinks to deep plums allows the brand to match the most couture clothing collection. Priti NYC committed to being eco-friendly with accessories like its recycled glass nail file and soy-based polish remover. The polishes are five free as well. Ready to test it out? Try Polish Spirit [12] ($15) from the Fall collection. It's one plum shade that's closer to purple than black.
Serum No. 5
You thought glow-in-the-dark nail polish was so fifth grade, but these shades from Serum No. 5 are adult-appropriate, including this sophisticated sky blue, Snow in Love [13] ($13). When a lacquer line has a waitlist to purchase, you know you've found a good thing.
I Love Nail Polish
I Love Nail Polish boasts the best special effects in the manicure business. The holographic hues like Mutagen [14] ($13) make nail-lovers flock to the brand. Glitter, jelly, and creme are just a few other finishes offered.