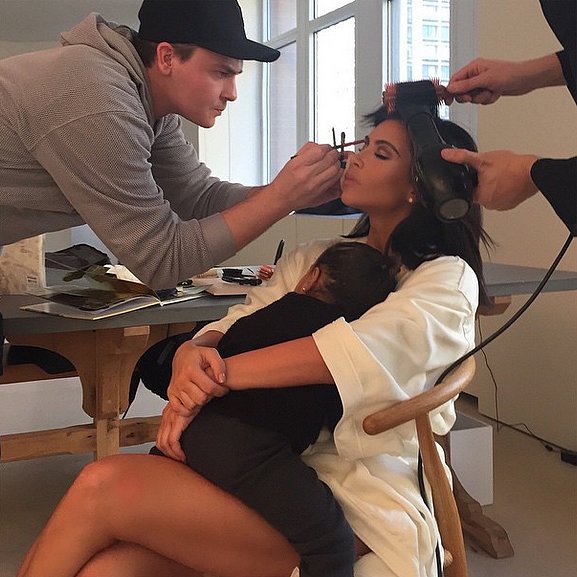 Source:
Instagram user kimkardashian
[1]
If you've felt that Kim Kardashian [2] has toned down her signature beauty look, you're not wrong — motherhood has made the gorgeous reality star lower maintenance, but she admits it may be for the best. "I used to spray-tan more before I got married," Kim told Us Weekly [3]. "I would get it so dark and look so crazy." Now she does her own spray tans while Kanye West [4] and North are sleeping. (Hey, how else would she get such flawless, publishable selfies [5]?)
Source: Instagram user kimkardashian [6]
But when it comes to her professional primping sessions, she has more than just her fans interested. "North actually will totally sit on my lap and is fascinated when I'm getting my hair blown out," she told Us. "And when I'm getting my makeup done — I'll give her a little makeup brush, and she'll be entertained." The beautification rituals start early in the Kardashian family. It's all thanks to Kim's late dad, Robert, who bought makeup lessons for her, Khloé, and Kourtney when they were teenagers. "He said, 'If my girls are going to start wearing makeup, I want you to know how to wear it. I don't want you looking crazy.' That was the best gift," Kim said. "And I have been obsessed with makeup ever since." North couldn't have a better beauty role model: we all have a few things to learn from Kim's beauty routine [7].
Source: Instagram user kimkardashian [8]